There's something about Craig Green. Ever since he burst through fashion's fences (and then rearranged them as wearable art) in January 2013, the London designer has climbed the ranks of the industry and emerged as a champion of off-kilter, architecturally-inspired collections. He's also become very, very good at creating a brand identity that manages to blend strap-heavy silhouettes and hyper-functional workwear into wearable (and sellable) pieces.
There's an irony in how strong the Craig Green design ethos has become given that, long before he won three British Menswear Designer awards in a row, he wasn't even interested in fashion. Before jumping into the Central Saint Martins fashion school, he was sure he'd pursue a career as a painter or sculptor. Though, in some ways, that latter profession has flourished within his fashion. One need only glance at his latest collaboration, the third iteration of the 5 MONCLER CRAIG GREEN collection, to see how his appreciation for the sculptural beauty has threaded itself into his designs.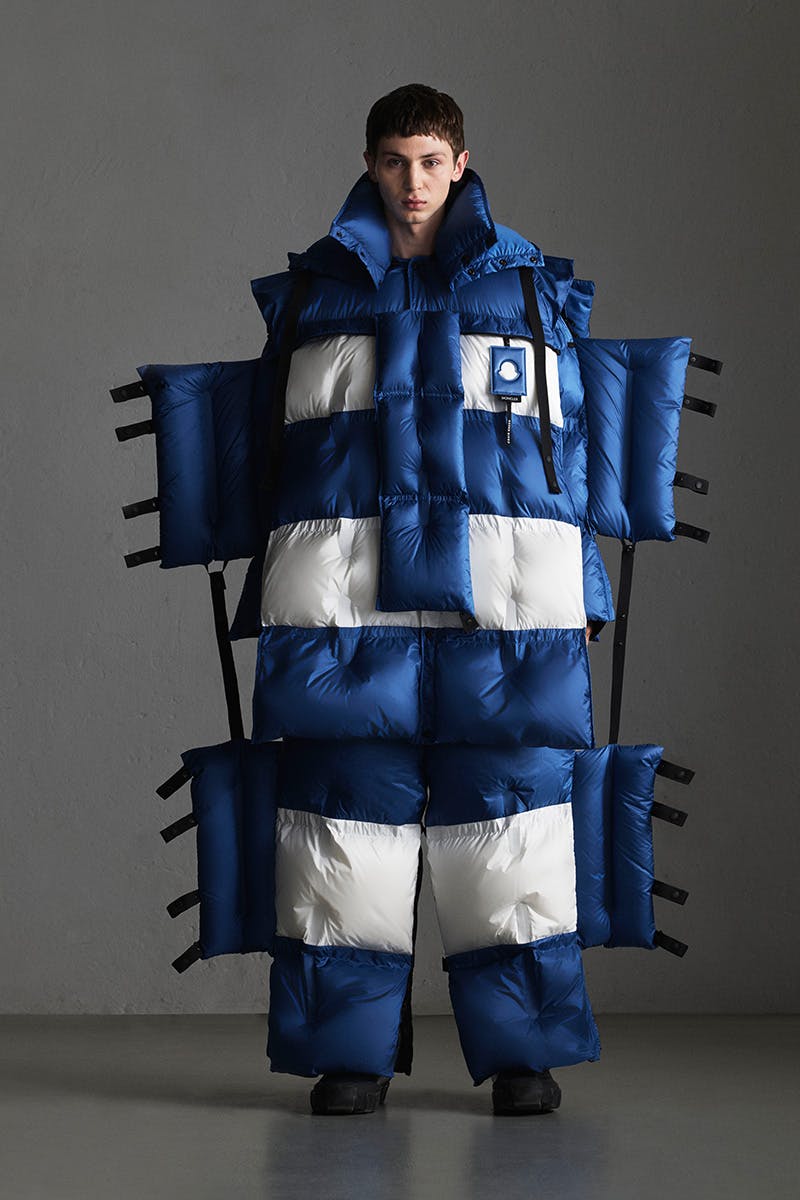 Fit with straps and paneling that call to mind everything from lifeboats to rocket ships, Green has remixed Moncler's iconic puffer jacket into a piece of wearable, functional art. Like all of the designers picked for the Moncler Genius program, Green's spin on the outerwear brand feels uniquely his own but, this time, he set his sights on creating an entirely new kind of jacket. One fit with foldable, flattening modules that can shrink and grow the jacket as needed thanks to flat paneling between down-filled puffer pieces. Or, to put it in very modern terms, a jacket that'll fit in your carry-on and then keep you covered as you trek across mountain peaks or city streets.
Ahead of today's drop of the 5 MONCLER CRAIG GREEN collection, we called up the designer during a break in his schedule to talk about the golden rule that guided this season's collection, the origins behind his love for functional clothing, and how his Moncler collab has unlocked his love for immersive fashion experiences.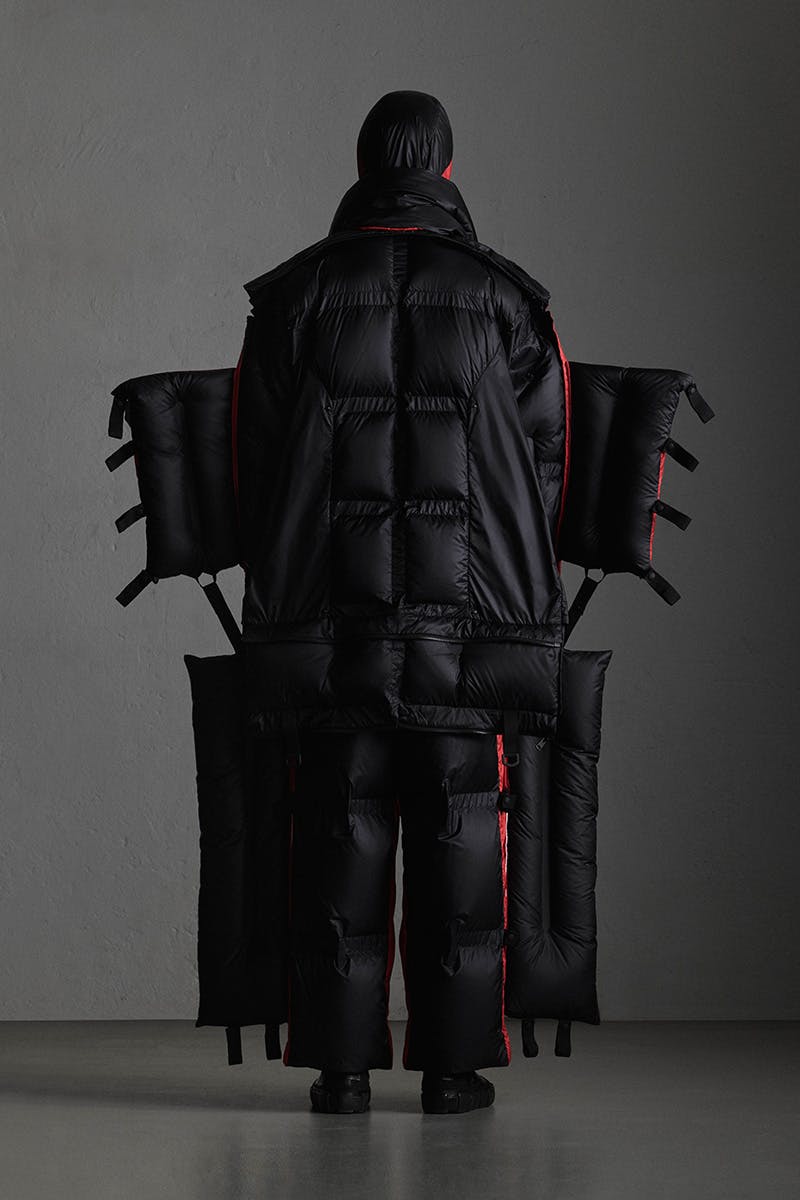 What was on your mood board for this latest Moncler Genius collection? The last one was very tent-like. Sculptural. What inspired this one?
Each season, we start with an idea within the Moncler DNA that we focus on in some way. The previous season, which was Spring/Summer 2019, was all about attempting to create volume and protective shapes. It was all about kites and tents and different ways of protecting yourself in the summer from extreme weather.
This season, we focused on the idea of lightness. The jacket is so [unique] to Moncler; it looks so heavy and haggard, but actually, it's extremely light as a garment. That is partly the success of Moncler as a brand — it's such a perfect garment to travel with because it can be compacted into a small space. It doesn't need the care and attention in terms of ironing and steaming. The amazing thing about the way that the jackets are constructed is that they self inflate, in some way. Once you take it out of the bag, it starts to grow.
When we were inventing the pieces in the collection, we had a rule: is it the lightest possible way of constructing the garment? And that led the design in terms of the commercial pieces and also the show collection. We developed a way of constructing down cushions in a new way for Moncler where we put spaces in between each down pillow.
So you can fold it down.
It can be folded easily, yeah. They are fold lines or hinges; it looks a bit like a bed or a flotation device. It was all about lightness, travel, and that some things can be compacted into a tiny space.
I'm sure it's also useful for you also because you travel so much as a designer. You need to be able to pack a lot into a suitcase or, if you're traveling somewhere in the mountains or something, make it as useful as possible for that.
Across fashion, people like to have garments that can function in their everyday life. Life is work [and] work is life for a lot of people It made sense to focus on that aspect of Moncler for this season.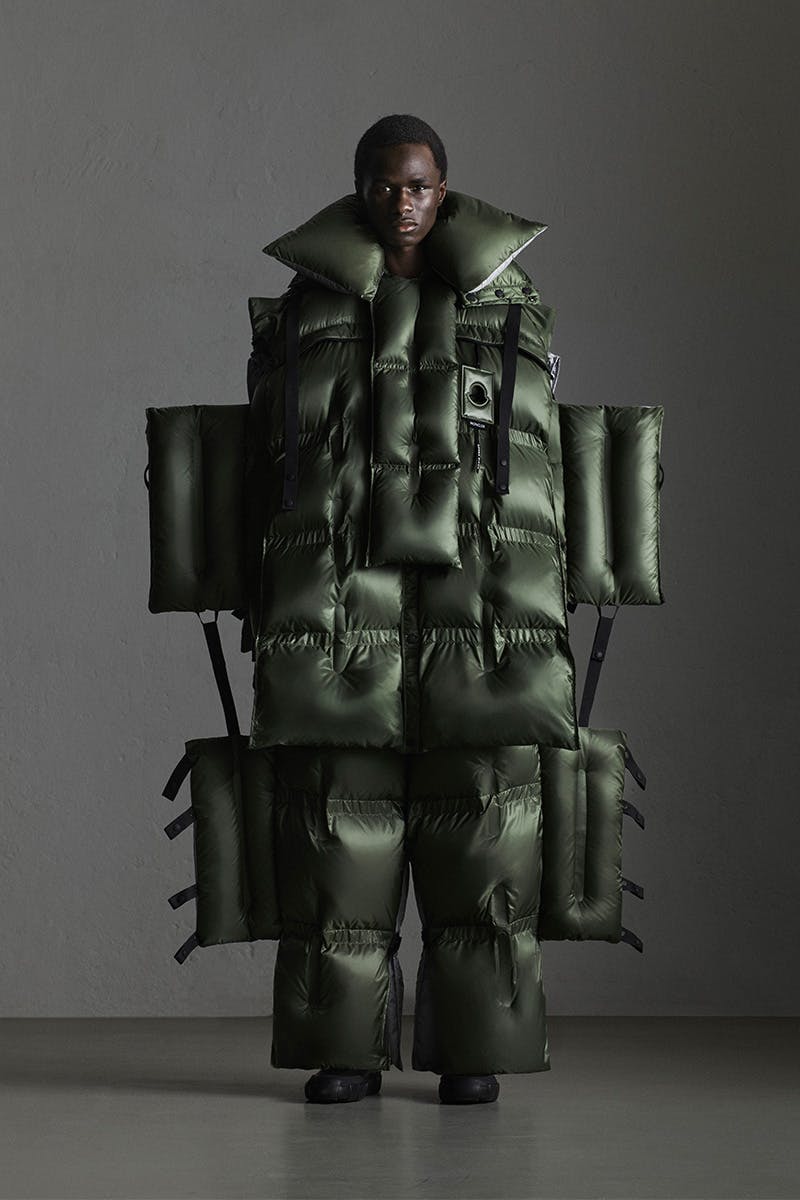 When I was looking at the images of the clothes, the silhouette reminded me of rocket ships, but I got everything from sleeping bags and emergency wraps to flotation devices.
When you see the garment from the back, it has two lightweight panels that don't have any kind of down that fill in the sides. They're all there just for function because the arms fold into the back of the garment, so it creates one singular panel. The design was led by the function; it was the process of the development.
The first few Genius collections were about form. Obviously, that's a signature aspect of Moncler: that roundish, puffy form. This last season, it was about the functionality of the garments and lightness.
All of your collections at Moncler are very, very functional. Why is hyper-functionality at the heart of what you do with clothing?
It's something that I've always been interested in. I guess my own brand aesthetic is always based on uniforms, functionality, [and] protection. That's why it made so much sense when we first discussed collaborating together a few years ago because Moncler is a brand that's about protection and functionality and uniform. They have their signature, classic products, which they develop on season after season.
I don't know why I've always been attracted to the idea of things that either do something or look like they used to do something and are useless now. I feel like there's a beauty in that idea of functionality. I guess because, as the world gets more modern, we have less need for really, really functional clothing. We don't really wear uniforms to work very much and there's kind of a romantic idea about that, and beauty in those things.
Growing up, did your family wear uniforms to work a lot?
Yeah. I mean, my dad's a plumber and my mom was a nurse. All of my family were tradesmen or people that made things — upholsterers, carpenters, builders. They were all people that at some stage wore uniforms. None of them wore a suit. There wasn't that kind of uniform. It was uniforms to work. That idea of clothing for function has always stuck with me.
Lots of pockets, lots of straps.
Yeah. Loads of strings that either do something or don't do anything, but they're still there.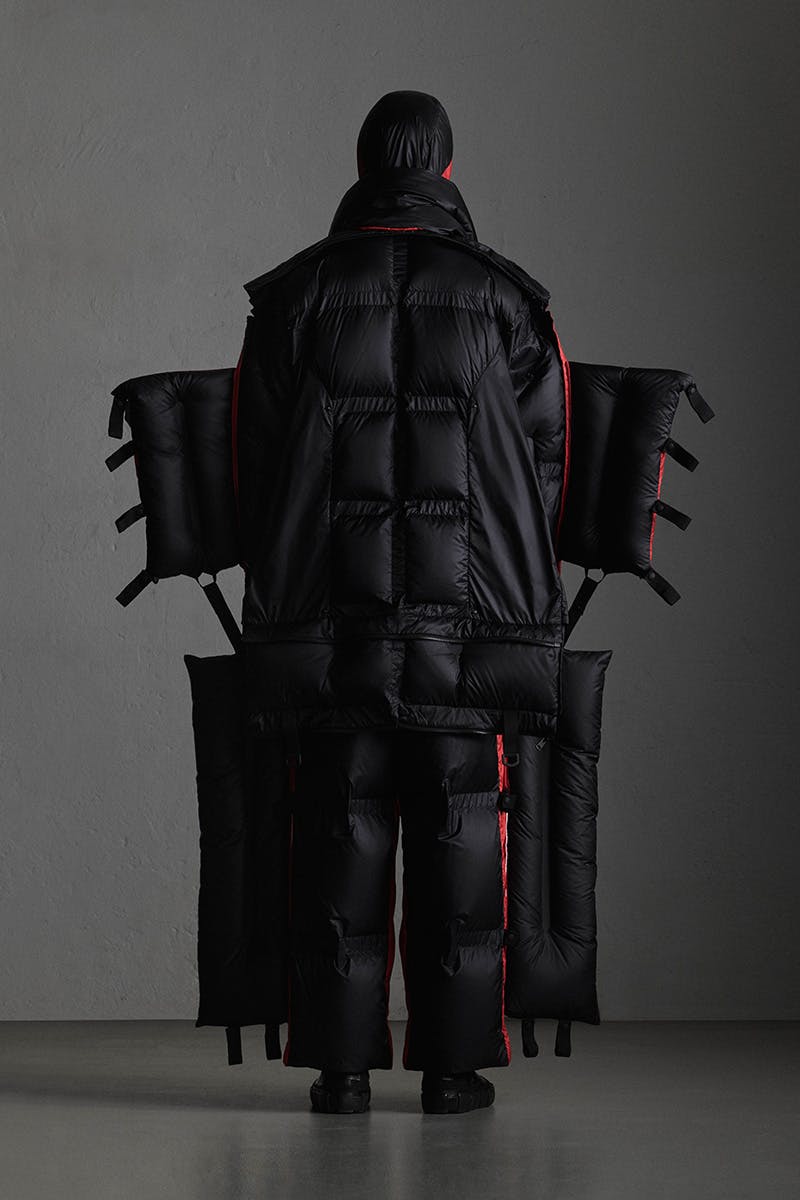 How has working with the Moncler Genius program elevated what you're already doing in your own collections?
The Moncler Genius project was the first time that we have ever shown a collection in a presentation style format. You can do so much more than a traditional catwalk format allows you to. Being able to do something for the first time that was all about the immersive experience or demonstrating an idea for collection [with] an installation was really new for us. For me, it was a different way of working with sculpture in fashion.
You definitely like to create experiences for your runways and presentations.
That's what's so exciting about the project — especially the show format. To have so many different designers presenting [in] just one space is quite an exciting and rare thing.
And it shows how one simple idea can create so many different results through different designers.
Yeah. How they interpret Moncler's DNA. I think that's a strength for the project as a whole.
5 Moncler Craig Green is available online now at Moncler.com, and in Moncler boutiques and selective wholesale networks worldwide.