You've seen them on Instagram. Maybe around the legs of Offset, Pharrell, Travis Scott, J Balvin, or Billie Eilish. Dedicated fashion heads know what they are, but are hesitant to share that knowledge with the uninitiated. They're a mixture between the nylon UFO pants from '90s raves, track pants, and the ubiquitous joggers that characterized mid-2000s streetwear. They're called the "Gobchang" pant, and are produced by a South Korean label called 99%IS- (pronounced "ninety-nine percent is"). The drawstring-adorned, crumply-looking signature pants have become a staple for the brand, and speak to the design language of its founder, the mononymous Bajowoo.
A street style fixture himself, his personal style mixing goth and punk is usually accented with a surgical mask with a Joker-like tear at the mouth. Often clad in leather pants, a seemingly permanent mohawk, and gear of his own design, Bajowoo's shorn facemask is his way of smiling. He won't do it physically, so he prefers to let the mask express joy on his behalf. He grew up in mid-1970s South Korea, a time when punk was actually illegal in the country. The Korean government banned the Western musical genre for "indiscriminately promoting pessimism, sexual behavior and decadence." It wasn't until 1996, when Bajowoo turned 12-years-old, that the government eased its censorship stance and gave music rating rights to an independent committee.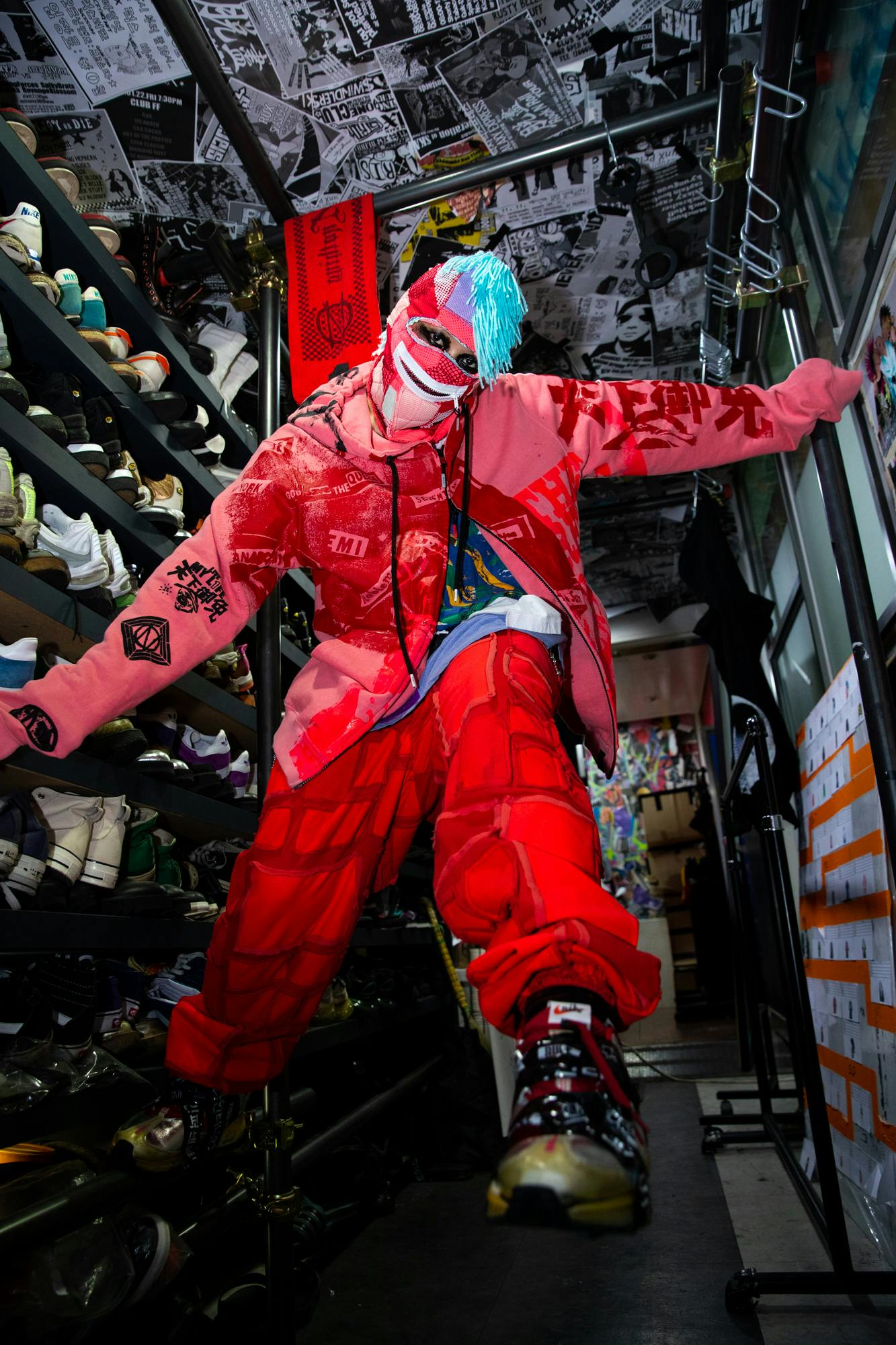 "Having a Korean identity is important to me, but being in Korea didn't particularly encourage punk spirit. Even after the ban was lifted, there wasn't much opportunity for anyone to come across rock music in Korea," says Bajowoo. "But it did allow me to create my identity on my own."
Before founding 99%IS-, Bajowoo ran a label called Skunxs, a line of band merchandise sold at his friends' rock concerts. "I was kind of snobby back then and refused to sell my stuff to people who didn't come to the actual show," he says. "I did mail-order swaps with some Americans though, who traded CDs for clothing and vice versa."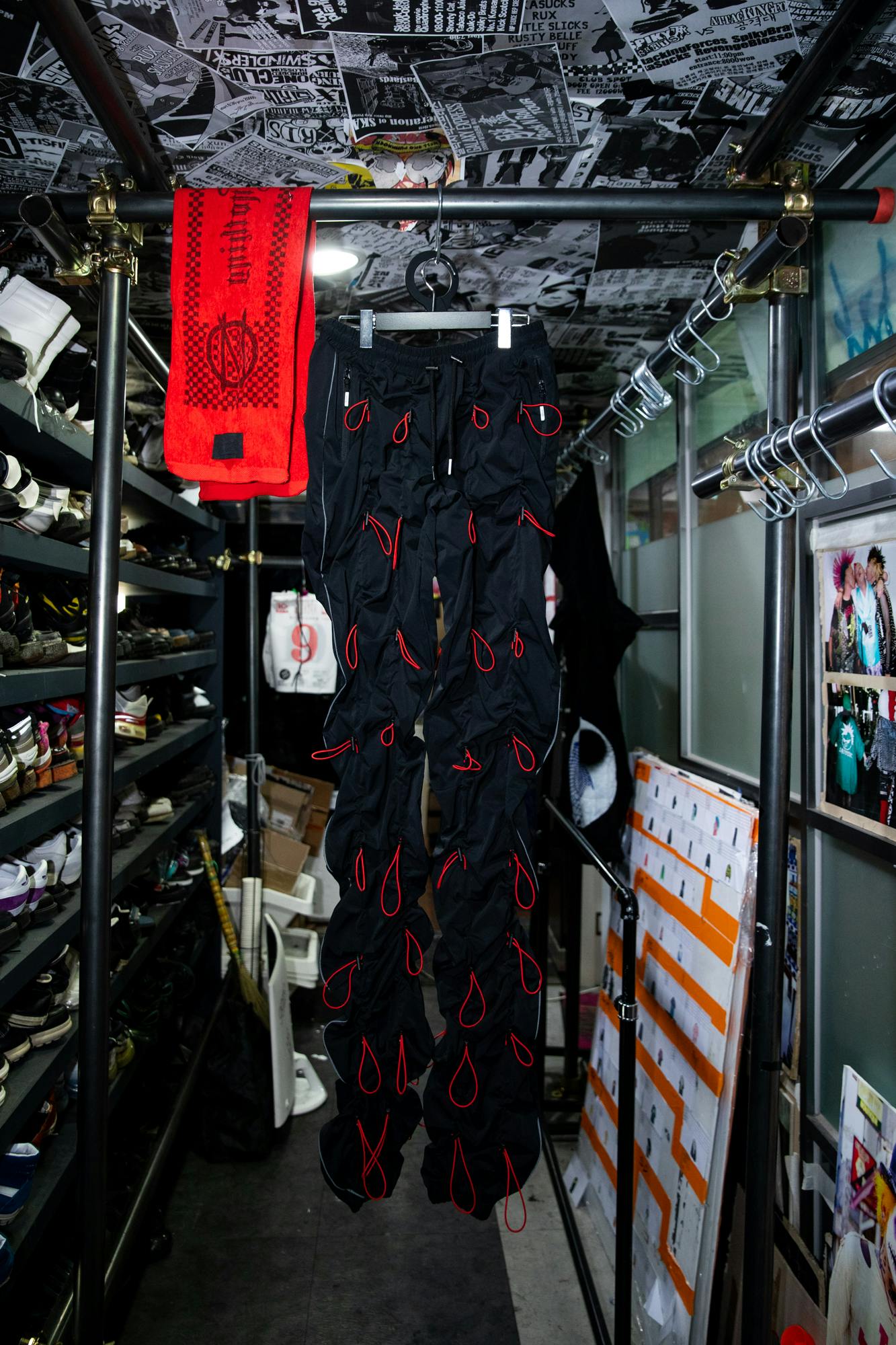 Now, more than 15 years later, Bajowoo's 99%IS- is sold globally at stores like Dover Street Market, SSENSE, Mr. Porter and H.Lorenzo, and coveted by celebrities, fashion editors, and street style stars alike. Despite being influenced by punk music, Bajowoo doesn't consider 99%IS- as a true "punk" label. Rather,  he defines it a manifestation of dynamic creative freedom. In some ways,  he thinks it represents the free-flowing creative spirit of this generation, one that doesn't want to be boxed into one particular genre or way of dressing.
"We describe it as punk because it's easier to understand that way, but I want it to be more than that. It's about being free."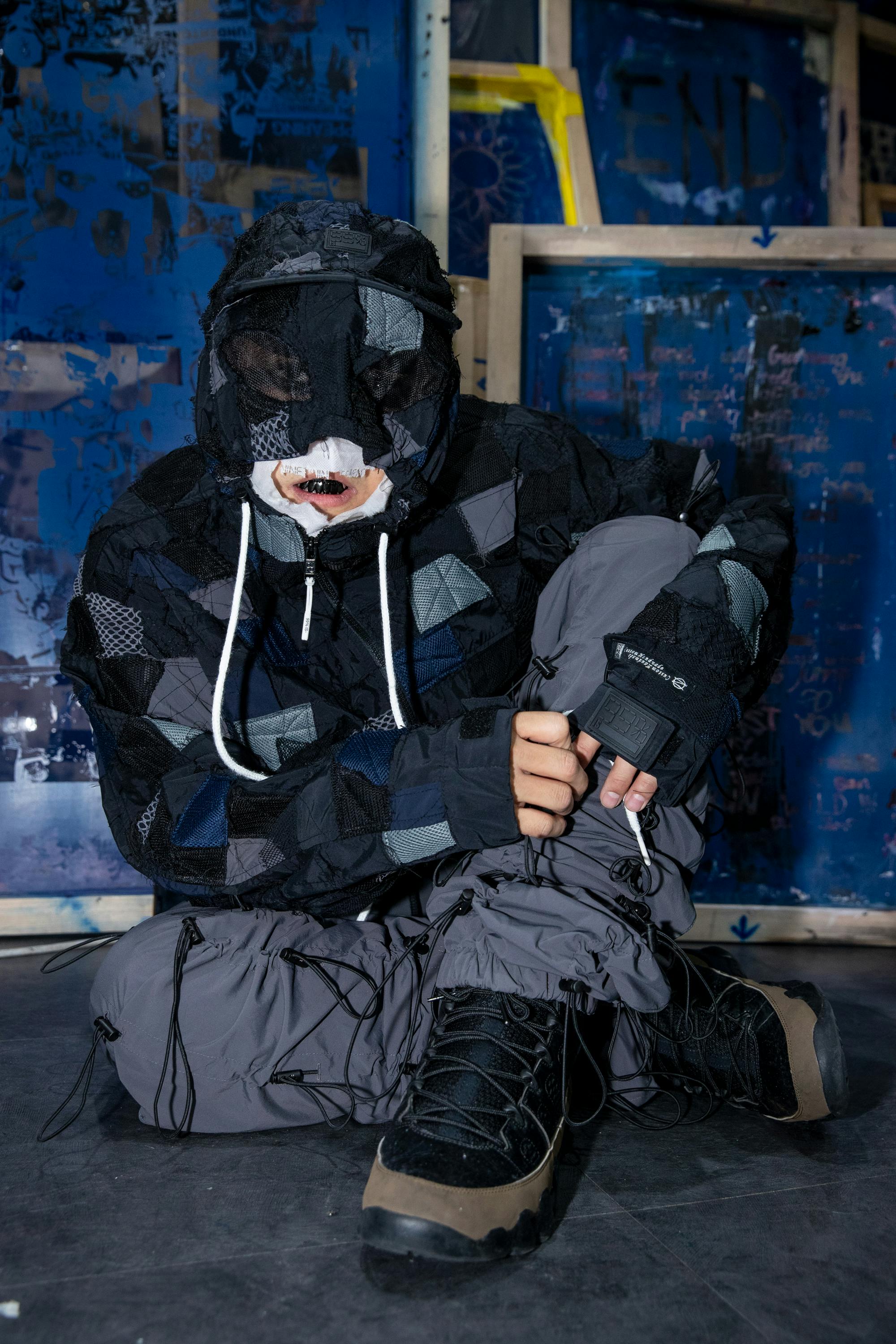 But 99%IS- isn't just paying homage to punk in its designs, but its philosophies. Bajowoo's anger is often expressed through his collections, and the emotion energizes him.
"I get angry when something gets in the way of my freedom, or when the system or people don't agree with me," he says. Just a few weeks ago he admits getting into an altercation with some friends who called him crazy. It angered him to the point that he checked into a mental hospital, wanting to see if there was any truth to their accusations. The result? "Turns out, I'm not insane! It makes me so happy to know that I'm not crazy. Now I can stop giving a shit about what people think."
Most fans of 99%IS- already know the meaning of its combination of numbers and symbols. Before it was used to refer to the super-rich population of the world, the "1%" was a common badge of outlaw motorcycle clubs, a rebellious symbol that suggested while 99% of bikers were law-abiding citizens, a small minority wasn't — and that minority wasn't to be messed with. For Bajowoo, his 1% minority are those outcasts who don't feel accepted in mainstream Korea.
He's had the same group of friends since he was 12, around the same time he began getting involved in Seoul's underground club scene. For over two decades, that group has been his de facto family and go-to collaborators. A lot of them are musicians for whom Bajowoo would design album covers and concert posters, and they still make time to go clubbing about three times a week — albeit Bajowoo admits they now frequent "uncool rock and hip-hop clubs in Itaewon and Hongdae."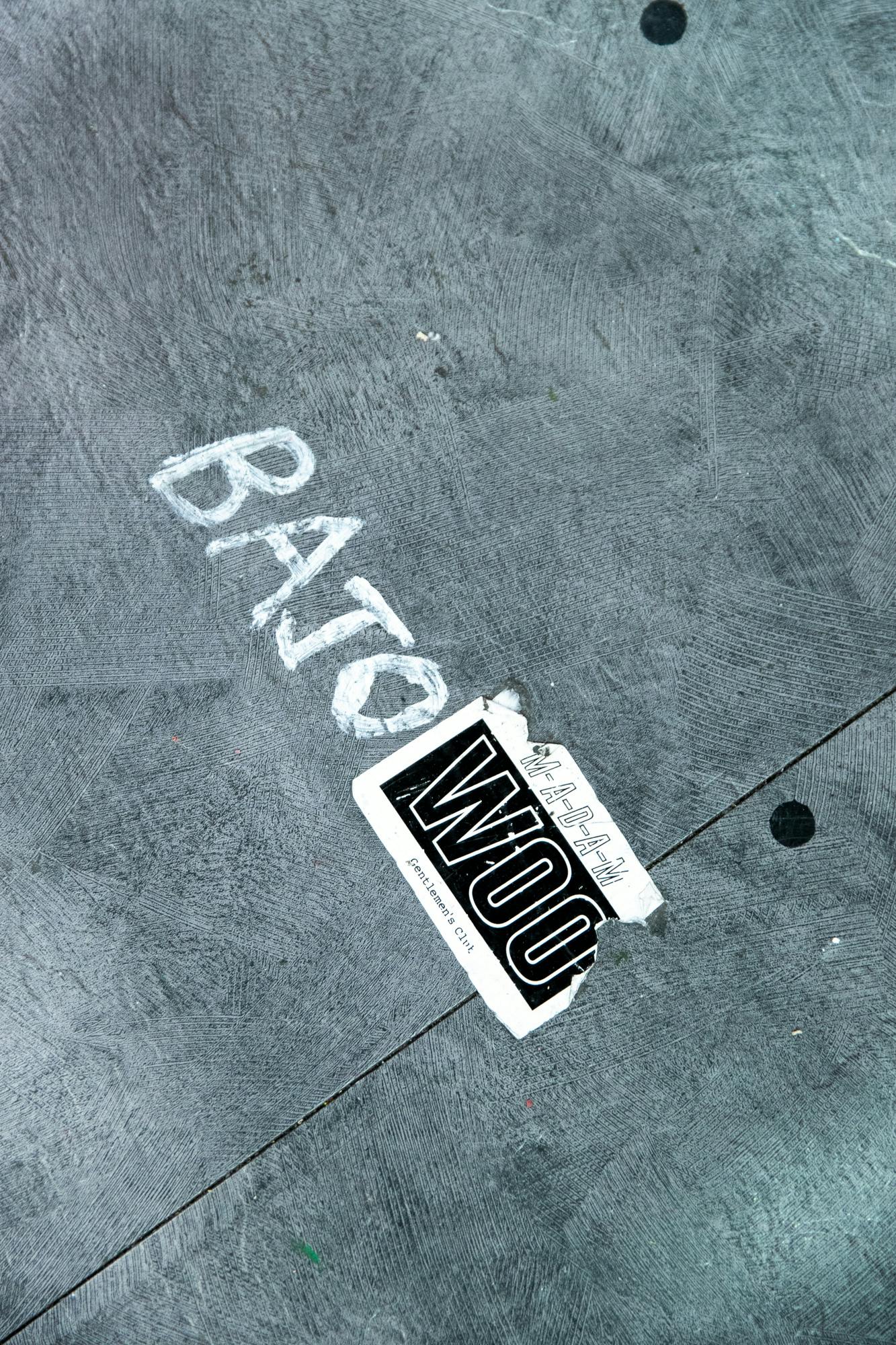 "I actually don't know anyone other than myself who works in fashion. Everyone around me is a musician," he admits. "A reporter once pointed out that all of my collection names are sentences — that I release collections as a musician would release songs. My dream is to someday form a new term for my own genre. Or it doesn't have to be from me necessarily, I would just love to see a new genre spring up in my lifetime."
Bajowoo doesn't have a favorite type of music, his sister played violin which gave him an appreciation for the classics. He's also fond of EDM and hip-hop as much as rock music. In fact, he sees more similarities between EDM and classical, as both genres have the ability to move listeners without having to use any lyrics. That idea of fluidity helped inspire the design of his Gobchang pants. "Whether you're into rock, hip-hop, fashion, sports, farming, whatever — regardless of your race or occupation — you can express yourself with these pants," he says. "I wanted to make something anyone — even the 1% minority — could style it to what he or she wants."
The name comes from "gopchang," a Korean delicacy made of cattle, pig or lamb intestine eaten over barbecue or stew. One day he was eating it and noticed how the intestine shrivels as the grill heats it up, similar to what happens when you cinch the multiple drawstrings on the pants. When the Gobchang Pants first debuted in his Spring/Summer 2018 collection, 99%IS- received less than 100 orders. Available in a large array of colors, and retailing at around $1,200 per pair, the pricey pants have become the brand's bestseller — surpassing 1,000 orders in 2019. The pant's runaway success presents Bajowoo with a new set of problems. Factories have trouble keeping up with production as the construction is a complicated process. Each pair has over 130 holes, and the strings have to be sewn by hand.
"There's so much fabric that goes into one pair that factories don't even have room to lay them out on the table. It's unfortunate," Bajowoo laments. "But it's my job to create new designs. I can just make 'Pork Pants' or 'Bulgalbi Pants' next time, or whatever," he jests.
With the success of 99%IS-, Bajowoo has found ways to manage his newfound stressors. He now does yoga every morning to balance out his club-heavy lifestyle, and even took up golfing — though he admits he gets stares at the golf course while wearing his eyeliner and mask. There are also plans for new one-off lines, music videos, and a book celebrating the brand's ninth anniversary this year. But whatever Bajowoo wants to do, you can rest assured he'll figure out a way to make it 100% his own.
"I want to focus on products you can use daily instead of just seasonal collections," he says. "You can expect hair products — meant to make your hair look shittier — and underwear!"