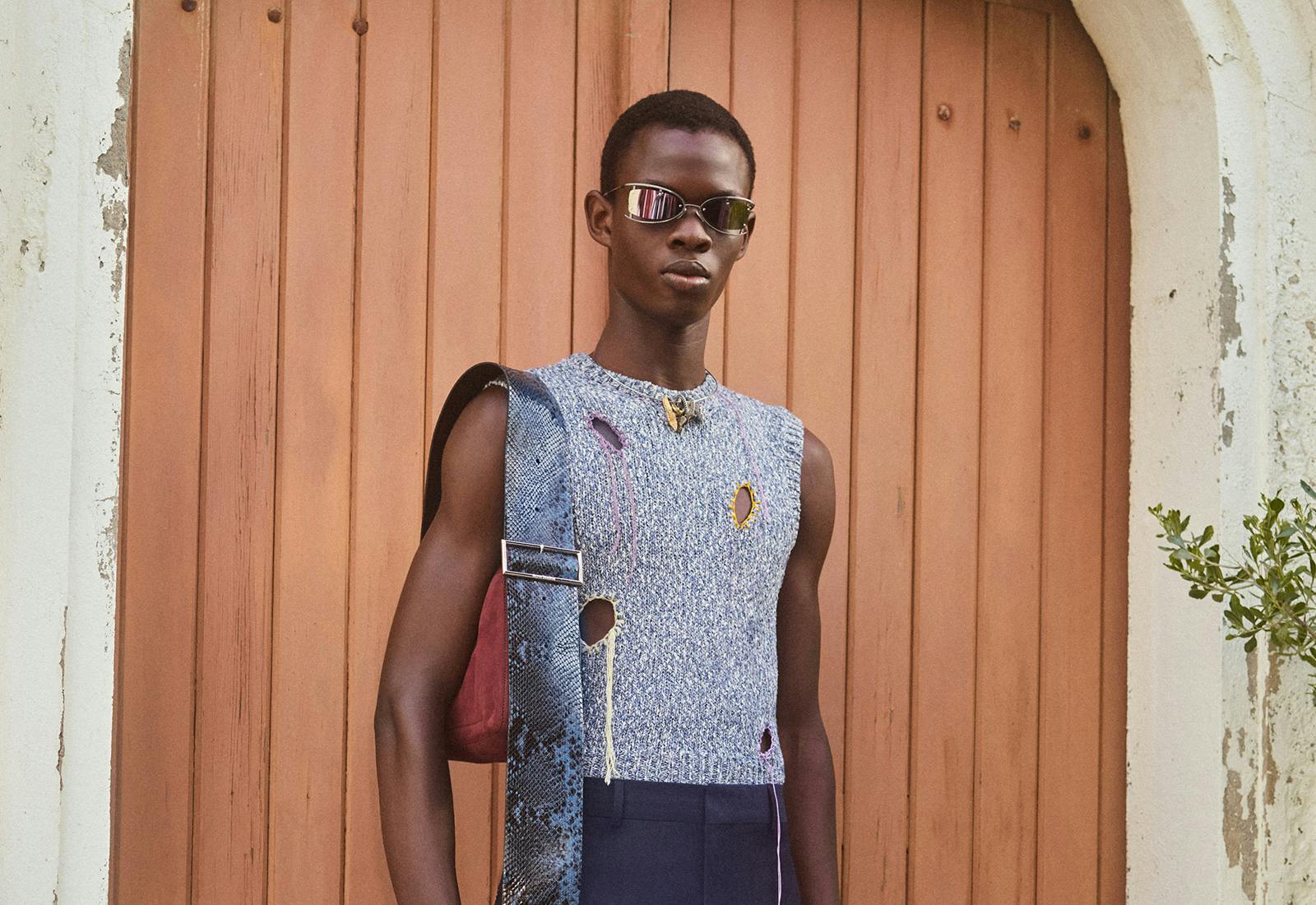 Acne Studios Spring/Summer 2022 Men's Just Dropped. Shop It Here and scroll down to read our review of the collection.
Editor's Notes
It's almost cliche now to mention that the Spring/Summer 2022 menswear collections are full of colorful fun as an ode to the joy of escaping quarantine. With the COVID-19 pandemic (hopefully) in the rearview, the world may again reopen for travel and leisure. Designers are expecting that men will want clothing as joyful as the ensuring mood. Acne Studios' SS22 lineup fulfills that brief with aplomb, melding '70s tailoring and militaristic adventurewear into a far-reaching cry of freedom, dressed to the nines in technicolor hues.
"I love the juxtaposition between hard uniforms and pieces that are softer or more feminine," Jonny Johansson, Acne Studios founder and creative director, said in the show notes. "I have such respect for traditional menswear, but I always think there's something about it that needs to be questioned and changed. [For instance,] I love the tailored pieces that at first look super normal, then you realize there's the sheen of Lurex in it, like a wool shorts suit, or flared tailored pants with a pinstripe of Lurex."
Flares, draping pants, and tucked-in trousers set an easy shape for much of the lineup, mirroring the ease of giant knit cardigans and immense hoodies. Proportions are exaggerated for the sake of comfort, amping up the statement factor with bold patterns, prints, and hues. There's no color off-limits, as evidenced by Acne's new baby blue quilted jackets, gold snakeskin-patterned pants, turquoise tunics, green singlets, pinkish ruffled shirts, and brown suede jackets, some of which has been printed with artwork from Rabin Huissen. Hardly any textile is off the table either, the all-inclusive apparel design reiterating the heightened optimism.
This is a very personal collection for me. Because of lockdown, I've had more time for dreaming, and for getting closer to making clothes. I've had the time to work on design, and these elements from my subconscious are coming to the forefront of my mind.

Jonny Johansson
Highsnobiety's Shopping List
Big 'Ol Combat Boots
Acne engages in a study of contrasts with its new combat boots, which are shin-high and ready for business. The imposing silhouette is intentionally undermined, however, by a stacked heel or soft sole of cork and marbleized rubber. This mix not only makes for an interesting juxtaposition in masculine cues, it also makes for a more comfortable daily driver.
Two-Way Handbags
Served in a selection of sturdy and patterned textiles, Acne's new shoulder bags further undermine menswear conventions. They're more elegant than totes and less utilitarian than backpacks, with a grace not often imbued into men's accessories. Their two-way handles and easy buckles only boost accessibility.
Knit Scarves
Again, Acne is playing with soft '70s touches, and these long fringed numbers encourage one to play with staid menswear styling. Wrapped around the neck like an ascot or draped akin to an oversized throw, there are a plethora of scarves to suit a wide variety of tastes, executed in an equally diverse selection of textiles, colors, and weights to take one from spring to summer and back to fall.
Shop Acne SS22 Below