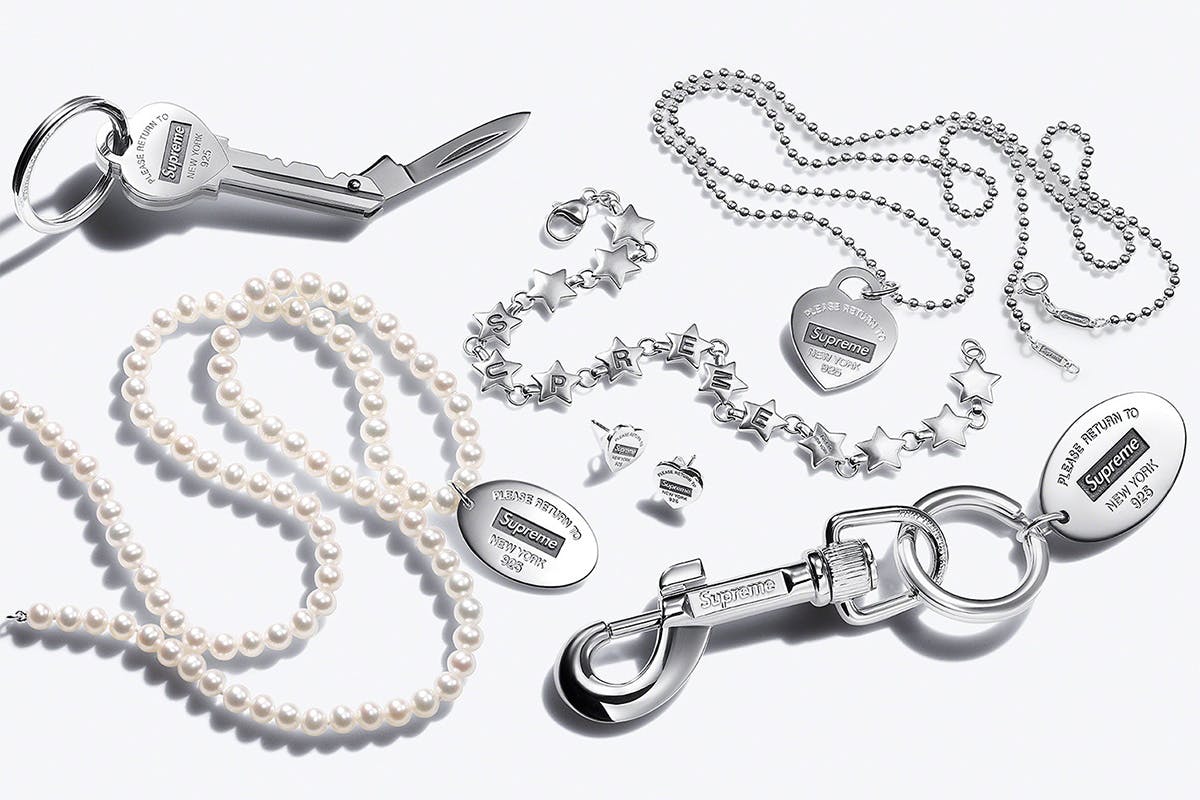 Everything you loved in middle school is cool again.
If you somehow missed the news, Supreme and Tiffany & Co. — the jeweler whose heart-shaped pendants and charm bracelets were everyone's Bat Mitzvah gift of choice (at least when I was a sixth grader) — are fashion's buzziest collaborators of the week.
The unexpected team-up speaks not only to Tiffany's slow-but-sure rebrand but also to fashion's overarching attempt at "luxurifing" the early 2000s, an era in which Tiffany's toggle bracelets, Juicy Couture sweatsuits, and low-rise jeans were all the rage.
As I pointed out in the wake of Fashion Month earlier this fall, luxury labels including Versace, Miu Miu, and Blumarine are transforming some of the early aughts' most ridiculed, seemingly un-trendy trends into newfound status symbols.
Dresses over pants and belly chains are no longer the stuff of cringe, they're covetable designer wares.
Supreme x Tiffany & Co. serves as another apt example of a Y2K "ugly duckling" moment, if you will.
Tiffany's heart-shaped necklace, a surefire marker of good taste when I was 10-years-old, is no longer for middle-schoolers. Now, it's a co-branded collectible, sure to be snatched up by streetwear customers, skaters, and other taste-making tribes.
Remember True Religion? (Another hot commodity among my heavily orthodonture-d classmates circa 2005.) Supreme collaborated with them in September, cementing the denim brand's return to relevance.
It's not just the runway that's fueling Y2K's comeback — the streets are, too, reminding us that many of our favorite early '00s trends stemmed from hip-hop.
Other Y2K-ified moments in streetwear: Palace x Evisu, UGG x Telfar, HUF's latest women's collection.
The continued resurgence of early-aughts fashion is a bit puzzling, considering how heinous I looked when wearing it two decades ago. But hey, if the industry wants to paint my middle school self as a fashion icon, I'll take it.