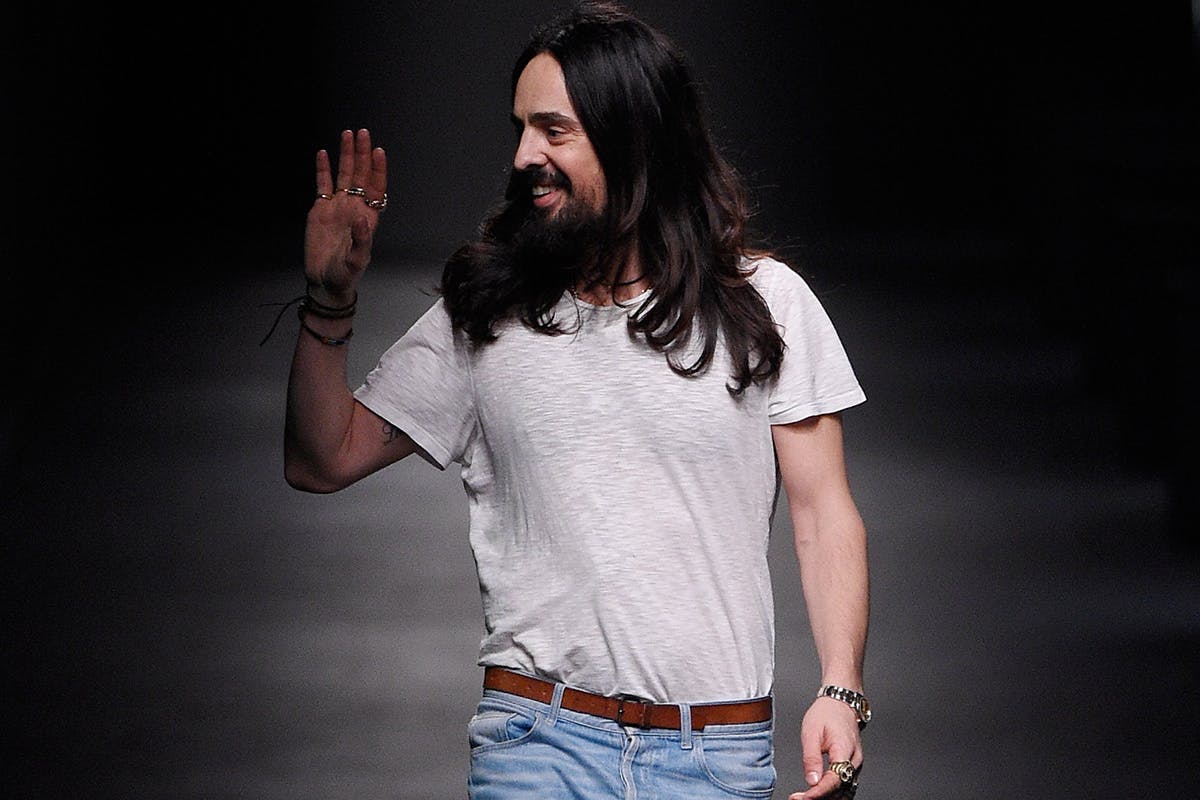 It's almost impossible to think of contemporary fashion without Alessandro Michele and recurring world's hottest brand Gucci. Imagine it — no floral suits, pussy-bow blouses, or, god forbid, Harry Styles clad in pearls and pumps. Yet a podcast has revealed that before taking control as creative director, the designer was close to walking out entirely.
Appearing on the Muschio Selvaggio show (it's all in Italian, FYI), Michele — who is fairly media-shy, aside from when communicating ideas through his loquacious pre-show notes — explained that he had become jaded at the company. "It was unexpected as I was leaving. And so on the verge of resigning, I was invited for a coffee, and it all started from there," said Michele, as per a translation by NSS Magazine. "I was a little fed up with what I was doing before. I had already started doing other things; I had become the creative director of Richard Ginori because I collect porcelain and various antiques." It was CEO Marco Bizzarri who (unknowingly) convinced Michele to stay put, entrusting him with Gucci's relaunch after being wowed over a three-hour conversation.
The podcast continues that, rather than high fashion, Michele was eyeing up a move to London where he would work in cinema costume design — a passion he has, in a loose sense, parlayed to Gucci, most notably with the recent GucciFest.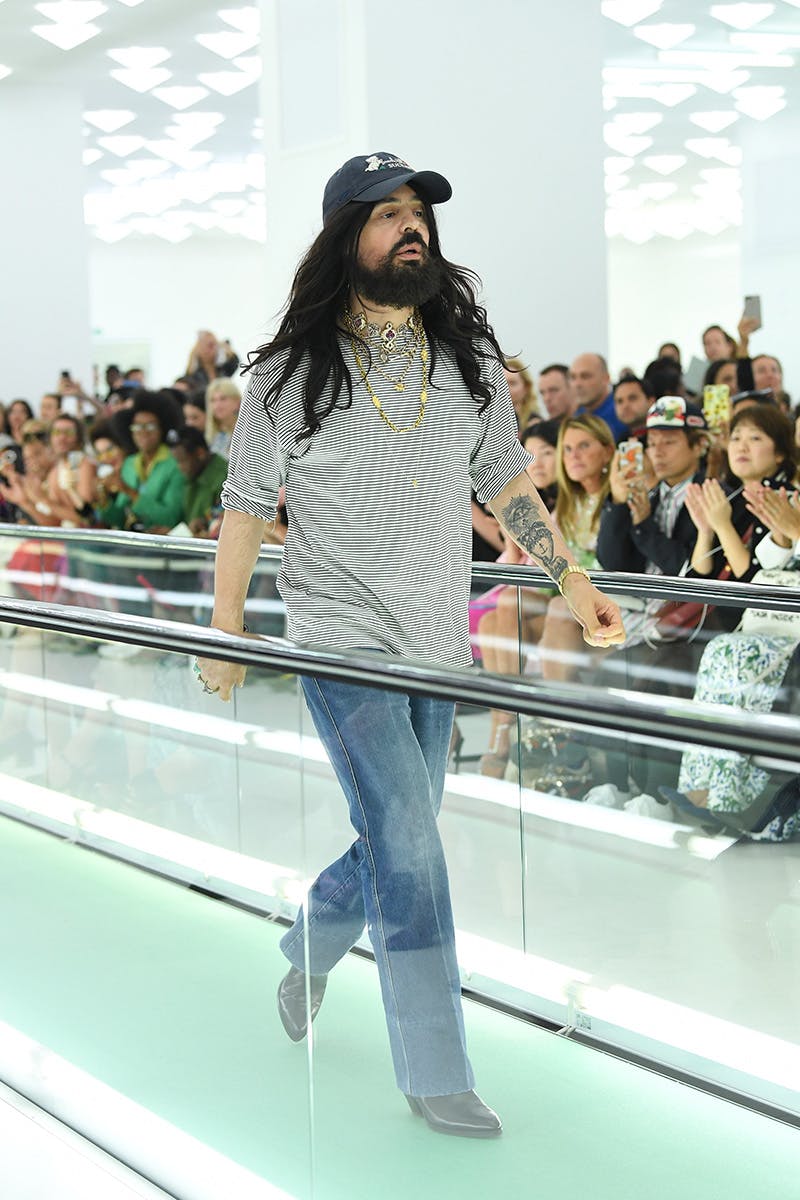 Michele joined Gucci under Tom Ford in 2002 and rose quickly through the ranks, eventually serving as head accessories designer under creative director Frida Giannini by 2011. When Giannini walked away abruptly in 2015, blue-chip names such as Hedi Slimane (imagine, LOL), Riccardo Tisci, and Christopher Kane were linked with the gig, but it was the relatively unknown Michele who was entrusted with breathing life into the by-now stale Italian legend.
As the fashion yarn goes, Bizzarri set Michele a challenge after their first meeting, giving him just five days to rip up Gianni's fall 2015 menswear show and come up with his own — clothes, models, seating arrangements, everything. He duly delivered, and the rest is history. It's an accepted fact that Michele's success part-informed Kering owner Pinault's decision to hand over the keys of Bottega Veneta to the equally unestablished (in a relative sense) Daniel Lee, who himself is exerting a great influence on what it even means to be a luxury brand in 2021.
"The personal connection is as important as talent, and it was more an emotional rather than a rational choice; he was aligned with me," Bizzarri explained to WWD, when asked about Michele's revolutionary vision. "I would love to say it was a formula, but there is a huge dose of luck; I did it my way."
When thinking of sliding doors moments, the idea that the Kering group could have so easily lost the person who doubled revenue and tripled profits between 2015 and 2019 is wild (it's worth pointing out, however, that there has been a dip in sales following the pandemic and a change in strategy when it comes to shows), especially if you're someone who can remember what the brand was like prior to his arrival.
"Even someone whose knowledge of fashion begins and ends with the movie Zoolander knows what Gucci is," read a Refinery29 review shortly after Michele took charge. "Naming an iconic item the brand debuted within the past decade, though, is challenging for even its devoted followers." Whether it's bags, sneakers, or tracksuit tops, times have certainly changed. Yet it's his macro impact on androgynous fashion that is arguably most influential. That, and logomania. Really, the product almost feels trivial. Anyone who dabbles in fashion at even a semi-serious level will know that "Michelian" has become a neologism for a certain kind of renaissance-indebted maximalism.
"[Gucci is] constantly reborn, recreated, and pop," said Michele to WWD, when asked about the house's centenary anniversary. From Dapper Dan to A$AP Rocky to Rihanna to heads and dragons to E-sports to Adam Driver/Lady Gaga movies to internet-breaking collaborations, like him or loathe him, it's almost impossible to fully articulate the influence the Michele revolution has exerted on culture writ large. Perhaps he's a lesson to all bosses, that sometimes, the best person for the job is right under your nose.