Gucci, the biggest driver of sales for international luxury group Kering and one of the most famous fashion houses in the world, has a visionary and revivalist at its helm. Having previously worked as head accessories designer, Alessandro Michele was made Gucci's creative director in 2015.
The Roman designer was tasked with resurrecting the brand following a few seasons of underwhelming sales, and pivoting to millennial customers while still maintaining Gucci's legacy as a premium brand. He achieved all three. In June, The Business of Fashion reported that Gucci "aims to reach €10 billion in annual sales and replace LVMH's Louis Vuitton as the world's biggest luxury label."
Established in 1921, Gucci has had a few provocateurs at the helm, including Tom Ford, whose tenure as creative director in the '90s and early '00s saw a revival of glamor juxtaposed with some highly suggestive campaign imagery. After Ford's departure, Frida Giannini, formerly of Fendi, looked to musical icons like David Bowie and eras such as the '70s during her nine-year stint as creative director.
Michele's aesthetic took a different turn, pivoting to gender fluidity, bucolic imagery, and maximalism. It was just as well, as Gucci was in need of a fresh perspective for new kind of customer: younger, less rigid, and eagerly looking for a sense of belonging to a new style tribe.
To give you an idea, Gucci's recent FW18 Milan show loosely summarized Michele's eclectic tastes and his ability to conflate diametric style codes. The runway was a futuristic hospital room and the collection featured, among other things, half-and-half coats, plaid tailoring, full-length velvet gowns, button-up shirts, balaclavas, severed heads, baby dragons, and a New York Yankees collaboration.
Ahead of the brand's SS19 show at Paris Fashion Week in a few weeks (a one-season shift away from Milan Fashion Week), here are few essential things to know about Gucci creative director Alessandro Michele.
He made Gucci relevant again
Gucci was crowned the top brand of 2017 by The Business of Fashion, beating Balenciaga, Vetements, and OFF-WHITE. This was largely down to Michele, the changes he implemented, and how customers started to relate to Gucci as a luxury brand.
A key driver in this surge in popularity was the establishment of new codes and symbols, as defined by Michele. Suddenly Gucci was easily identified by its blue/red/blue and green/red/green stripes — registered trademarks of Gucci's since 1979 and 1988 — and animals such as wolves, lions, and tigers, the latter of which featured prominently in the SS17 campaign shot by iconic fashion photographer Glen Luchford.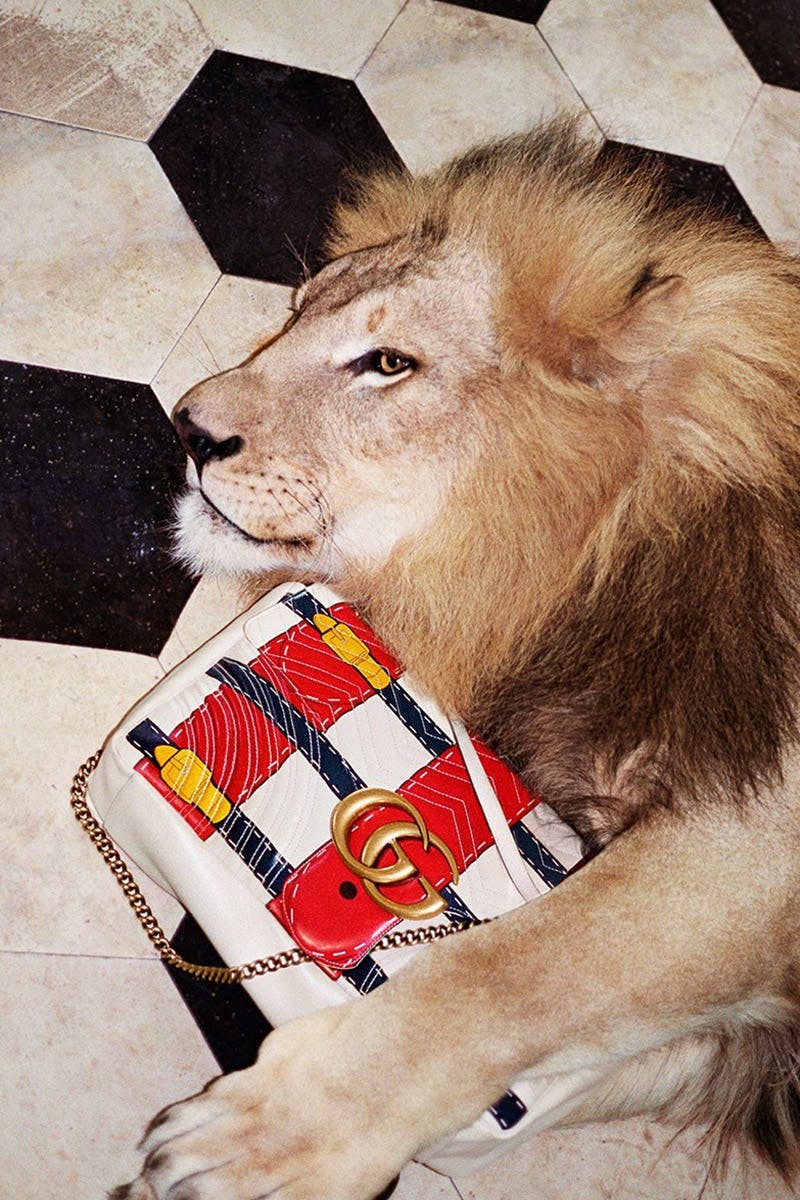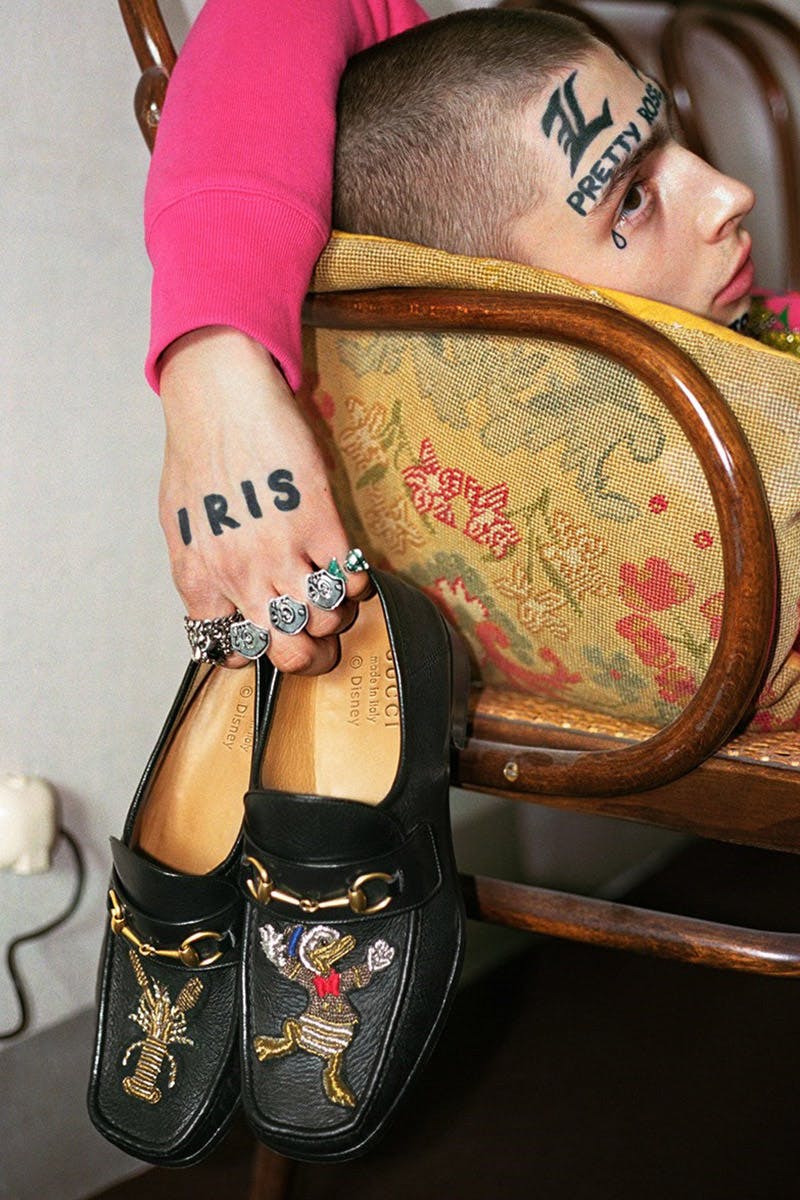 He's obsessed with the past
One of Michele's passions is history. Speaking to Vogue shortly after his appointment as Gucci's creative director, he said, "I'm not interested in the future — it doesn't exist yet — but I'm really interested in the past and the contemporary. My apartment is full of antique pieces, but I put everything together like a modern installation."
Defining Gucci's aesthetic in a few words is almost impossible, but that's the point. The mixture of Yankees logos and renaissance-style frills and fabrics doesn't lend itself to easy description. It's simply "Gucci," and that's why it works so well. The introduction of "GUCCY," a bejeweled print that appeared at Gucci's Cruise 2018 show revealed the humor within Michele's OTT designs and a kind of self-awareness that rolled Gucci into a zeitgeist that contains other top-tier post-ironic brands such as Balenciaga and Vetements.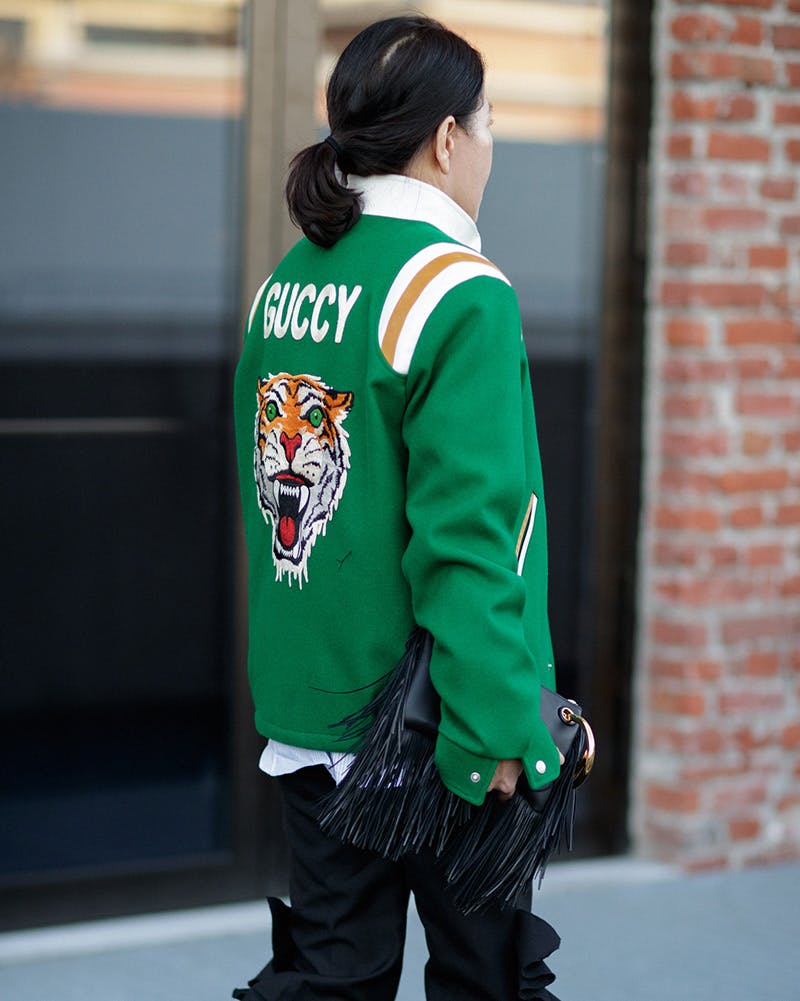 When Michele received the International Designer of the Year award at the UK's The Fashion Awards in 2015, presenter Tim Blanks of The Business of Fashion said, "Do the times make the man, or does the man make the times? It's a question that's often asked about revolutionaries. And a revolution is what Alessandro Michele promised at Gucci."
While Gucci might be considered anachronistic in some of its visual output, Michele's tenure has also seen some very modern changes. This balance between historical reference and contemporary transgressiveness is where Michele's vision for Gucci finds its sweet spot. Notably, Gucci introduced co-ed collections and started showing men's and women's collections on both genders, as well as becoming one of the first major houses to stop using fur, starting with its Spring 2018 collection.
At the time, Humane Society fashion policy senior manager P.J. Smith commented, "We'll look back at this moment, I predict, and see that this was the turning point when the business world turned away from fur and substituted cruelty-free garments in its place."
Since Gucci took the decision to go fur-free, other brands such as Versace and most recently Burberry have followed.
He's the physical embodiment of his brand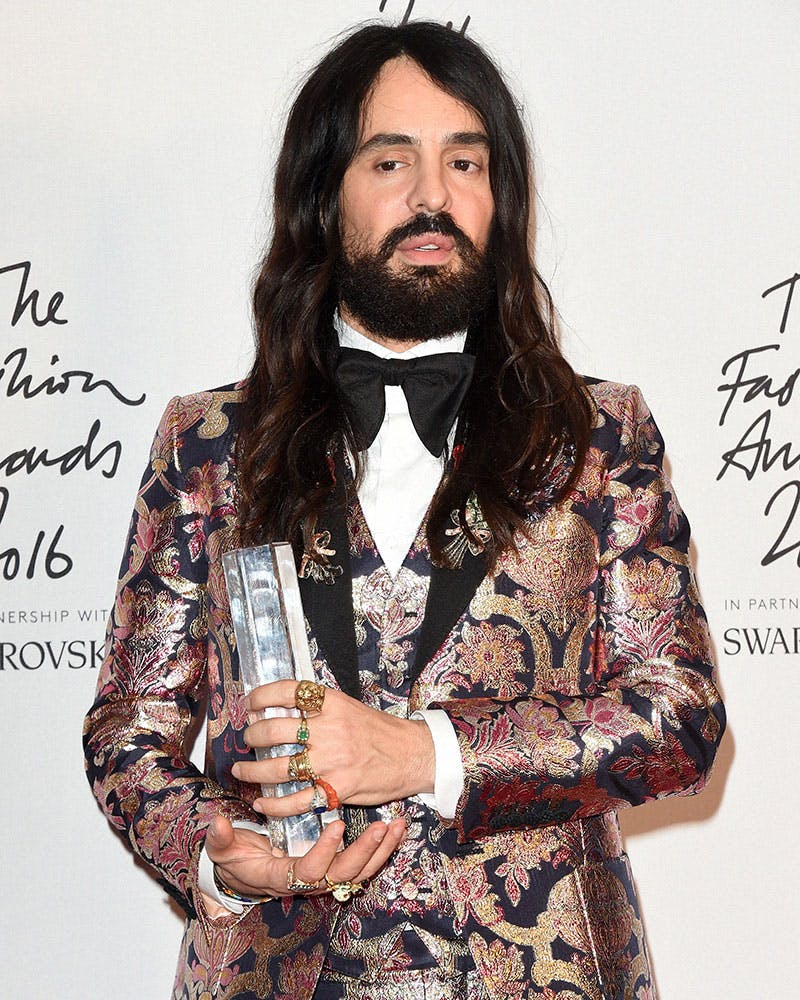 Sometimes fashion houses and their lead designers are mirrors of one another, such as the sleight and withdrawn Hedi Slimane at Saint Laurent or the perpetually traveling Kim Jones at Louis Vuitton. This is the case with Alessandro Michele, too.
Resembling a kind of high-fashion Jesus, his personal style involves rings, often stacked on top of one another, and a deference for floral suits, silky bombers, and light-wash denim jeans. Following the surprise announcement of Michele as creative director, Gucci CEO Marco Bizzarri commented, "Why should I look for someone else when he can translate the heritage — and when the values of Gucci are in his veins?"
It's no surprise that Gucci almost pours from Alessandro Michele's very being: he's been with the house since 2002.
He's got a troupe of celebrity admirers
Michele-lookalike Jared Leto's jubilation at seeing a green coat from the menswear Spring 2017 collection spawned a meme and signified a budding friendship. The actor-slash-singer can often be seen sporting Michele's designs and became the face of Gucci Guilty in 2016.
Lana Del Rey, too, has been an advocate for the brand, popping up between Michele and Leto at the "Heavenly Bodies"-themed 2018 Met Gala.
Elton John is committed fan to Gucci, and even had Michele design his wardrobe for his upcoming 'Farewell' tour, there was even a capsule to celebrate the singer's legacy. In 2017, Icelandic singer-songwriter Björk enlisted Michele to create a dress for her video for "The Gate." Sparkling with iridescence and otherworldly fabrics, the ensemble took a reported 550 hours to make and an additional 320 hours for the embroidery. Check out the design in the video below.
In case you missed it, here are the essential things to know about Burberry chief creative officer Riccardo Tisci ahead of his debut collection with the brand next week.