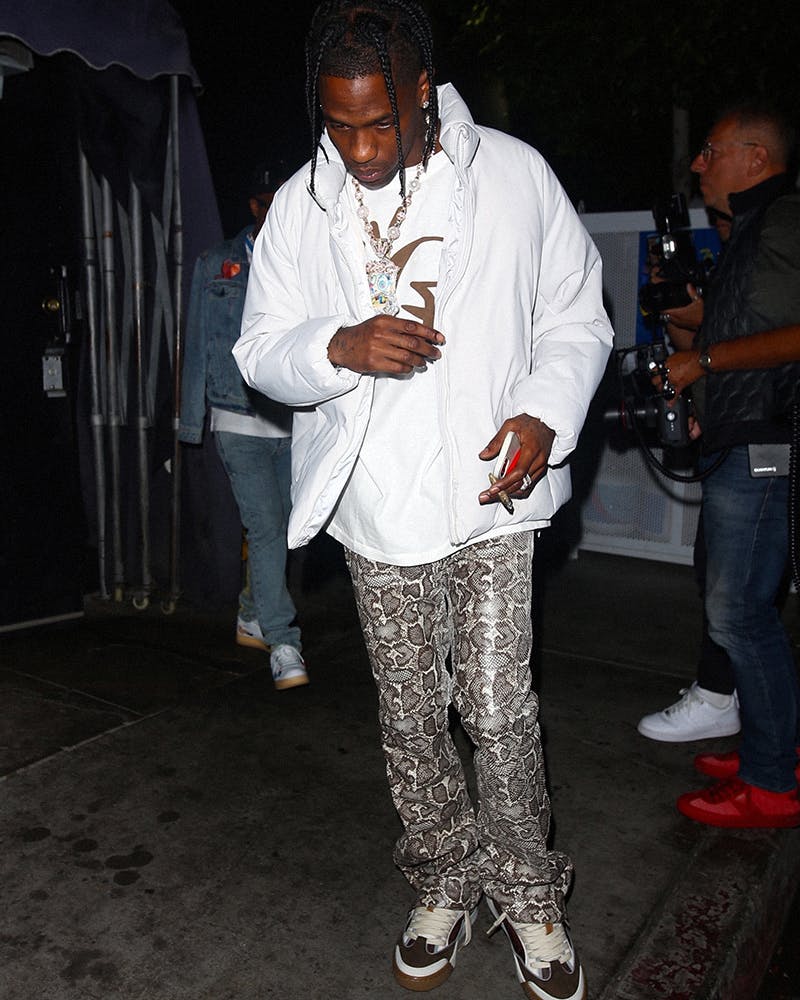 Thankfully, we've come a long way since shopping animal print meant buying into animal cruelty. In recent years, the major house likes of Prada, Gucci, Burberry, and more have all committed to the complete end of fur use in production. Though animal print is decidedly more faux these days, that hasn't stopped it from falling in and out of favor.
And not just because of its dark past. On aesthetic grounds, animal print has often been viewed as the height of garishness. And fair enough, it's one that screams 1980s excess, Gianni Versace, and a holiday in Miami. Think leopard print and thoughts of wild hair and a lot of lycra likely follow. Or worse, IMO, Nic Cage.
But in a time in which technical gear is absolutely everywhere, animal print could be received as a welcome antidote to anything labeled Gore-Tex for some. Tyler, the Creator is one of them. He's been wearing animal print for a while now, but it's a major recurring theme in the looks of his Call Me If You Get Lost era.
I'll admit, I've never been a huge fan or user of animal print — I've always viewed it as a little too brash. But Tyler shows how it can work well if styled correctly. Taking pointers from Mr. Baudelaire, it's wise to use prints like leopard or zebra as a layering tool; a pop of loudness worn under neutral tones or a bold jacket/sweater contrasted against some minimal pants. Ultimately, though, Tyler's use of animal print is fun. It reflects a playful character and a dresser that makes his own set of rules.
If you're not about subtlety, then you might find solace in the all-out display of animal print from Travis Scott — another artist who's been touting the look recently — in the main image above. Here, he wears a wild pair of snakeskin pants from his recently-unveiled partnership with Kim Jones. At the Dior x Cactus Jack show, Travis played on the desert motifs of the CJ label and its merch, transferring the all-Texan cast of cacti and cow skulls to the set. On the clothing, animal print was a key theme — and against this backdrop, it was right at home.
The fortunes of animal print look are getting another boost, and not for the first time (remember those fire CDG vests from 2018?). In addition to the high fashion houses, streetwear labels like Wacko Maria, Needles, and Noon Goons are showing how good it can be at more affordable prices. Add that to the fact that names like Travis and Tyler are wearing animal print right now without looking trash, and I predict that it's going absolutely nowhere.
Whether or not these next few years turn out to be the new roaring twenties that some predict they will be, we all deserve to be a little more unreserved when it comes to dressing up post-pandemic. Animal print is a surefire ticket to doing exactly that. Maybe it's the exact type of gear we need right now. I'm even coming round to the idea myself.
As such, our curators hit the internet to bring some of the best animal print clothing available from brands we like.
Scroll to shop this season's best animal print pieces.
Tops
Pants & Shorts
Accessories
Want to keep browsing? Head to the Highsnobiety Shop for more products that we love. Highsnobiety has affiliate marketing partnerships, which means we may receive a commission from your purchase.