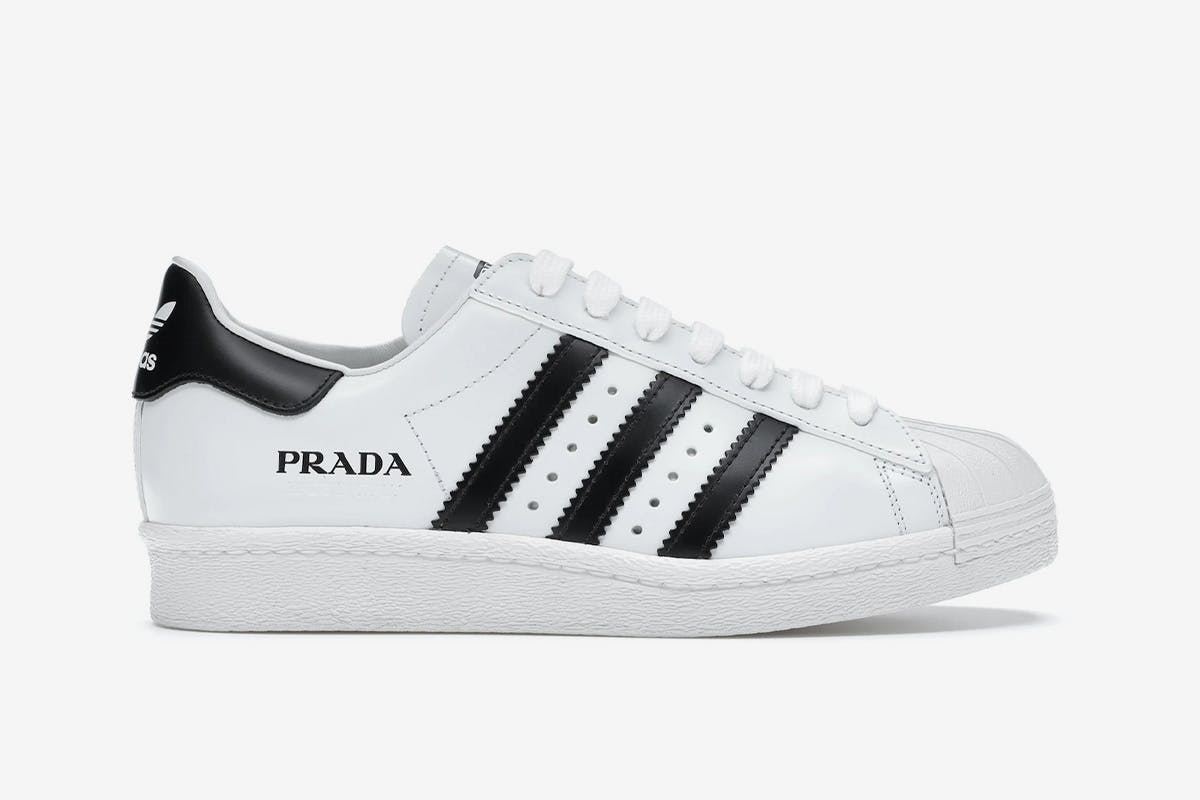 2022 was a strong year of collaborations for adidas. Surprise partnerships between the sportswear brand and luxury houses like Gucci or music icons like Bad Bunny have left sneakerheads asking for more.
While the Samba or Forum have had more than their fair share of the limelight, the Superstar is criminally overlooked. Believe it or not, adidas Superstars have some of the top-tier collaborations in contemporary sneaker culture. Plus, as you'll see in our selection, this lack of hype means that you can secure most adidas Superstar collaborations for less than retail price.
In the late '60s, when the Jordan Brand was just a dream in a six-year-old Michael's mind, adidas Superstars were being specially crafted for basketball players to wear on the court. The cushioned leather upper and rubber outsole were ideal performance features for bouncing and running. However, as soon as hip-hop culture took over street style in the '80s, the three-striped kicks found a new community to call home.
Partnering with other brands didn't start until the Japanese streetwear brand BAPE took the initiative to work hand in hand with adidas twenty years ago. And since then, the list has grown a little bit. Today, more than fifty years after its release, collaborations go from artists like Run-DMC to food brands like Tony's Chocolonely.
Sure, Jordans steal the limelight in terms of collaborations. However, adidas Superstar collaborations are lowkey some of the most stylistically interesting partnerships, and few places can rival StockX when it comes to finding rare adidas Superstar collaborations. Below we've rounded up the greatest for you to add to stand out from a world full of Sambas. Plus, you can rest assured that each of the products is verified authentic under StockX guidelines.
Shop the best adidas Superstar collaborations on StockX below.
Prada
Lately, luxury houses have been partnering up with sportswear brands like crazy. As we already know, Prada is loved for the simplicity of its garments and muted color palettes. So, there couldn't have been a better silhouette to portray its clean aesthetic than the classic black-and-white Superstars.
Sean Wotherspoon
Sean Wotherspoon is constantly dropping outstanding designs to drool over, but these embroidered Superstars are an all-time favorite. The multicolored embroidered flowers, comfortable leather composition, and decorative Super Earth "S" logo will get some heads to turn.
South Park
With more than 25 years on the screen, the characters of South Park have grown on us, and on adidas too. Kyle's signature outfit was the main inspiration behind these Superstar kicks. If you have a lovable soul like Kyle, this pair belongs in your collection.
The Simpsons
Continuing with another cartoon classic, adidas brings the humor of The Simpsons to your feet. Inspired by the famous Kwik-E-Mart drink, the shoe mixes bold colors and fun motifs, making this pair a colorful gem to add to your colorful sneaker rotation.
Pleasures
Inspired by the Punk attitude, PLEASURES teams up with adidas to take on the Superstar movement. Made out of buttery leather, the three glossy stripes will catch some light as you walk by. The red PLEASURES embroidery is the only pop of color to see in the shoe.
AdiFOM
By now, the classic shape of the adidas Superstar has been sold in more than fifty colorways, but there haven't been any major alterations to its silhouette. Even though this isn't a collaboration, we couldn't ignore the fact that this adiFOM shape has been one of the most interesting Superstar developments since the shoe hit shelves in 1969.
BAPE
The original 2003 silhouette of the adidas x BAPE Superstar is not within our reach anymore, but these ABC Camo Superstars are a modern version to fall in love with. The adidas stripes are hidden inside the shoe while the signature BAPE logo is the visible eye-catching motif. Camo might not be your print of choice, but these icons are hard to resist.
Blondey McCoy
The brown rubber outsole and transparent uppers to show your favorite socks off make these a one-of-a-kind.
Human Race
Now the Creative Director of KENZO, NIGO is a major contributor to the contemporary side on luxury. But, his love for the sneaker culture is never going away and these Human Made sneakers are proof.
Jonah Hill
Along with being a defining part of modern comedy, Jonah Hill is a serious sneaker lover, too. These all-white Superstars differ from the classic model because of their semi-puffy leather composition and thick laces.
Want to keep browsing? Download the Highsnobiety app for all the hottest products and brands from the the Highsnobiety Shop. Highsnobiety has affiliate marketing partnerships, which means we may receive a commission from your purchase.