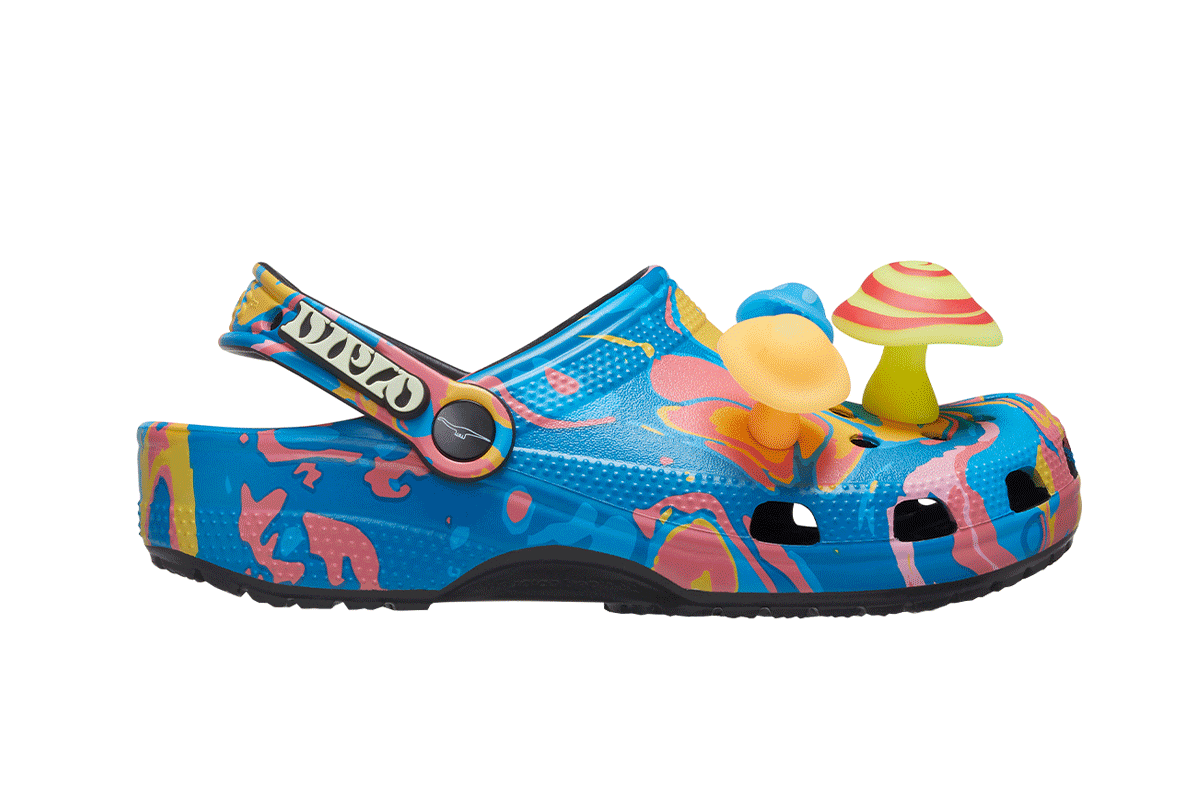 You'd be hard pushed to find a piece of footwear that has been as heavily attacked from all sides as Crocs. The rubber clogs first made an appearance in 2002 as a boating shoe and quickly became the shoe of choice for those looking for comfort and just about nothing else.
Since then, though, the world of footwear has been through a lot and, for a multitude of reasons, consumers have eased up on the weird shoe front. Crocs have been picked up big time by the popular culture machine and thanks to some shock-value releases, blockbuster collabs, and a spike in WFH footwear demand, the label recently reported a year-on-year sales increase of 64 percent (around $460 million!).
In 2017, Crocs first hit the catwalk for Balenciaga, but that wasn't the end of this unusual couple. The Demna-helmed fashion house recently teased an upcoming stiletto-heeled Croc (yes, really) and we're not sure what to think of it. Or where this is going to end.
Whatever you think of it, the ever-diversifying list of Crocs collaborators continues to grow. New and more freakish additions, such as the KFC scented Croc (which we certainly won't be including here) or the mushroom-studded Diplo Crocs that hit shelves recently, are popping up on the regular. Then there are the actually-fire additions to the family, like the upcoming fourth installment of Crocs x Beams. With many of us asking WTF is happening at Camp Croc?!, we're here to help you keep tabs on the latest, greatest, and downright strangest, of its collabs.
Shop the best Crocs collaborations below.
Crocs x Diplo Clog
At this point, it seems there's noone that's out of reach for a Crocs collab. So why not Diplo? Coming with massive mushroom Jibbitz, this one is perfect for those as subtle as the EDM producer himself.
Crocs x Nicole McLaughlin Clog
There's even a Croc for the doomsday preppers. Thanks, queen of upcycling Nicole McLaughlin! As Crocs collabs go, though, this one is actually pretty neat. I'm into that boot extension and the Jibbitz here, including headlamp, paracord, and carabiner, are actually useful. Look and learn, Diplo!
Crocs x Post Malone Duet Max 2 Clog
We recently declared that this summer was going to be one where advanced summer shoes reigned supreme. The usually-cute Croc gets a hiking trail-ready upgrade here via a rugged sole on Post Malone's latest team-up with the brand.
Crocs x Palace Clog

(Available at 2 Merchants)
(Available at 2 Merchants)
British skate king Palace just unveiled a camo Croc collab as part of its 2021 summer lineup, featuring the Palace logo, turtle, and peace sign Jibbitz. It might be camo, but you can't really go under-the-radar in these.
Crocs x Justin Bieber x Drew House Clog
The second on the JB and Crocs partnership, this one arrived in March this year, bringing with it a summer-fied lavender colorway and Jibbitz that honor members of the Drew House, Bieber's brand, community. Justin says you should wear them with socks.
Crocs x Chinatown Market x Grateful Dead Clog
It's not the first time that LeBron has kitted himself out in Grateful Dead merch, or Chinatown Market for that matter, but that's not the point. LeBron wore a pair of Grateful Dead Crocs. Let that sink in. (Oh, and Nick Young got a pair, too.)
Crocs x Pleasures Clog 'Skeleton'
There's something inherently tongue-in-cheek about any Crocs collaboration, but Pleasures takes the irony to a new level with this grungey skeleton design.
And if you're more of an OG Crocs supporter...
Crocs Classic Clog
It's not a collaboration, but we're loving the simplicity of this classic colorway. The dusty beige palette activates the same part of our brain as YEEZY slides, and that part of our brain is saying that these are the comfortable slip-on we need for the coming season.
Want to keep browsing? Head to the Highsnobiety Shop for more products that we love. Highsnobiety has affiliate marketing partnerships, which means we may receive a commission from your purchase.