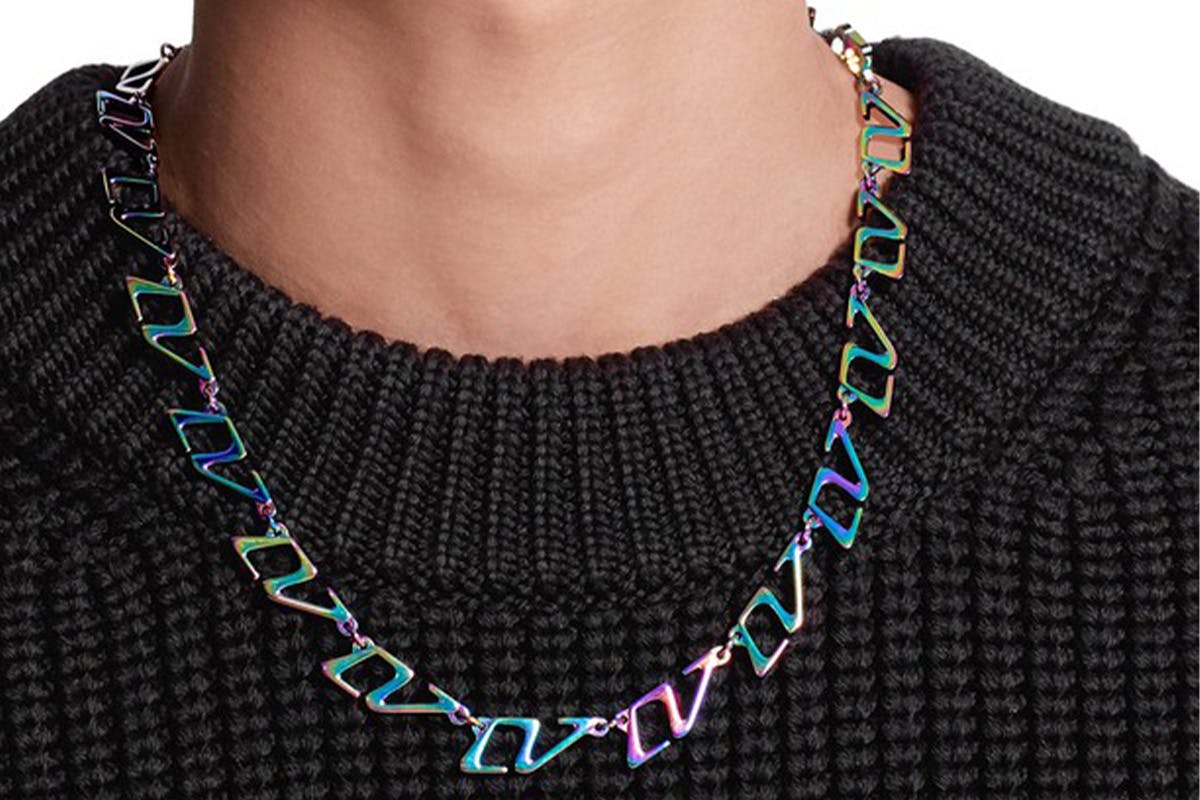 For reasons unbeknown to us, the jewelry output of some of the planet's biggest famous fashion labels is often considered runner-up to the industry's more niche producers. It's as if being a renowned fashion house diminishes the ability to produce sought-after jewelry.
We, however, see fashion house jewelry as the unsung hero of today's accessories market. Yep, you heard right. Admittedly, not all fashion house jewelry hits the mark, with many pieces feeling as though they were designed and released in a somewhat obligatory manner, but this doesn't mean accessories from these giants should be ignored.
In light of this, we have rounded up a selection of the best jewelry pieces from established fashion houses like Fendi, Givenchy, Sunnei, and more.
Without further ado, shop our selection of the best fashion house jewelry for men below.
Louis Vuitton 2054 Necklace
From a distance, this Louis Vuitton chain looks like a standard link chain. Up close, you'll realize it's much more than that. The LV letters make up the chain which is finished with a pearlescent effect.
Fendi Signet Ring
One for the maximalist among us. This Fendi Signet Ring is all-out opulence with the Fendi monogram stamped strongly on the face.
Celine Necklace
Most fashion-house jewelry is based on the label's go-to logos but this Celine necklace avoids that with a lettered pendant.
Off-White™ Arrows Earring
We're big advocates for a small but bold piece of jewelry. This Off-White™ earring is a perfect example.
Palm Angels Chain Necklace
A chunky chain necklace is by no means easy to pull off, but if you can then it pays off big time. It's eye-catching and acts as a punchy finish to short-sleeved summer fits.
AMBUSH Ball Chain Necklace
A good sterling silver necklace is about as essential as jewelry for men gets. This AMBUSH chain offers up a nice twist on the classic with an unorthodox ball chain and engraved clasp.
1017 ALYX 9SM ID Necklace
1017 ALYX 9SM necklaces usually come with chunky Cuban chains and Rollercoaster Buckle fastenings. The ID Necklace is a refreshing change that doesn't impose as much on your fits.
Gucci Interlocking-G Ring
Gucci's Interlocking-G Ring is a great way to bring some bolder personality to your accessories rotation. Using a chain-link effect for texture, the ring positions the iconic Gucci logo front and center.
Maison Margiela Logo Ring
Margiela jewelry is up there with the best of the best in the luxury fashion world. Using flashes of brand signatures — here, the sizing grid — each piece revolves around understated aesthetics but comes with unmistakable character.
Givenchy CHITO Ring
Givenchy's link-up with enigmatic artist CHITO birthed a collection of graphic-heavy luxury pieces. This extended from hoodies and shirts all the way through to graphic-emblazoned signet rings.
Sunnei Rubberized Hoop Earring
Sunnei's rubberized earrings are now a pivotal fixture in the Italian brand's collections. The dipped silver hoop epitomizes the label's playful aesthetic.
Want to keep browsing? Head to the Highsnobiety Shop for more products that we love. Highsnobiety has affiliate marketing partnerships, which means we may receive a commission from your purchase.