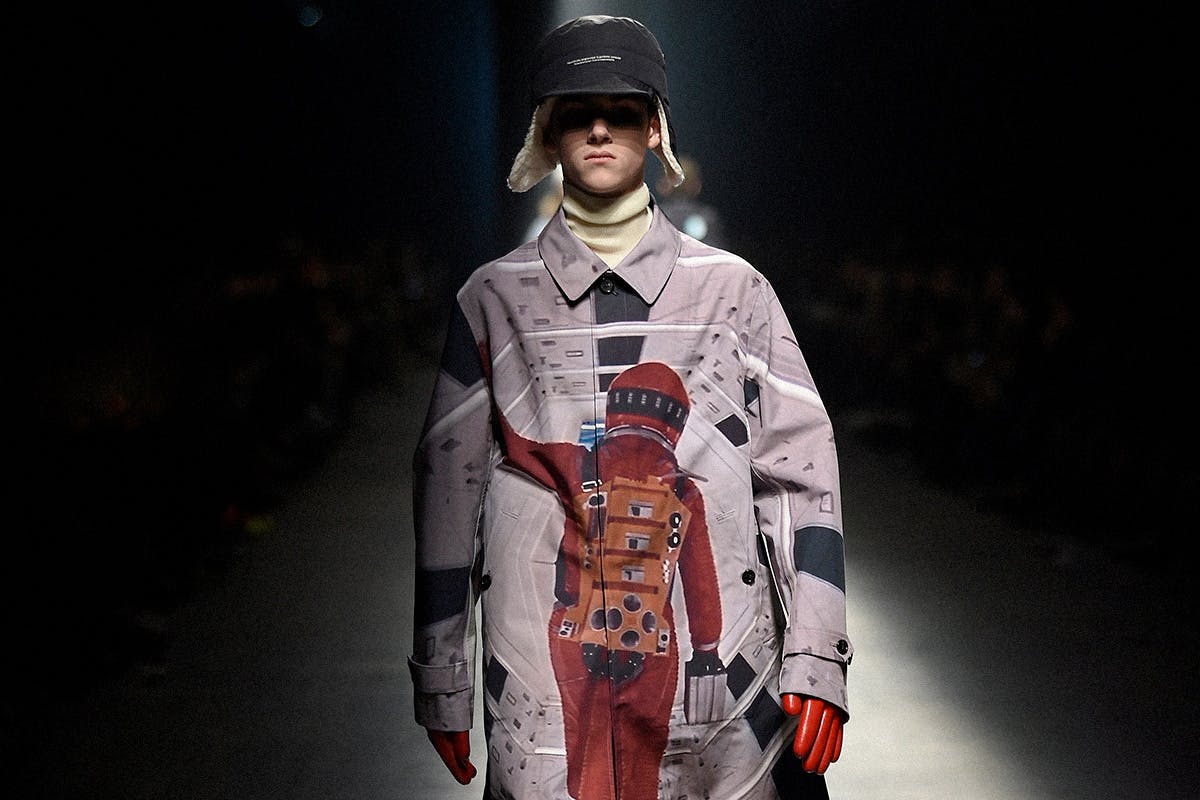 In this monthly column by Eugene Rabkin, the founder of StyleZeitgeist shares his opinions, observations, and insights about the world of fashion. As we head into 2020, this edition sees Eugene take a look back at some of the most influential fashion shows of the last 20 years.
Fashion is supposed to be fast, just like financial markets are supposed to be efficient, but that's not really the case. What we wear today did not materialize today, or even yesterday, even in our Internet age. It takes a lot of time for information – such as the change in silhouette and volume – to trickle down from the catwalk to the masses, to be internalized and normalized by them. This is especially true for menswear, since we still have to grapple with the atavistic view that pretending not to care about how we look is supposed to signify our masculinity. But, guess what, that "wacky" fashion victim who was once mocked for wearing jeans deemed too skinny definitely had the last laugh.
Technical note: I am picking shows, not collections, which perhaps isn't fair to brands that did not present many of their menswear collections in a show format, but shows remain an important part of fashion, a way to present it that remains unmatched by other methods. I decided to put the shows in chronological order, because it was too hard to pick some over others in order of importance. Chronology also serves as a useful tool for seeing how fashion evolves.
Raf Simons, Spring/Summer 2002, "Woe Onto Those Who Spit on the Fear Generation… The Wind Will Blow It Back"
Few people know that in 2001, Simons skipped a collection due to reasons we can only speculate about (personally, I can't think of any reason other than that he was struggling financially). He came back with fury for Fall/Winter 2001, but the real masterpiece was his second collection after the break, Spring/Summer 2002. The energy of youth, the protest, the anger – all channeled sartorially – were palpable in the clothes and in the brilliant presentation. The strong graphic element that has always been present in Simons' collections was turned up a notch, and the show was proof that fashion need not be entirely about the la-la-la frivolity.
Dior Homme, Fall/Winter 2003, "Luster"
I have zero good things to say about Hedi Slimane's current output, but his work at Dior Homme in the early aughts was undeniably brilliant. Almost single-handedly, Slimane made it okay for straight men to care about fashion. He changed menswear silhouettes in the course of a mere couple of seasons, abandoning baggy jeans in favor of the now-ubiquitous skinnies. Slimane made the bland GQ guy and the Complex streetwear kid love designer fashion – such a contribution must be acknowledged. "Luster" was the apogee of Slimane's work both in terms of the look, the visual impact, and the quality of the garments he presented. It was truly menswear at its best.
Helmut Lang, Fall/Winter 2003
Helmut Lang was mining minimalism flavored with kink (if you only paid close enough attention) long before 2003. He was the darling of the '90s fashion intellectuals, a reigning champion of sobriety. But it was this show where his ideas truly came together, mixing his sartorial genius with utilitarian details and a healthy dose of bondage.
Ann Demeulemeester, Fall/Winter 2003, "Twilight"
A lot of seeds were planted in 2003, and it really does stand out as one of the definitive years for men's fashion. It also goes to show that the breaking down of fashion (or anything else, for that matter) by decade does not stand up to scrutiny. A lot of ideas introduced in the '90s did not bear fruit until the early '00s, and here is another example. Ann Demeulemeester has been honing her romantic punk-chic since the late '80s, but for me, it all coalesced with this show.
Carol Christian Poell, Spring/Summer 2004, "Mainstream Downstream"
In some circles, I will be crucified for even mentioning Poell here, darling of men's avant-garde fashion. I mean, god forbid David Casavant starts collecting the stuff, then Kanye West gets a whiff of it, and all hypebeast-hell breaks loose. And while I sympathize with this elitist view, I am bound by the terms of journalistic integrity to include this brilliant presentation. Poell was the designers' designer of the aughts, and his experiments in modern tailoring were masterful. Inspired by the paintings of Egon Schiele (and being tall and skinny himself), Poell also preferred the elongated, slim silhouette that Slimane and Simons were pushing, but in his own specific way. As the name of the only "show" he's ever done (sending models floating in Milan's Navigli canal) suggests, this collection was the sartorial middle finger to mainstream fashion. It's too bad no designer can afford to flip off the establishment today.
Number (N)ine, Fall/Winter 2006, "Noir"
It was a hard call between this collection and the SS05 "Nightcrawler," but I gave "Noir" an edge because of its impact on tailoring. There is a lot of say about "new tailoring" these days, but if you squint, there isn't much new in it. This show also highlights just how talented Takahiro Miyashita is; though he may be more famous for mining alternative music influences that result in coverable tees and jeans, tailoring remains the litmus test of menswear designers' prowess. Here, Miyashita simply killed it. And look at the silhouette – it remains absolutely fresh, 13 years on; you could wear these clothes today and no one would bat an eyelash.
Rick Owens, Fall/Winter 2009, "Crust"
Few designers have defined the contemporary menswear silhouette the way that Owens did. For those of you wearing drop-crotch pants today, you probably have Rick Owens to thank. Ditto to those who favor elongated tees with a shorter jacket on top. And make no mistake – these are far from conventional for a straight dude. And herein may lie Owens' greatest achievement – convincing an average guy to wear something hammered out by fashion's biggest champion of queer culture. It's Owens at his subversive best. "Crust" ticks off a lot of these boxes, and 10 years later, the creeper boots seen here remain my personal favorites.
Givenchy, Fall/Winter 2011
Again – file under "not my favorite, but credit due." Riccardo Tisci was instrumental in fusing the rock'n'roll aesthetic with that of hip-hop. He also somehow made it okay to charge $700 for a graphic sweatshirt, which every other high fashion brand now does. This show is the most emblematic of Tisci's work at Givenchy. Also, remember that Kanye West kilt? Came from here.
Undercover and TAKAHIROMIYASHITATheSoloist, Fall/Winter 2018, "Order/Disorder"
It's a pretty big jump from 2011 to 2018, but honestly, there was little that was monumental in menswear in between. Sure, we had hype darlings like Hood by Air and Vetements that were influential in their own ways, but their impact waned just as fast as it came. I am picking this show (and the next one) more for their "fashion moment" qualities than anything else. As far as the influence of youth culture on fashion and the reverse, one could do worse than choose this Pitti Uomo juggernaut, where Jun Takahashi and Takahiro Miyashita staged a 35-minute doubleheader that was not only incredibly moving, but proved that even in our age of bland corporatism, great fashion still has the ability to make a statement.
UNDERCOVER, Spring/Summer 2019, "The New Warriors"
It takes guts to stop showing womenswear on the catwalk and start showing men's, especially when your women's shows routinely garner rave reviews. But that's exactly what Jun Takahashi did in June of last year. I am sure the pressure was on to hit it out of the park, and Takahashi duly delivered by giving the '70s cult classic The Warriors (about a Coney Island gang making its way home from the Bronx) a new spin. Few Paris menswear debuts were more memorable than this one.