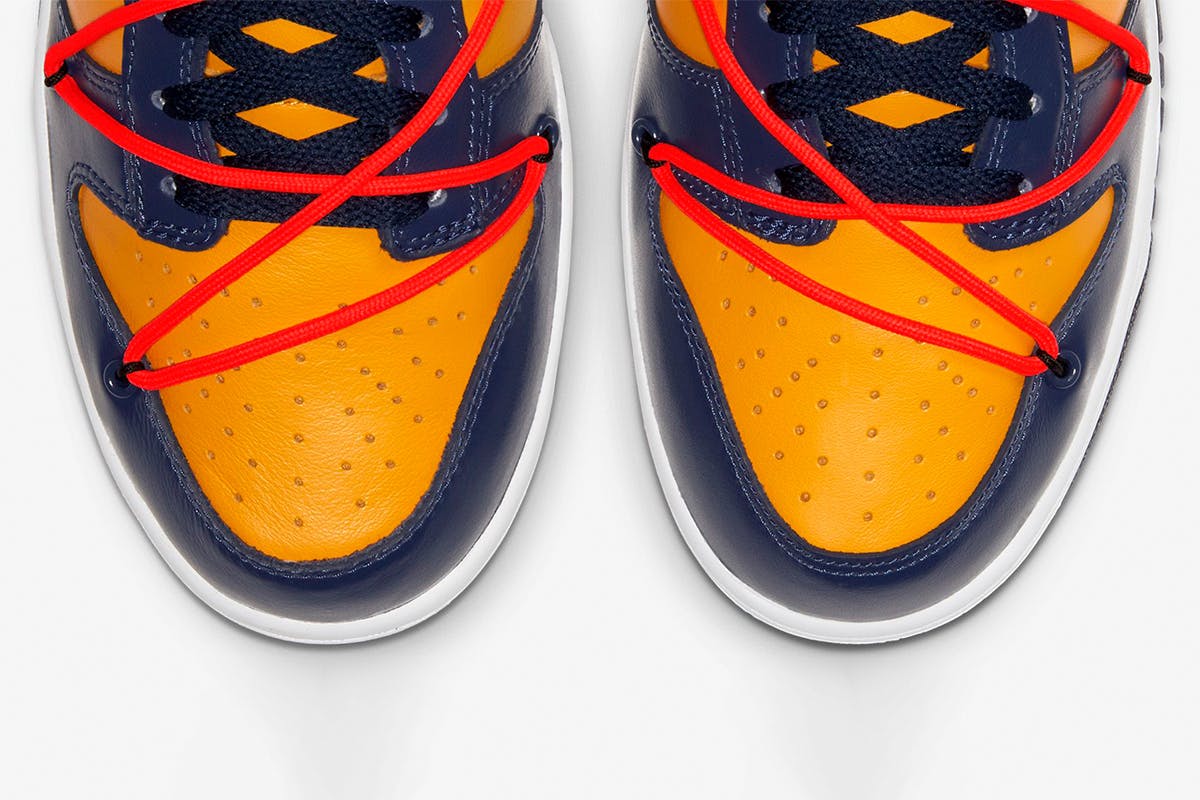 When it comes to sneakers, The Swoosh dominates the majority of the market. From performance footwear through to celebrity collaborations, Nike has every side of the equation covered. It works to a multiplier effect, too; Nike is the biggest in the market, therefore Nike gets the most opportunities. It's no surprise that Nike sneaker collaborations are arguably the best in the game, then.
Nike sneaker collaborations know no bounds, either. Ice cream brands, psychedelic bands of the '70s, and fledgling streetwear stars alike are queueing up to get their moment in the Swoosh collaborations spotlight. And when they get there, they're not letting the opportunity slip. Everybody brings their A-game to the Nike workshop. You have to.
But with the fact that Nike sneaker collaborations are the most highly sought-after comes the nasty side effect that they sell out almost instantly. Unless you get lucky on the SNKRS app or have the fastest trigger finger in your city, your best chance at copping the best Nike collaborations comes at resale. That's why we've scoured eBay for the best Nike sneaker collaborations available and you can be sure they're real thanks to eBay's Authenticity Guarantee.
The prices listed are our lowest buy-now finds at the time of publishing. They are not exact and may differ.
Shop our favorite Nike sneaker collaborations at eBay below.
Nike x A Ma Maniere Air Jordan 3
Plain and simple, the Jordan 3 is having a moment and this pair, made in collaboration with streetwear boutique A Ma Maniere, added a bucketload of fuel to the fire. Released on 22 May, this neutral, luxury take on the silhouette proves it's an all-time classic.
Nike x Supreme Air Max 96
Supreme is not one to play it safe, and with a number of successful (loud) Nike collaborations under its belt already, the May 2021 Air Max 96 collaboration was always going to be eye-catching. Transparent panels emphasize the structure of the 96.
Nike x Sacai LDWaffle
Released on 12 September 2019, the Nike x Sacai LDWaffle Pine Green has had some time to find its spot in the sneaker world's psyche. It had no trouble settling in as one of the standout colorways from the ongoing partnership.
Nike x Off-White™ Dunk Low
Virgil just announced a new chapter in his Swoosh story. 50 pairs of Dunk lows, all with the inimitable crisscrossing laces, will grace our shoe racks soon. Until then, we're taking a retrospective look at the collaboration so far and the University Gold pair of December 2019 is a highlight.
Nike x MMW Zoom 04
Matthew Williams' CV is certainly one to be revered. From helping Virgil in the early PYREX days to becoming the head honcho at Givenchy, he's seen it all. We'd argue that he's even seen into the future. If you need any proof, the Nike x MMW Zoom 4 should do the trick.
Nike x CPFM Blazer Mid
Overshadowed by the unmissable Swarovski-adorned Dunk Lows, this pair of Nike Blazers landed in 2019 and saw Cactus Plant Flea Market take a much more neutral tack. Customizable uppers allow you to put your own spin on the pair, though.
Nike x Fragment Design Dunk High
Japanese streetwear hero Fragment Design linked up with Nike for a highly sophisticated drop in June 2021. Combining a rich, wine hue with black overlays, this pair of Dunk Highs features classic Fragment Design text in small print to the midsole.
Nike x AMBUSH Dunk High
Yoon Ahn has been killing it for years now, and thankfully she's getting the credit she deserves with a string of Nike sneaker collaborations. This black & white pair dropped in December 2020 and is characterized by a rubber Swoosh that extends past the heel, seemingly floating.
Nike x Stüssy Air Force One
Two streetwear icons — The Nike Air Force One and Stüssy — came together in December 2020 to bless us with the Air Force One Fossil Stone. A versatile, neutral upper made from heavy-duty canvas sets the tone for this one.
Nike x Travis Scott Air Jordan 6
Travis is definitely not the first rapper to collaborate on sneakers, but he's arguably the rapper that has done it most successfully. Partly because of the strength of Nike x Travis Scott sneaker collaborations, and partly because of a severe lack of music from the artist, Scott is now just as closely followed for his sneakers as he is his music.
Want to keep browsing? Head to the Highsnobiety Shop for more products that we love. Highsnobiety has affiliate marketing partnerships, which means we may receive a commission from your purchase.