Although tennis is traditionally seen as a gentleman's game, the modern sport is deeply ingrained in street culture. From the signature sneakers that are now considered everyday classics, to the very official overlap between streetwear and tennis — seen in the form of BAPE's recent collaboration with Wilson or Palace's game-changing collection with adidas for Wimbledon in 2018 — tennis is part of our culture.
Usually, it's apparel such as polo shirts and tracksuits from the likes of Lacoste, Ellesse, or Fred Perry, that have crossed over into the style realm. But tennis is interesting for sneakerheads too, as some of the most timeless sneakers were first worn by the greats of the courts. Names like Stan Smith or Rod Laver belonged to tennis stars long before they were shoes. In more recent times, elite players such as Roger Federer and Serena Williams have worn special-edition footwear, while Naomi Osaka recently unveiled her CDG x Nike Blazer Mid collaboration, all of which perfectly exemplify this crossover.
Below, we've rounded up 10 of the most iconic tennis shoes in history.
adidas Stan Smith
The fact that adidas ran an ad campaign poking light-hearted fun at the fact that Stan Smith's name is associated with a shoe first and foremost speaks volumes.
Stan Smith is a former world number 1, having won two singles Grand Slams and forming one of the best doubles-duos of all times with Bob Lutz. Interestingly, the sneaker version of Stan Smith was originally called the Robert Haillet, after the French tennis star. When he retired, Stan Smith was selected to continue endorsing the shoe, and the sneaker was renamed in the '70s. The rest, as they say, is history.
NikeCourt Zoom Vapor x Air Jordan 3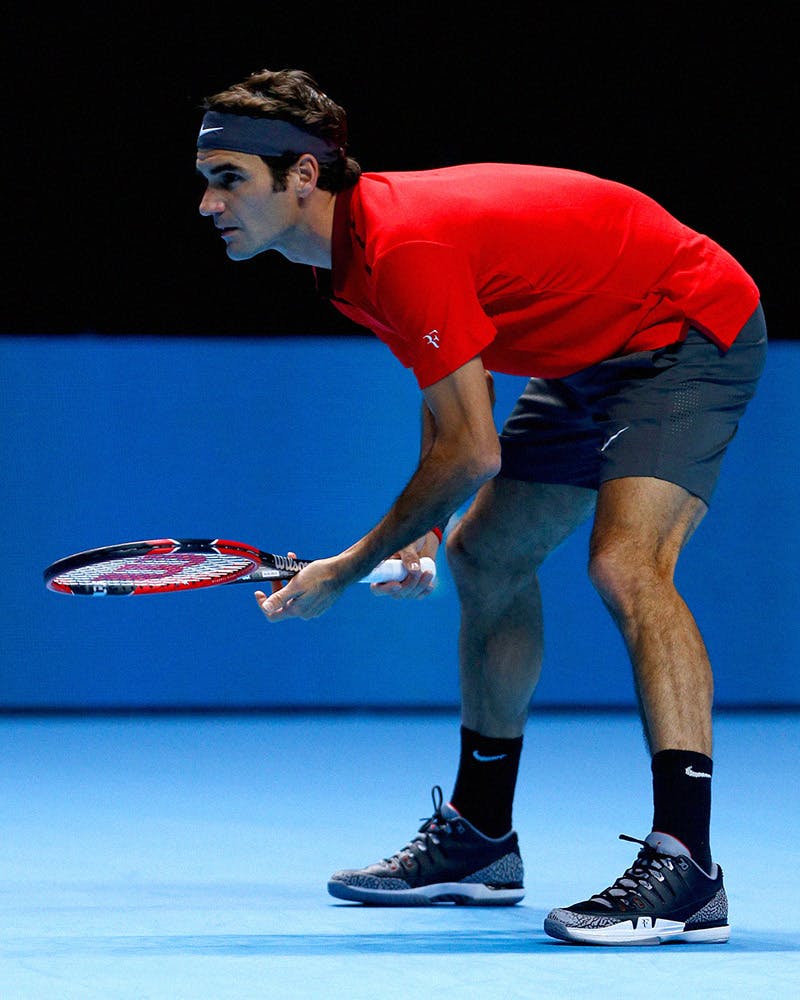 Roger Federer is one of the biggest sneakerheads on the ATP tour. While the legendary Swissman is now personally and financially invested in Swiss brand On, his best tennis sneakerhead moment came when he was still signed to Nike. In 2014, Roger Federer wore his signature NikeCourt Zoom Vapor in a familiar colorway, taken directly from the Nike Air Jordan 3 "White Cement." The tennis x basketball crossover saw two GOATs in RF and MJ join forces (and supported by Tinker Hatfield, of course). The shoe went on to sell out and will go down as one of the most iconic tennis sneaker moments in recent history.

(Available at 3 Merchants)
(Available at 3 Merchants)
Nike Air Tech Challenge II
André Agassi brought rock 'n' roll to the world of tennis through his aggressive groundstrokes, eye-catching style, and refusal to wear white (and thus not playing at Wimbledon for multiple years).
The OG Air Tech Challenge series debuted in 1990 and, thanks to Agassi's on-court endorsement, evolved into a bona fide lifestyle classic. The Air Tech Challenge 2 silhouette was relaunched in 2014, albeit fairly unsuccessfully. Fun fact: Kanye West's Nike Air Yeezy 2 used the same sole unit as the Air Tech Challenge 2, which is why the silhouette might look familiar to some.

(Available at 5 Merchants)
(Available at 5 Merchants)
NikeCourt Flare 2
Only the best for the best. Serena Williams' NikeCourt Flare 2 is the Swoosh's only female-specific on-court shoe. It combines lightweight cushioning with lightweight — but supportive — uppers. Williams' on-court sneakers differ from the retail version, as she has worn pairs that feature Flyknit uppers and built-in ankle straps borrowed from the model's predecessor, the NikeCourt Flare. Williams may not be the world number 1 anymore, but she's still the biggest draw in women's tennis, which is why it stands to reason that her on-court footwear is some of the best Nike has to offer.
In 2018, Virgil Abloh specially-designed a pair of NikeCourt Flare 2s, giving them the QUEEN makeover the Air Max 97 and Blazer Mid also received.
Nike Blazer QUEEN & Nike Air Max 97 QUEEN
Okay, this pack wasn't actually made to be worn on the court, however, the "QUEEN" Nike Blazer Mid and Nike Air Max 97 were designed exclusively for Serena Williams by Virgil Abloh and, therefore, kind of count. As one of the greatest tennis players of all time, Williams has had her fair share of noteworthy on-court footwear moments. As part of his ongoing Nike collaboration, Abloh decided to create a pair of off-court sneakers for Williams, that were surprise-dropped during the US Open in 2018 and cemented her status as an icon both on and off the court.
Nike Air Trainer 1
The Nike Air Trainer 1 wasn't even supposed to be a tennis shoe — that is, until John McEnroe decided to wear them. It was designed by legendary designer Tinker Hatfield to be an all-round sneaker that could be hooped in, worked out in, and potentially also run in. Before the sneaker's release, it was sent to McEnroe, who was looking for a new pair of shoes to wear on court at the time.
"By chance, when the guys at Nike sent me a bunch of different prototypes to try, there was this throwaway one that they weren't even planning on sending me" McEnroe recalled. "And it turned out being the one to me that was the most awesome." He was asked not to lace them up in official tournament play, but being the rebel that McEnroe was, he wore them in his next two tournaments (which he won) and refused to return them.

(Available at 2 Merchants)
(Available at 2 Merchants)
adidas Billie Jean King
Apart from being one of the greatest tennis players ever, Billie Jean King was also the first woman with a signature sneaker, paving the way for women like Chris Evert, Serena Williams, and others. Her signature sneaker, the adidas BJ King, was released in the early '70s. King also wore the shoes in her pivotal match against Bobby Riggs, dubbed "battle of the sexes."
Riggs claimed the women's game was far inferior to the men's and that he, as a 55-year-old, could still beat the top women on the tour. After beating Margaret Court, Riggs lost to BJ King in straight sets in front of over 30,000 fans at Houston's Astrodome and an estimated TV audience of 90 million people.
Diadora Borg Elite
What do you get when you mix Swedish nonchalance with Italian style? The Diadora Borg Elite. Björn Borg was one of, if not the best tennis player in the late '70s and early '80s. The "Ice Man" won 11 singles Grand Slam titles, became the first man to win six French Open titles, and had a tighter grip on Wimbledon than Federer did during his glory days, winning five Queen's Court titles in a row from 1976 to 1980. And after all of that, Borg still retired at the age of 26, disenfranchised with a life in the limelight.
It's no surprise then that the Diadoras on his feet — made using high-quality kangaroo leather — were so sought after. Diadora recently re-released several colorways of the Swede's most famous signature style.
Reebok Pump
Reebok's line of Pump sneakers should be well-known to any self-respecting sneakerhead, mostly because of the success of the Steven Smith-designed InstaPump Fury. Pump technology was an internal inflation system that regulated a cushion in the upper tongue in order to provide locking around the ankles. It was perhaps most famously used in Reebok's basketball sneakers, though Michael Chang wore Reebok Court Victory Pumps throughout his career. Chang famously became the youngest player ever to win a tennis Grand Slam, winning the 1989 French Open at 17 years and 95 days, besting Boris Becker's record at the time, who had won Wimbledon in 1985 at 17 years and 227 days old.
PUMA Boris Becker Ace
Boris Becker won Wimbledon at the age of 17, becoming the first German and the youngest male Grand Slam singles champion ever, at the time. Becker, who was unseeded in 1985, was wearing Ellesse apparel and a pair of PUMA sneakers. A year later, Becker took to the court wearing a soft leather nappa sneaker dubbed the Becker Ace, his first signature sneaker and one that remains as one of the most iconic to ever be worn at Wimbledon'a Queen's Club. Needless to say, Becker repeated as champion in '86, cementing his place in the tennis hall of fame.
To stay updated on everything happening in the sneaker world, follow @highsnobietysneakers on Instagram, check our sneaker release date calendar, and subscribe to our sneaker chatbot on Facebook to receive lightning-quick updates to your inbox.