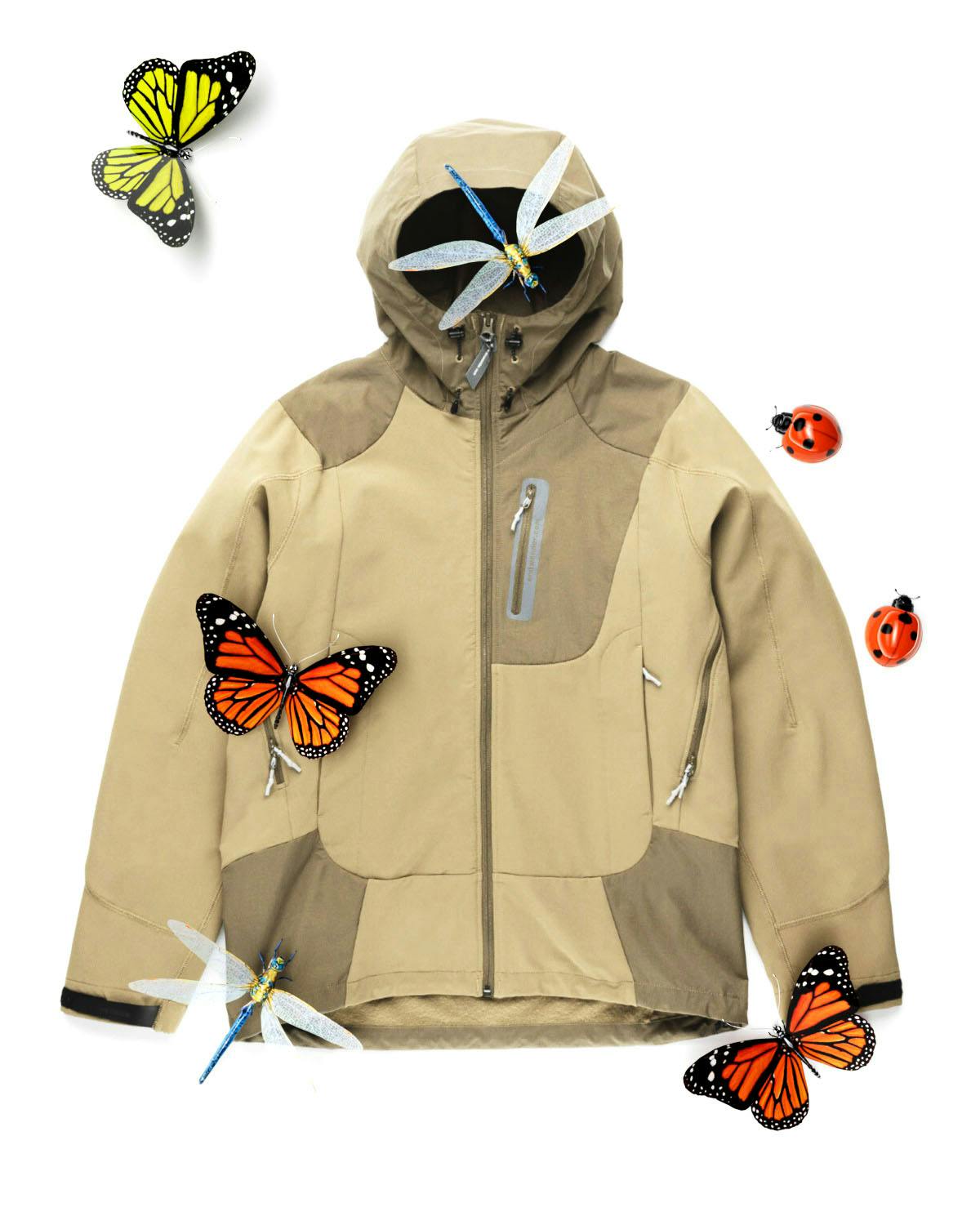 Spring is here. Aside from escaping the frigid cold and warming days, Spring brings with it a need for a refresh. It's time to switch up your rotation — toss away those heavy jackets, chunky snow boots, thick scarves, and any remembrance of frigid windchills. To help you with this closet reset, we have put together a Spring Toolkit with some of the most versatile, layer-friendly, colorful, and rain-ready Spring wear options of 2022.
As we're in-between seasons right now, the weather can be a bit unpredictable — it's cold in the morning, either sunny or rainy during the day, then back to chilly at night. This makes choosing the right layers a lot harder than it should be. But, thankfully, the windbreaker is here to save the day.
Made from wind-resistant (hence the name) and breathable materials such as nylon, windbreakers are usually packable and super-lightweight — sometimes as light as three ounces — and they tend to retail for less than rain jackets, fleece jackets, and hardshell jackets. While they're not generally waterproof, some options come with durable water-resistant (DWR) coating, making them the perfect alternative to rain jackets during the Spring season.
If you're on the hunt for the perfect jacket in these unpredictable climes, here we've made your shopping experience that bit easier and gathered some of our favorite windbreakers available online, with options for every budget.
Shop the Best Men's Windbreakers For Spring Below.
NEMEN Dare Jacket
NEMEN might not be as well known as the ACRONYMs or the Stone Islands, but it's a techwear brand well worth keeping an eye on. Offering up the same dizzying heights of technical prowess as the best-known names in the industry, it's no surprise that founder Leonardo Fasolo cut his teeth at Stone Island and C.P. Company.
LOEWE x On Men's Technical Waterproof Anorak
Combining Loewe's design cues with ON's technologies, this sleek anorak has quickly become one of our must-haves for Spring 2022. Waterproof, windproof, and highly breathable, this jacket is a solid option if your adventures occur in the countryside or in the city. Also, the gradient blue colorway looks sharp, contrasting nicely with the Loewe branding.
Shop Women's Windbreakers
Stone Island Ripstop Paclite Jacket
Stone Island has always got you covered when it comes to transitional essentials. Jackets like today's Ripstop Paclite are technically equipped with some of the best features you can find on Spring clothing. The jacket is ultra-light thanks to the use of 50 micro denier polyester yarns and a super light GORE-TEX membrane meaning it can handle wind but also any other finicky weather you may come across.
Acronym J1W-GTPL
Aside from being modular or protecting you from the elements, ACRONYM jackets are continued evolutions of previous products. The J1W-GTPL pulls from the J1A's success and builds upon it, making improvements, like the addition of a 40 denier face fabric made from recycled nylon yarns. GORE-TEX is a staple of the brand, commonly paired with other advanced details, including zipless reloadable GravityPockets and 4th generation Paclite membranes. This jacket will carry you for countless seasons.
and Wander Stretch Shell Jacket
and Wander is another label that has mastered the art of transitional wear. The Japanese label designs functional clothing for those of you keen on going on a few city-free adventures this season. The windbreaker is produced in nylon and a stretch double woven material, ready for the windiest and wettest of days.
7 Moncler Frgmt Hiroshi Fujiwara
Moncler and Hiroshi Fujiwara's fragment is a collaboration that we never thought we needed until recently. The windbreaker is made from a combination of canvas shell panels and crinkled ripstop. All you need to know about this jacket is that you will look good, no matter how unpredictable it is outside.
adidas Terrex Multi RAIN.RDY Primegreen Two-Layer Rain Jacket
Weather-proof clothing can surprisingly get expensive. You are paying for top-notch fashion tech and functionality. adidas Terrex line breaks that mold, offering us outdoor-ready clothing and a solid price point. A breathable, waterproof rain jacket with proprietary tech for under $100? That's not bad.
The North Face Origins 86 Mountain Anorak Jacket
You can't talk about the great outdoors without mentioning the OGs of outerwear, The North Face. Windbreakers like today's pullover will serve you well at high elevations or during a breezy walk to the office.
Gramicci Light Nylon Drizzler Jacket
Gramicci's Light Nylon jacket is another solid option if you plan to be active this Spring. For the past few decades, the California-based label has been making clothing for adventurers with a knack for streetwear.
Y-3 Classic Light Shell Running Windbreaker
If a bright yellow jacket is still not Spring enough for you, Y-3's classic green light shell windbreaker might just do the trick. Add this to your running gear rotation.
Arc'teryx Solano Hoody
If you are familiar with transitional streetwear, you know Arcteryx had to make our list. Beautifully minimal the jacket is designed to withstand even the most demanding weather conditions. Thanks to the jacket's GORE-TEX INFINIUM™ fabric, the jacket is light windproof, breathable, rain resistant, and has a brushed polyester lining to keep moisture out. Arcteryx is one of those brands that consistently match the hype.
Want to keep browsing? Head to the Highsnobiety Shop for more products that we love. Highsnobiety has affiliate marketing partnerships, which means we may receive a commission from your purchase.