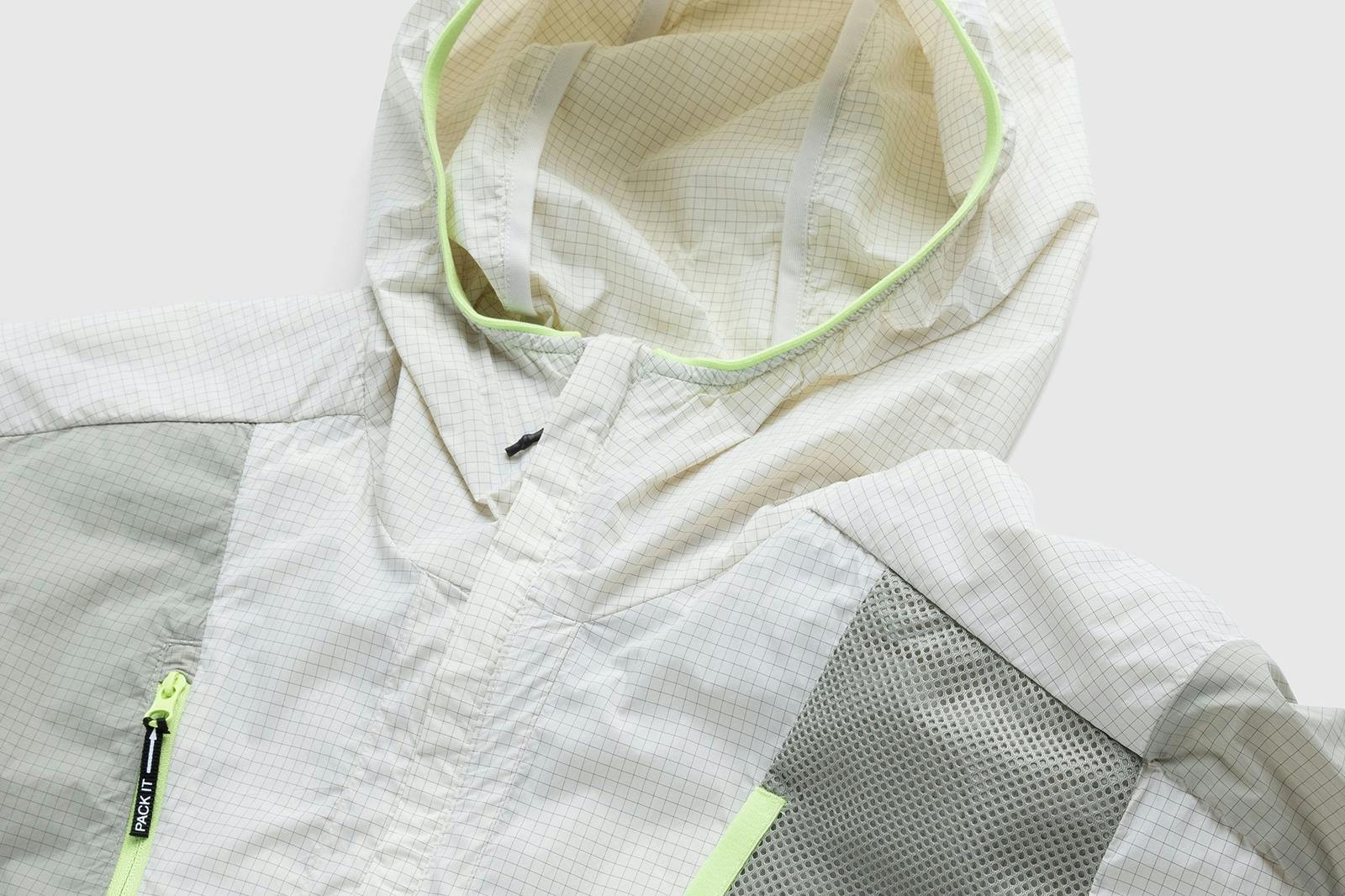 Now that fall is in full swing we can comfortably dive back into our love for outerwear. But like any transitional seasons what you need are adaptable garments — something that works anytime of the year and easily adjusts to the elements. In short, what your wardrobe is missing is a windbreaker.
While we're all already familiar with some brands like The North Face and ACRONYM that produce exceptional jackets, it's fair to ask what is a windbreaker and what to search for when considering adding one to your wardrobe. The best windbreakers are crafted to combat fierce winds and are typically made from a breathable nylon material. Some brands go the extra mile and embed ripstop used to make tents in their jackets, which provides over the top protection from bouts of rain. In the event you prefer dressing light during winter, you can try my method of sizing up and packing on layers underneath for a more versatile fit.
With this is mind our curators searched the web for the best budget windbreakers with a few luxury options as well to help you adjust to the fluctuating weather that fall brings.
Scroll for our editors' thoughts on this season's best windbreakers.
The North Face Mountain Light Futurelight Triclimate Jacket
While it's no surprise that the The North Face excels at outerwear, its Futurelight series may have just changed the game. Made entirely from recycled materials, the two-layer fabric blend easily maneuvers through wind and rain. To top it off TNF adds strips of contrast tape throughout the jacket that reflects in low light conditions.
C.P. Company Gore-Tex Infinium Jacket
A classic amongst gorpcore enthusiasts, the Infinium jacket is essentially two jackets in one, with the exterior Gore-Tex shell handling most of the work. Along with having C.P. Company's signature goggles at the hood, the jacket is technologically geared to provide protection from the elements while also allowing breathability through its unique weaving.
Woolrich 3 in 1 Freedom Jacket
No you're not misreading it, this jacket really is 3 in 1. Seeing as Woolrich is one of the U.S.A.'s oldest and most celebrated outerwear brands, you can be sure this jacket can handle the anything you throw at it. From the recycled two-layer laminated fabric to the heat-generating VIVO interior jacket, this is one investment piece you can wear for winters to come without any fuss.
Gramicci Pertex Trailside Wading Jacket
Sure Gore-Tex might be the most known moisture-wicking and wind-repellent fabric, but Pertex is just as good, if not better. You can go down the reddit rabbit-hole for a deeper explanation between the two fabrics, but Gramicci's outdoor-focused pieces speak for themselves.
Adidas U Voyager Light Windbreaker
adidas' Terrex collection is the brand's solution to budget-friendly pieces that work for everyday wear. Whether you're an avid explorer or just need a windbreaker to hold you down during sketchy weather, this lightweight jacket is ultra durable and can easily compete against hold its own against popular brands.
Acronym J96-GT Jacket
When it comes to brand's who sole purpose is advancing the aesthetics and technology implemented into outerwear, ACRONYM is undoubtedly one of the best to ever do it. Calling the J96-GT simply a windbreaker could be deemed a crime in some places, but the specs on this jacket says it all. It perfectly blends convenience and functionality into a three-layer GORE-TEX ripstop jacket that comes with a detachable hood and weatherproof bucket hat. After trying this on you'll be surprised at the amount of pockets available and wonder why your other jackets weren't more like the J96-GT.
Stone Island 41599 Heat Reactive Nylon Jacket
Honestly if I were a rapper this jacket would definitely be in my wardrobe. Aside from changing colors depending on the temperature, the detachable hood also incorporates a protective storm flap that prevents any unwanted interaction with the elements.
Jack Wolfskin x Highsnobiety HS Sports Rain Jacket
Our collab with Jack Wolfskin was made with exploring the outdoors in mind, but there's no stopping you making this your go to windbreaker for you daily commute. Made from 100% recycled polyester, the rain jacket is an easy way to shield yourself from the elements in style.
LOEWE x On Women's Waterproof Anorak
Both the women's and men's version of this anorak come in a gorgeous gradient that's directly inspired by nature. Made from a three-layer membrane that defends against wind and rain, this slip-on windbreaker is one of the best collabs to drop in recent memory.
Moncler Genius Warren Stowaway Windbreaker Jacket
Though it's easy to get confused with large amount of collabs and collections under Moncler's belt, there's never been any question about the reliability of its products when put to the test. The collection with Fragment is proof of the brand's ingenuity while effortlessly maintaining its reputation for eye-catching garments. I mean, who else includes a modestly-sized stowaway compartment on the bak of a windbreaker?
Hyein Seo Hiero Windbreaker Jacket
For those interested in a different take on outerwear, the Hiero windbreaker is both a great aesthetic and practical choice. Crafted from a durable nylon ripstop, this lilac windbreaker features adjustable pockets and drawstring in the rear to dial in your preferred fit.
Helly Hansen HH-118389225 Arc 22 Technical-Shell Hooded Jacket
Long before Helly Hansen grew to become a household name after becoming the pre-eminent streetwear windbreaker during the '90s, the brand has be known for its dedication to producing quality outerwear. This lightweight jacket features tape at the seams to ensure you remain dry in an unpleasant weather.
Want to keep browsing? Head to the Highsnobiety Shop for more products that we love. Highsnobiety has affiliate marketing partnerships, which means we may receive a commission from your purchase.