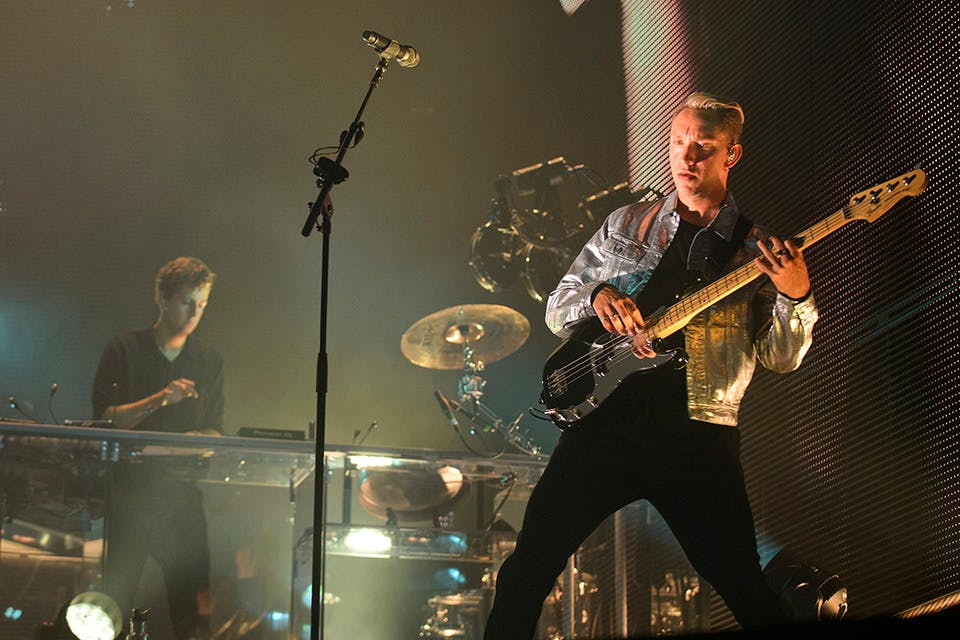 What does $110 buy you in 2018? Dinner at a Michelin Star restaurant? Maybe, if you want to skip the wine menu and order starters only. A pair of hyped sneakers? LOL! Good luck with that. Perhaps you could save it in the bank for a rainy day? Okay, but zzz. How about three days at a festival in one of Spain's most unique and vibrant cities?
Bilbao BBK brought down the curtain on its 13th edition this past weekend, yet it still remains one of Europe's best-kept music secrets. Held on the slopes of Bilbao's mount Cobetas, the event towers over the city center below, making it one of the most picturesque in the entire continet. Sometimes, it can be hard to focus your vision on the artists performing, such is the beauty of the vistas which flank them to either side.
This year's lineup comprised a diverse mix of acts — international and domestic, established and upcoming — each wowing an enthusiastic, mostly Basque, crowd across five stages. On the main bill, acts like Childish Gambino, The XX, and Gorillaz brought the stardust, while the likes of SOPHIE, Mount Kimbie, and Fischerspooner were just a few of Highsnobiety's favorite names to feature further down the pecking order. Electronic music wasn't neglected, either: Ben UFO, Optimo (Espacio), and John Talabot all played performed late into the early hours of the morning, spinning tunes from the Basoa stand, which is nestled at the precipice of a magical forest.
Bilbao BBK Live runs from 7 p.m. each night, allowing revelers to explore the delights of the city during the day (that's assuming the hangover from the night before isn't too harsh, of course). Located in the heart of the Basque Country in Northern Spain, with its unique customs, Bilbao feels a world removed from the tourist-saturated streets of Madrid and Barcelona; the local dialect — noticeably different from Castillian Spanish — only adding to the exotic, far-flung feel. When they aren't busy washing down beer with pintxos (Basque tapas), locals can usually be found congregating at one of the many markets, or at the glorious San Mames stadium, home of their beloved Athletic Bilbao.
One can't discuss Bilbao without mentioning it's most famous attraction: the Guggenheim Museum, sister of the Solomon R. Guggenheim in New York. Designed by the legendary Frank Gehry (whose other notable works include the Louis Vuitton Foundation in Paris), the architectural masterpiece is an art-lover's mecca, housing work by legends including Jean-Michel Basquiat, Mark Rothko, and Cy Twombly, as well as contemporary names such as Ai Weiwei.
It's the building itself — guarded by Jeff Koons' giant terrier "Puppy" sculpture — which is the main event, however; its success even giving rise to a phenomenon known as the "Bilbao Effect." This is a process of urban renewal when "spectacular buildings by celebrity architects are used to revitalize struggling post-industrial cities and put their name on the global stage." While said approach has evidently worked in Bilbao's case, some cities, namely West Bromwich in England, have enjoyed much less success.
Away from festival grounds, live music could also be found at outposts throughout Bilbao's main artery. The XX oversaw their acclaimed Night + Day program which included performances, film screenings, and parties – sets by Jamie XX and Peggy Gou in front of the Guggenheim accounting for two of the highlights.
If the above whets the proverbial appetite, cop early bird tickets for next years event, starting at just €95, below. I mean, it beats a pair of shoes, doesn't it?
For more festival news, peep our essential guide right here.