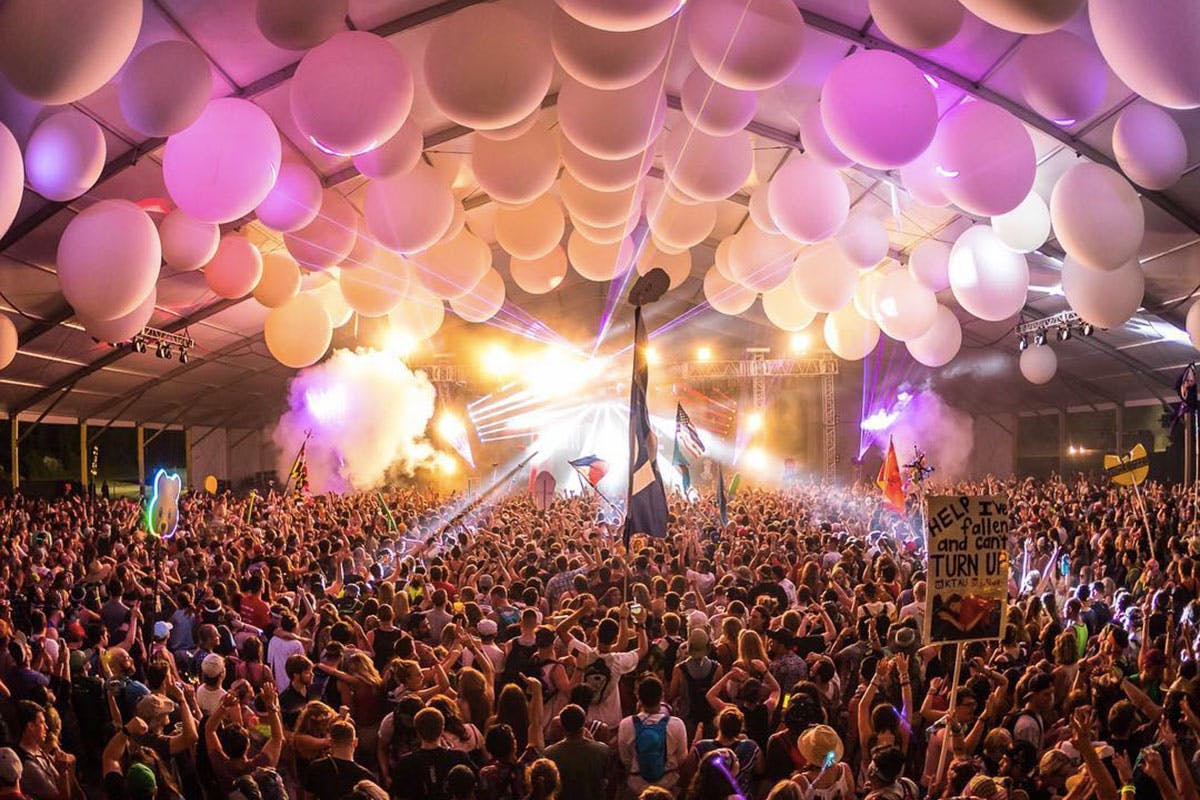 The biggest music festivals sell out quickly for good reason — because they shouldn't be missed. Despite endless lines and a never-ending struggle to stay hydrated, there's no better thing to do in summer than watch your favorite acts perform in one place, surrounded by crowds of people united by a common love of music.
But which festivals should you be attending? Those endless summers aren't quite as endless as you think, so it's vital you make the right choice or risk missing out on something special. We already know all about the likes of Bonnaroo and Lollapalooza, so this year we're taking you off the beaten track with 15 festival recommendations that will open your mind to new experiences and take you to new places. Join us as we journey through misty valleys and eternal sunshine in the hunt for summer 2018's very best international music festivals. Just don't forget to pack your sunscreen.
Great Wall Festival
When: May 19-20 Where: The Great Wall, Beijing, China Who: Nina Kraviz, Dixon, Recondite, Chris Liebing, Carl Craig
It's a gamble to include a brand new festival in any guide like this, but when you've got internationally renowned DJs spinning sets in front of one of the mankind's greatest constructs, the Great Wall Festival seems like a pretty safe bet. When you're not partying until the break of dawn, there's also stunning camping locations and — for those sober enough — a 5k run along the Great Wall that'll sure beat running around your local park.
Meadows in the Mountains
When: June 7-10 Where: Polkovnik Serafimovo, Rhodope Mountains, Bulgaria Who: RAMZi, Idjut Boys, Nick the Record, Commix, Gwenan
With its defiantly underground lineup and eerily beautiful setting, it's hard to picture a dance festival more rustic than Meadows in the Mountains. The stages themselves are lovingly crafted from the trees found in the surrounding forest and bonfires burn each night to light up the epic view of the mountain peaks. Still not convinced? Perhaps the giant pool and spa afterparty will clinch the deal.
Ultra Korea
When: June 8-10 Where: Seoul Olympic Stadium, Seoul, South Korea Who: Galantis, David Guetta, Ice Cube, The Chainsmokers, Axwell & Ingrosso
Ultra may have expanded to a number of other countries, but no other version beats partying in the South Korean capital. Now in its seventh year, Ultra Korea boasts a top-tier line-up of EDM's finest in one of Asia's most extraordinary, fun-loving cities. Come for the premier DJs, but stay for the kimchi, soju, and all the dog and cat cafes you can handle.
Firefly Music Festival
When: June 14-17 Where: The Woodlands, Dover, Delaware, U.S.A. Who: Eminem, Arctic Monkeys, Logic, Lil Wayne, Kendrick Lamar
Despite only launching in 2012, Firefly already attracts some of the industry's biggest names, including world-renowned rappers and indie-rock royalty. And if that's not enough to entice you, the festival is also surrounded by the beautiful woodlands of Delaware, which you can camp and frolic in — if that's your thing — when you're not dancing, partying, or lining up to use the bathroom.
Sónar Festival
When: June 14-16 Where: Fira Montjuïc/Fira Gran Via L'Hospitalet, Barcelona, Spain Who: Gorillaz, Diplo, LCD Soundsystem, Wiley, Thom Yorke
Since launching in 1994, Sónar has developed an unusual format, spreading its dance and electronic acts across two locations and alternating by day and night. As well as the standard musical festivities, Sónar also strives to connect fellow creatives from all over the world, meaning there's plenty to enjoy, whether you're only there to party or become a participant yourself.
Electric Forest Festival
When: June 21-24, June 28-July 1 Where: Rothbury, Michigan, U.S.A. Who: The String Cheese Incident, Bassnectar, Marshmello, GRiZ Live Band, Chromeo
Eschewing the usual field locations of most festivals, Electric Forest immerses festival-goers in the woodlands of Michigan, thumping out the bass of electronic DJ sets in the middle of nature. And with two weekends to choose from, and a setting that's a psychedelic smorgasbord of neon-infused joy, there's no excuse for anyone to miss out on Electric Forest Festival.
Secret Solstice
When: June 21-24 Where: Laugardalur & Laugardalshöll, Reykjavík, Iceland Who: Stormzy, Gucci Mane, Clean Bandit, Slayer, Bonnie Tyler
Ever find yourself getting tired as the light fades and party winds on until the early hours of morning? If that's the case, Secret Solstice is the festival for you. Taking place during that magical time in Iceland when the sun never sets, Secret Solstice goes from strength to strength every year and now also features exclusive side gigs in lava tunnels and hollowed-out glaciers. Sure, they'll cost you extra, but can you really put a price on something like that?
Mawazine Festival
When: June 22-30 Where: Rabat, Morocco Who: The Weeknd, Bruno Mars, Martin Garrix, The Chainsmokers, Jamiroquai
With an attendance in the millions, Mawazine is one of the biggest festivals in the world, celebrating everything from traditional African rhythms to chart-topping hits and dance artists. Bringing together revelers and artists from all over the world to this beautiful part of North Africa, Mawazine unites all nations with a passion for music and should be a must for any festival-goer's bucket list.
Pohoda Festival
When: July 5-7 Where: Trenčín Airport, Trenčín, Slovakia Who: The Chemical Brothers, St. Vincent, Ziggy Marley, Little Dragon, Blossoms
As the biggest Slovak music event of the year, Pohoda has been drawing international buzz thanks to its genre-spanning line-up and affordable prices. Festival-goers tired of commercial events in Western Europe and North America would do well to visit this decidedly laid-back alternative, which takes place on among the runways and hangars ofTrenčín Airport.
Bilbao BBK Live
When: July 12-14 Where: Kobetamendi, Bilbao, Spain Who: Florence + The Machine, Alt-J, Childish Gambino, Gorillaz, The xx
Primavera Sound might be the bigger name, but BBK is another highlight of the Spanish festival circuit that demands your attention. Aside from an impressive line-up of critically acclaimed acts, BBK also provides festival-goers with the opportunity to visit the beach and even the galleries of the Guggenheim during your downtime. Most importantly, though, few other festivals can provide this kind of experience at such a relatively cheap price: €155 (approximately $180) for a three-day ticket.
Fuji Rock Festival
When: July 27-29 Where: Naeba Ski Resort, Yuzawa, Niigata Prefecture, Japan Who: N.E.R.D., Kendrick Lamar, Bob Dylan, Vampire Weekend, Post Malone
If you're thinking about heading to Japan this summer, you should probably consider booking a ticket for the end of July. Despite being billed as a rock festival, the Fuji Rock line-up spans a number of genres, ensuring there's something for everyone. Just prepare yourselves for the trek you'll have to take between each of the festival's seven stages if you want to experience everything Fuji Rock has to offer.
The Monastery Summer Festival
When: July 27–30 Where: Kloster Graefenthal, Goch, Germany Who: Audiofly, Blond:ish, Chaim, Madmotormiquel, Maga
For the first time ever, The Gardens of Babylon will host its very own weekender this summer, combining house music with various events that tap into the spiritual side of things. If the music doesn't help you transcend this material plane, the fire-walking and mass meditations surely will. With an emphasis on community, The Monastery Summer Festival is the kind of place you'll walk away from with a whole new set of friends and an overwhelming desire to return to 12 months later.
Øya Festival
When: August 7-11 Where: Tøyen Park, Oslo, Norway Who: Kendrick Lamar, Arcade Fire, Lykke Li, Fever Ray, 6lack
One of Norway's biggest festivals, Øya Festival (Øyafestivalen) draws a crowd of more than 60,000 for a line-up of indie, rock, and hip-hop in Oslo's Tøyen Park. In between huge artists such as Kendrick Lamar and Arcade Fire, revelers can also browse a range of stalls. And when everyone's gone home, the festival organizers donate all the surplus food to shelters and people in need across Oslo. Not only is Øya a festival to enjoy, it strives to keep things as green as possible, offering an example to other festivals the world over.
Way Out West
When: August 9-11 Where: Slottsskogen, Gothenburg, Sweden Who: Lykke Li, Kendrick Lamar, Arcade Fire, Brockhampton, St. Vincent
Way Out West is one of Scandinavia's most respected festivals, claiming to favor "musical ingenuity over mainstream success." But that doesn't mean there's no room for hitmakers among the more under-the-radar artists. Combine a stellar line-up with a lush forest setting, along with multiple awards for its eco-friendly design, and Way Out West could be your perfect excuse to finally take that trip to Sweden you've always been planning (we imagine).
Outlook Festival
When: September 5-9 Where: Fort Punta Christo, Pula, Croatia Who: J Hus, Bonobo, Andy C, Wiley, Noisia
Even if Outlook didn't draw in some of the biggest DJs in the world, the backdrop alone would still warrant buying a ticket. Set in the ruins of the 19th-century Austro-Hungarian Fort Punta Christo, performances take place around the various tunnels and moats scattered across the venue, while the view over the Adriatic Sea is the pièce de résistance. The Croatian coastline is one of Europe's true beauty spots, and no other festival in the world looks quite like this.
For more festival goodness, check out our photo recap of Rolling Loud right here.