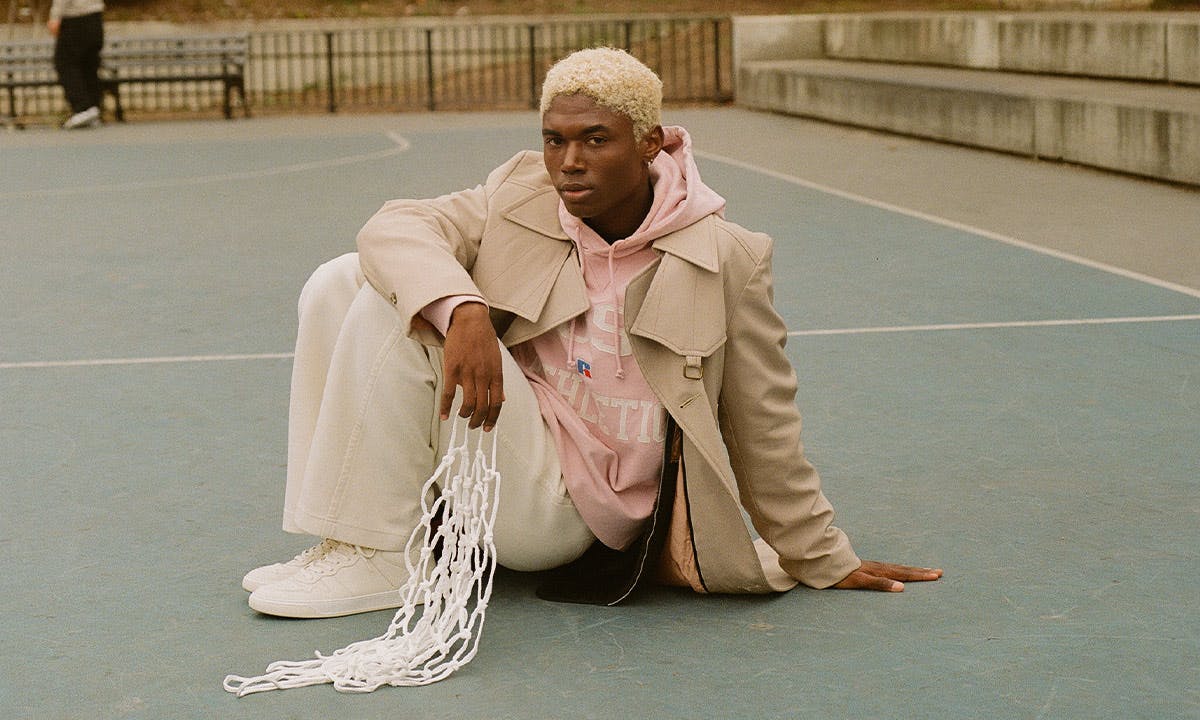 As lockdowns start to ease it has been hard to break free from those comfy work from home fits. Instead of ditching them altogether, many savvy brands have worked on collections that elevate the adaptability and comfort of sportswear, blending it with tailoring for a new way of dressing.
BOSS and Russell Athletic combined last month to do just that. Their first drop focuses on the off-court stylings of basketball and delves into the '80s and '90s archives of both brands for the epitome of tailoring meets sportswear collections.
For the past few weeks, our feeds have been inundated with BOSS and Russell Athletic pink basketballs, and pastel collegiate fits. Two of the standout items from the collection have to be the pastel pink spell-out hoodie and varsity cardigan. Two classic silhouettes that have stood the test of time, from sports essentials on college campuses in the '50s and '60s to streetwear staples today. To celebrate the college yearbook feel of our IG algorithms we have rounded up our favorite BOSS x Russell Athletic fits from the internet.
Jacob Keller (US, CEO of Bareknuckles)
Bareknuckes CEO Jacob Keller knows a thing or two about layering, and pairs the BOSS x Russell Athletic hoody with a spring-ready box jacket and stonewash denim.
Oumayma Elboumeshouli (Netherlands, Content Creator and CEO of Bo Exclusives)
The varsity cardigan was originally intended to throw over your athletic gear before and after the game. Oumayma Elboumeshouli shows how adaptable it is by dressing it up a notch.
Jian Deleon (US, Editorial Director at Nordstrom)
Jian Deleon got lucky with a personalized cardigan. BOSS also offers the opportunity to customize its sweatshirts here.
Deon Hinton (US, Content Creator)
Deon Hinton puts the tailoring-meets-sportswear look to the test, layering the hoody with a tailored trench and pants.
Gia Seo (US, Fashion Consultant and founder of Department Of)
Gia Seo doesn't mess around, giving the classic cardigan a new lease of life with her unique take.
Ruddy Trobrilliant (France, Founder of Power-Up)
Ruddy Trobrilliant can usually be found running the streets of Paris with his Power-Up run collective. But on this off day, he shows us that wearing a shirt under a hoodie is the way to go.
Jarreau Vandal (Netherlands, DJ)
DJ Jarreau Vandal keeps it casual showing that oversizing with cardigans works a treat.
wideawakearthquake (Germany, DJ and LGBTQ+ activist)
Wideawakeearthquake has gone for a more minimal take on the hoody, cleanly paired with tailored pants and white sneakers.
Yannick Konan (UK, Creative and actor)
Yannick Konan proves shorts and hoodie season is the best season of them all.
Jojo Vandalkidd (Germany, Designer and founder of Vandal Way)
Jojo Vandalkidd takes the hoodie back to its prep days pairing it with a pair of stone chinos for a more classic fit.
Shop the full collection here.