Clothing has long been a way to pledge your allegiance to a cultural niche, but what does that mean for the few who lead the way for many? In the case of Bruce Lee, the world's favorite one-inch-punching pop-culture icon, clothing acted as the embodiment of a lifestyle guided by open-minded cultural exchange. Following the release of ESPN's new feature-length documentary Be Water, which relates Lee's life, we thought it was high time to pay our respects to one of history's most underrated style icons. Born in San Francisco's Chinatown, Lee was raised in Hong Kong before returning to the US at the age of 18. This intrinsic connection to both East and West set the stage to create a cross-cultural hero that would permanently alter the perceptions of Asia in America.
Poised somewhere between normcore, American varsity prep and '70s power, Lee's wardrobe was eclectic to say the least. Adopting style cues from his peers and associates such as Basketball Hall of Famer Kareem Abdul-Jabbar, Lee curated a unique style befitting of a unique man. As Bruce Lee kicked down doors for Asian Americans in Hollywood and, to an extent, America as a whole, he forced the world to take notice with his outspoken attitude, while in hindsight, his striking outfits reflected that same sensibility.
It's worth noting that Bruce Lee is sporting expertly worn-in varsity jackets at the same time that Don Draper (fictionally) was schooling the world on uber-preppy casual fits. There's certainly something to be said for the '60s as a transitional period in menswear, adopting a pinch of '50s conservatism while paving the way for the no-holds-barred styles of the '70s. What's more, with labels like Harmony, Aimé Leon Dore, and more serving modern takes on the era's style, making some of Bruce Lee's '60s masterpieces your own shouldn't pose any problems.
Lee's larger-than-life attitude was the product of a willingness to share knowledge and ideas indiscriminately. It follows, then, that we can say the same of his wardrobe. To be able to absorb style references and make them your own is an essential skill when it comes to curating a style that suits you. So, who better to teach us than the sensei himself?
Roadside Cool
The star of this outfit is the beaten bomber jacket that holds the whole ensemble together with a sense of nonchalance. Straight-leg slacks feature creases to counteract the casual bomber, making this look a lesson in versatility.
Not Your Average Knit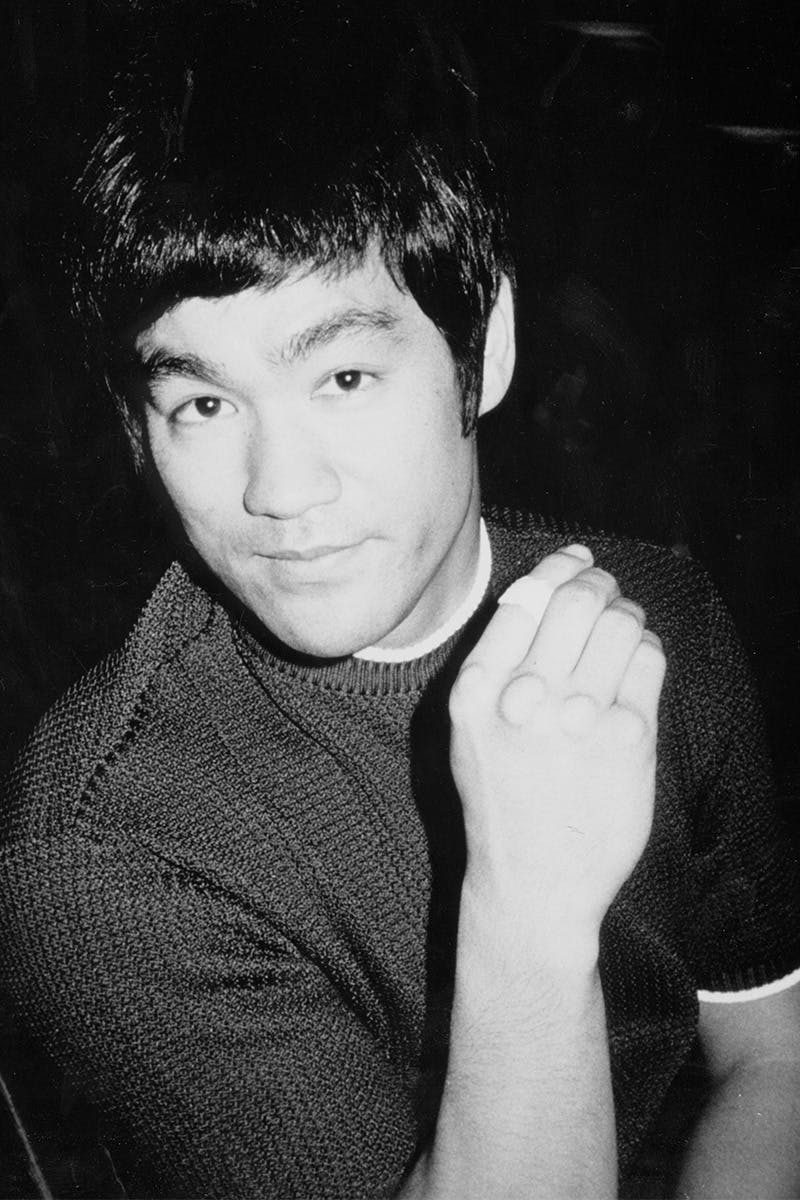 When you've got forearms as good as Bruce Lee, opting for a knitted tee is a surefire win regardless of situation. For all of us without forearms of steel, few pieces within the realms of elevated basics show your attention to varying texture like a short-sleeved sweater.
(Available at 2 Merchants)
(Available at 2 Merchants)
Workouts in wool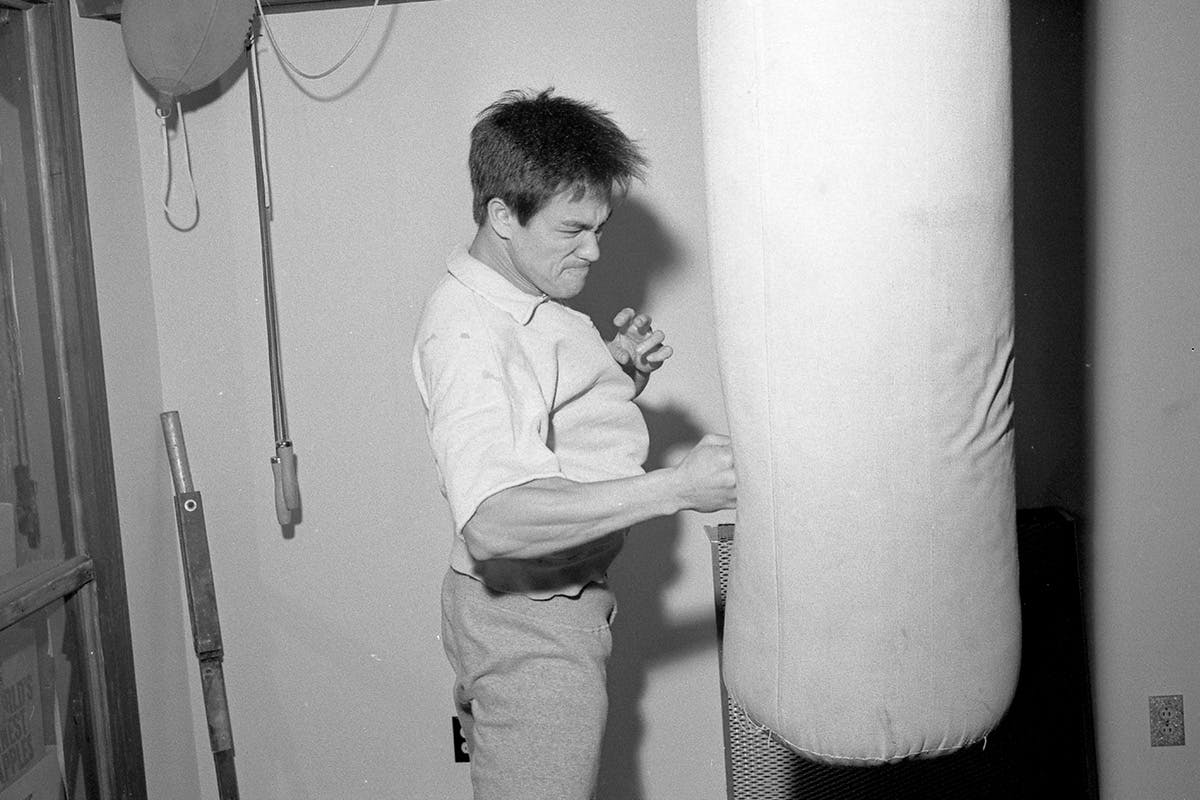 While we wouldn't recommend a full workout while wearing a woollen polo shirt, we can't argue with the aesthetic value. Lee styles a relaxed-fit knitted polo with a pair of lightly tailored sweatpants for a more considered silhouette.
All-American Archetype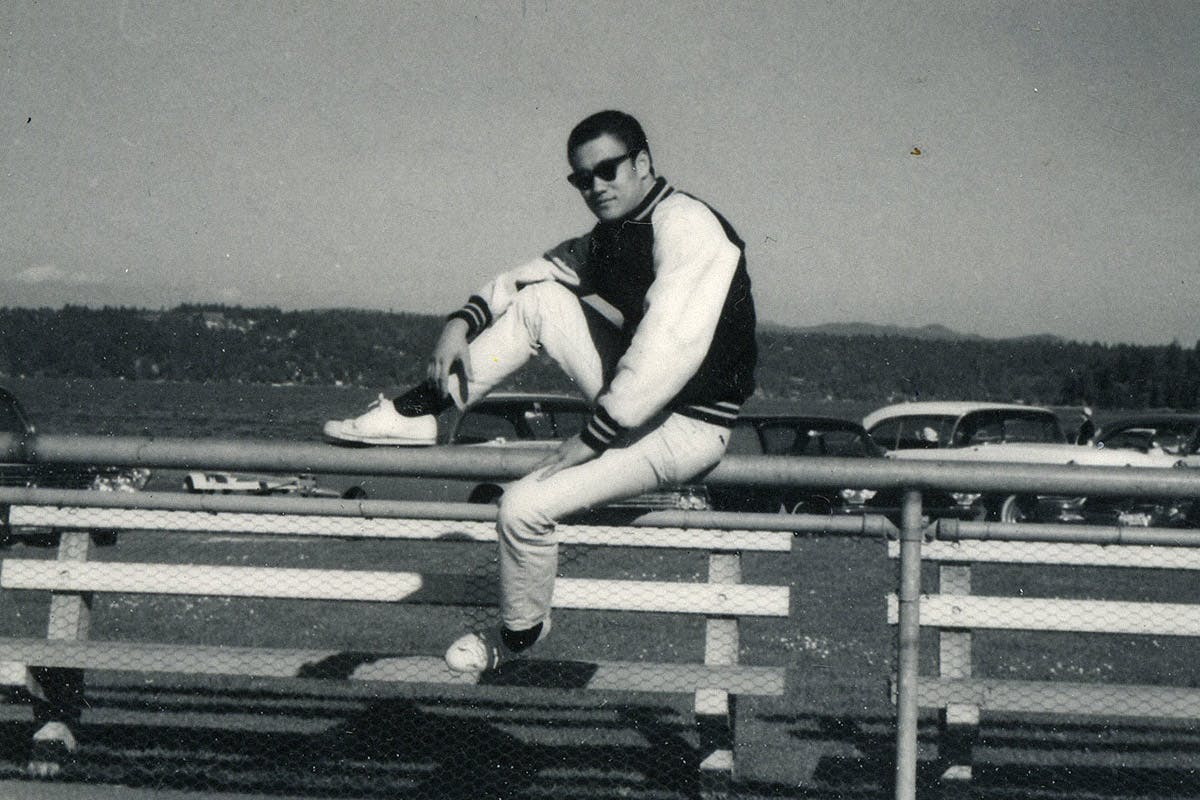 It doesn't get much more varsity than this varsity jacket and chinos combination modelled by Lee sitting on the fence of an athletics track. If you're going to go for it, go all the way — we can't fault this look. A pair of clean white sneakers and classic eyewear add impact to a fail-proof, classic ensemble.