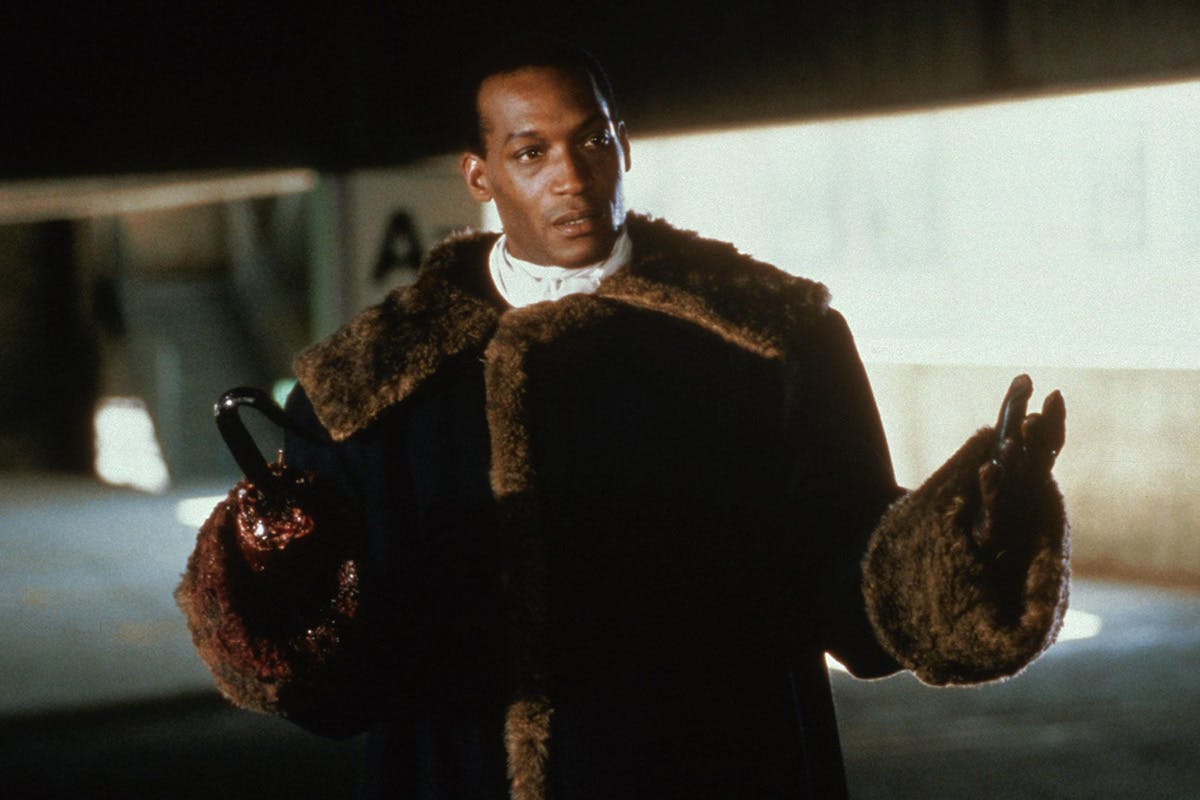 Even 2Pac got it wrong. "Say my name three times like Candyman, bet I roll on yo' ass like an avalanche," he rapped on "Troublesome '96." It's five times; in the 1992 cult horror classic, if you say his name five times while looking in the mirror, the Candyman will appear and make you his next victim.
But anyway, it doesn't matter that Pac messed up the details. What matters is he referenced the film, as many other rappers have done since. Kendrick alluded to that same line in "ELEMENT" when he rapped "Just say his name and I promise that you'll see Candyman." Lil Jon sampled Philip Glass's "Music Box" theme from the film on 2005's "Da Blow," as did Travis Scott on "The Prayer." Jay Electronica often calls himself Candyman. So does the rapper and NWA-affiliate known as Candyman.
In fact, Pac getting it wrong is sort of what Candyman is about. It's an urban myth, a whisper in a classroom. The film follows a white student investigating a series of murders in Chicago's notorious Cabrini-Green project, where residents tell of a murderous spirit with a hook for a hand. The student, Helen (Virginia Madsen), theorizes that residents have created the Candyman myth as a way of dealing with extreme hardship. She investigates and soon becomes the victim of a violent attack herself. When police question her she reports a black gang leader calling himself Candyman, who is arrested and charged with multiple murders. But his imprisonment leads to even more violence and the real Candyman (the unbelievable Tony Todd) wreaks even more havoc on the community.
The film has just been remade (or rehashed) with Jordan Peele involved as a producer, with Nia DaCosta directing. And it's not a reboot so much as a "spiritual sequel," released into a world where the original film's key themes — racism, societal neglect, unsolved murder — are even more relevant than they were 30 years ago.
It should be said that the original also features a white savior, a murderous black man lusting after a white woman, and a cast of superstitious poor people. When it came out, director and actor Carl Franklin called it "irresponsible and racist," deriding its many racial stereotypes and erasure of black women.
The new film was criticized for doing the same thing before it was even out. "There is definitely a tendency of erasing female filmmakers," said DaCosta in a recent interview, answering a question about the film being largely marketed under Peele's name. Since its release, the new Candyman has also been called "didactic," "cluttered," and "not worth seeing" by reviewers (as well as "fun" and "superb"). Certain reviewers have themselves been told off for not mentioning DaCosta enough, or not critiquing Black art in the same way they critique white art.
The bottom line is it's risky to talk about both Candyman (the film) and the Candyman (the hook-handed spirit). You could either be brutally murdered or cancelled.
Which is just one parallel between the film and another of Chicago's most feared creations: drill music, the violent rap sound that started in Chicago projects and has since spread to cities around the world. Like the Candyman, drill has been blamed for untold numbers of deaths in black communities. It has spawned copycat acts and helped spread dark, unverifiable rumors on the street. It has terrified observers, sparking moral panic while also providing a source of morbid fascination to external (and white) audiences.
The first glimpse of the new film suggested DaCosta and co might be about to unpack this very trope. In the trailer, artist Anthony McCoy (Yahya Abdul-Mateen II) explains the legend to his girlfriend Brianna (Teyonah Parris), telling her that to see the Candyman you had to say his name five times into a mirror. "Who would do that?!" asks Brianna. The trailer cuts to a scene in which five high-school girls, four of them white, stand before a mirror reciting the name five times. That's who.
A similar thing happens in the original, as Helen implores her Black friend Anne-Marie to play at summoning the Candyman with her. They both say the name four times, but Anne-Marie is too scared to utter it for a fifth. Helen is unfazed. She says it five times and smiles while she's doing it, one of several instances in the film where her rosy visage betrays a subtle hint of enjoyment in her deathly work.
That time, nothing happens. But as Helen delves deeper into the Candyman mythos she becomes tangled in a web of ethical decisions, like a YouTuber making vlogs about Chicago gang wars from his bedroom in Kent. Discussing the case with fellow academics, Helen learns the Candyman's troubling origin story. A positively gleeful professor tells her that, in 1815, a Black artist was commissioned to paint a rich white man's daughter. The artist and the girl fell in love and, to her father's horror, she got pregnant. The father then hired a lynch mob, who brutally attacked the artist, severed his right hand, covered him in honey and left him to be stung to death by bees. And so the Candyman was born, on the site where Cabrini-Green would be built over a century later.
The penny doesn't drop for Helen, but the film's message is clear: the many deaths of Black people in impoverished inner-city neighborhoods are not the result of a mythical boogeyman who appeared out of thin air, but the product of decades of neglect and oppression, in a racist society where Black people are not only made to suffer, but blamed as the cause of their own suffering.
And so it is with drill, a boogeyman for the Fox News era. The original Candyman's real triumph is the way it interrogates the urban myth of black-on-black murder. Anyone looking to solve the unexplained deaths of Black Americans should look not at the art reflecting their suffering, but at the conditions that made the loss of life a regular occurrence. As Helen eventually realizes, that may even mean looking inward. It was always you, Helen.