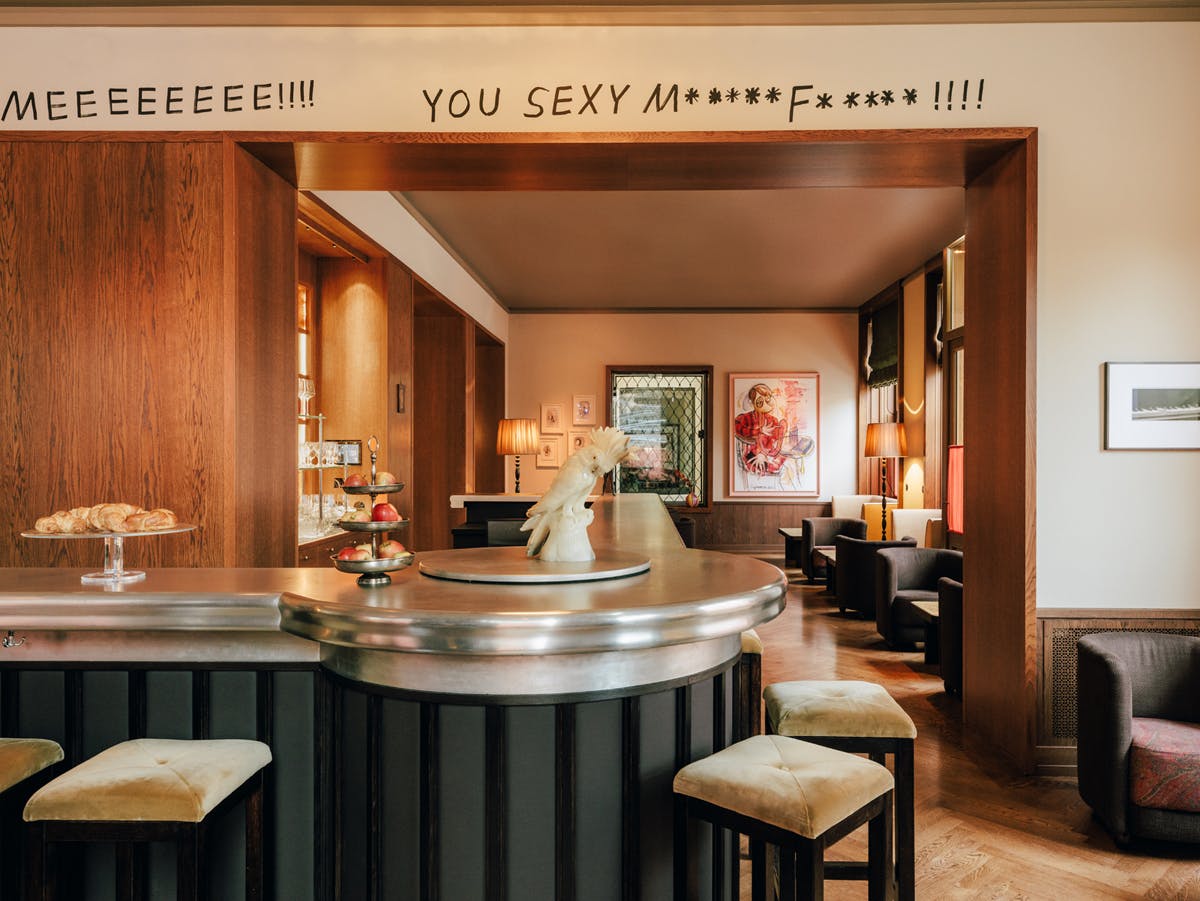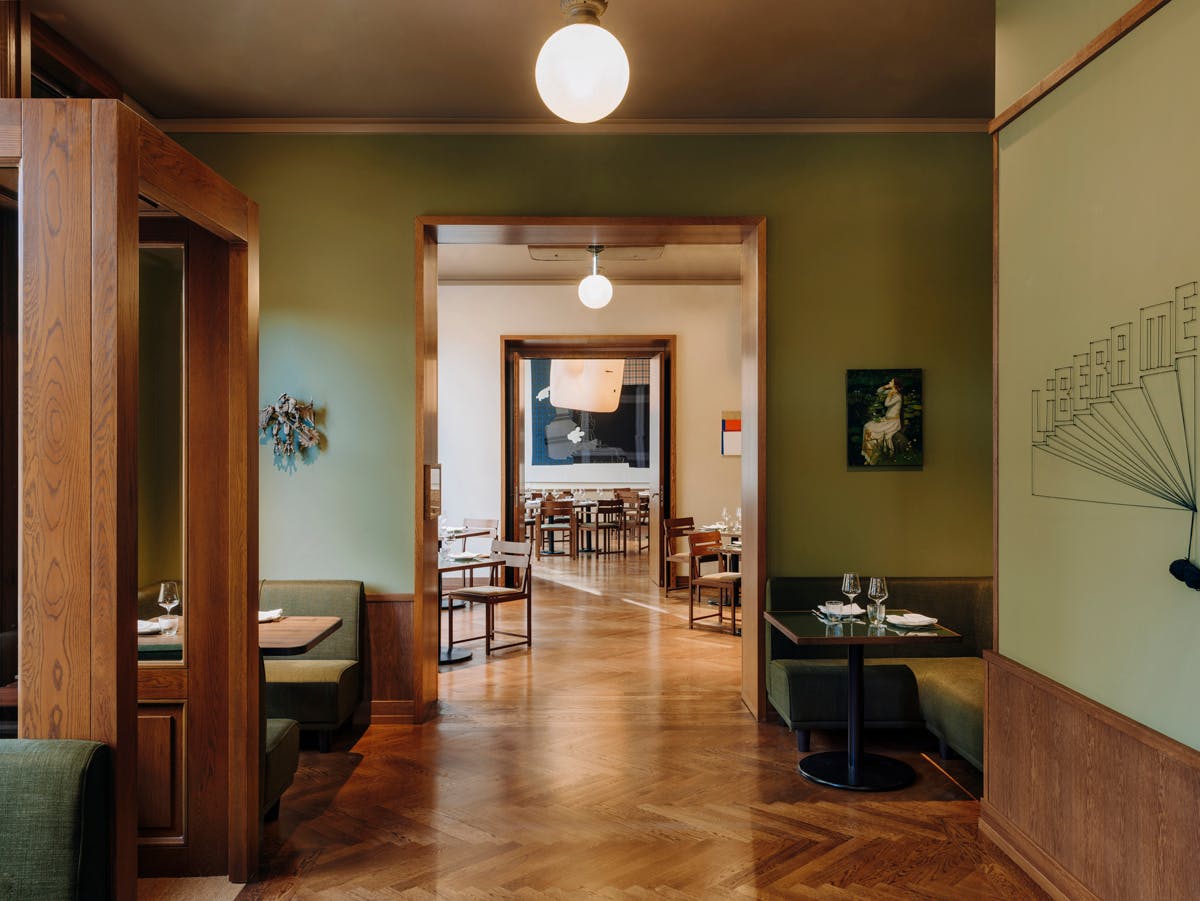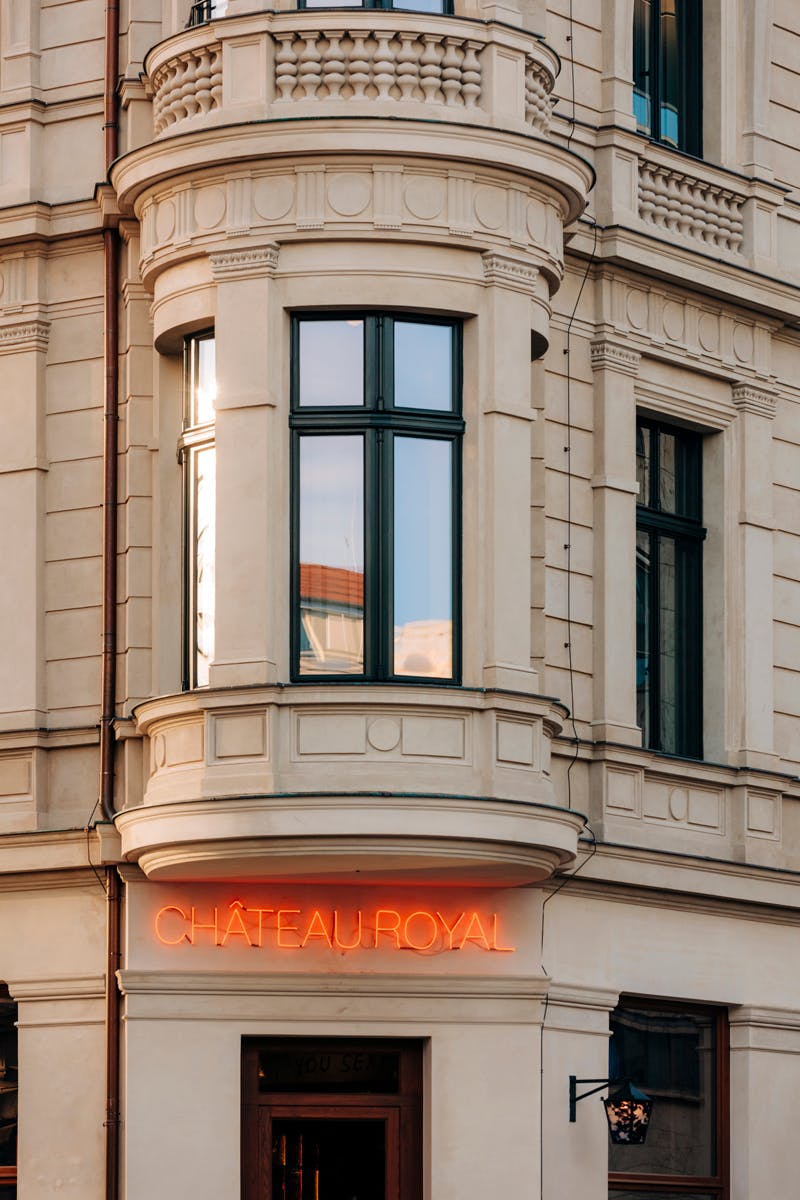 Welcome to the Château Royal, where guests are greeted with positive affirmations like "you sexy m***** f*****!!!!" Alone, the uplifting messages — as scribbled on the hotel's walls — earn Berlin's latest hotel a thumbs up in my book. However, the Château Royal has plenty more to offer.
Inside the Château Royal, guests will discover a bar, winter garden, lounge with a cozy fireplace, private dining rooms and salons, and a plethora of artworks.
Over 100 of the city's contemporary artists contributed works to the hotel, as curated by KW Institute for Contemporary Art director Krist Gruijhtuisen and gallerist Kirsten Landwehr.
In addition to the public spaces, each room comes with a unique work by a participating Berlin artist.  It's almost like an art gallery — that you can stay at.
Additionally, Château Royal is also home to Dóttir — Icelandic for "daughter" — the hotel's vegetable-focused (not necessarily vegetarian) restaurant led by chefs Victoria Eliasdóttir and Elena Müller.
There, classic bites like oysters on the rocks and seasonal dishes like the signature "In Beans We Trust" (Pilarica beans served with smoked mushrooms, crème fraiche, pumpkin, orange zest, and kale) join wine pairings — as carefully selected by Alexander Brauer, "the man with the keys to the cellar," as they like to call him.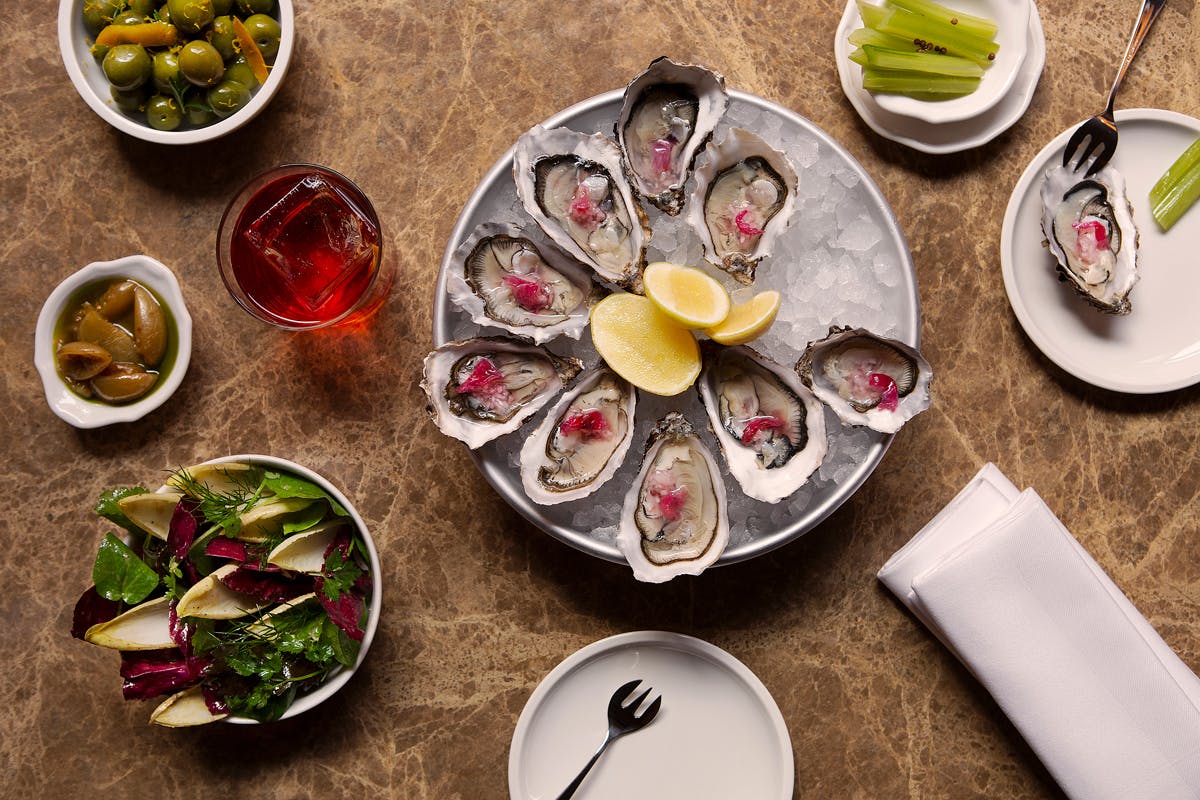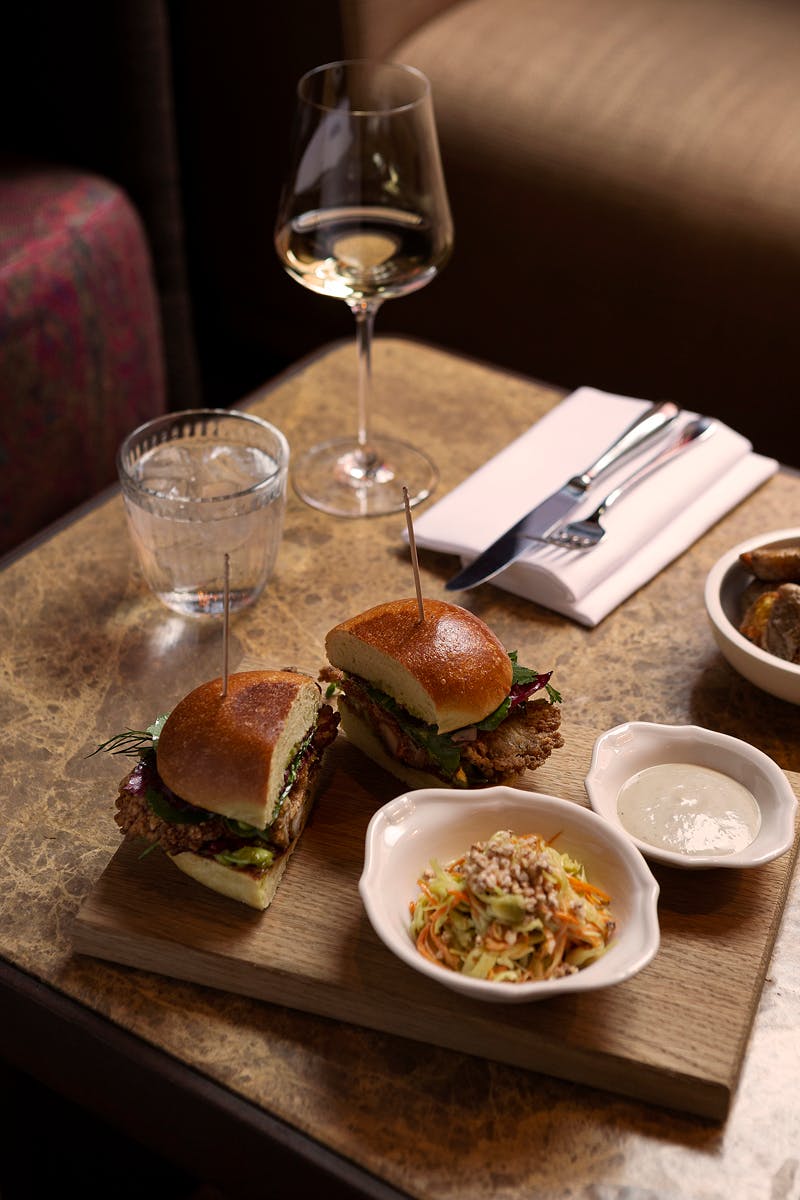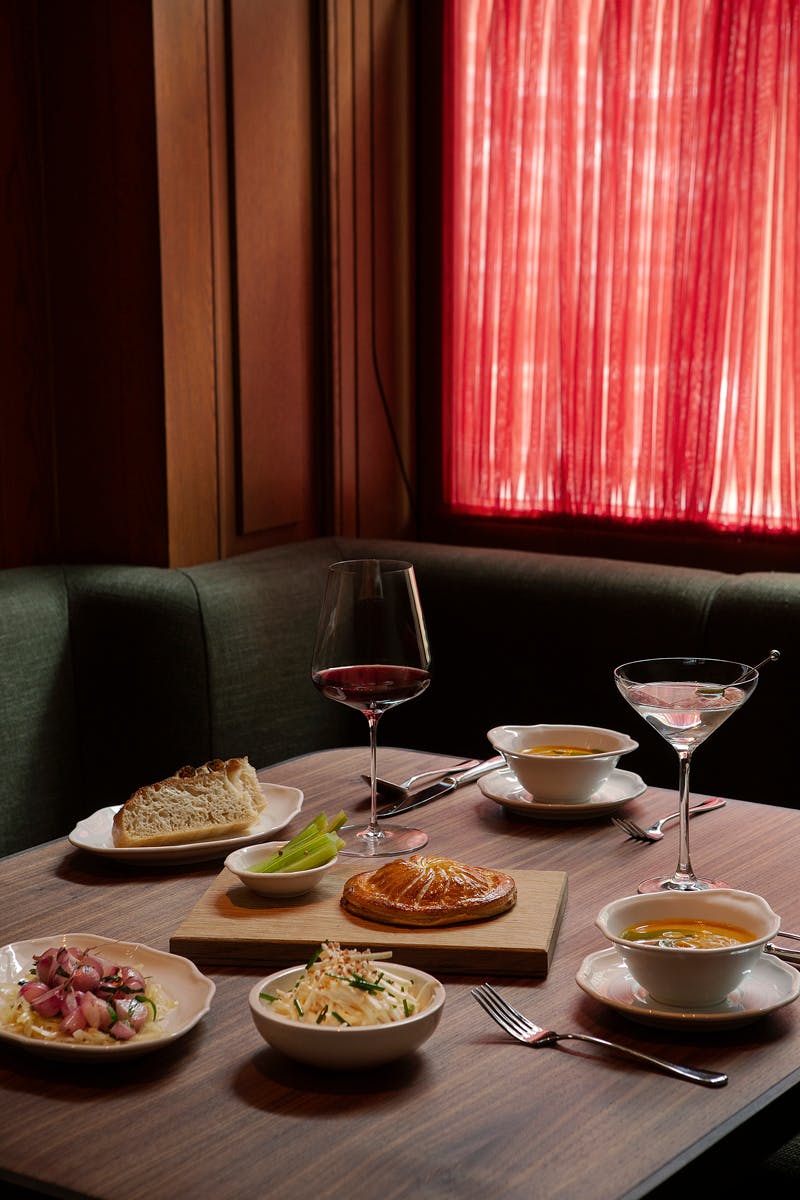 The Château Royal has five floors and 93 rooms, including 23 suites and one apartment. While there may be only one actual extended-stay-style quarter, suites foster an undeniably homey feel.
Drenched in warm hues and cozy textures, rooms arrive with desks, poufs, armchairs, lamps resembling lanterns, and high ceilings mirroring the essence of a Berlin flat (with some extra perks).
Interestingly, one of the minds behind Château Royal is Stephan Landwehr, the co-founder of Grill Royal — Berlins' upscale steakhouse praised for its comfort, dishes, and luxe ambience. It's no wonder the same energy follows with Landwehr's hospitality venture.
The Château Royal didn't open its doors until September of last year, but the building itself dates back to 1850s. In short, there are loads of history between these walls, including a brief stint as a Berlin Stasi spy base.
In designing the space, interior designers Irina Kromayer, Etienne Descloux, and Katariina Minits went with 19th and 20th-century influences as way of honoring not only the building's lengthy past but Berlin's rich history.
Details like the colored glass comprising the bar's wall and craquelé tiles fixated in the bathrooms further reiterate the hotel's retro inspirations and feels.
Château Royal looks like a posh stay, to say the least. Between support for the local art community and the modern spin on a Berlin's past, the hotel is undoubtedly a worthy contender to be the next it spot for like-minded creatives, after Soho House Berlin.
For those interested in booking at the hotel (rooms start at 195 euros, by the way), Château Royal will be awaiting your arrival with veggie bites and subtle reminds of your sexy appeal.