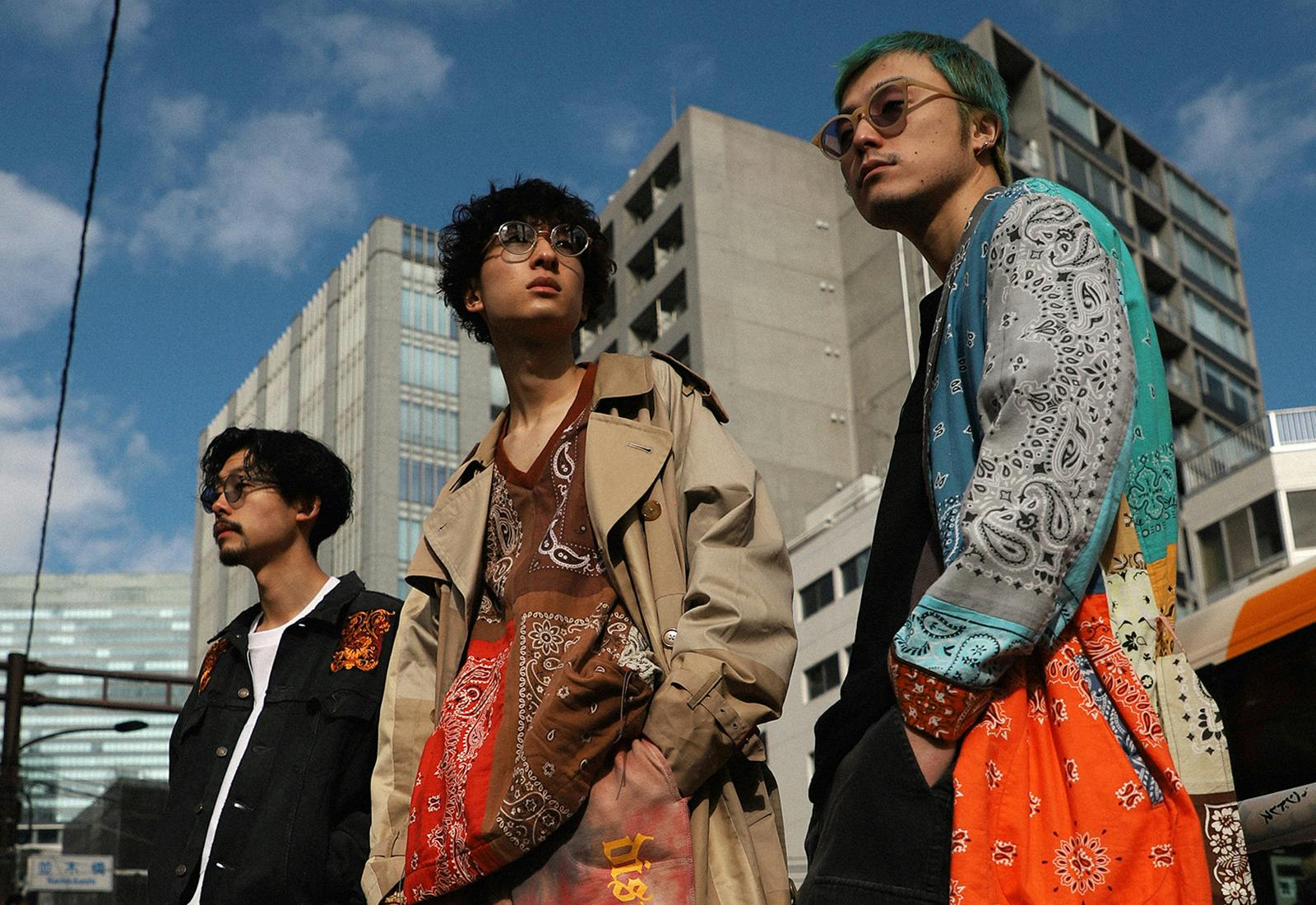 Highsnobiety / Nicholas Chalmeau
Since its debut Spring/Summer 2011 collection, Children of The Discordance has become the harmonious composition of designer Hideaki Shikama's disparate influences. Listing everything from Mexico's Zapatista Army of National Liberation, to the Arabic keffiyeh headdress as reference points, Shikama has managed to leverage his unwavering curiosity to create a genre-free brand, plump with intriguing narrative.
The brand's affinity for reconstruction — a sub-category born out of "la mode destroy" — has led it to become the manifestation of its very name: "discordance." By mirroring such unconformity in his work, Shikama acknowledges the rebellious essence of the subcultures that inspire him so richly.
The concept of being discordant is essential.

Hideaki Shikama
In 2005, Shikama opened multi-brand store Acycle in Tokyo's Harajuku district, intercepting the scene long before such retail experiences were commonplace in Japan. Using Acycle as a testing ground for his avant-garde interests, buying into brands such as Maison Martin Margiela and Walter Van Beirendonck, Shikama went on to found Advantage Cycle, before starting Children of the Discordance in 2011.
Shortly after Shikama started working with the BEAMS International Gallery in 2016, selling reconstructed pieces created together with his atelier partner, Naoto Yoshida, the brand gained mass acclaim, earning him the 2017 Tokyo Fashion Award.
I don't want to make a shallow garment that does not speak street. To me, the street's vibe is the final touch, guarantee, and essence.

Hideaki Shikama
Despite certain aesthetic hallmarks being linked to COTD — patchwork detailing, bandana collages, and raw-edge denim — seasonal themes are rarely carried over and/or duplicated. With each new season, the general public is welcomed to explore a new corner of Shikama's winding, ever-curious mind.
Read our compelling interview with Hideaki Shikama below to learn more about what separates Children of The Discordance from the rest.
With your aesthetic having won mass acclaim in recent years, COTD has been described and interpreted in a number of different ways, by a number of different people. I would however like to understand how you yourself see the brand?
Children of The Discordance is a representation of some very personal information (developed from a young age), an understanding for the history of street culture, and my collection of its many archives. I often travel back to the past to ensure my products are not misunderstood. To put it simply, COTD's standard output model is, "my experience value x new design."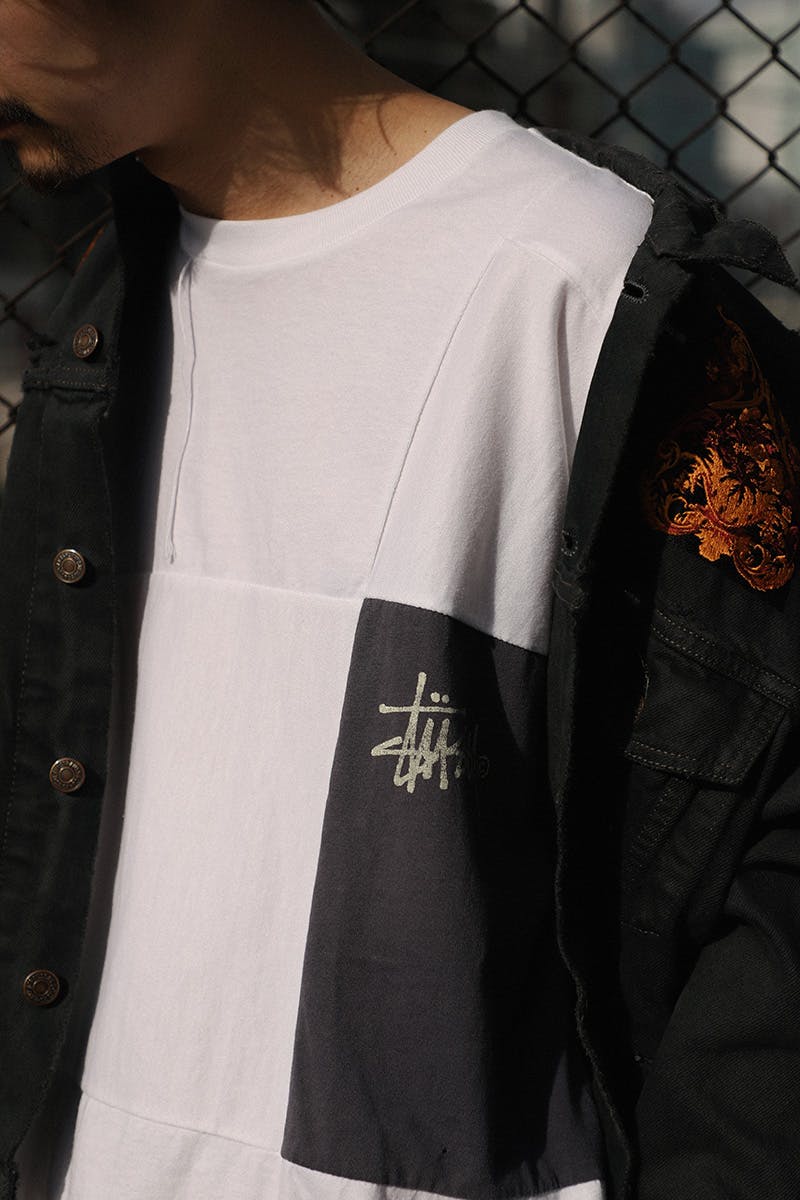 And how about subcultures, or as you've said before, "the fragrance of the street?" Why have they become so important to executing your vision?
When talking about the importance of the street and its subcultures, I value the power that lives deep inside its clothing most. I want to coat all of my products with an invisible power that people can feel when they wear our clothes. I don't want to make a shallow garment that does not speak "street." To me, the street's vibe is the final touch, guarantee, and essence.
Music and rhythm have also had a profound effect on your designs, correct?
When I was 13, I was introduced to hip-hop and skateboarding. Then, when I was in New York between 1994 and 1995, the city's street culture deeply inspired me, changing my life forever. I use the word "rhythmatic" to describe my clothes, as I believe sound is necessary to fashion. Music in fashion generates a beat deep down inside. Like Nas, I want my output to be Illmatic.
Having worked with the likes of Schott NYC and Yamaha — with the latter being a rather unlikely choice — how do you go about selecting collaborative partners?
Brands like Yamaha and Schott NYC are wholly authentic, with unshakable histories. Such factors are important to me. I want my clothes to be authentic and universal... to be cherished, and collected for years to come. I feel reconstructing shapes that have been loved for generations is an organic way of approaching such design.
Speaking of collaborations — are those RECOUTURE sneakers I see?
I don't have the means to break apart and reconstruct a shoe like RECOUTURE. Mr. Hirose however is a master in this field, and one of the people I truly admire. Typically, I bring pieces from my archive and design notes to his atelier when making my requests. The work we share is more of a partnership than a straightforward collaboration.
In a previous interview with us, you described yourself as being "uncompromising" in your search for quality. Does this ever feel overwhelming?
Yes, every day.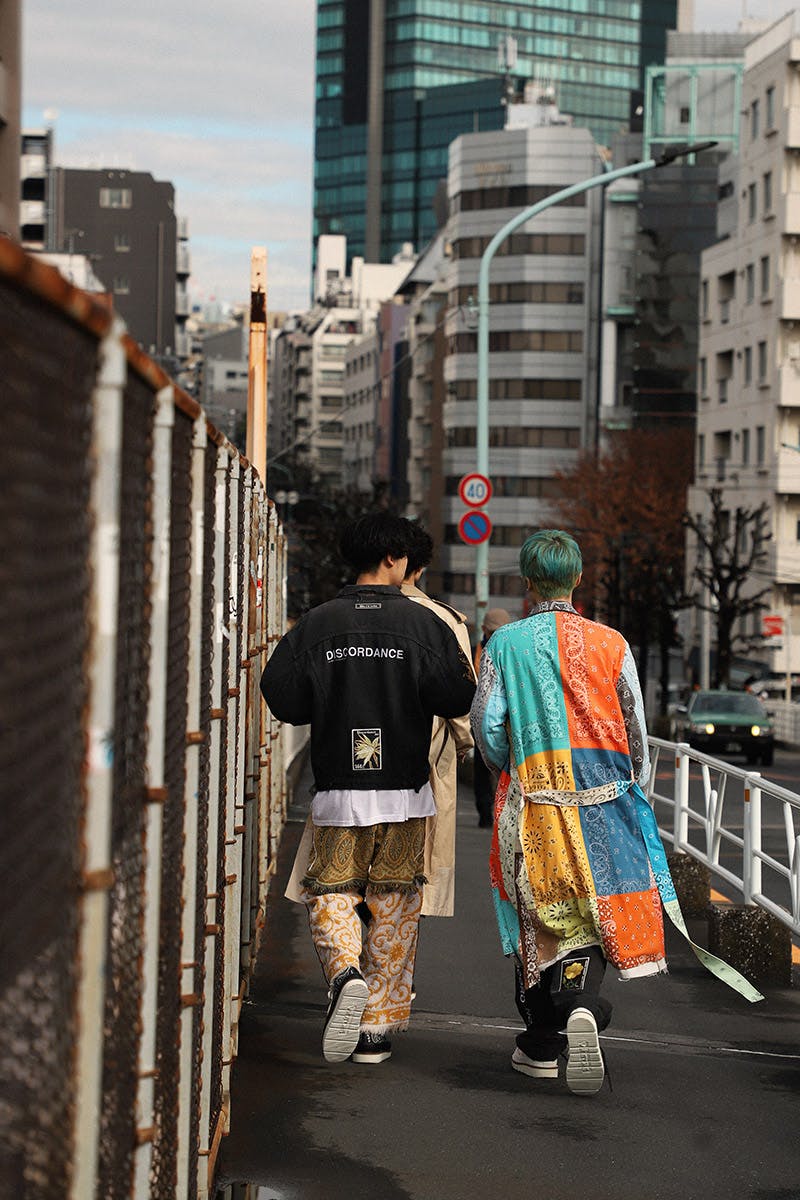 Among other accolades, you have been credited with working intuitively with deadstock and vintage fabrics; a process you have made feel natural, and not forced. How do you achieve this?
Through "discordance;" the concept of being discordant is essential. My clothes are made by a designer who [wants to] be completely individual. We are looking to introduce this feeling of owning a one-off piece to mass-produced garments.
Vintage items — or vintage fabrics — all embody unique histories. The production of my collections started to go well once I started using such vintage finds as my main material. My work is a mixture of aged history and new design, often supplemented with original graphics. We don't, however, interpret it as, or try to make it sustainable.
You have also described yourself as a "collectomaniac." What does this mean exactly, and how does it influence your work?
My affinity for collecting has a huge influence on the brand. I want to continue collecting bandanas, military shirts, military pants, rugs, vintage tees, and old Stüssy products for as long as possible. Once I have collected enough archive pieces, I can then turn them into clothes, and release them.
If I am not mistaken, your most recent collection actually features pieces from your own Stüssy archive, right?
Yes! I was lucky enough to acquire a sizable amount of old Stüssy products, and so used them together with my other archives to become the collection's main material. I discovered the brand when I was in 5th grade, and it led me to become crazy about clothes.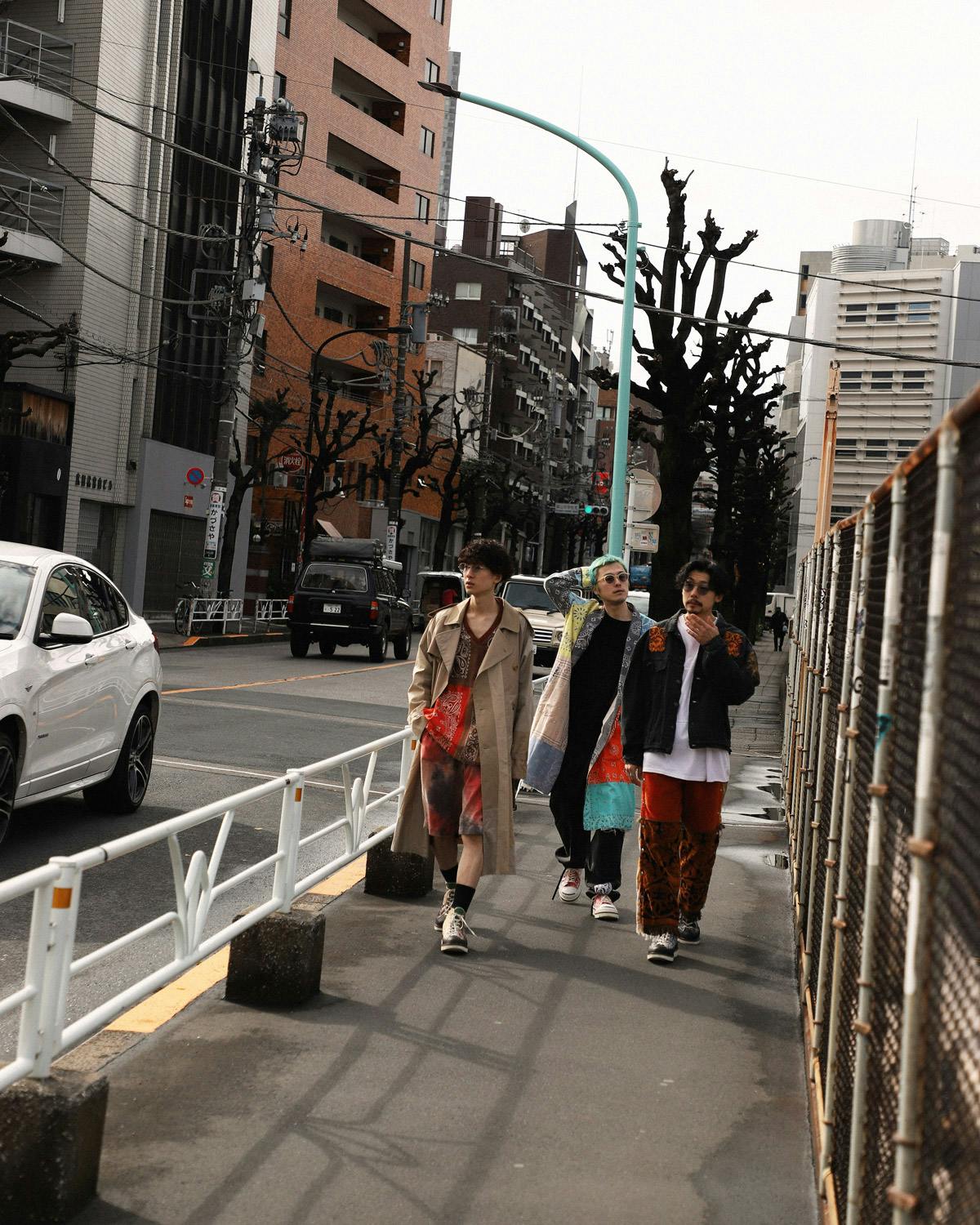 Now for a question you probably get asked a lot; talk to me a little bit about bandanas — what is it about them that you find so compelling?
The main reason I use bandanas is for their strong connection to hip-hop and hardcore culture. I bought my first, cross-pattered bandana in Harajuku at the age of 13. I could wrap it around my head, arm, waist, or tie it around my hip. I feel bandanas are a "rhythmatic" product.
And finally, I'd like to touch on the off-kilter nature of the models you choose. Do you cater to a specific client, or can your clothes be worn by everyone?
I want anyone to be able to wear our garments, irrespective of race, or anything else. The reason we do street castings, and use people with no modeling experience is because those who represent our brand must too embody this idea of "discordance."