This story is taken from Issue 17 of Highsnobiety magazine. You can buy the new issue here.
At 27 years old, Chinatown Market's Mike Cherman is already a veteran of streetwear culture. He worked at key San Diego retailers such as UNIV, at New York's Prohibit, and eventually parlayed a guerrilla postering campaign he masterminded from his Parsons School of Design print lab into a job with Jeff Staple. He has as many detractors as supporters, but his critics can't do anything to wipe the smile off his face — or his brand's.
Six Ounce Studio in Los Angeles is situated in a graffiti-covered parcel of real estate that is flanked by the 10 Freeway to the north and the non-existent Los Angeles River to the east. Inside is the base of operations for upstart fashion label Chinatown Market. Straight away you know you're in the right place — the brand's moniker has been printed numerous times below a loading dock with a $6,000 printing gun that looks similar to a phaser from Star Trek. Alongside is a similar visual marking for Prada. It's the perfect representation of what Chinatown Market is doing. It's fast, easy to produce, tongue-in-cheek, and unafraid of the power and litigiousness of major labels.
Inside, workers diligently package numerous boxes ready to be shipped. Along an outer wall is an inventory of merchandise. Most is emblazoned with the brand's smiley face logo, part of a licensing deal with SmileyWorld, the London-based company that first registered rights to the ubiquitous yellow-faced symbol decades ago. SmileyWorld once even forced the brand to stop production on certain early items after Chinatown's smile was deemed "wrong."
Brand founder Mike Cherman sits behind a desk overlooking two graphic designers. You get the sense that he's not looking over their shoulder, but that there's a part of him that misses focusing solely on the creative side of the business rather than the laborious details of running the thing. As he fires off emails, I'm drawn to the bookshelf. I've learned that what people keep close by is often a good representation of what they think they need around them to be creative. On the shelf is Slash: A Punk Magazine From Los Angeles, Top Graphics, Figure Drawing, The Best of Punch Cartoons in Colour, American Trademark Designs, and The Anarchist Cookbook, among others.
When Cherman is finally swayed into taking a break for half an hour, it's quite telling that he starts by talking about his admiration for his staff rather than his own accomplishments. At 27 years old, he is already well seasoned in fashion thanks to stints working as an assistant designer at Nike Bowery Stadium in New York, freelance designer at KITH, and as the founder and creative director of his own brand, ICNY. But the "one-man show" attitude that once served him so well has now transitioned into a mentorship role at the head of a team.
"I like to kind of call us The Lost Boys of streetwear," Cherman says. "I want [my staff] to go through the same trajectory that I did, so they can understand not only how to make a product, but also how to ship it, how to warehouse it, how to do all these things, and empower them to have the chance to fail a little bit so they can learn and get better."
Although the two aforementioned graphic designers are tasked with creating many of the items adorning the inventory shelf, Cherman encourages everyone — from the marketing department to those packing boxes — to pitch new ideas. He understands that many on his staff have future aspirations to be brand owners themselves. This doesn't worry him at all. Rather, it's a point of pride that he hasn't surrounded himself with pawns he can sacrifice for his own financial gain.
"I say it to all these kids: 'I don't think that you should work here forever,'" he says. "When I started my first brand, I got an investor, I got a non-compete, and I could only work on that brand."
Cherman is referring to his time working on ICNY, a brand born of necessity that added reflective materials to American Apparel T-shirts and Uniqlo socks to prevent cyclists from falling victim to reckless motorists. Although the brand was a success, collaborating with PUMA and being stocked by colette and Urban Outfitters, Cherman's inability to flex his creative muscles via a multitude of projects ultimately led him to leaving ICNY altogether.
"I found that to be one of the most limiting things I'd ever dealt with," he says.
I want [my staff] to go through the same trajectory that I did, so they can understand not only how to make a product, but also how to ship it, how to warehouse it, how to do all these things, and empower them to have the chance to fail a little bit so they can learn and get better.
Blessings are said to come in the form of disguises. If this is to be believed, Chinatown Market's smiley face logo puts a happy spin on the dark period from which Cherman emerged. Leaving New York behind, he ventured to Los Angeles to embark on something completely different.
Whereas many creatives fall in love with the skate and surf culture embedded in various facets of Southern California life, Cherman instead opted to be guided by something from his childhood: New York City's Canal Street, the one-time bootleg capital of the world.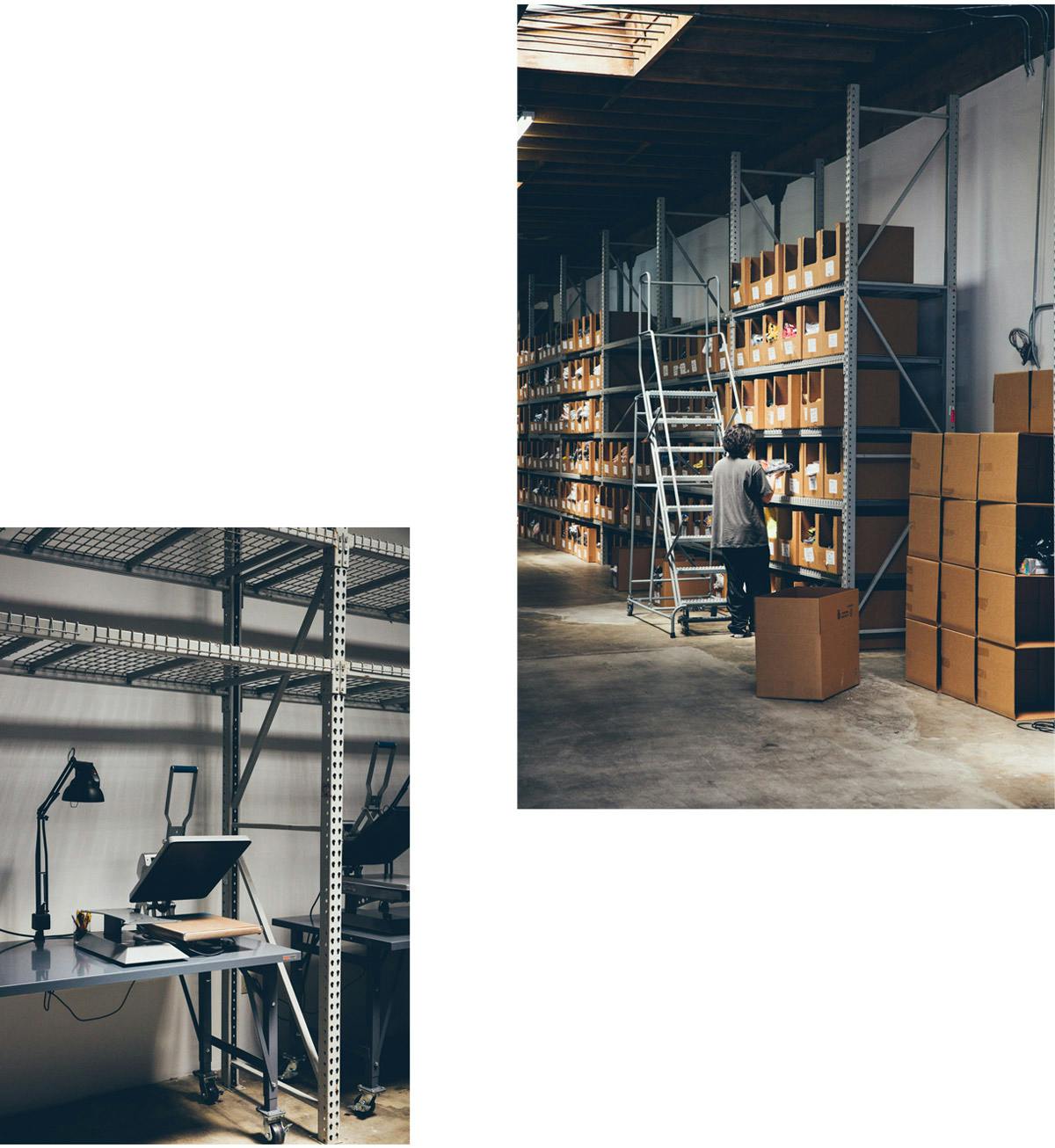 "My dad worked in the fashion district," he says. "We'd go down to Canal Street to go eat and shop. As a kid it's just so eye-opening. Whether it was going to buy a journal to write in, the swimming frogs, or [buying] a fake Rolex."
Canal Street might be at the core of Chinatown Market's DNA, but Cherman is quick to point out that Los Angeles afforded him something the Big Apple never could: ample real estate and affordable rent.
"Doing what we do out here would not be possible in New York," he admits. "I literally could not have this office. I literally couldn't have this many people working with me, none of it."
The seeds for what would become Chinatown Market began with the idea for a single product, a collaboration between himself and photographer Alex Bortz. Both were amused by the thought of screen-printing the phrase "Fuck you, you fucking fuck" on a T-shirt. It's an NYC tourist tee that recalls the eye-opening experiences of his youth, but Cherman also says it sums up his own creative attitude.
Cherman was and probably always will be "Mikey Merchandise" at heart — a nickname he earned in high school after producing some DIY T-shirts — so he designed the text and printed out a run. He had a booth at ComplexCon, where he figured he could at least recoup his investment if the reception was tepid. Chinatown Market wasn't an overnight success, but there was enough of a positive response in the industry that folks suggested he sell in places like Dover Street Market.
He didn't want Chinatown Market to be a retread of ICNY, though, aiming to grab the attention of boutiques around the world. This time, Cherman was adamant about putting his business ahead of his ego. This meant forging a key partnership with Urban Outfitters, which happened to be confirming a new T-shirt order just as I stepped into Cherman's office. The decision earned him more critics, who interpreted it as a short-term financial play that could hurt a nascent streetwear brand's credibility — especially in an industry where cool is the ultimate currency. But Cherman stands firm on his choice.
"I'm here to run a business," he says. "You can try to knock retailers like Urban Outfitters, but people who do that don't acknowledge what they've done for the industry. Places like Urban Outfitters actually sell great clothing and they support great brands. Right now you could go buy all the great Champion Reverse Weave from them and they're partly responsible for bringing back Champion."
Cherman has a point. Urban Outfitters and other retailers such as PacSun and Zumiez have been financially beneficial for the brands who call them stockists, even if they might be considered detrimental in the sense that brands are often perceived as sellouts as soon as their products become widely available.
Right now, you can find Stüssy, PLEASURES, Baker Skateboards, and BOW3RY at Urban Outfitters. But of course you'd never find BAPE or Supreme on its shelves. Certainly the streetwear brands stocked there haven't lost credibility and still remain independent. But they also consistently make good product, and unlike the Supremes and BAPEs of the world, many lack their own flagship stores around the globe. Maybe the stores that stock a brand aren't as important as what customers think of the clothes themselves. After all, consumers are the ones who decide if a label has jumped the shark.
We're here to give homage to these large corporate monsters that essentially are luxury brands and pull that down to ground level.
"I just find that in streetwear, the idea of exclusivity and the idea of stuff that you can't get your hands on was half of the novelty of it," Cherman reasons.
Bootleg products are the antithesis of exclusive. The very goal is to produce something that mirrors established ideas and designs, albeit with a twist so as not to be labeled counterfeit. And the process is built on speed.
"The whole idea that we have is that no idea should have to leave here to get executed," Cherman explains. "We should be able to come up with an idea by 7 a.m., it should be online by noon, be able to be finished by production by 7 p.m., and shipping by the morning. That's the entire business that we want to run."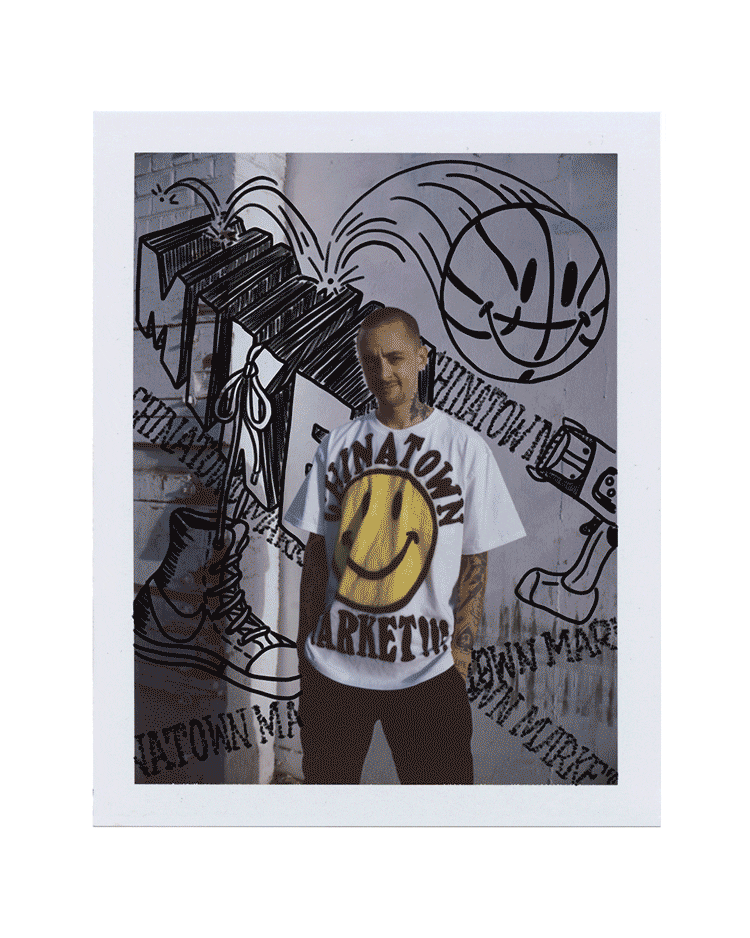 This efficient approach was a hallmark of Chinatown Market's early — albeit controversial — successes. When Frank Ocean released his album Blonde in 2016, Cherman noticed a song called "Nikes." He quickly mocked up a design with the singer's name above and below Nike's iconic Swoosh. Overnight, swooshfrankocean.com generated $40,000 in sales before the singer's representatives sent a cease-and-desist and Cherman was forced to refund all the money.
"It was really an eye-opener for me," he says. "I was like, 'This is how I can approach design.' It can be reactionary. It can be stuff that's out there in the sphere. I can put it together, put it onto a shirt, market it, and we can sell it immediately."
This year, Cherman turned a Kanye West tweet — in which the rapper insinuated that Russian designer Gosha Rubchinskiy had designed a neck tattoo to honor West's son, Saint — into a T-shirt using the same free downloadable font, Art Dystopia, used in the design West had shared. As there were no grounds for legal recourse, Chinatown Market had gamed the system by working with the speed and topical relevance of meme culture. "We already had it all online before anyone had talked about it," Cherman says.
Months later, when West launched his album ye at a listening party in Jackson Hole, Wyoming, Cherman took notice of the merch being documented on social media, especially the black dad cap with "KANYE WEST / ALBUM LISTENING / MAY 31 2018 / JACKSON HOLE" emblazoned on the front. He made his own version and put it up for sale, beating West's official merchandising company Bravado to the punch. Although Bravado made West's ye merch available online shortly after the listening party, it didn't make the hat one of the items people could purchase.
Perhaps the brand's most noticeable success to date was its take on Converse's Chuck Taylor high-top silhouette, customized with a Nike Swoosh screen-printed on the upper. Although the design was never sold to the general public — and made without Converse's official consent — it still graced LeBron James' feet prior to game two of the 2018 NBA Finals. "Those are the moments where it validates all the hard work," says Cherman.
While the legality of some of Chinatown Market's early products is debatable, Cherman gets particularly fired up when he references other brands that think he is pilfering their ideas. Whereas the old model dictates that brands be several seasons ahead, Chinatown Market is free to explore ideas whenever it wants.
"I don't copy streetwear brands," he states adamantly. "I'm not looking at people next to me. That's not what we're here for. We're here to give homage to these large corporate monsters that essentially are luxury brands and pull that down to ground level."
As we're finishing up, I'm reminded of a quote from Ethan Hawke's character in Training Day. When riffing about his attempts to understand the motivations of people on the streets, he quips, "You gotta control your smiles and cries, because that's all you have and nobody can take that away from you."
Cherman has seen relationships falter, had a brand taken away from him, and been accused of thievery. And yet, the smiley faces adorning everything from a pop-up tent to a table tennis paddle in his office suggest he's literally taken ownership of his emotions. And in this moment, he's about nothing more than getting Chinatown Market to the next level — on his own terms.
"A lot of people have approached this business about investing and about getting involved," he admits. "But I'm gonna try my best to run this thing as far as I can go without having to do that. It's not gonna be easy, but that's part of building a business. If I wanted it to be easy, I would go pick another profession."
Highsnobiety magazine Issue 17 is available now from our online store and at select premium stockists and boutiques worldwide.