The views and opinions expressed in this piece are those solely of the author, and do not necessarily reflect the position of Highsnobiety as a whole.
As you might already have noticed, things have turned ugly in the fashion industry in recent times. Chunky sneakers, the anti-beauty aesthetic, Vetements, Demna Gvasalia-era Balenciaga — all these things fall under the broad umbrella of "ugly fashion." But as the trend has become more prominent, it's forced us to contend with the question, "What is ugly, exactly?" While we all have our views on what is ugly in a person or an object or building, the question of what constitutes ugly in fashion has become much more difficult to define.
Gvasalia (current lead designer of Balenciaga and Vetements) describes his aesthetic as "ugly, that's why we like it," but the fact he and so many others like it so much — with many paying obscene amounts of money to make themselves look uglier — forces us to question if his designs are really ugly at all, or are they actually an inverted vision of beauty. Ugliness has become more of a philosophical question than a matter of subjective taste. But while plenty of fashion commentators have already offered their views on the trend, I started to wonder what qualified design critics think of it — because, well, I value their opinions more.
What is ugliness? Can it be quantified? Where does this sudden rejection of beauty come from? These questions have already been answered at length by the style press, so I reached out to prominent figures from the world of design, people who've contended with such questions for longer than Vetements has existed.
Stephen Bayley is a British design critic, cultural commentator, and the co-founder and former director of the Design Museum in London. He has written columns for publications such as The Guardian, The Times of London, GQ, and Vanity Fair, and in 2012 published a book titled Ugly: The Aesthetics of Everything, in which he also asked the question, "What is ugly, exactly?" This landmark text used famous works of art and design, ranging from the paintings of Hieronymus Bosch to the B-52 bomber, to explore the nature of ugliness.
In an essay published by The Architectural Review in 2013, Bayley noted, "'Beauty,' however defined, is not necessarily attractive. And ugliness is not always repulsive. Besides, tastes change. The tides of taste go back and forth, erasing aesthetic certainties." He adds, "For example, two years before it was finished, the great Paris intellos of the day lined up against the Eiffel Tower, writing letters to the papers denouncing it as an ugly and hateful column of bolted tin. Of course, it is now one of the world's most loved monuments."
Bayley makes an interesting point; ugliness is not just a matter of taste, but also of context. The Eiffel Tower initially repulsed because it was so different from the standardized, postcard-perfect beauty of the Parisian architecture surrounding it. When the initial shock subsided, people warmed to the new structure. So does this mean that objective beauty and ugliness don't exist?
"I am not at all sure that there is any really satisfactory definition of beauty," Bayley tells me via email. "Or indeed of ugliness, since our conception of each is moderated by the tides of taste, which come and go. That said, I am always very taken by Elaine Scarry's idea that the best test for beauty is the idea that we want to reproduce it. If we want more of something, then that is surely significant and positive.
"By contrast, if ugliness can be understood at all, it is something to do with repulsion. Etymologically, the English word comes from an old Norse word, 'ugga,' which is also the root of 'aggressive.' Then again, concepts of repulsion are themselves subject to variation by changing tastes."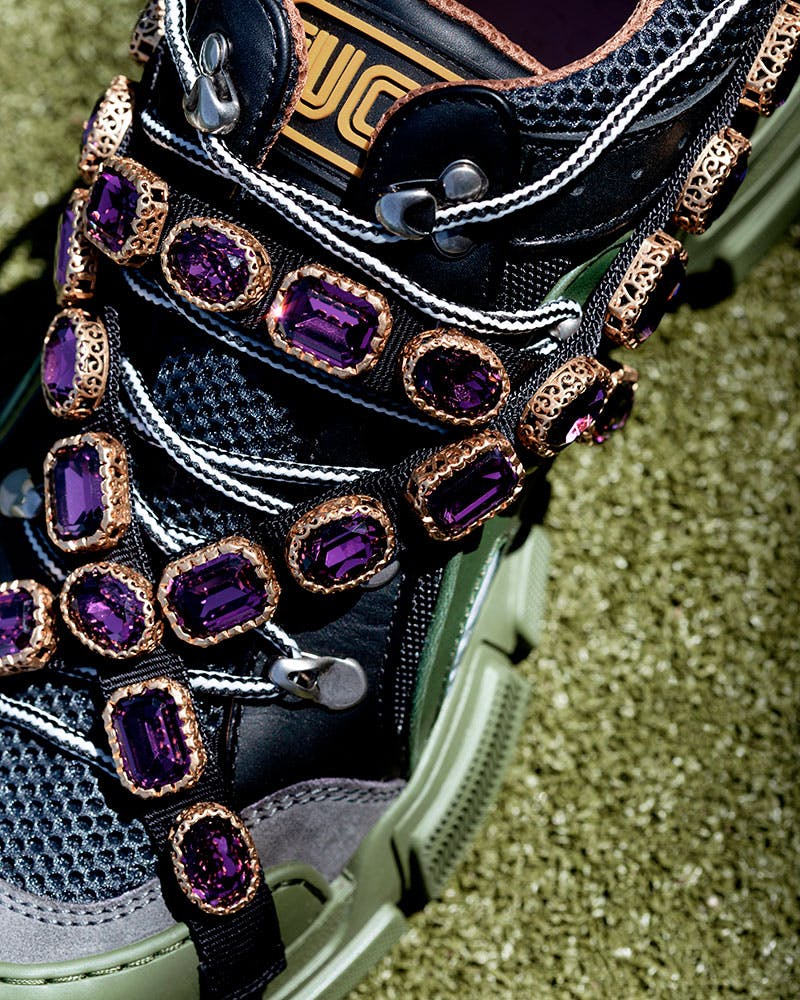 Taste doesn't only move in one direction, though. Just as ugly can become beautiful, beautiful can start to repulse. Bayley himself says in his Architectural Review essay, "The strange truth is: Too much beauty would be intolerable, an awful world of meticulously cropped lawns and starched linen." Excessive beauty creates a certain sterility. This is perhaps where the recent ugly fashion fad stems from; it's because beauty has never been more accessible.
The internet is full of design blogs offering detailed instructions on how to give your home that signature minimalist Scandinavian look, while Apple has become the most valuable brand on the planet by saturating the world in beauty. The iPhone and MacBook are arguably the most beautiful, and almost certainly the most popular, consumer goods on the market. In an interview with The Atlantic in 2013, Bayley said, "Much as I admire [Apple head designer] Jony Ive, his products have run beauty's course. Once you make something so exquisitely refined as an iWhatsit, there is nowhere else to go." In that sense, the emergence of chunky sneakers and Vetements can be seen as blowback against the oversaturation of beauty.
Swiss designers Sébastien Mathys and Jonas Nyffenegger started the Ugly Design blog five years ago. The blog, which is now accompanied by an Instagram account, documents eccentric design pieces that Mathys and Nyffenegger view as ugly yet strangely appealing. Initially, Mathys tells me, they "started Ugly Design, not in a positive way — the idea was to judge people.
"We started as haters but now we're really lovers, to be honest. We've started to see Ugly Design as an alternative to what we see [in the world], because if you look at what's happening on Instagram or the internet, it's always the same… the same kind of design, the same type of aesthetics. So we think Ugly Design is really something new."
Nyffenegger adds, "The dream of the Bauhaus movement came true. There's uniformity, everything matches everything. There's a very rigid form everywhere. It's all the same, it's all boring."
Both tell me they're fascinated by the chunky sneaker trend, and they single out the Balenciaga Triple S and the Acne Studios Sofiane as two standout ugly designs they particularly adore. But Mathys suggests that, actually, they might not be ugly at all.
"I don't think you can definitely call them 'ugly,'" he tells me over Skype. "They're big, they're fat, chubby shoes, but are they really ugly? I mean, if you look at the Triple S and compare it with other sneakers they have on the market, they're pretty massive. But they're not that ugly, right?"
When I ask him what he sees as truly ugly, Mathys points to niche sneaker brand and mall-goth favorite Buffalo as an example. And I agree with him; they really are hideous.
When I ask Bayley his views on the Triple S, he is scathing in his dismissal of Gvasalia and his work. "I dislike fashion, with its spurious dynamic and its repetitive saccharine outrages," he tells me. "Gvasalia is just playing an old, familiar, boring, and cynical game. There's really very little of interest here. Forty years ago, people were shocked by Paco Rabanne. Eighty years ago, they were shocked by Chanel."
He then points to James Laver's cycle of fashion, in which, over the course of 160 years, a piece of fashion goes from indecent to beautiful, largely due to the fickleness of fashionistas.
I agree with Bayley's assessment. The chunky sneaker and ugly fashion trend does strike me as deeply cynical. Rather than seriously meditating on the nature of beauty and ugliness, as Bayley does in his book, Gvasalia's work plays on cheap hype. It feels shallow and sensationalistic rather than profound in any way. It's cynical because, rather than attempting to outdo or match the beauty of the iPhone, or offer a new paradigm of beauty, Gvasalia and his contemporaries simply reject beauty itself and retreat into the grotesque.
When I present this view to Nyffenegger of Ugly Design, he points out that designing something deliberately ugly presents a challenge all of its own. "Maybe it's as difficult to do good design as it is to do ugly design," he says. "Maybe to design ugly for ugliness' sake isn't so difficult, but to design something that's ugly but cool, or ugly but interesting — that's pretty hard, I think."
Not all ugliness is created equal, it would seem, making the question, "What is ugly, exactly?" all the more difficult to answer conclusively.
For more about sneakers, watch the video below.
To stay updated on everything happening in the sneaker world, follow @Highsnobietysneakers on Instagram, check our sneaker release date calendar and subscribe to our sneaker chatbot on Facebook to receive lightning quick updates to your inbox.