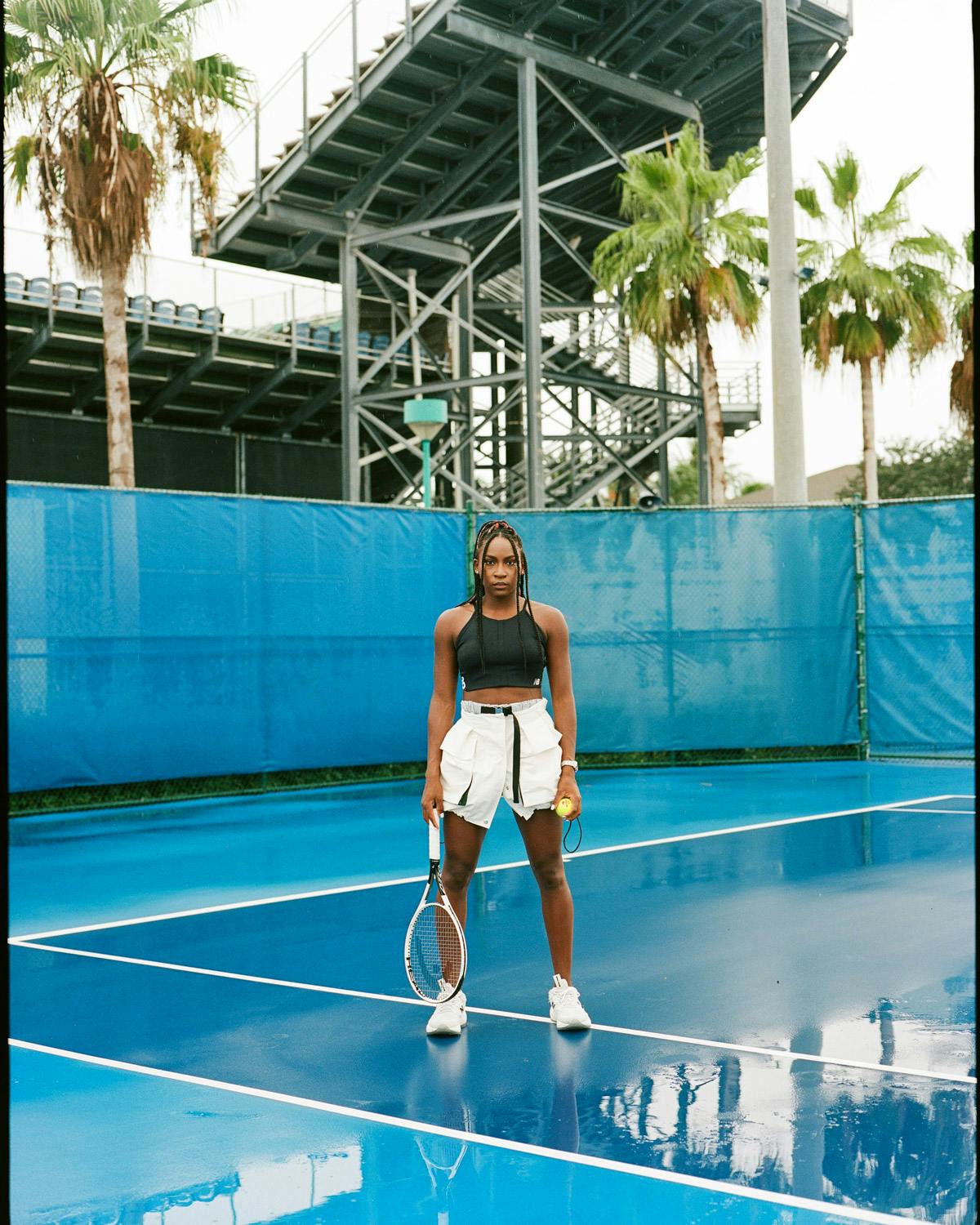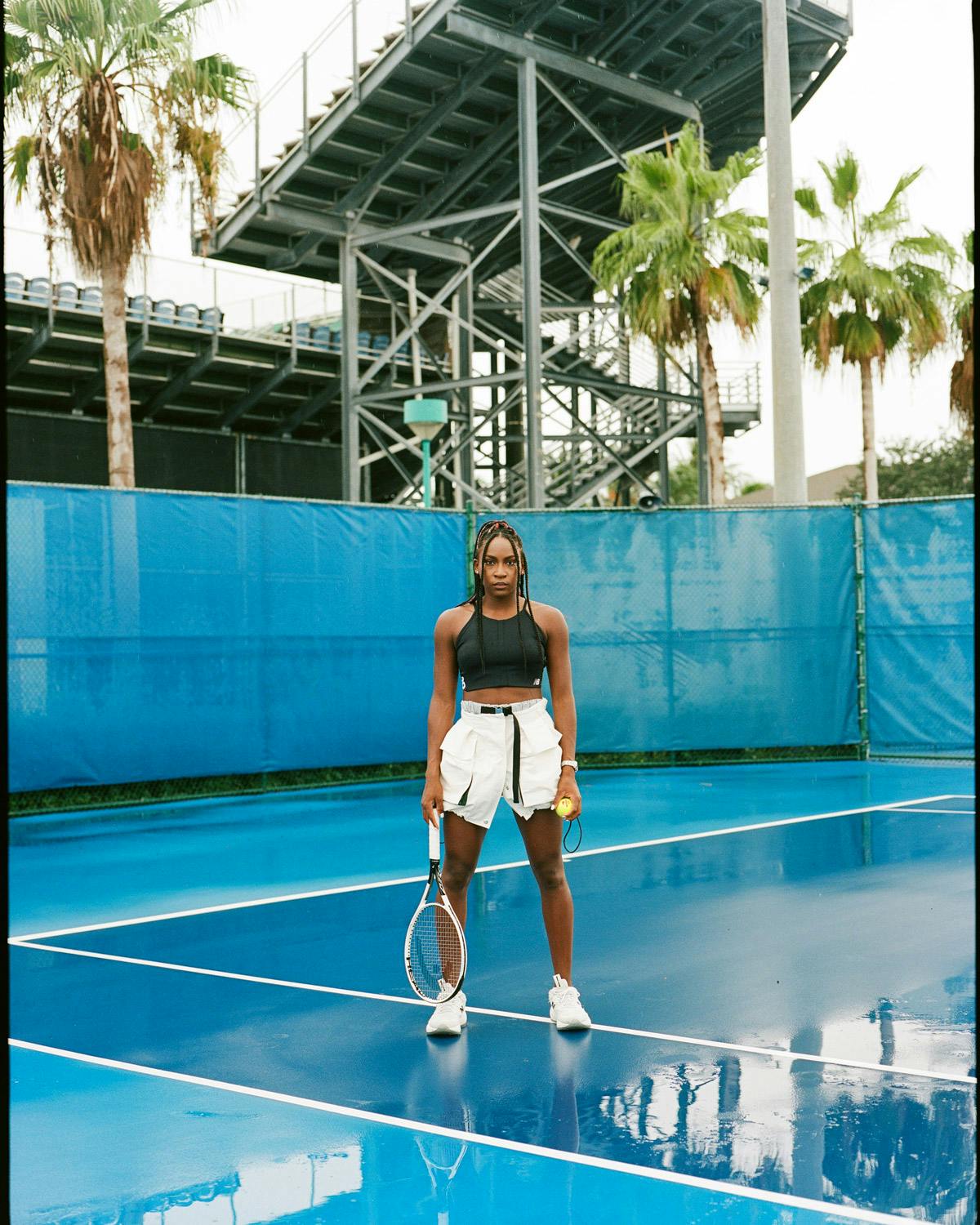 In light of the wickedly talented Coco Gauff taking the spotlight by reaching the French Open finals in June 2022, we're resharing this FRONTPAGE interview, where she lays out her vision for changing the game.
Coco Gauff is hugging her tennis racquet. It's a muggy afternoon in New York City, and she's standing in the center of a portable tennis court in the middle of Hudson River Park's Pier 72. A white and black Head Graphene racquet is cradled between the 17-year-old's long arms, the way a child might hold onto an oversized plush animal or a best friend. In any other circumstance, it would look like a tender pose, but Gauff, currently one of the most successful teenagers in the world, is surrounded by a small flock of middle-aged women in sports dresses and her stance looks like a subconscious attempt at self-defense. The women, who are at least twice (but most likely three times) her age are coo-ing at Gauff in high-pitched tones as they prep her to shoot video content for this event's sponsor, American Express. The company has set up over a dozen of these temporary courts ahead of the US Open, just for card members, which will commence the following week some 10 miles away in Flushing, Queens.
Gauff squeezes the racquet through a dozen or so takes of her thanking the company (of which she's too young to be a member) in variously smiling editions. "These Amex courts are super nice! I love playing tennis in New York City," she says, over the screech of some seagulls overhead. For the last of these takes, her instrument is confiscated by one of the more alert marketing women and Gauff begins to fidget as she speaks. The woman stops Gauff mid-take, with a wave of her arm. "Don't tap your mic," she says.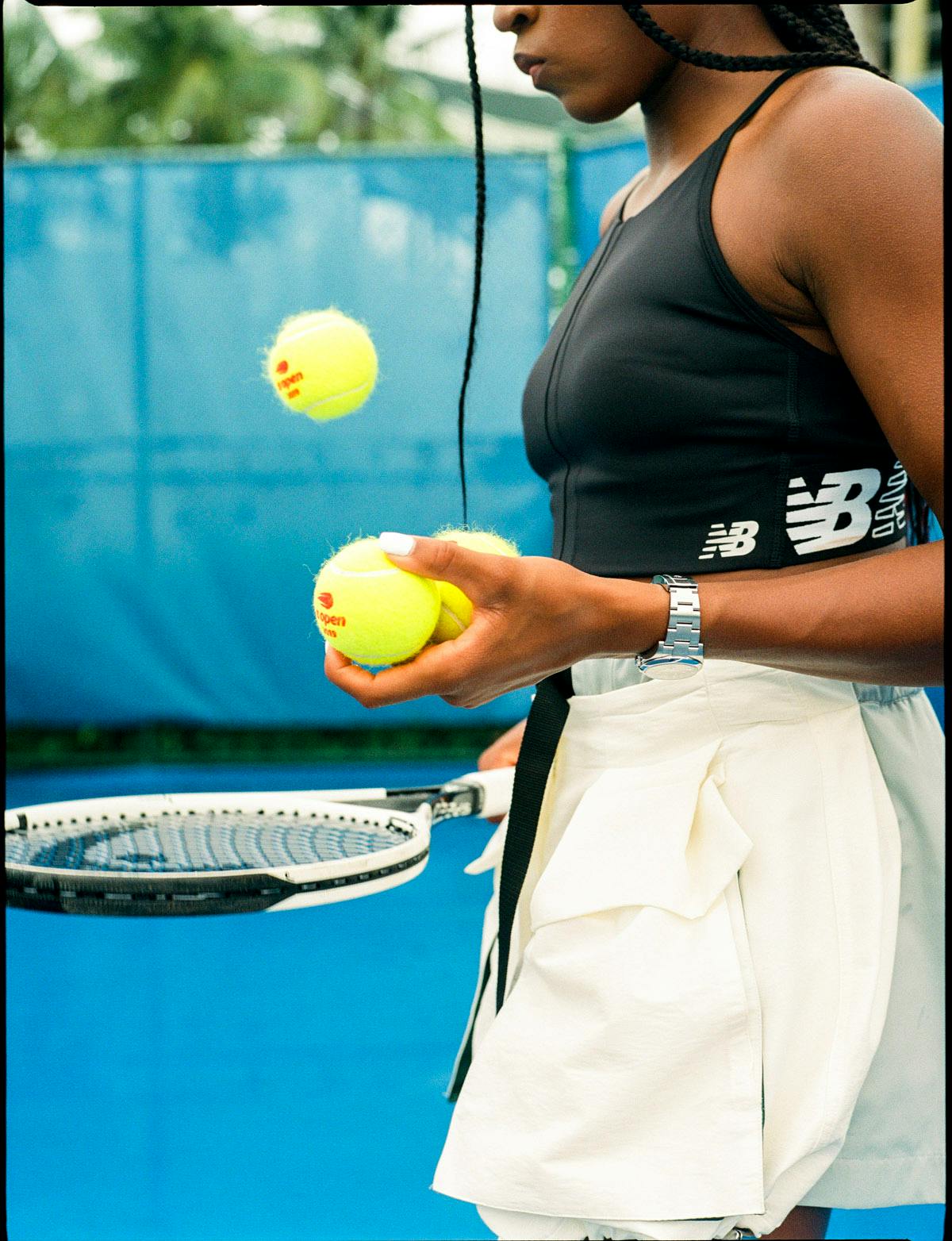 Immediately after filming, Gauff moves to one end of the court and begins hitting tennis balls with various civilians in mixed-brand tennis outfits who have been waiting in a queue for their chance to whack nervous-looking forehands at the 23rd best player in the world. Seventy-eight feet away from these non-threatening sparring partners, Gauff returns each ball with perfect and effortless strokes, deploying what looks to be the same amount of energy and focus one might use to check their Instagram. Despite the junk balls being heaved her way, the teenager is smiling ever so faintly during each shot, in a head-in-the-clouds kind of way. It's a smile that exists in a different spiritual category altogether from the corporate grin she was using just moments earlier. When each of these uneventful rallies comes to an end, a sweat-free and unruffled Gauff approaches the net for a selfie with her fans. And each time, with her racquet nestled once again into its safe place, she softly introduces herself: "Hi, I'm Coco."
***
Her trip to New York City is itself an introduction. Really, it's the latest in a life cycle of introductions that are par for the course when you're a talent as raw and tantalizing as Gauff. Despite a 10-month professional season and dozens of tournaments played across the world, most Americans are unaware of the existence of such a sport, its storylines and its superstars, until the US Open and its frenzied two-week tournament spills into view once a year at the end of summer.
For Gauff, this means hurtling herself across New York in a spree of interviews, practices, team dinners, corporate events, and, of course, what will be the most demanding tennis matches of her young career. In other words, the window is microscopic to establish herself both as a dominant player and a global brand.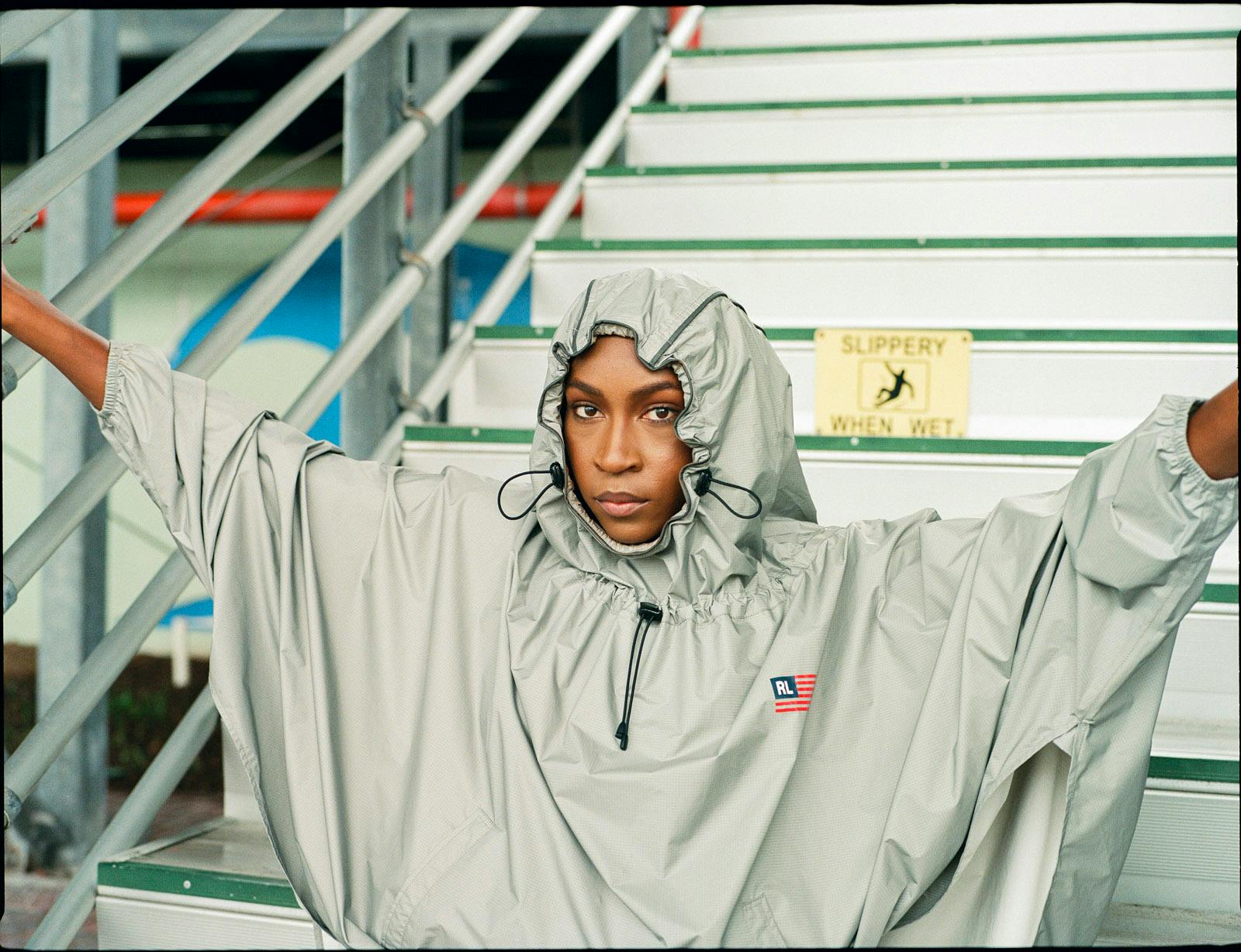 Highsnobiety / Ysa Perez / Jacket POLO RALPH LAUREN
This is why Gauff, who stepped off a plane from Florida less than an hour ago, is already out in the world, putting in the work. In addition to the selfies, small-talk, and the autographs (which is a delicate and looping cursive signature that she's embarrassed by), Gauff is here to promote a new collection of streetwear she's designed with New Balance. And the brand, in turn, will promote Gauff with a massive Times Square corner billboard when the collection drops a few days later. ("Saw myself at time square lolll," she would write in an Instagram story, where she can be seen standing below an eight-story video of herself burying a serve.)
The US Open is Gauff's favorite grand slam, despite never having gone farther than the third round. The audiences here are younger; more diverse. It's a welcome change of pace in a blur of tournaments that mostly cater towards a certain kind of boomer attendee. But Gauff says those kinds of fans are okay, too. Especially in New York City. "The crowds here are mostly drunk during my matches, but I enjoy it," she says. "Especially when they're cheering for me."
When I meet her in the lobby of her midtown hotel, she's wearing her own signature New Balance 327s, a blocky white shoe set off with flaming fuschia panels. Her patterned top looks like television static covered graffiti that turns out to be that same looping signature she claims to hate. Along with a gorpy looking technical jacket in jet black and a pearl necklace by Vivienne Westwood, the ensemble is far more street than clubhouse — which is exactly the point.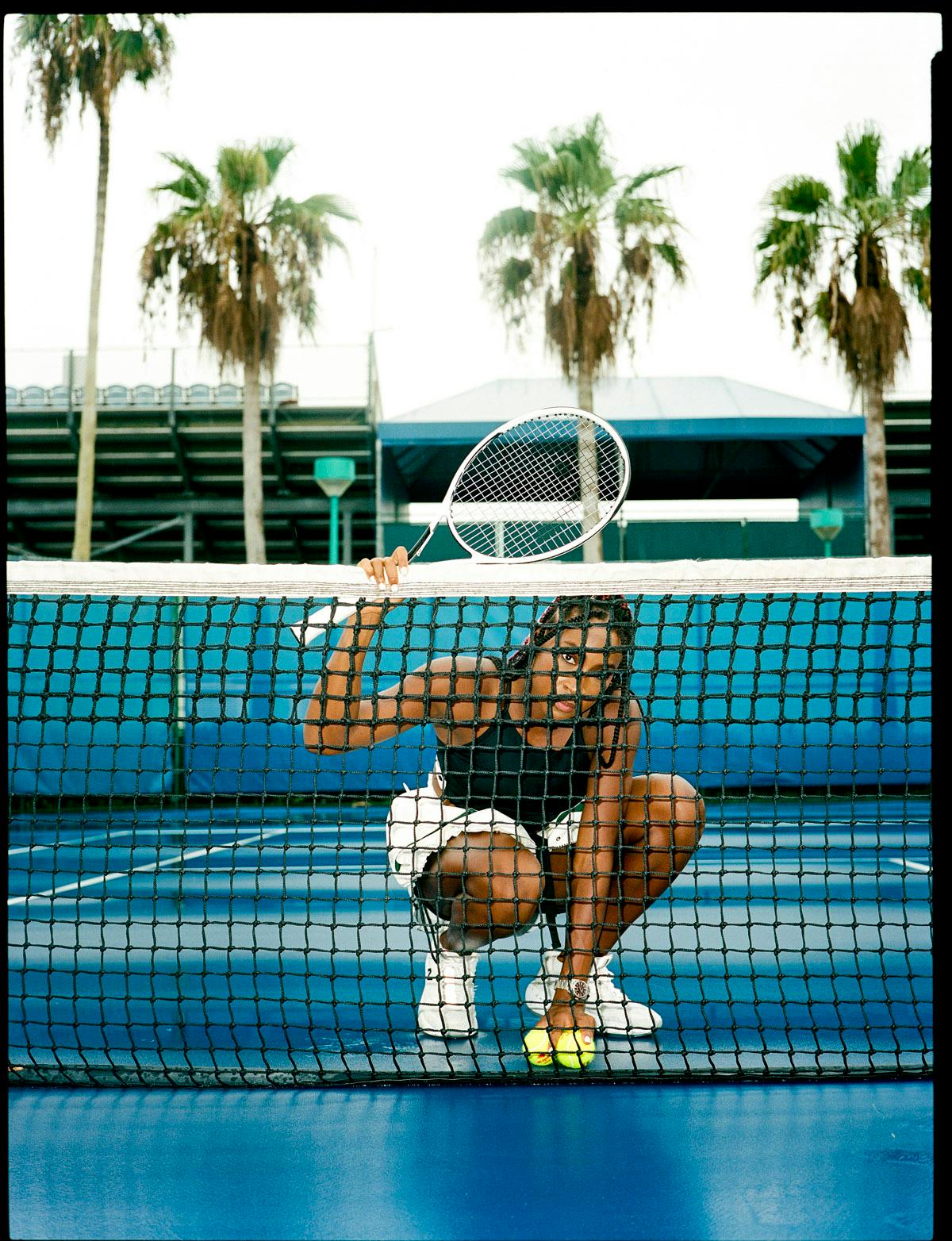 Gauff is just one of a handful of tennis players who've reached the point where their names, their on-court reps, and their fame collide and live forever on a garment, but these clothes are almost always intended to live within the painted box that is her chosen sport. It's such a strange premise that when I ask her what ambitions she has for the collection, she sets the bar almost ridiculously low: "It'd be cool to see at least one person walking the street in it. More than anything, I was just excited to hear that my clothes were going to be in the Foot Locker store here."
But that is the simple point behind all of this; it's an introduction that almost feels like a recalibration of what a young American tennis star can be. A coordinated and mass equivalent of "Hi, I'm Coco" to what would ideally be a legion of Gen Z-aged kids with the same kind of non-tennis interests that she herself shares — finding fits on TikTok, the occasional anime cosplay, listening to Tyler, the Creator, watching basketball, and shopping for designer clothes. (She points out that current fervor for Crocs is something she thoroughly disapproves of.)
"Tennis," Gauff tells me, "needs to break out of this box. Some players are trying to get out of the mold, and some players prefer to be in the mold, but I'm trying to mix things up and make them exciting, and New York City is the place to do it."
She is quick to point out three players leading the escape from the confines of the game: Naomi Osaka, Nick Kyrgios, and Serena Williams (she says Serena's name in an almost reverential whisper). They are the only players in the sport with an active interest in streetwear who can actually pull off a look. More than anyone currently in the sport, Gauff thinks Kyrgios — the volatile 23-year-old Australian phenom who prefers NBA jerseys and Jordan 1s — as the player pushing the streetwear conversation the most, the one responsible for the whole "fashion thing."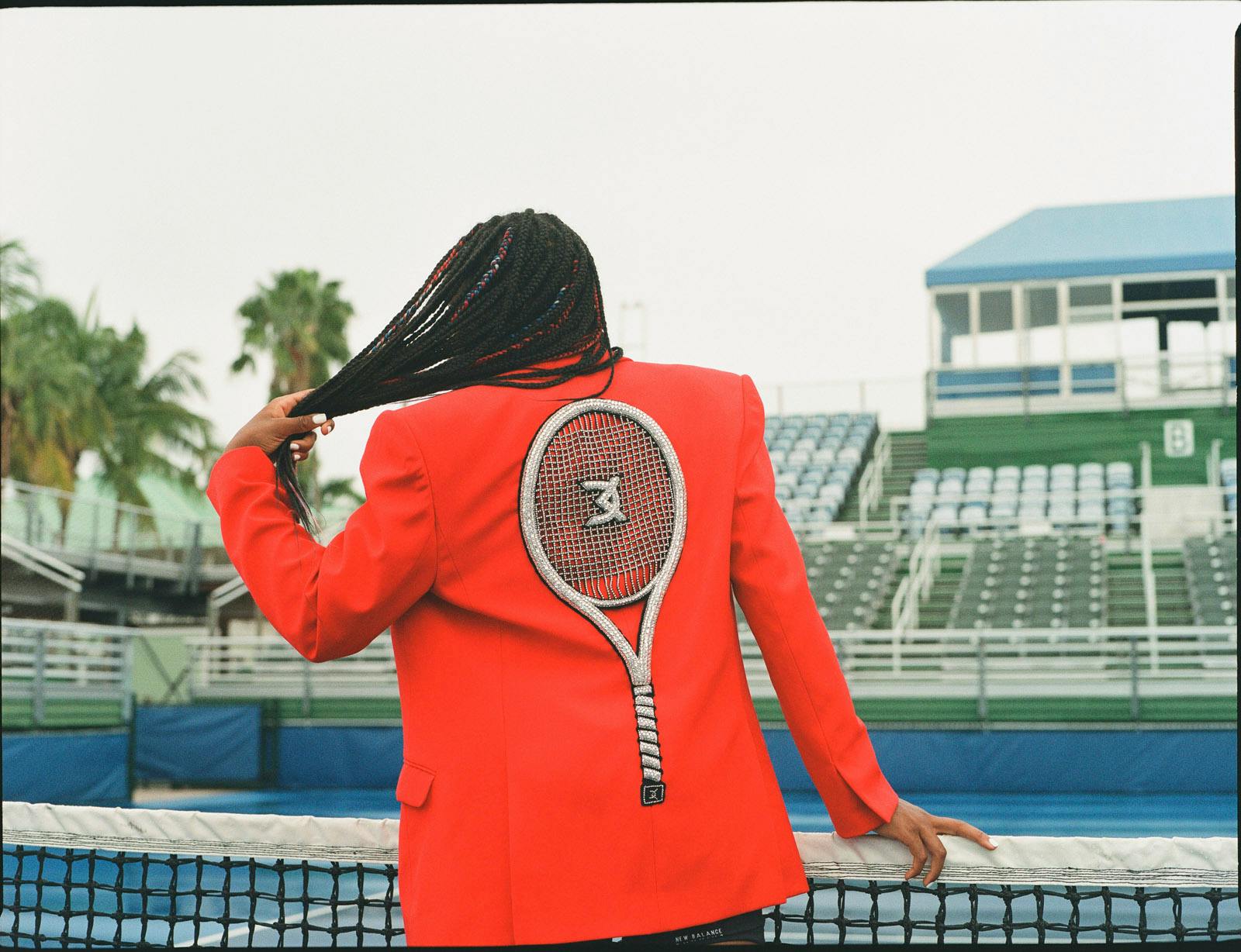 To break tennis out of its staid little box is more than just a matter of wearing grails and designer fits on the court. And to her, Osaka and Kyrgios are the players who are pointing towards a more open version of the game, a version where players are no longer willing to live in the box or be forced into its traditions. "Just watch any interview, you'll see each of the players answer the same questions the same way," Gauff says. "That's not a normal thing to see in a society. But it's so hard to act like yourself in this sport."
Osaka, of course, made a splash earlier this summer by refusing to participate in media sessions during the French Open last May. She ultimately dropped out of the tournament without playing a single match, citing her depression and general state of mental health. Since then, the sport has perhaps been forced to look more closely at itself than at any other point in the modern era. Similarly, Kyrgios is constructing an entirely new mode of being a professional athlete, with point-blank press conferences and a refusal to make winning his professional cause.
"Nick doesn't worry about what people say about him," Gauff says. "Naomi isn't catering her career to other people's opinions. They're waking the sport up, including myself, and I admire them so much for what they've done. They've made it clear that players shouldn't have to adjust to tennis. Tennis should be adjusting to us."
***
I ask Gauff what changes she'd like to see come to the game. What, if anything, would her ideal version of professional tennis look like?
"The sport tries so hard to downplay 'bad' behavior," she says, adding her own air quotes. "But it doesn't hurt anybody. If someone breaks a racquet, I think we should be able to make fun of it, because, well, it's funny. It makes the sport more fun."
Gauff then explains the story behind her first racquet smash. It only happened a few months back, during the quarterfinals of the French Open in a match against Barbora Krejčíková, a 25-year-old from the Czech Republic. That match was the farthest Gauff has gone in a Grand Slam, and the pressure of it boiled over at the beginning of the second set. In the middle of a searing 15-0 point run by Krejčíková, who would go on to win the tournament, Gauff pummeled her racquet into the baseline clay.
Highsnobiety / Ysa Perez / Top and sneakers NEW BALANCE Skirt SACAI Watch ROLEX
As she recalled the moment, Gauff couldn't stop giggling.
"It was the first time I ever did it, and it's not like I want some kid to follow that example, but at the same time, everyone is going to do something like that in their career," she says. "And it even ended up helping me win a couple of games. My mom said I should've broken it earlier in the match and let out my anger a little more."
She was penalized a point for the incident, further dooming her chances in the match. Headlines the following day were aghast referring to the smash in hysterical terms. "Teenager implodes," went a typical headline. If you had no idea what kind of thing Gauff had been referring to up until this point, this is basically the morality shaming that she, and her cohort of players, find to be an ancient code of conduct. "We should embrace emotion, and the sport should be more open to players sharing their emotions on the court. Everyone has them," she says.
***
As the US Open gets underway, Gauff's window to make a mark is now ridiculously constrained to the boxes painted on the USTA's hard surface courts. The nature of Gauff and who she is (and what she is capable of) will be compressed and confined to things like box scores, serve percentages, sets won, and the limited set of facial expressions that can seep out between the points in a match.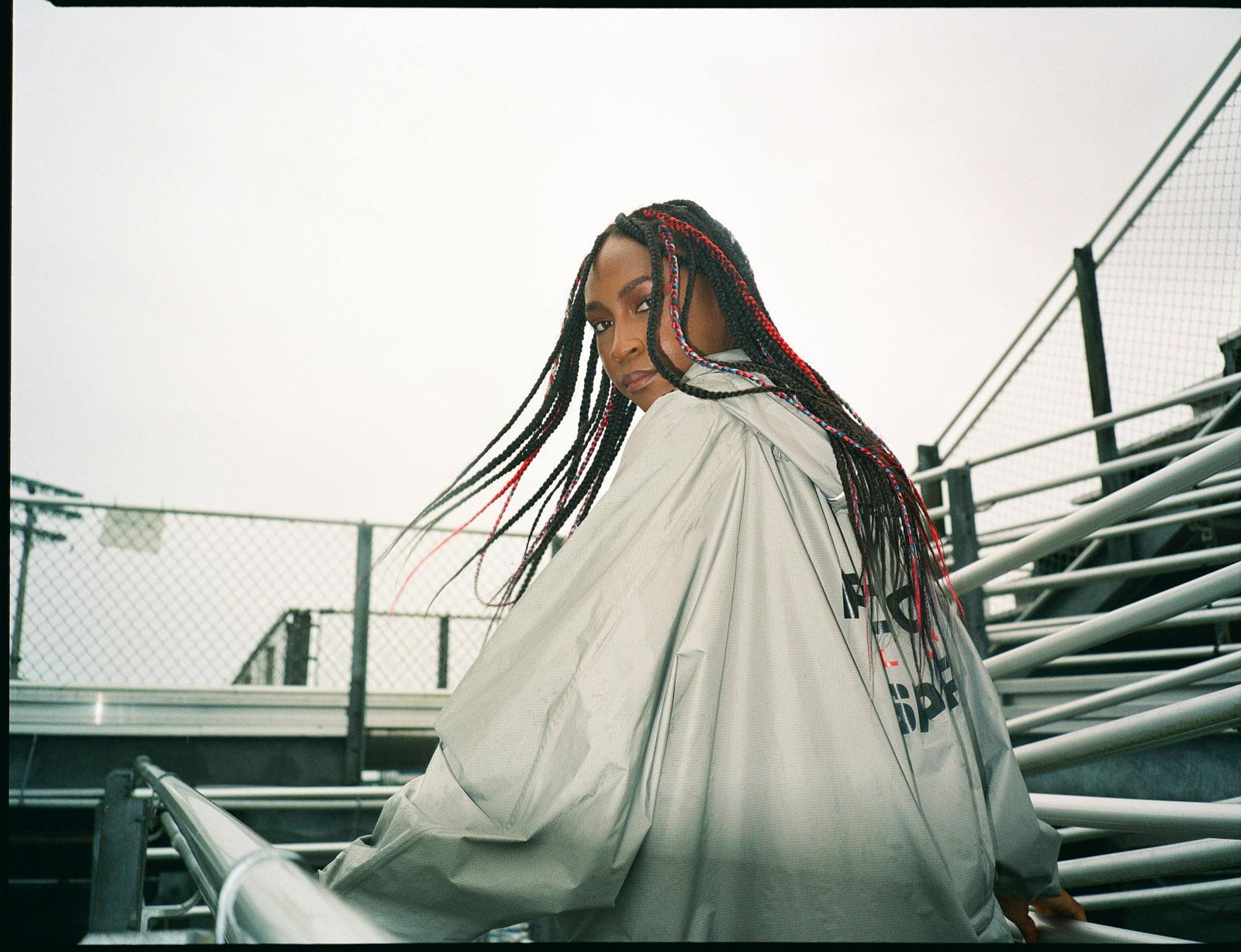 In her first match against 29-year-old tour veteran Magda Linette, Gauff was clearly nervous and stiff, playing off her game. She had eight double faults in the first set alone. After each stray shot, you could see her rap a balled fist into her left thigh, as if to wake her herself up. For a moment, after losing the first two games of the second set, it seemed that Gauff might be heading for an early exit, a casualty of too much hype, maybe, or an over-focus on the brand and not her baseline game. But she never let it slip away; even after Linette made one last dire push in the third set, Gauff never panicked. And the audience in the Louis Armstrong stadium, which was surprisingly full for an afternoon match, never panicked either. After every Gauff point, it would go nuts, the way a stadium goes into full-blown psychosis for a home-run or a touchdown. It got to the point where, as Gauff served one last time, that the court began to feel as large as the stadium itself, that box had already begun to expand. It was clear for a moment that Gauff might not have to break out of the box that is tennis; to alter its punishing physics, escape its pressure.
At least, not on her own. Everyone, for a change, was inside of it with her.