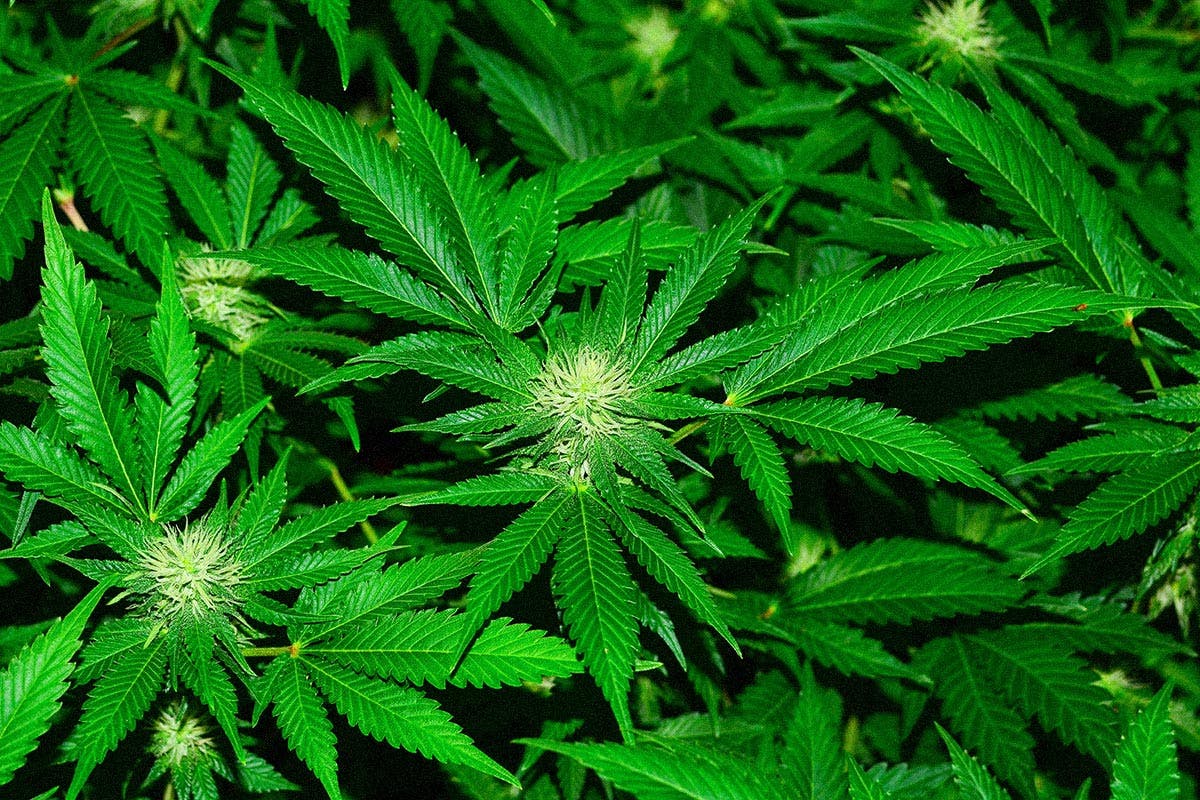 When the word "counterfeit" is mentioned, it usually evokes one of two images for people; faulty currency notes, or fraudulent clothing. Regardless of the actual fake, the goal is the same in both occasions. By presenting a product that attempts to duplicate an original — down to its distinctive emblems and unique packaging — the illegally begotten profit stems from the legitimacy of the real McCoy.
As more and more states have moved toward a fully recreational status for marijuana, the influx of new capital has also led to a major surge in counterfeit cannabis — specifically in the state of California — where oversight from governing bodies like the Bureau of Cannabis Control have attempted to curb the growing threat not only to business owners, but to consumers as well.
Although marijuana forgery is a relatively new phenomenon, the industry has seen fraudulent actions with both vaping products and plants — with the former remaining the most pervasive example of black market cannabis today.
A marijuana vape pen is comprised of two primary components: a battery and the vape cartridge. Some pens have a button that activates the delivery system, while others are buttonless and only activated once the user takes a draw. As is the case with any product, cannabis brands have looked to differentiate themselves from competitors by offering up different sizes, shapes, and colors — as well as distinct packaging. As CannaCraft CEO, Dennis Hunter, explains, there are certain identifiers on their own products that ensure they are legitimate.
"AbsoluteXtracts cartridges come in CCell hardware and the bottom of the cartridge is inscribed with 'CCell' along with the batch number," Hunter says, "We have AbsoluteXtracts printed on the band below the oil tank. Most importantly, our products can only be purchased from a licensed dispensary and the packaging must be compliant with state regulations."
The Bureau of Cannabis Control, the Department of Food and Agriculture, and the Department of Public Health are a three-pronged attack that California has in place to address various issues relating to retail, distribution, testing labs, microbusinesses, and cannabis events. As Alex Traverso, a spokesperson for the BCC explains, they've been forced to contend more and more with the growing counterfeit cannabis industry.
"As California's legal cannabis market is only about 20 months into its existence, it's still hard to tell where these products are coming from," Traverso admits. "We've received some complaints about these products, but those complaints have definitely ramped up more lately, especially with these vaping sicknesses popping up around the state."
As of filing this story, the Centers for Disease Control and Prevention announced that there are now 530 confirmed or probable cases of lung injury associated with vaping — up from 380 cases reported just last week — which they attribute to vaping THC, nicotine, or a combination of both.
Leafly's California Bureau Chief, David Downs, explains that the growing market of counterfeit cannabis products impedes efforts to increase cannabis consumer safety — chiefly by using legitimate cannabis branding filled with vape concentrate which contains dangerous ingredients and overall inferior components.
"Counterfeiters work hard to mimic legitimate brands and consumers usually cannot tell the difference," Downs says. "The latest safety issues have already increased awareness around the need to shop at licensed retailers, because those products are tested, regulated, and ensured to be safe."
Industry experts point to two major sources of counterfeit cannabis on the market. The first is the prevalence of unlicensed dispensaries still operating. There were/still are at least 220 illegal cannabis dispensaries in Los Angeles — more than the number of licensed operators in California's largest marijuana market. As a result, California's legal market is still $5.7 billion less than the unregulated sector.
Peter Scheir, President of Holoshield.com, runs a third-party protection service that helps cannabis brands deter counterfeiters using tamper-evident high-technology labels, including sophisticated holograms. Their proprietary offerings include overt (naked-eye visible) and covert (instrument required) elements such as Compass, DNA, Laser and Lens Viewable and a unique QR Manger app for authentication and marketing. Scheir explains that the packaging aspect associated with fraudulent cannabis is actually intellectual property infringement. Whereas brand infringement would usually be handled on a federal level, the ability to prosecute perpetrators becomes troublesome because marijuana is still a schedule 1 drug in the eyes of the Drug Enforcement Agency.
"This alone precludes most cannabis companies from pursuing legal remedies when they've been counterfeited," Scheir explains.
Since marijuana still exists in a grey area — with full legal status in 10 states and medical status in 33 others — Scheir says the onus is on brand owners to combat the growing counterfeit problem by monitoring their supply chain for any nefarious personnel or distribution, and educating their own consumers on what they should be looking for in a genuine product. Since the marijuana industry is still largely unregulated (similar to bootlegging in the time following prohibition), and even licensed brands fight the sheen of a once illicit operation, Scheir believes consumers are willing to put the reward above the risk.
"From my vantage point it's, 'keep it real and make sure your customers know it's real,'" Scheir says. "Focus on branding and supply chain management, sell only legal product, and through legal dispensaries."
Whereas Scheir's experience speaks to the pervasiveness of unregulated dispensaries and products on the domestic front, the industry is also quite aware of foreign influence as well. Chinese e-commerce juggernaut, Alibaba, has been a consistent name mentioned when examining the phenomenon. Despite best efforts on behalf of Alibaba's Anti-Counterfeiting Alliance, the site still seized $536.2 million worth of counterfeit goods from third-party sellers in 2018. Major brands like Heavy Hitters, Brass Knuckles, Kingpen, and AbsoluteXtracts's have all been impacted. The latter has been in direct contact with Alibaba and other illegal resellers to notify them of the fraudulent products they began seeing as far back as 2015.
"Aside from the fact that AbsoluteXtracts is only sold in CA, it was obvious just by looking at the products that they were counterfeit," says CannaCraft CEO, Dennis Hunter.
With new problems, come new solutions. In what will surely be an ongoing game of cat and mouse between brands and knockoff specialists, some tech companies have began exploring how blockchain can help authenticate a product. For example, Canada's StrainSecure uses verification technology to track a product at every testing point — from genome to sale. In a perfect world, StrainSecure will eventually be able to verify the genetics and source of all cannabis strains in Canada.
Whereas Holoshield.com speaks to protecting intellectual property using measures aimed at packaging, StrainSecure aims to allow growers/brands to identify and secure rights to strains of marijuana themselves — while also being able to release the product into the public domain without fear of losing their ownership. However, the protection of intellectual property pertaining to cannabis strains remains murky at best since the drug still carries an illegal designation on the federal level. As a result, counterfeit cannabis not only carries a health risk in the vape space, but consumers also run the risk of using "knockoff" flower products as well.
SHERBINSKIS is a San Francisco marijuana brand that has developed a cult following thanks to industrial leading marijuana genetics they've dubbed "Pink Panties," "Sunset Sherbert," and "Gelato." Due in large part to this name recognition, they've been dubbed the, "Louis Vuitton of marijuana." Despite what could be perceived as a positive connotation, SHERBINSKIS doesn't have the same power to protect themselves against fakes and forgeries as the luxury brand does.
"As my team and I were growing Gelato, certain copies of the genetics got out in ways that were beyond our control," says SHERBINSKIS founder, Mario Guzman. "Through that, other people began to take ownership of our plant genetics by putting it on their packaging. Not just Gelato, but Sunset Sherbert — shortening 'Sherbert' to 'Sherbet.' The issue is the federal ban on cannabis prohibits growers the same protection for their IP that other industries have. While we've seen some counterfeit SHERBINSKIS packaging here and there, it's really our strains that get copied from other growers and brands without homage being paid, or protection from the state."
Whereas bootlegs or fakes in the fashion industry carry no risk for wearers beyond the potential embarrassment of being discovered, counterfeit cannabis is harmful to both consumers and brands. If — and perhaps when — marijuana becomes federally legal, brands will maneuver to become proprietary eponyms in the way we use words like Google and iPhone in regards to overarching industries related to internet search and the smartphone industry. Thus, it stands to reason that these marijuana success stories will become products of theft at every turn — whether the packaging, or strains themselves.
"It is my hope that our dedication to setting the highest industry standards over the past decade will help customers understand the importance of avoiding unsafe, counterfeit products and instead choosing brands like [ours] that they know and trust," says Andrew Modlin, MedMen President and Co-Founder.
With the rise of vaping related illnesses — coupled with the lack of a singular regulatory body overseeing the marijuana industry — consumers would be wise to only purchase items from licensed dispensaries in which products have been lab tested, and genuine packaging includes key details like the exact doses, ingredients list, lab results, and warning language. However, this is not a fail safe method.
"As we find out more information about the contaminated vapes, it appears the harmful products were purchased on the black market, and that the oil in the cartridges included thinning agents to cheaply alter the look and viscosity of the oil, says CannaCraft CEO, Dennis Hunter. "While certain additives may be legal like vitamin E acetate and propylene glycol, they have not been shown to be safe for inhalation and for that reason, AbsoluteXtracts has never and will never use any additives in our cartridges."
Welcome to a time and place in the marijuana industry where getting high and getting over have officially converged.