Crocs are the epitome of love-it-or-hate-it fashion. Some swear by the foam clogs for their no-frills design and comfort, others find them hideous. Yet, as unlikely as it might seem, Crocs have penetrated the streetwear and fashion scene in recent years, going from being called one of the 50 worst inventions by TIME magazine in 2010 to collaborating with Balenciaga, PLEASURES, Post Malone, and others.
Crocs senior VP of global product and marketing Michelle Poole told Highsnobiety last year that the brand's clogs have become more than a simple comfort option. "Collaborations are important to our brand, but to work, they have to be meaningful," she said. "Our clog serves as a blank canvas that can fuel the latest trends or conversations. This is why we think we're becoming more relevant in the streetwear space."
With Crocs having legitimately become part of our world, here we look at the collaborations that have brought Crocs from fashion pariah to (sort of) fashion star.
Christopher Kane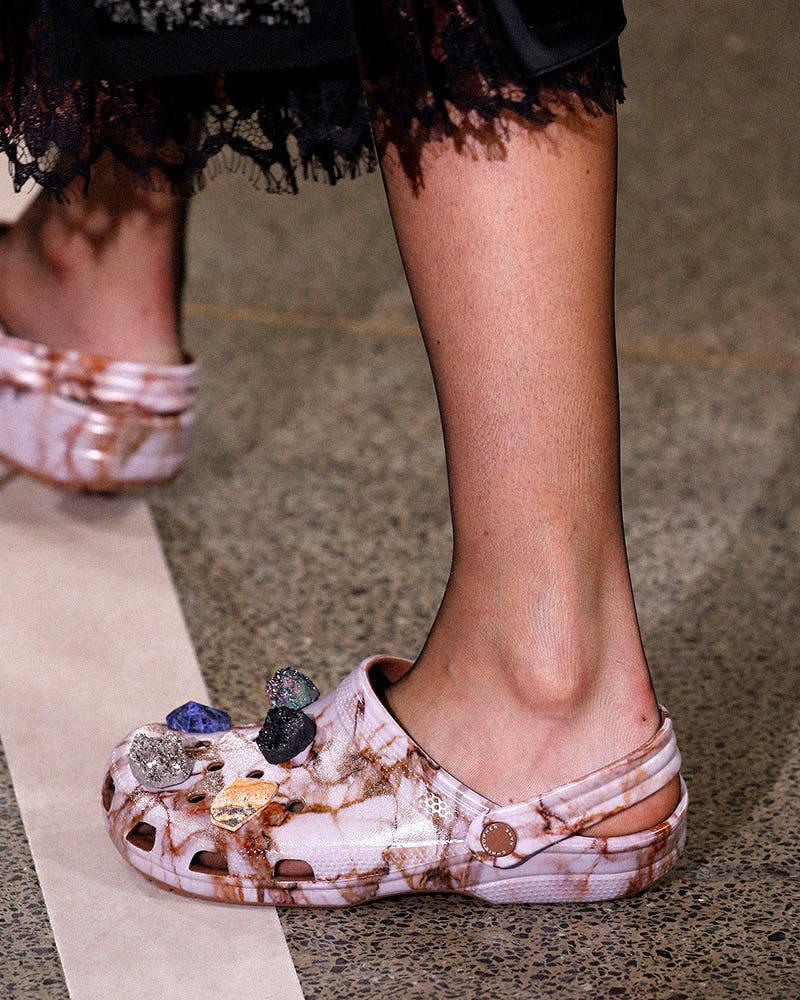 Release Date: SS17 Editor's Notes: Designer Christopher Kane surprised everyone in 2016 when he unveiled a collection of high-end Crocs at his SS17 London Fashion Week show. The collection featured marbled designs embellished with rough mineral charms. The unexpected collaboration generated headlines and set tongues wagging.
Balenciaga Platform Crocs
Release Date: February 2018 Editor's Notes: If Christopher Kane helped crack open the door, Demna Gvasalia blew it off its hinges in late 2017, when Balenciaga presented a head-turning 5-inch platform Crocs collab on the runway at Paris Fashion Week. The collab sold out immediately upon release at Barneys.
Alife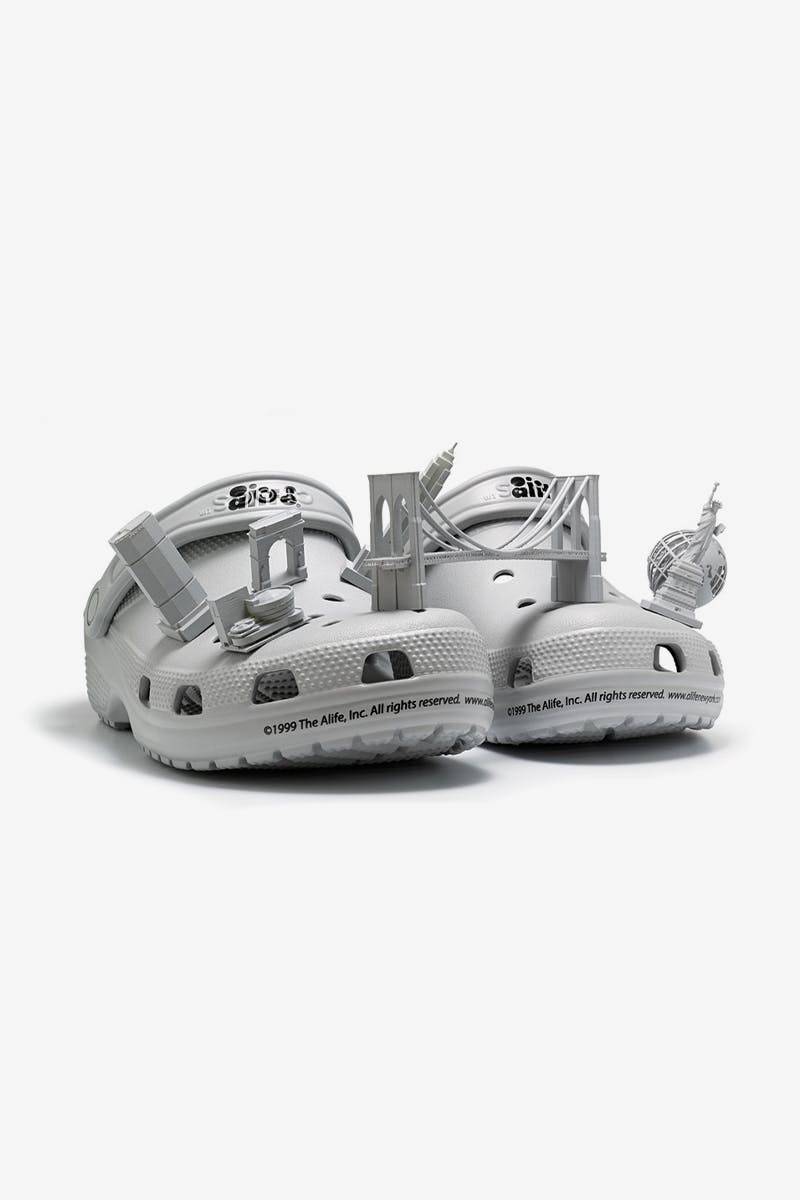 Release Date: June 14, 2018 Editor's Notes: Alife helped Crocs' transition into streetwear with a collaboration comprising three models: the Art, Sport, and Classic Clog. The Sport Crocs featured built-in tube socks, while the Art version paid homage to NYC with custom 3D-printed Jibbitz. The Classic style featured Alife's logo on the forefoot.
Post Malone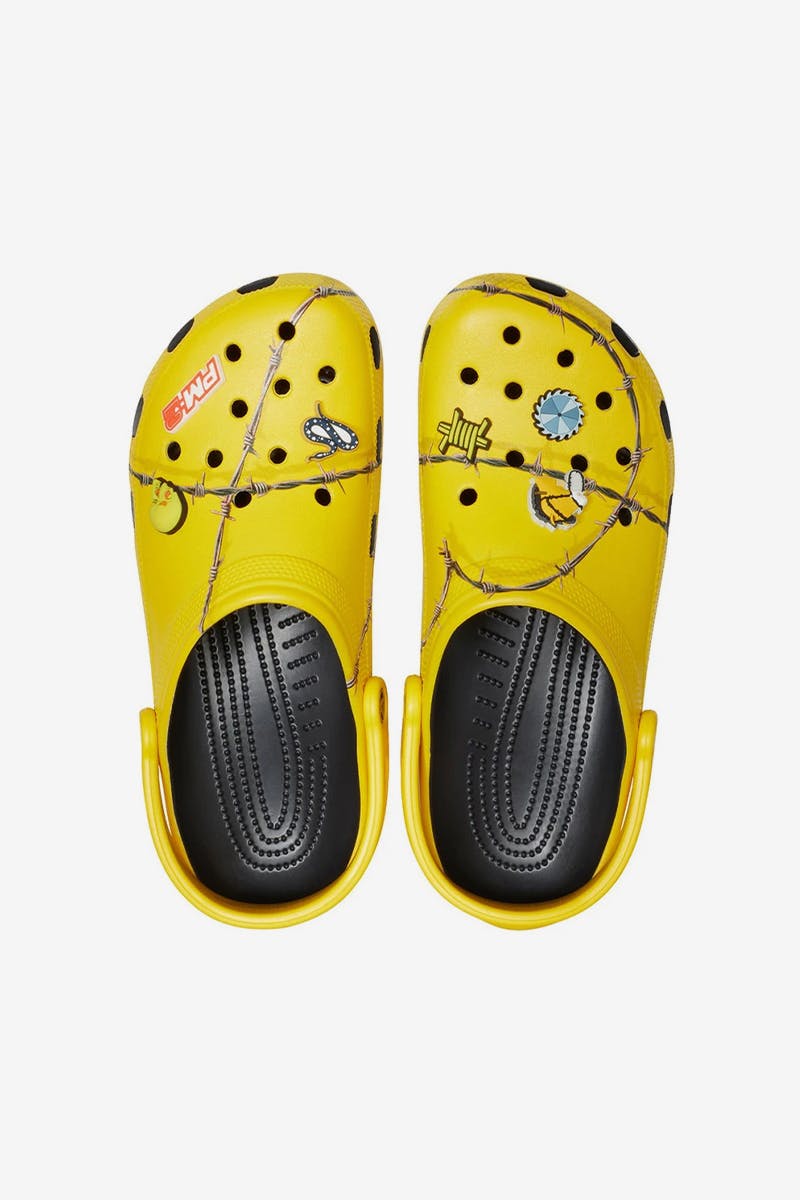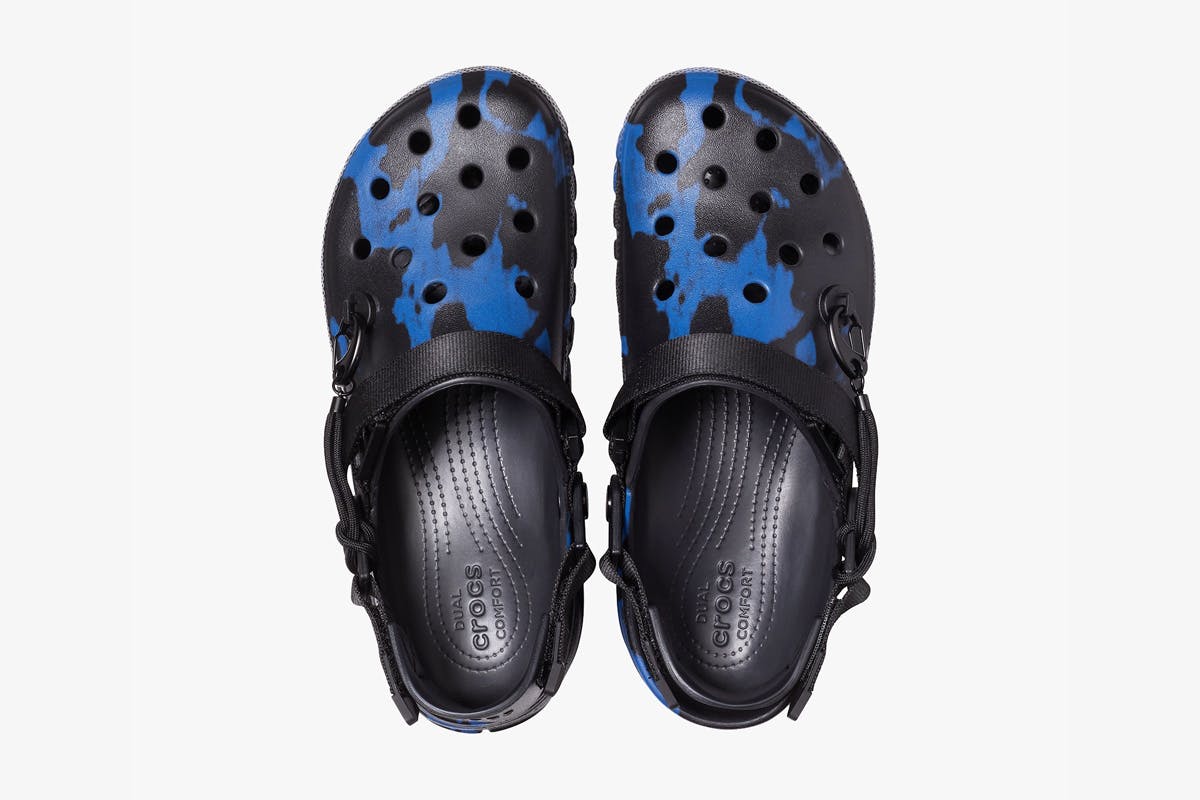 Release Date: November and December 2018, and December 2019 Editor's Notes: Post Malone cosigned Crocs before they were cool, often seen wearing them, making a collaboration almost inevitable. The first collab, the Dimitri, featured an all-over devil face pattern with six Jibbitz, including the rapper's "Stay Away" tattoo and his Posty Co. logo. Priced at $60, the collab sold out in seconds. A month later, the partnership got its second release. This time around, the clog was yellow with a barbed wire graphic emblazoned across the forefoot.
Fast forward one year and Posty is dropping his most technical croc yet — a Crocs Clog, covered in bold camo graphics. Again, the shoe retails for $60 and is available to cop at a number of select retailers.
PLEASURES "Skeleton" Crocs
Release Date: January 8, 2019 Editor's Notes: The polarizing foam clog continued its march on the culture early in 2019 via a collab with LA brand PLEASURES. The co-branded Crocs featured an all-black design with a skeleton foot printed on top. Speaking about the collab, PLEASURES explained, "Streetwear is about comfort and ease of wear — Crocs mastered that! Everyone likes options. If you only wear one type of footwear, you are lame and one-dimensional. We want to broaden our users' horizons to a new level of comfort and style."
Chinatown Market "Barefoot Grass" Crocs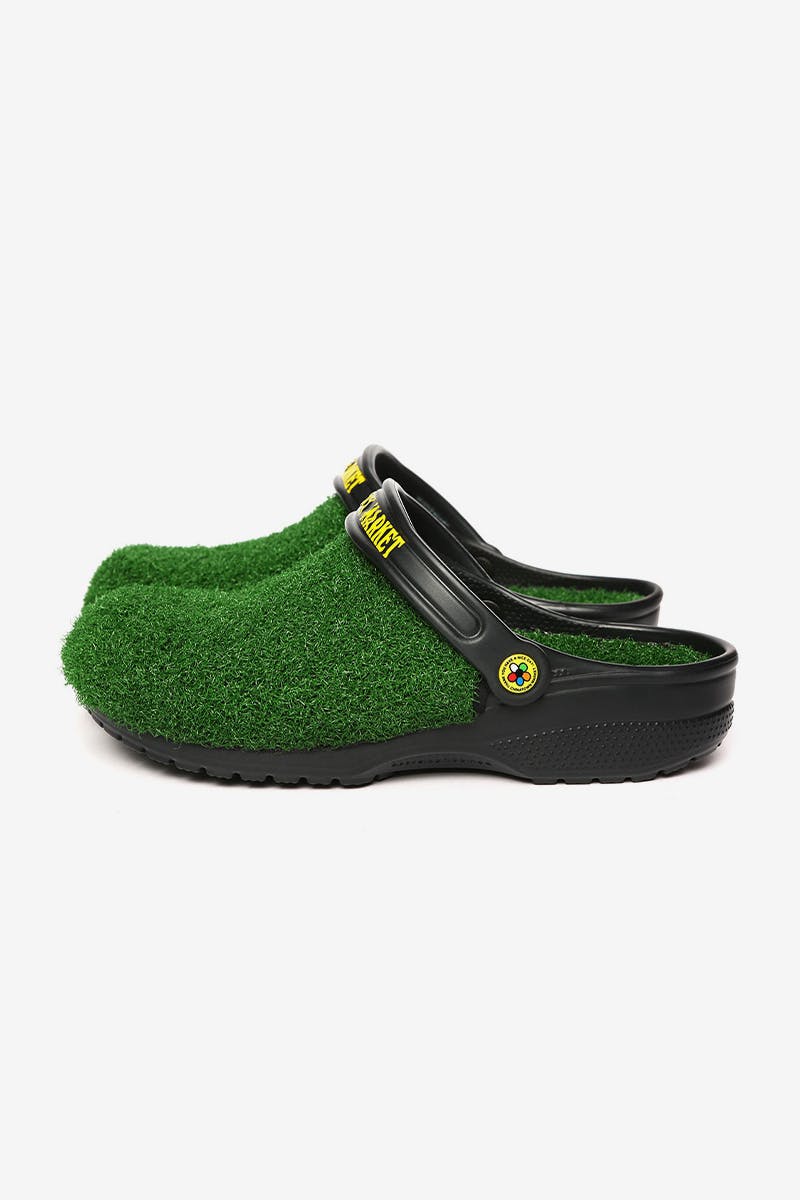 Release Date: January 24, 2019 Editor's Notes: Chinatown Market and Crocs came together on a clog that really plays on Crocs' comfort factor. The collab featured a green turf appliqué on the toe box and insole that evokes the serenity of a barefoot walk through the grass (apparently). The rest of the clog was done up in black with bright yellow Chinatown Market branding on the strap.
PizzaSlime x Crocs Cross-Body Bags
Release Date: February 2, 2019 Editor's Notes: Crocs turned to PizzaSlime for one of its wildest projects yet, fashioning the clog into a bag. Coming in black and yellow color options, the waist bag/shoe had an adjustable, detachable strap with PizzaSlime branding woven in. Inside the clog was a zipped pouch to house items. The bag also came with seven PizzaSlime Jibbitz to customize in any way the wearer saw fit. Only 50 bags were made available (25 of each color) for $300 each.
BEAMS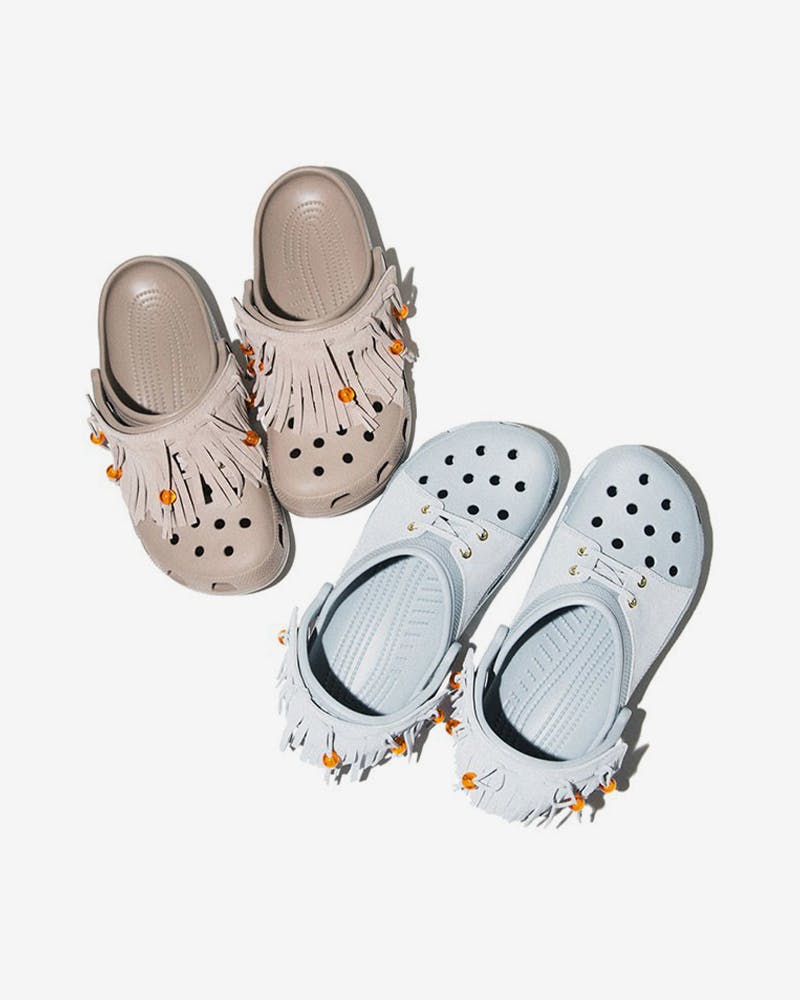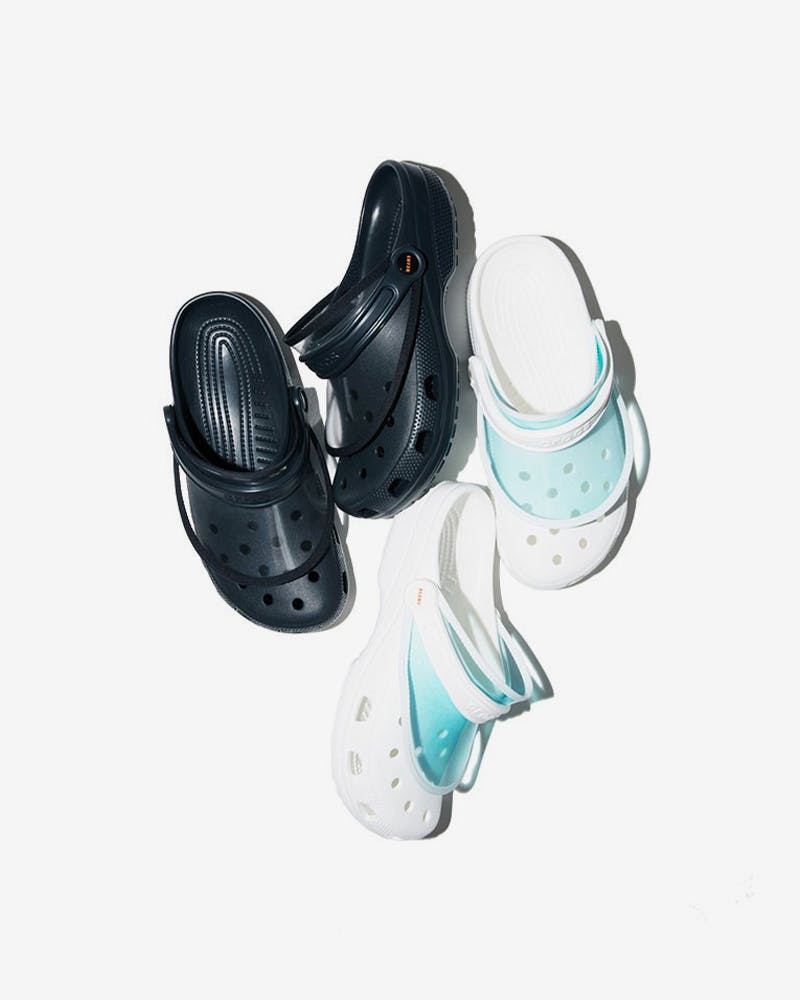 Release Date: April 30, 2019 Editor's Notes: In one of the most ambitious Crocs collabs to date, the clog received fanny pack, visor, and fringe add-ons thanks to Japanese brand BEAMS. The Bespoke Pocket Clog featured small fanny packs attached to the strap in contrasting colors. The Bespoke Sun Visor came with a black or sky blue sun visor attached to the strap, while the Custom Fringe Clog featured fringe detailing.
Chinatown Market "Tie-Dye Smiley" Crocs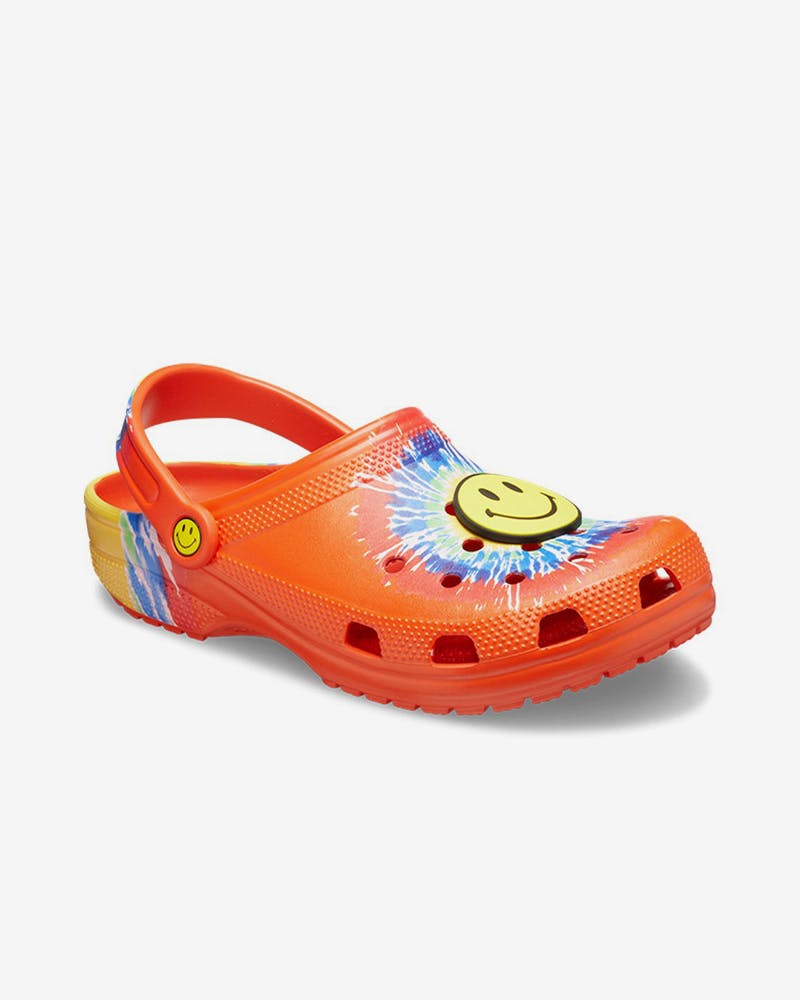 Release Date: July 20, 2019 Editor's Notes: For their second collaboration, Chinatown Market and Crocs partnered with Urban Outfitters to give the classic clog a smiley tie-dye makeover. The shoe featured tie-dye prints on the vamp and heel and nine oversized Jibbitz charms. The collaboration was available at ComplexCon Chicago and Urban Outfitters.
PLEASURES "All-Black" Crocs
Release Date: August 15, 2019 Editor's Notes: Crocs has started turning its one-off collaborations into ongoing partnerships, teaming up with PLEASURES again on a blacked-out clog bearing the phrase "SOMEWHERE BETWEEN UTOPIA AND DYSTOPIA." Jibbitz taken from the LA label's graphic archive add a special touch.
Special Mention: Hender Scheme
Release Date: April 8, 2019 Editor's Notes: Hender Scheme put its own premium spin on the Crocs clog in 2019. Handcrafted in Japan, the shoe features a premium high-quality leather upper and adjustable heel strap. There's a leather sole, rubber toe, and heel for traction, with the look finished off with stitching details throughout.