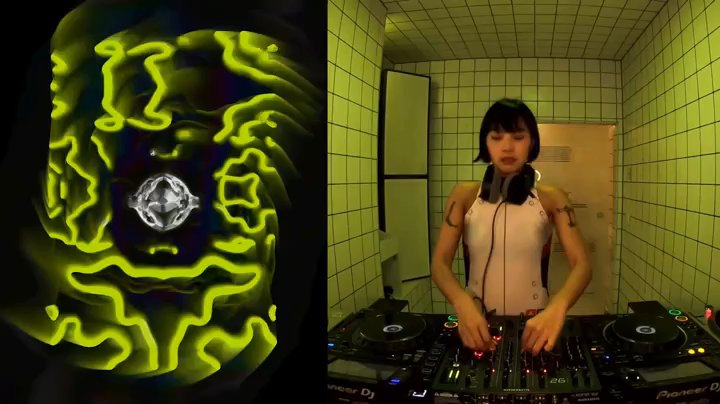 This year we've cooked up a few surprises to celebrate Highsnobiety's third edition of BERLIN, BERLIN, a week-long ode to the capital we call home. To celebrate, we opened the doors to our temporary brick and mortar at the HS HQ.
As a product center piece for the event, we flexed the best of our collaborative efforts in a limited-edition capsule collection with Crocs and HÖR, Berlin's live-stream electronic music collective. Heavily inspired by staying in the moment, the custom clog features a pattern lifted directly from the sounds of a HÖR exclusive setlist by artist Jing Lekker.
HÖR is perhaps best known for its ability to create an open space for artists to authentically express themselves – and the public has flocked to their highly supportive approach to art. The collective released its first live stream just back in 2019 and has since gained over 400,000 followers on YouTube with each video effortlessly racking up thousands of views. In its collab with Crocs, HÖR expresses its authenticity with a design taken straight from the music it showcases.
By teaming up with a local entity like HÖR, Crocs took a unique approach to meet our local HS audience at eye level, while also paying homage to one of Berlin's most significant creative platforms over the last couple years. This resulted in a night where guests could vibe out IRL to beats by Jing and interact with the video which created the one-of-a-kind clog.
With its acidy pattern and neon-colored details synonymous with both brands, the Crocs x HÖR classic clog is quite literally the physical manifestation of HÖR's most recent session from BERLIN, BERLIN. As Jing spun on the decks, a live visual emulated the beats and rhythm which served as the Crocs x HÖR bright sound-wave style.
So, if you're looking to up your footwear game or simply own a piece of wearable art, the Crocs x HÖR just might be for you.
The Crocs x HÖR classic clog from BERLIN, BERLIN 3 will be limited to 90 pairs with proceeds going to the Women's Refuge Program. Get a pair while you can at highsnobiety.com.