The X-pocket: the iconic silhouette that marked Closed denim a favorite from George Michael to Will Smith. It's a simple design recognizable anywhere—two seams at a 33-degree angle, which made it instantly identifiable since the early '90s. The Hamburg-based brand was founded in 1978 by French couple Marithé and François Girbaud, and then handed over to German friends Gordon Giers, Til Nadler, and Hans Redlefsen in the early '90s. Soon, their jeans became a staple in hip hop and streetwear. Early adopters range from Tupac and Michael Jordan up to the present day, with rapper CL Smooth and football player Diego Maradona. The X-pockets have been part of Closed's DNA ever since – just like a sense of family and friendship which has always been one of its core values from the very beginning.
Closed started as a family business – and never let go of the idea of working with people based on friendship and trust. This spirit has shaped the brand from the beginning. Today, Closed is building on the idea of creating an international creative community with mutual benefits – and aims to give professionals from different backgrounds in the creative field a platform to present their unique talent, experiences, and recommendations to the Closed community. From manufacturers and architects to designers, artists, and content creators.
This season, Closed reached out to three friends – personalities who embody the ethos of Closed — to choose select pieces from the brand's archive that mean something to them. Closed also uses their platform to profile each of the culture-makers they selected, featuring a photoshoot and an accompanying interview where each subject talks about their work and creative process.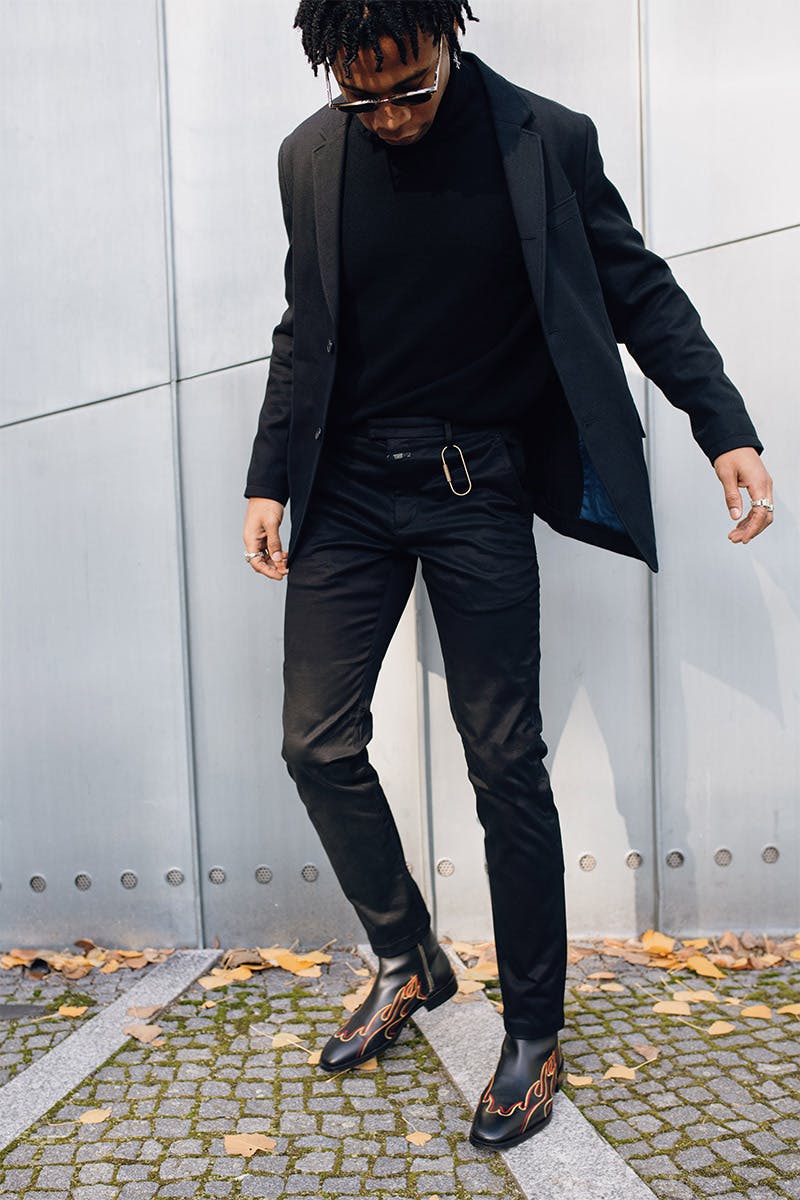 The first is Andrew VVarholla: a stylist, musician, DJ, events producer, and social media manager. Born in Offenbach am Main, he grew up in the Rhine-Main area and now lives in Berlin. Ever the polymath, VVarholla chooses not to limit his creative work to any one job title. "When asked about my job, I simply say my job is to be myself," he says. On Berlin: "It's so easy to get distracted in this city. On style: "Someone who predominantly wears black or a combination of black and white is usually perceived as a person with 'clear thought'." Advice he would give to younger creatives: "Don't be afraid to contact someone you really want to work with multiple times."—which needs to be scripture for any freelancer in the creative field.
Next is interior and furniture designer Tommaso Spinzi, who is the founder of Spinzi Design in Milan. His focus is not to create generic designs that can live anywhere, but design that responds to its culture and environment, the ideal of which he considers to be his own neighborhood in Milan: the Isola design district. For the Closed photoshoot, Spinzi opens up his chic studio, with potted fig trees and a 1983 Porsche 911SC parked in the studio, something he calls "An object of pure beauty." His minimalist studio typifies what he finds most interesting about the contemporary design moment: "For the first time in history, the beauty of pure lines and shapes replaced decoration." Yet at the same time, he has a passion for "designer sneakers," essentials to his personal closet.
Third, Ruben Hughes is an art director originally from New York but now based in Copenhagen, a city that always romanced him when he was younger. When he worked in New York, for companies like Gap and Club Monaco, he says "I had this love-hate relationship with fashion and wasn't always inspired by it." But when job opportunities brought him to Copenhagen, he was immediately romanced by the city. "I wanted to live like a European," he says. "I wanted to bring everything I've learned in the US and see how that perspective can be molded and changed living in Europe." He also runs a program for people of color out of high school, who are interested in creative career paths, and can shadow someone within the company to learn how they work. Yet as successful as he is, he prefers a "classic white sneaker" and "loose pants with drawstrings" as the essentials to his closet.
To read the full interviews, head over to Closed's website.