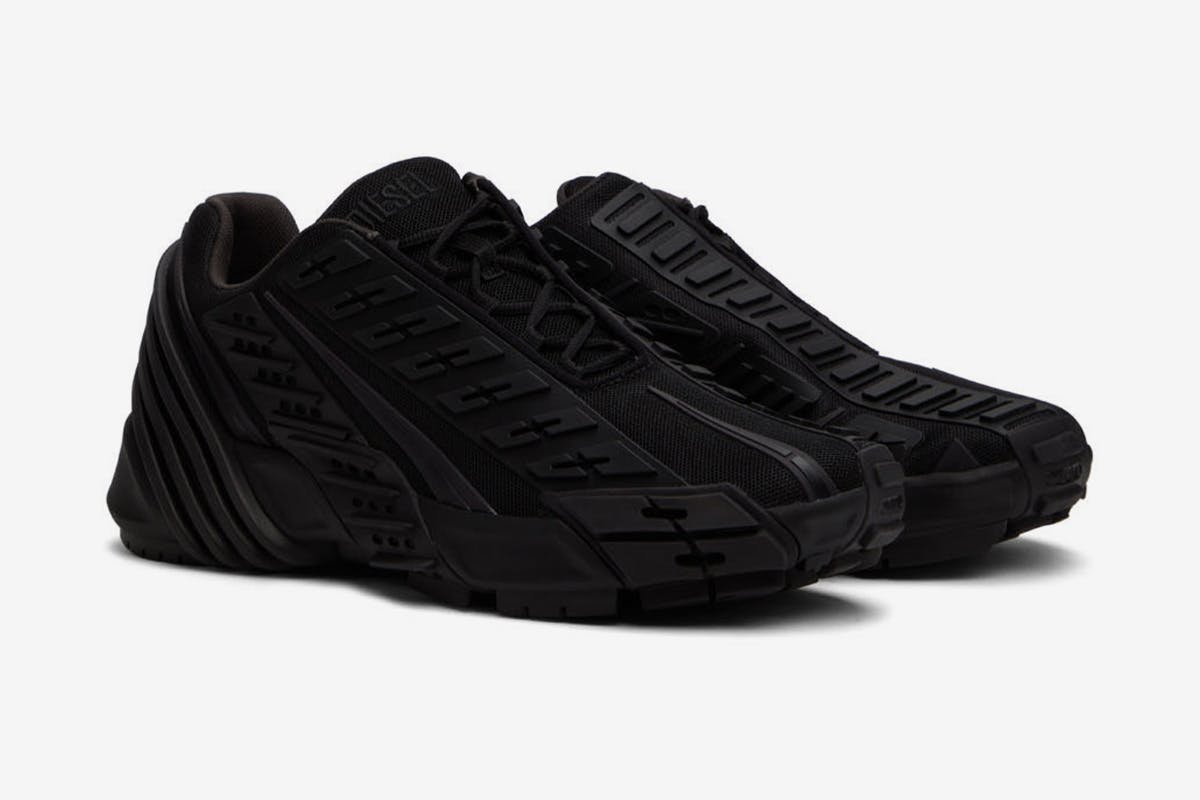 When a new 'it' sneaker comes along in the world of luxury, you can pretty safely bet on it being an all-out, maximalist statement. Recent history has taught us that this is what resonates in the Instagram age.
Someone who knows very well how to make a statement is Glenn Martens. Originally of Y/Project, Martens became Creative Director of Diesel in the tail end of 2020 which, as it happens, is when Diesel reentered the cultural zeitgeist; no coincidence.
The designer's work at Y/Project has always been able to spark a conversation, think jeans with cowboy boots built in or the brand's recent collaboration with FILA. So, when we tell you that Martens' Diesel just designed the latest 'it' sneaker, you'll be as surprised as us that it's actually pretty understated.
The Diesel S-Prototype Sneaker cuts a classic silhouette. There are no bulky sole units or bulbous toe boxes, just a regular running/lifestyle shape. Actually, the silhouette of the Diesel S-Prototype feels highly reminiscent of a Nike TN or Air Max 90. Combine the classic shape with the fact that it only dropped in tonal white and tonal black and you can tell that Diesel wasn't looking to stir hype by shouting. Instead, clever detailing and a genuinely pretty silhouette do the work.
Lightweight mesh uppers are fitted with textured rubber strips akin to tire treads. An off-center lacing column runs alongside these strips which give the shoe a seriously industrial aesthetic. Aside from the tonal Diesel text to the tongue, this is the only detailing on the design, but it really does the job. Despite the toned-down colorways and standard silhouette, the Diesel S-Prototype really does stand out on foot.
While names like Balenciaga and Bottega Veneta compete for the loud-sneaker trophy, it's great to see that Martens can choose another route to sneaker stardom. The Belgian designer certainly understands radical design moves and while the Diesel S-Prototype might not initially feel like one, it really is. In 2022, choosing to design something quiet and confident is the radical move in a scene that celebrates the big gesture.
Shop the Diesel S-Prototype below.
Want to keep browsing? Head to the Highsnobiety Shop for more products that we love. Highsnobiety has affiliate marketing partnerships, which means we may receive a commission from your purchase.