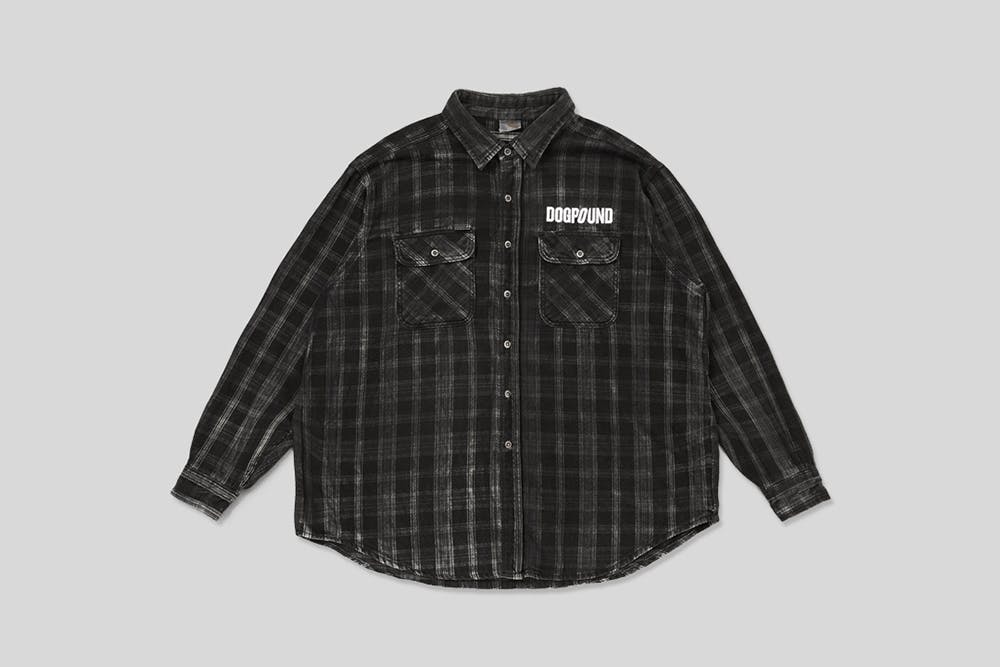 Whether it's political campaigns, dermatologists, or steakhouses, the world's appetite for left field merch knows no bounds. But the thing that separates the grails from the meme shirts in this crowded marketplace is a sense of community. Good merch stands in for something shared — whether that's a concert, an industry hangout, or a local skate shop. Good merch offers us a feeling, not a product.
Enter Dogpound: the ultra-luxury gym that boosts a tight-knit clientele ranging from Hugh Jackman to Justin Bieber to Karli Kloss. In addition to a renewal of the essentials worn by its team and loyalists, the brand has thrown its hat into the haute-merch ring with a limited run of upcycled Carhartt flannels. Sourced from vintage, dyed black, and embroidered by the sustainable manufacturer The General Standard, it's an item that finally allows us to use deadlift and deadstock in the same sentence. And according to the gym's founder, celebrity trainer Kirk Myers, it's the first of much more to come.
Dogpound's entry into the merchwear game is unexpected but not unlikely. The gym's brand identity, from its blacked-out architecture to its logo to this limited run of flannels has been shaped by its longtime client and legendary creative director Fabien Baron. With allies like Baron, as well as a community of actors, supermodels, and high-follower-count trainers, who is to say that the table is not set for the world's first breakout fitness-to-streetwear crossover?
Aside from offering some thoughtful and sustainable gym gear, Dogpound's coy endeavor into product tracks against our theory that the modern fashion brand is about successful world-building. "A brand's universe, its visual identity, and loyalty are what bring it value more than anything else," says Highsnobiety Editorial Director Christopher Morency on the topic. "Products, then, simply represent trophies of belonging." With this idea in mind, the Supreme of tomorrow will much more likely come from a gym with a cult following than a Central Saint Martins grad.