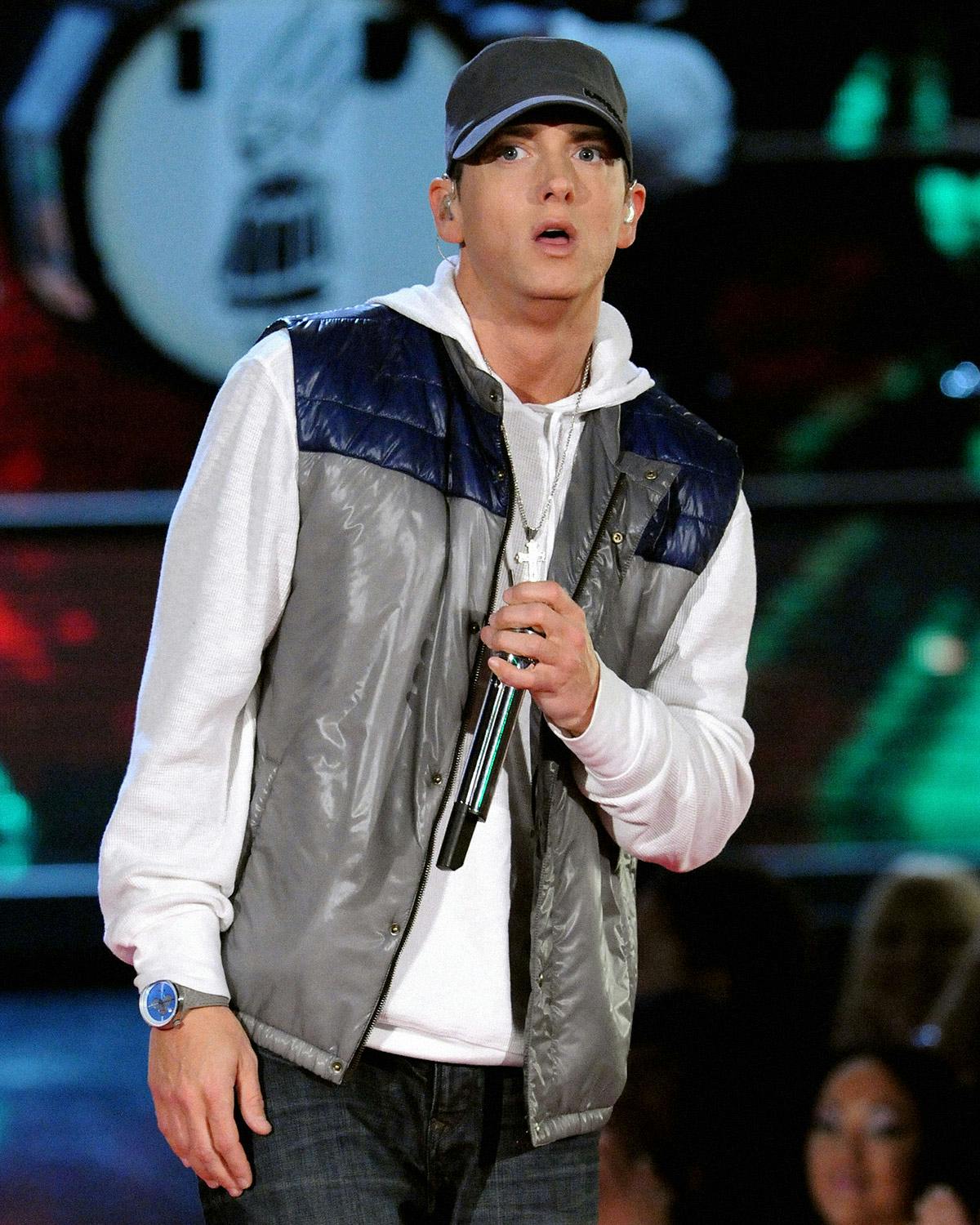 Eminem is recognized as one of the true GOATs of the rap game. However, the Detroit rapper born Marshall Mathers didn't earn his crown without ruffling a few feathers. In a nearly 30-year career, he has engaged in a number of beefs which have seen the notoriously witty rapper immortalize his clashes with pop stars, journalists, and fellow rappers in scorching bars.
From confrontations with Will Smith to Mariah Carey and Nick Cannon, Em perhaps has the most colorful collection of feuds in pop culture history. With so many slights and disses, it's a lot for even hardcore Eminem fans to keep up with. Well, don't fret. For all of you salty Stans, we've constructed a clean and concise timeline of Eminem's most iconic beefs. Scroll down and relive them in all their glory.
Christina Aguilera
In 1999, Eminem married his longtime girlfriend Kim Scott in a secret ceremony. The rapper tried to keep the union a secret, but Christina Aguilera leaked the information to the press during her What A Girl Wants MTV special in 2000. In the interview she also warned women about the consequences of physical abuse in relationships. Naturally, Em didn't take too kindly to her comments.
He put his frustrations on wax in the now-iconic record "The Real Slim Shady," claiming the pop star had given him an STD in a sexual encounter. "Little bitch put me on blast on MTV/ 'Yeah, he's cute, but I think he's married to Kim, hee-hee'/ I should download her audio on MP3/And show the whole world how you gave Eminem VD."
Aguilera dismissed the claims of ever being romantically involved with the rapper and shot back with a diss track of her own, "The Real Slim Shady (Please Shut Up)." While the pair allegedly buried the hatchet after hugging it out backstage at the 2002 MTV VMAs, in 2018 Em released "Kick Off," where he once again poked fun at Aguilera.
Will Smith
At the 1999 MTV VMAs, Will Smith beat Eminem for the Best Male Video award. In his acceptance speech, Smith dropped a line which seemed to be aimed at his fellow nominee, noting that he didn't need to use profanity or threaten people to sell records. Eminem hit back at the perceived diss in "The Real Slim Shady": "Will Smith don't gotta cuss in his raps to sell records / Well, I do, so fuck him and fuck you too."
Smith waited a full six years to respond, dropping the classy low-key diss track "Mr. Niceguy." In it he raps, "Dissed by Eminem but didn't bother him / Yup well he classy / Big Will just did another 20 mill." We're going to have to give the dub to the Fresh Prince for this one.
Cage
Prior to the release of Eminem's The Real Slim Shady LP, underground rapper Cage claimed Em had copied everything from his style down to his raps. Eminem didn't hesitate firing back with the diss track "Role Model."
In it, Mathers satirically ripped into cage, rapping, "I bought Cage's tape, opened it and dubbed over it." Cage hit back with his own song "And So Kiddies," and he kept the insults going on several songs, but as Em's career skyrocketed their beef was soon forgotten.
Everlast
Rapper Everlast's beef with Eminem has a pretty petty origin story. The former House of Pain frontman and Eminem crossed paths before a concert in early 1999 and Em allegedly didn't greet Everlast. "I tried to shake his hand and it just felt like I got egged," Everlast explained in an Uproxx interview this year.
Enraged by the perceived disrespect, Everlast dissed Em's daughter Hailie on Dilated People's "Ear Drums Pop (Remix)." Em responded with "I Remember," which eulogizes Everlast's career. Everlast came back again with "Whitey's Revenge," causing Em to drop the scathing "Quitter." After that, Everlast didn't have any more comebacks.
Limp Bizkit
Em and the members of Limp Bizkit were actually friends at one point. That ended when the band's DJ Lethal backed Everlast – his former House of Pain bandmate – in his beef with Em.
In response, Eminem released the profane "Girls," a blistering verbal attack on every Limp Bizkit member. While the beef never escalated any further, neither party ever acknowledged that it was over.
Benzino
In 2002, Eminem was not amused when his album The Eminem Show received a rating of only four mics out of five in The Source magazine. And Em knew who to blame: The Source's co-founder, Boston rapper Benzino. Em began taking jabs at The Source and refused to be interviewed by the mag. This inspired Benzino to drop some bars aimed at Slim Shady, kicking off a series of diss tracks exchanged between the rappers.
The beef kept on with both parties trading jabs for much of the early 2000s. However, things peaked when Benzino used his own magazine to smear Eminem. Benzino got his hands on an unreleased record titled "Foolish Pride" that featured a teenage Eminem using racist remarks against black women. Eminem would apologize for the record, but Benzino was eventually fired from The Source for his questionable practices. In 2012, Benzino finally also apologized for targeting Em.
Ja Rule
Eminem became embroiled in Ja Rule and 50 Cent's beef when he signed the Get Rich or Die Tryin' rapper to his Shady Records imprint in 2002. At the beginning, Em stayed on the sidelines of beef between the two Queens natives. That is, until Ja mentioned his daughter Hailie in his song "Loose Change," rapping, "Em, you claim your mother's a crackhead and Kim is a known slut / So what's Hailie gon' be when she grows up?"
Naturally Em hopped in the studio to record a series of diss tracks, "Doe Rae Me (Hailie's Revenge)," "Bully," and "Hail Mary" with 50 and Busta Rhymes.
In short, Eminem won the beef, as Ja's career went up in flames. However, in his 2004 single "Toy Soldiers," Em was uncharacteristically introspective about his pyrrhic victory. "And even though the battle was won, I feel like we lost it / I spent so much energy on it, honestly I'm exhausted / And I'm so caught in it, I almost feel I'm the one who caused it," he rapped.
Moby
At the 2001 Grammy's, musician and producer Moby had strong words for Eminem, calling him misogynistic and homophobic. Of course, Em didn't take too kindly to being called out, subsequently ridiculing Moby on "Without Me" and even challenging him to a fight at the 2002 MTV VMAs. You can watch the awkward moment below:
Mariah Carey
Throughout his career, Eminem has referred to an alleged relationship with the songstress. In a 2002 interview with Larry King, Mariah denied ever dating Em, saying she only "hung out" with the rapper and spoke to him "a total of four times." Eminem responded in the least classy way, by rapping about her on his Anger Management tour and playing private voice notes the singer had allegedly left him.
Things really came to head when Carey married Nick Cannon in 2008, when Em unleashed "Bagpipes From Baghdad" in which he attacked the new couple. The R&B singer didn't let that one slide, responding with the track "Obsessed," and music video which sees her being stalked by an Eminem look alike.
Unfortunately, things didn't end there. Eminem fired back with another scathing record, "The Warning." By 2019 the rapper still wouldn't let go of this feud, hopping on Fat Joe's "Lord Above" with another verse directed at Carey and Cannon.
Nick Cannon
Nick initially came into the crossfires of his then-wife's beef with Eminem, however the comedian and parttime rapper made things personal when he brought up the disagreement again 10 years later on T.I.'s ExpediTIously podcast. This is when Em dropped his "Lord Above" verse. Shortly after, Nick Cannon took to his radio show to declare the diss "not worthy of a response," before responding with "The Invitation," a desperately bad diss track.
But unfortunately that wasn't the end of it. Cannon fired off a further three tracks, including "The Invitation Canceled" and "Pray for Him." Eminem didn't dignify the tracks with a response – his Twitter fans took care of that for him.
Joe Budden
A co-host of the Everyday Struggle series, Joe Budden never had any trouble with Eminem until Em's 2017 album Revival. Even before it was released, Budden went in on the tracklist, saying, "The tracklist, without the benefit of a doubt, appears to be utter garbage." He went on to call the single "Untouchable" "trash" and "one of the worst songs I've ever heard."
In response, Eminem fired some subliminal shots at the "Pump It Up" rapper on the "Chloraseptic" remix: "Bitch suck my dick! / Y'all saw the tracklist and had a fit 'fore you heard it." Then in August, 2018 Eminem dropped his surprise album Kamikaze, dissing Budden on the track "The Fall." Pulling no punches, he called out Budden by name, bringing up his failed rap career and domestic violence allegations.
Budden issued his response in a three-hour long podcast, claiming "I've been better than you this entire fucking decade!" The rappers never resolved their feud.
Charlamagne Tha God
The co-host of the Breakfast Club wasn't a fan of Em's Revival either. Em killed two birds with one stone, firing back at Charlamagne on "The Fall" as well, "One last time for Charlamagne / If my response is late, it's just how long it takes / To hit my fuckin' radar, I'm so far away." He continued firing shots at the radio personality on "The Ringer" and Conway the Machine's "Bang."
Machine Gun Kelly
Again, if there's anything we have learnt from all of this, it's that you shouldn't mention Eminem's daughter. It appears Machine Gun Kelly didn't get the memo. In a since-deleted tweet, the rapper referred to Hailie as "hot as fuck." Following the incident, Em hit back with "Not Alike" off Kamikaze and allegedly took part in having MGK music banned from several media outlets. At least that's what Kelly alleges in his scathing track "Rap Devil," where he raps, "Let's talk about the fact you actually blackballed a rapper that's twice as young as you / Let's call Sway, ask why I can't go on Shade 45 because of you."
In an interview with Sway, Eminem responded to MGK's allegations: "I don't give a fuck about your career. You think I actually fuckin' think about you?" Following the interview, Em shot back with a merciless diss track titled "Killshot." With cover art featuring MGK, the track went in on everything from the rapper's lack of commercial success, his man bun, and ex, Halsey. MGK and Em exchanged a few more light jabs, but on his surprise 2020 album Music to Be Murdered By, the Detroit rapper buried the hatchet saying that he was "moving on" from the beef on the track "Unaccommodating."