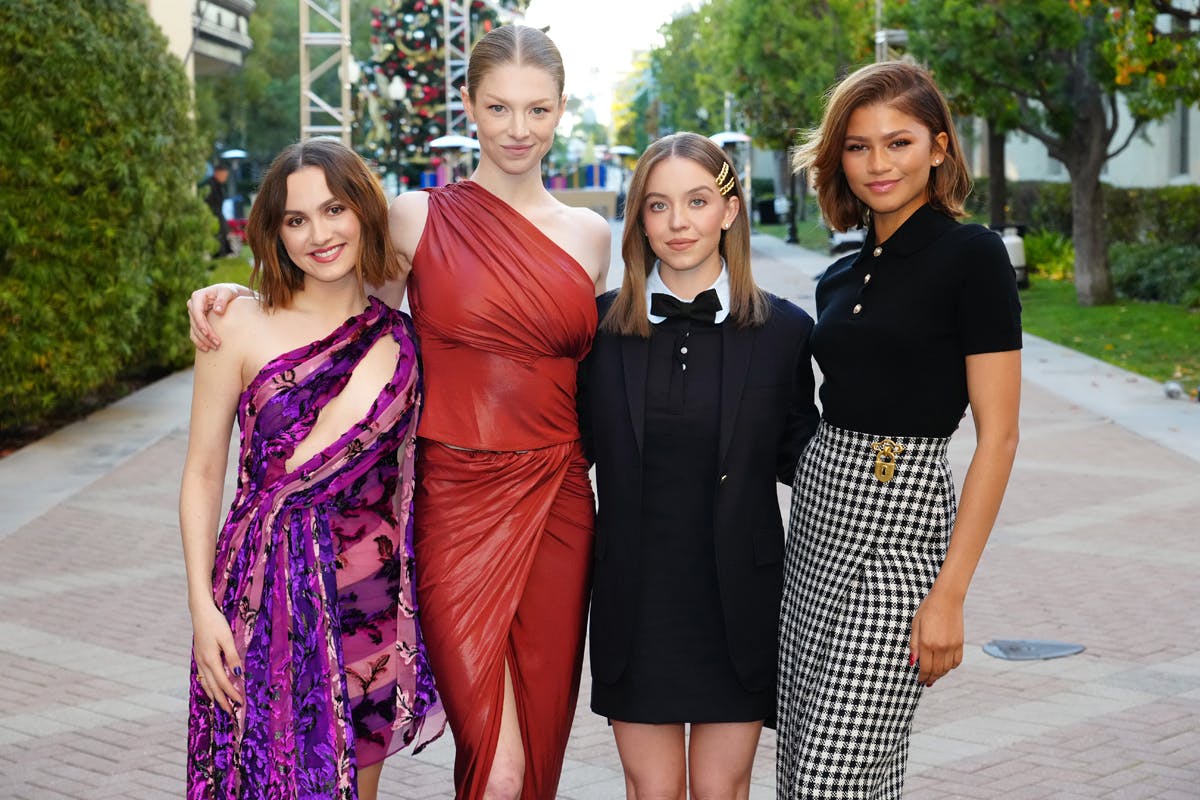 Whether it be fashion week or a post-award-show fête, it's always a stylish affair when the Euphoria cast gathers under the same roof. And the latest linkup is no different.
Zendaya, Hunter Schafer, Maude Apatow, and Sydney Sweeney attended Euphoria's FYC event on December 18, blessing fans with a mini reunion with style and season three talk.
Let's take a moment for the 'fits, shall we? First up, we have Maude Apatow, who wore a floral Rodarte dress paired with knee-high leather boots (throw in a faint filter, and the 2014 soft grunge girls would've eaten this up on Tumblr).
Schafer took a break from being a Prada muse to be a Rick Owens princess, while Sweeney delivered a scholastic slay in a sophisticated Thom Browne ensemble.
Last but certainly not least, Zendaya debuted a new bob haircut while donning a classy Schiaparelli polo top and houndstooth skirt.
The Euphoria crew — save its on-screen style star and recently-departed castmate — knows how to deliver looks, to say the least (but we knew that already).
The Euphoria Q&A panel also saw the cast discuss the drama series' third season (side note: filming is expected to start in 2023, followed by an estimated premiere in 2024).
While the Euphoria actresses remained tight-lipped about the show's third run, Zendaya revealed a wish for her character, Rue: "a little bit of happiness and a little bit of joy." Same.
Euphoria's season two finale may have given us Lexi's masterpiece play and a healthy Rue in the end. Still, many fates were left up in the air — much to fans' disliking — like the status of Maddie and Cassie's friendship and Cassie and Nate's chaotic entanglement.
Then, there's this whole discourse surrounding Ashtray's (possible) death. And hello, Rue still owes money to the terrifying drug dealer Laurie.
Our burning questions may remain unanswered as talks of a time jump continue to surface in Euphoria's season three hearsay.
At one point, there were murmurs that Billie Eilish would star in the HBO series' third season. However, our cover star confirmed that's not happening (she's down for the idea, though).
It's a long wait for a fresh offering of heavy teen drama, and this mini Euphoria reunion is just what we need to quench our thirst. More, please!
Shop our favorite products