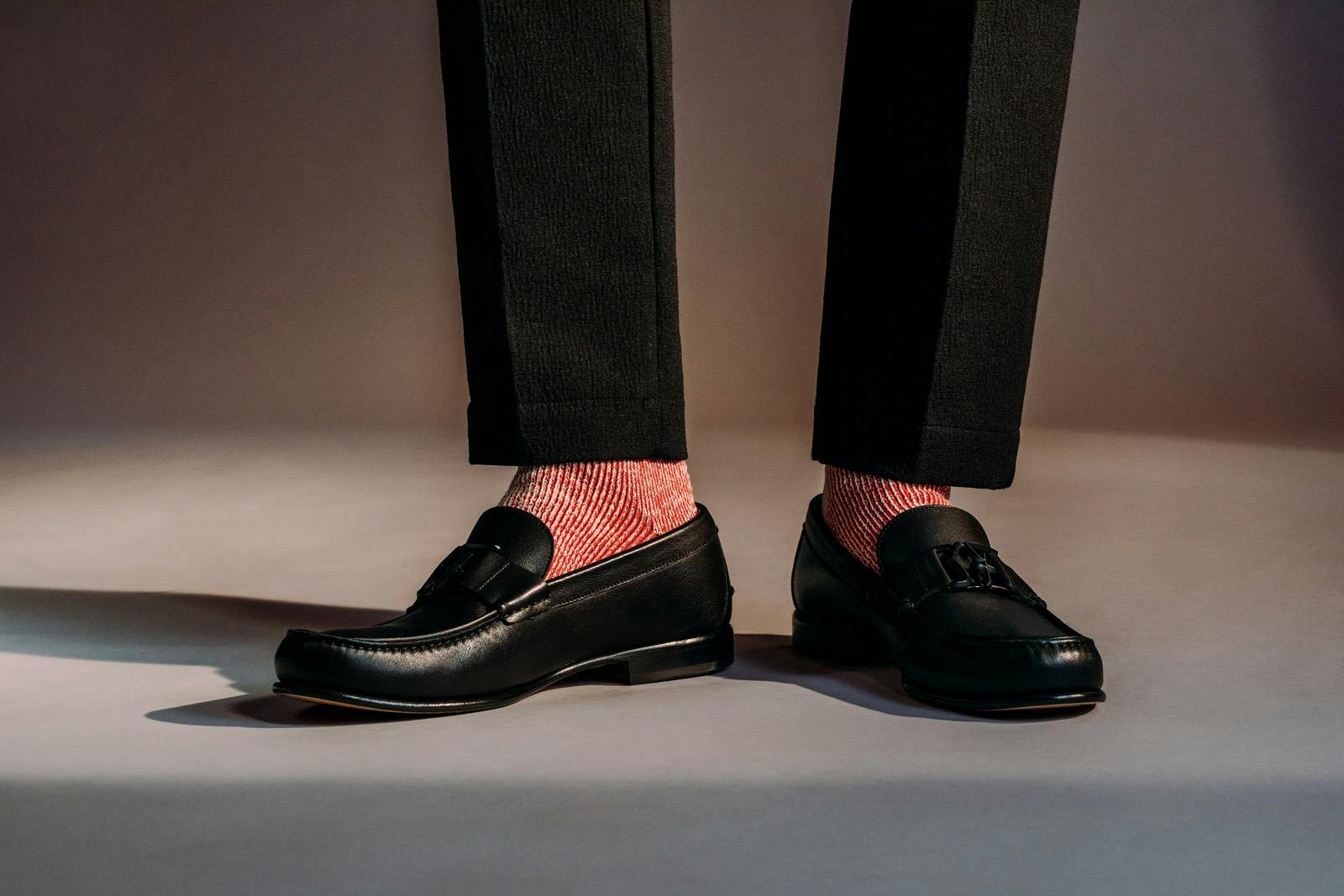 Highsnobiety / Julien Tell
To dress up or not? Every morning, I wake up asking this question. Usually, I'm pretty torn. I could care less about the commentariat who thinks dressing in joggers and hoodies is the beginning of a downward spiral from self-respect and productivity. But on the days I dress up, I do so, not because some part of my superego is telling me I'm a slob, but because, on some fundamentally gratuitous level, it's fun and pointless. Fashion for fashion's sake. Because why not?
Ferragamo makes a case for dressing up. The five Ferragamo shoes we've selected here each have their own character: military boots, loafers, canvas sneakers. They're versatile and understated, sensible choices designed to fit the times and outlast them. Next, we picked out outfits to go with them, as if the shoes come first and the rest of the outfit is accessory.
Here's how we styled these looks from the ground up.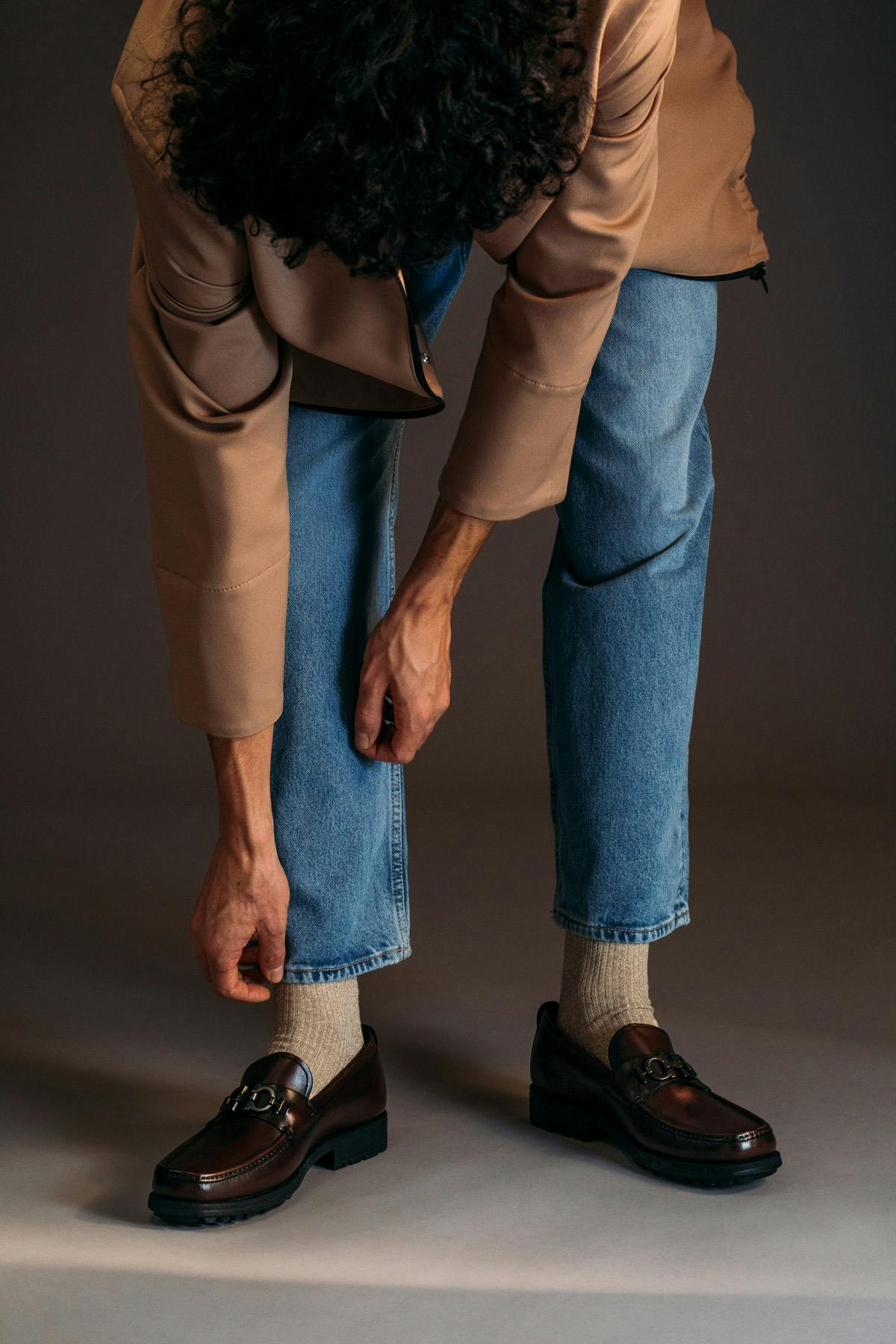 Brown shoes are harder to style than black shoes. The trick I've been told about styling color is that if you took a photo of your look, and turned it grayscale, would it all look the same shade of gray? Not if you're doing it right. Here, we paired the loafers' dark coppery polish with a light-value ribbed sock, and medium-value stonewash denim. The loafers in brown, which offer a more relaxed and leisurely look than black, pair well with straight fit jeans. Overall a dynamic fit that looks good but doesn't make it seem like you tried too hard.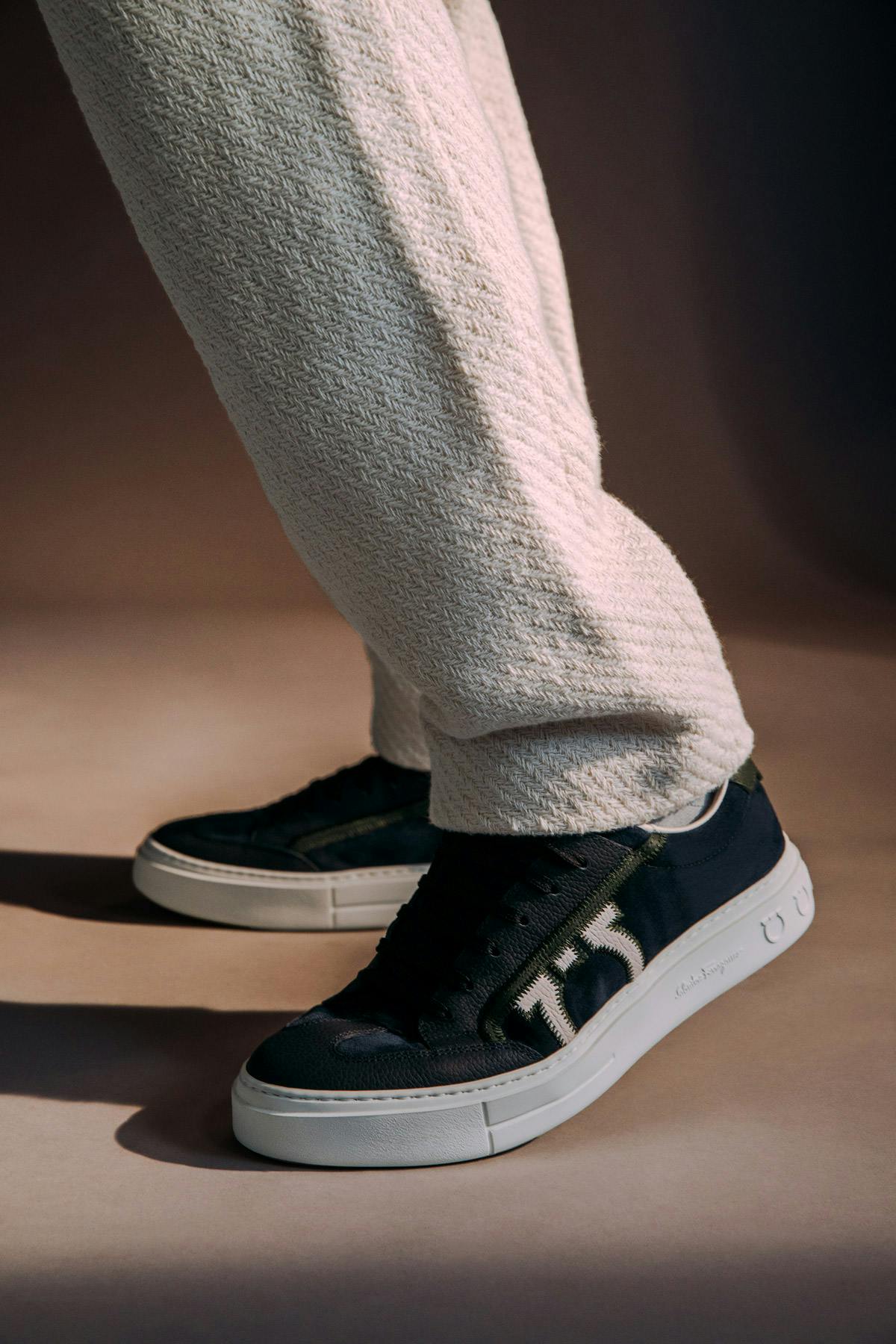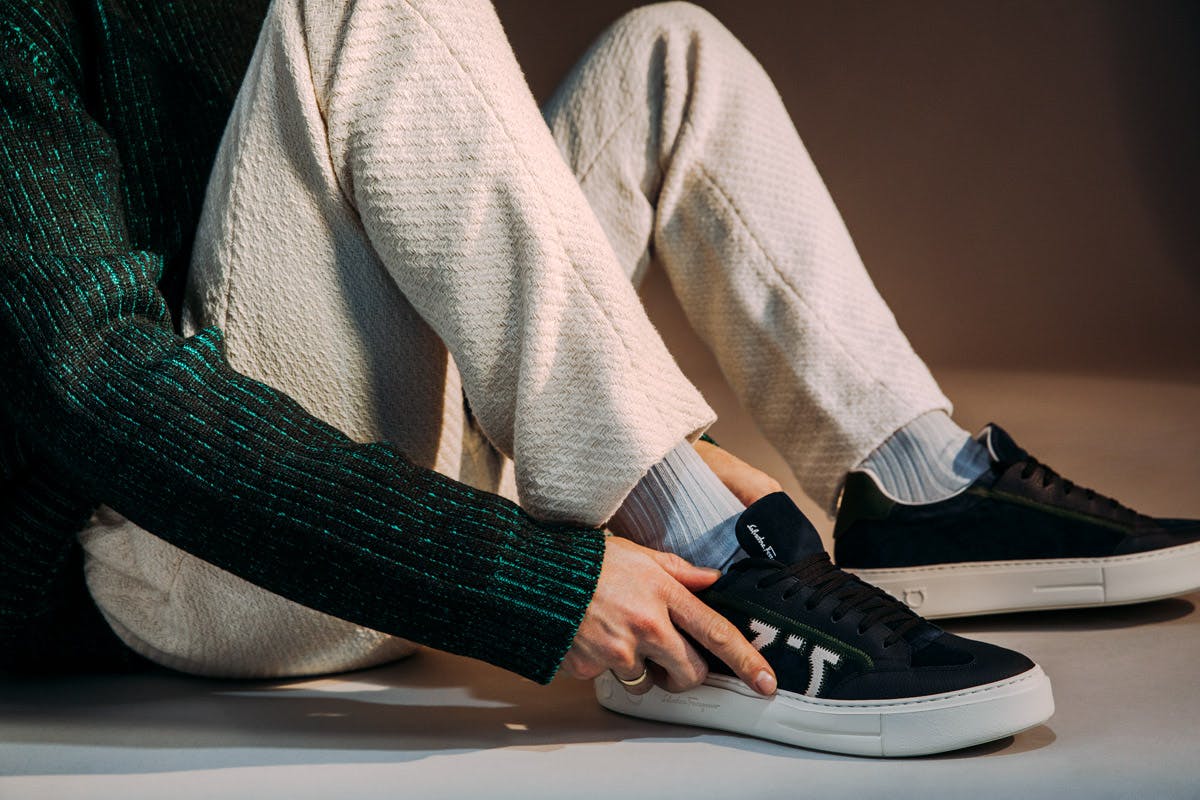 Suede sneakers are about texture. For this shoot, we paired the black Gancini sneakers with different weaves: a cream twill trouser, powder blue dress socks, and a shimmery green ribbed sweater layered over a woven dress shirt. It's a look that plays with contrasts. A casual streetwear shoe and flamboyant sweater, paired with a more formal suit and trousers. Comfortable and smart, something that commands respect while putting people at ease.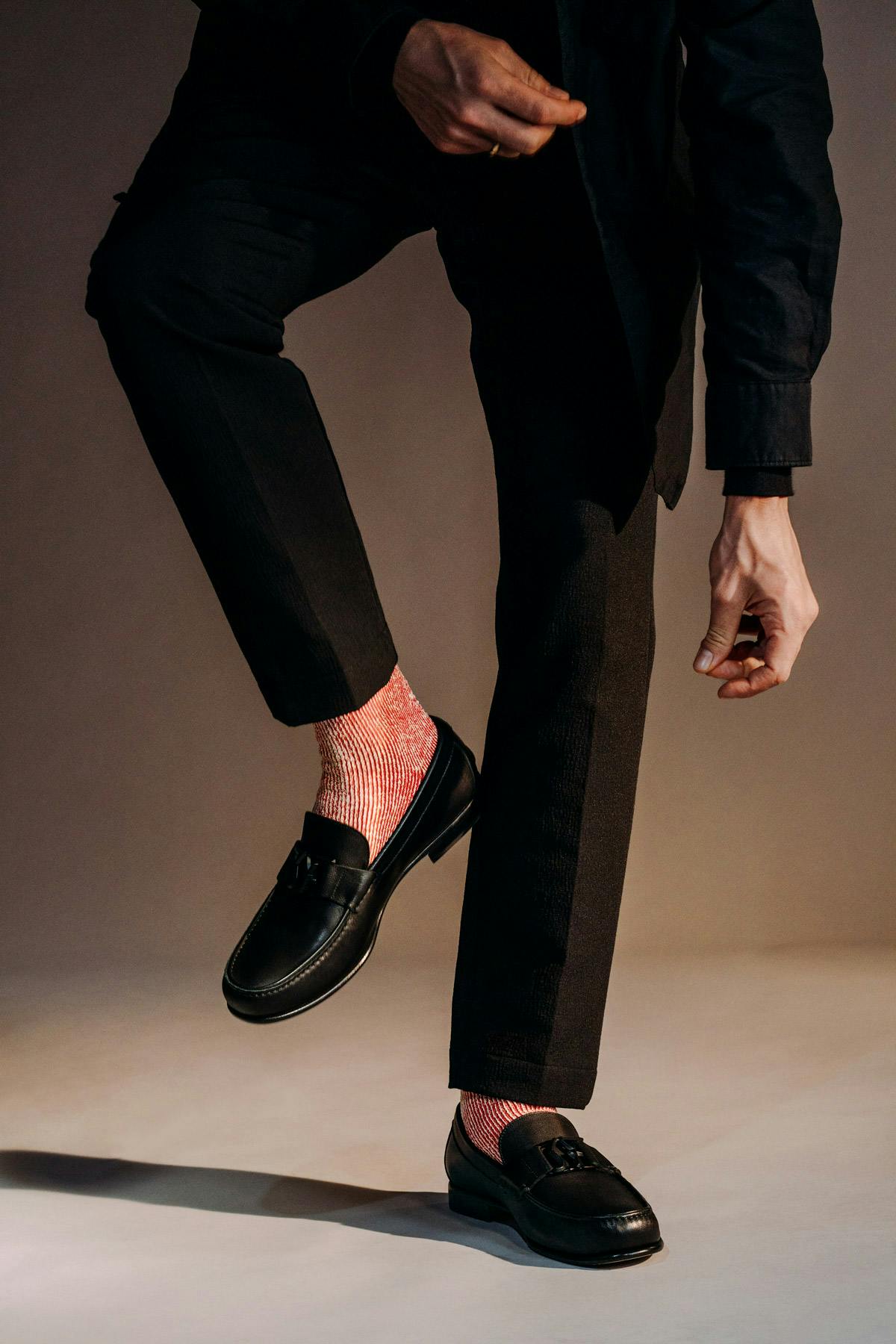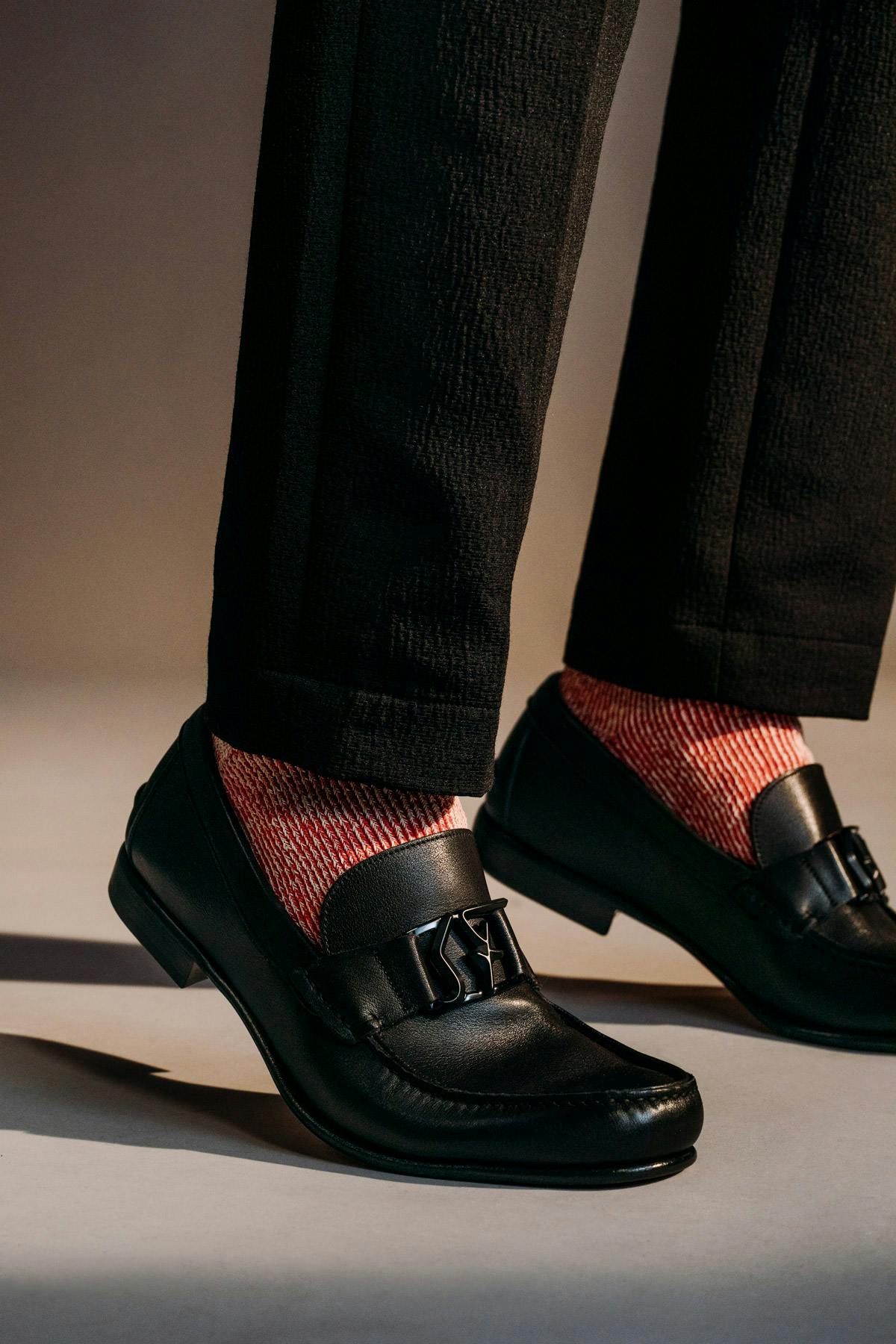 Now for the black loafers: urbane, versatile, chic. These shoes—a classic Ferragamo silhouette with revisited Ferragamo lettering logo—are a stylish upgrade to pretty much any outfit. And with loafers, it's crucial to get the socks right because of the recessed topline that shows them off. Here, we've styled the loafers with a slim all-black look, with an accent of ribbed socks in light flashes of red (keyword "light" – if this were a solid red, you'd look like you were in a 2000s Green Day video).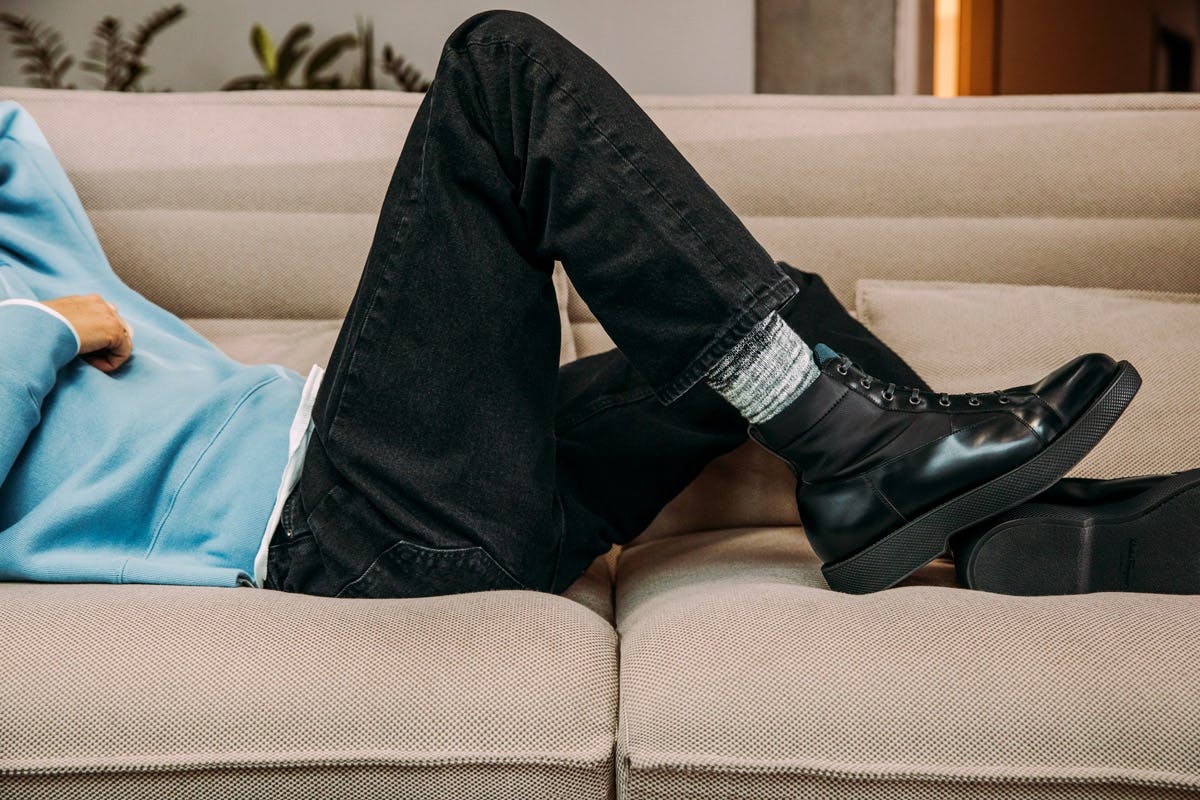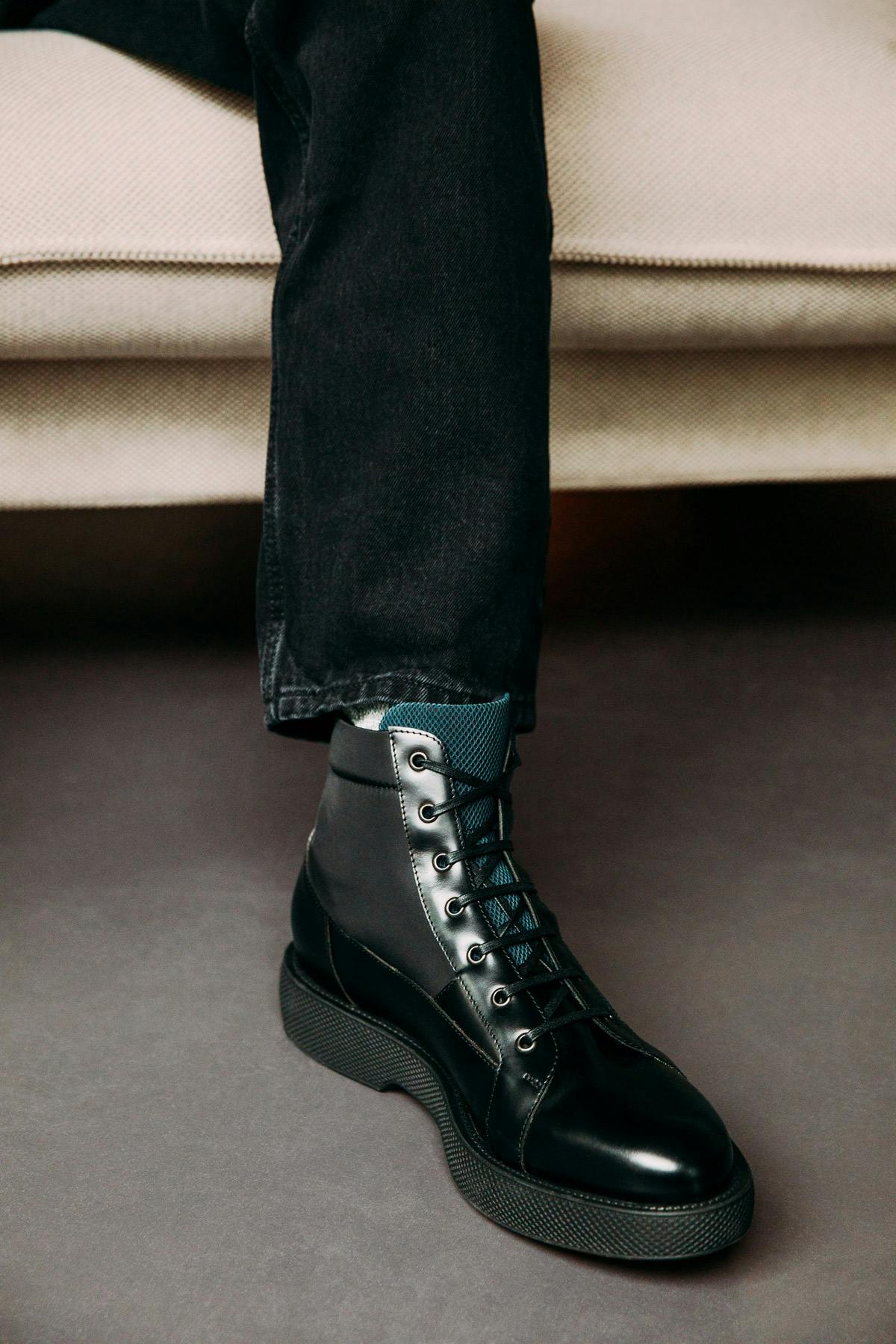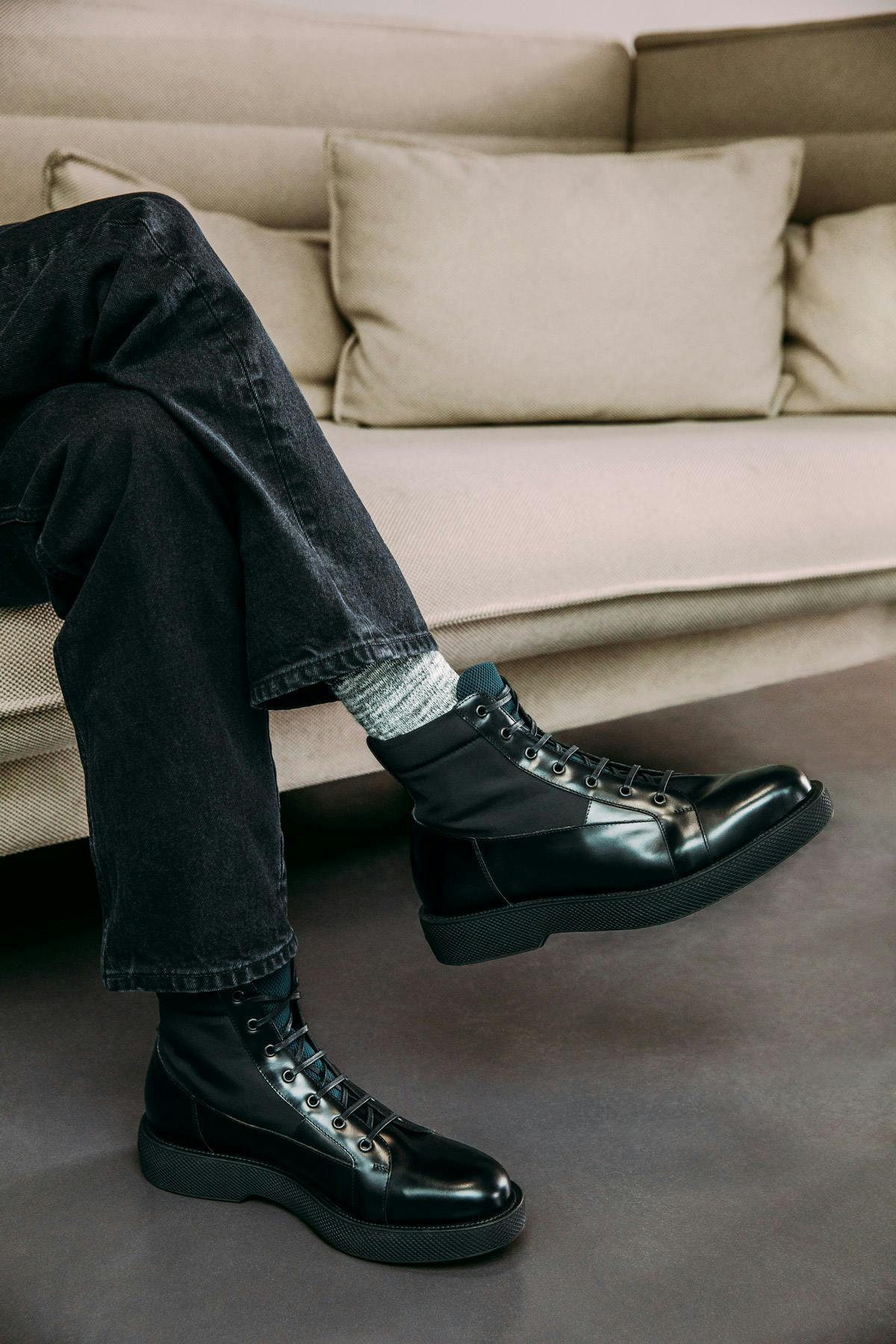 Military boots are a look. And these Ferragamo boots can be worn in a full punk-rave military surplus fit, but have a dynamic play of texture with leather and ECONYL® nylon which takes the edge off these boots for more casual looks. Here, we've styled the boots with thick gray socks and black denim: muted colors to bring out the boots' subtle accents, like the weave on the tongue in peacock green. It's a statement piece for sure and designed to last. (Plus, ECONYL® nylon is a regenerated fiber made from nylon waste such as fishing nets.)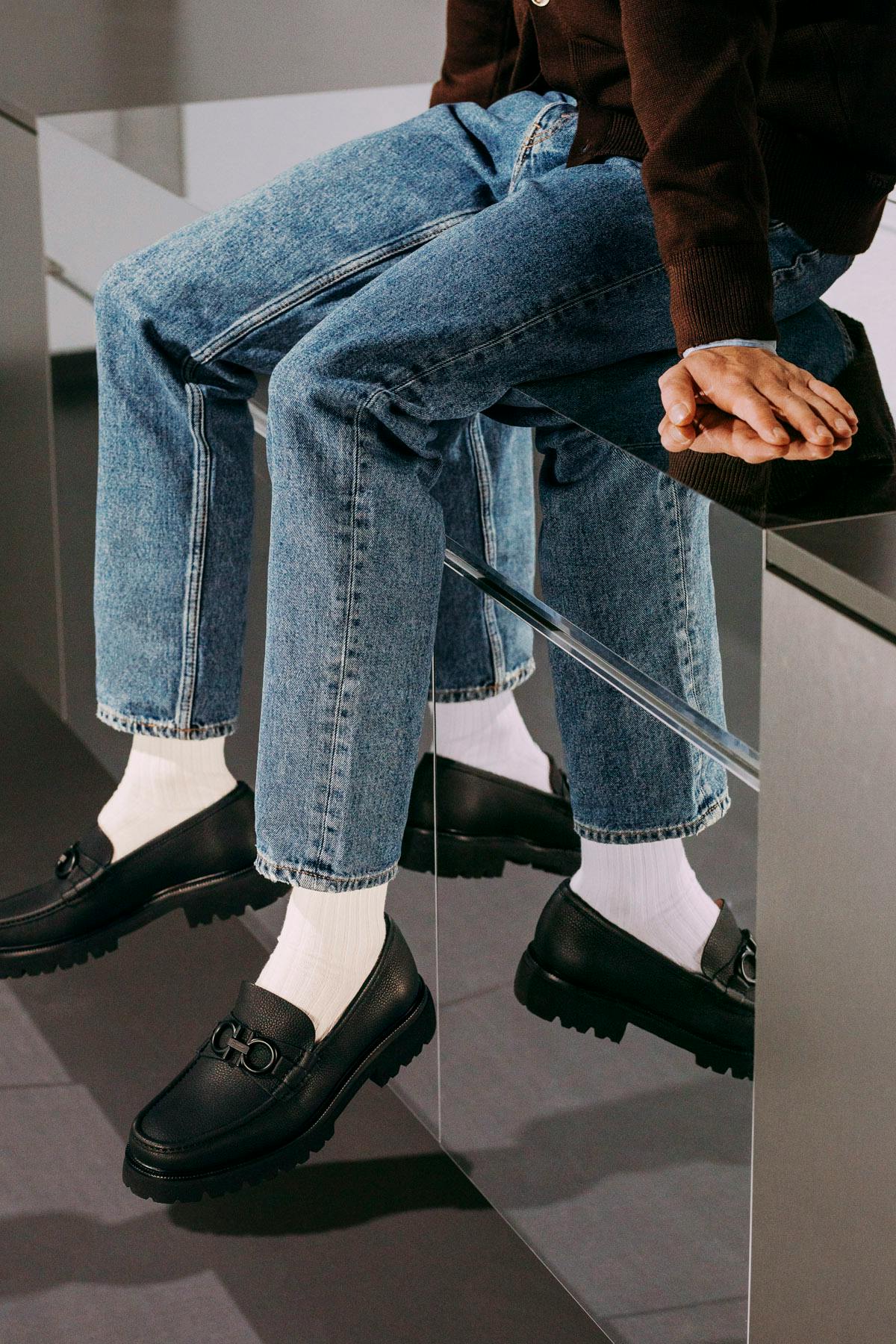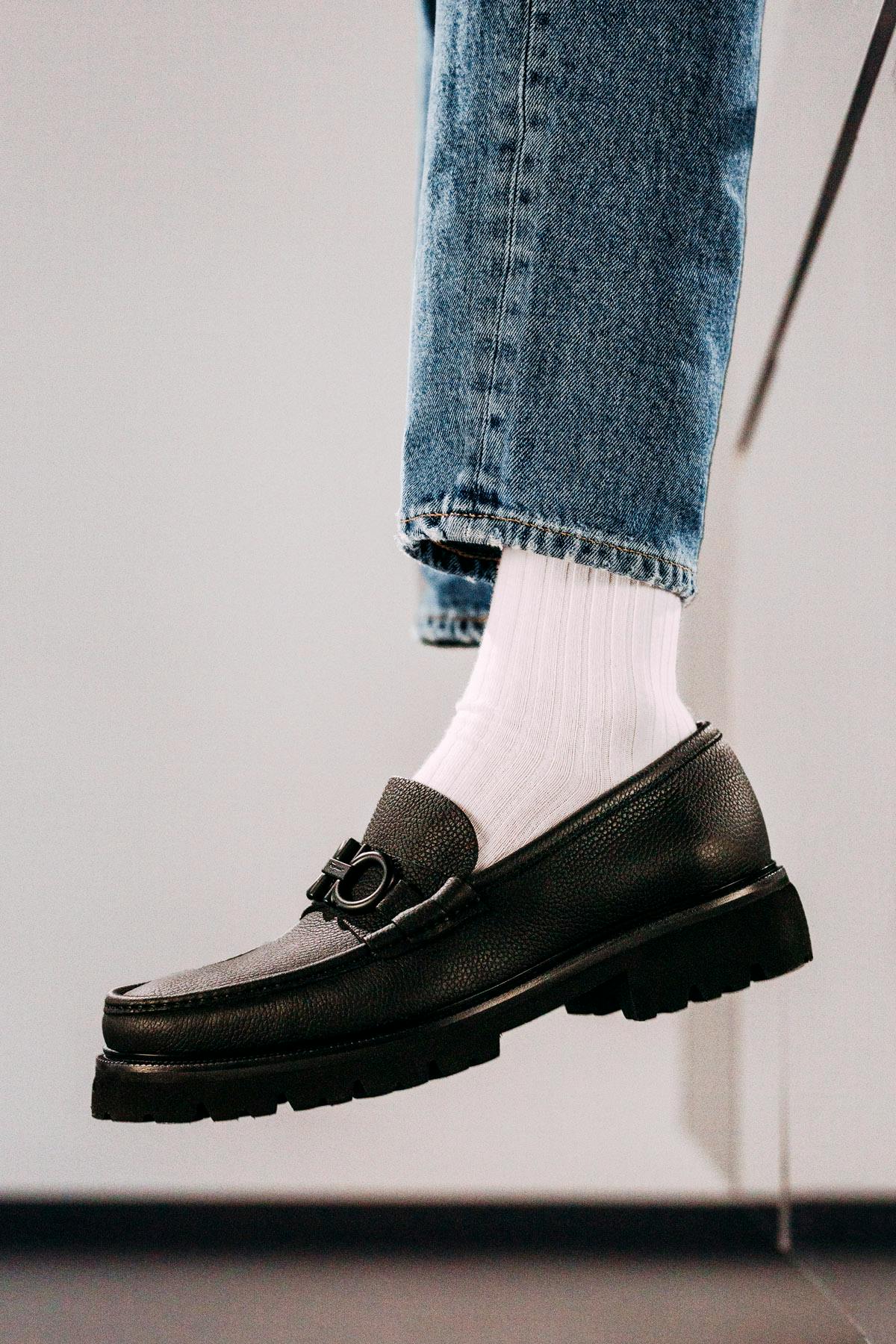 Black, white, blue: a reliable color combination you don't have to think too much about. We paired the color scheme with the Gancini bit loafer, which is also a shoe you don't have to think too much about. It goes with everything—with refined details, like the iconic Gancini buckle, and a chunky sole. It's designed to draw attention to itself, while also blending into the style of any outfit or environment. Out of all the shoes we picked, this is the one you'll probably wear the most.
Shop the full Ferragamo collection, here.