Aimed at encouraging shoppers to embrace the natural world and their adventurous spirit, FILA is introducing its 'Explore' collection with an interactive pop-up that presents visceral interpretations of each of the outdoor environments that the collection is based on — Canyon, Mountains, Woods, and Elements.
Inspired by Reinhold Messner's summit of Mount Everest in 1978, the limited-edition Explore collection features a range of footwear, apparel, and accessories designed to celebrate the modern explorer, and seeing as how a tradition for adventure is part of FILA's heritage, it makes sense for the brand to embrace a new generation of seekers at the intersection of sport and style.
The pop-up, which runs from July 26 – August 11 at 428 Broadway in SoHo, will have dedicated installations guiding visitors through eco-zones ranging from Canyons, Mountains, Woods, and culminating in Elements. Additionally, FILA Explore pop-ups will open the same day in Los Angeles and globally in London, China, Japan, India, and Greece to drive awareness around the collection.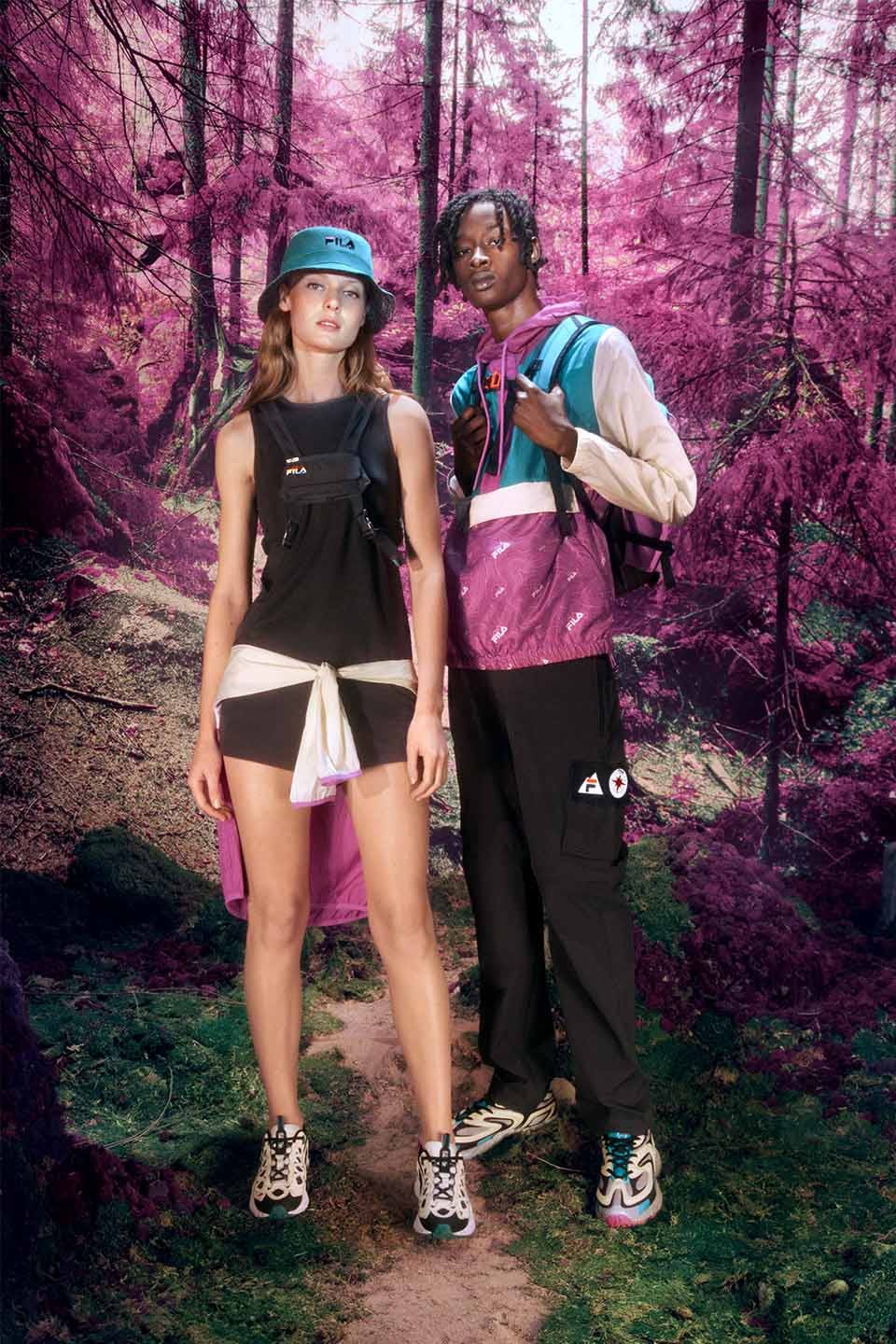 "With Explore pop-up shops opening worldwide, we also have an opportunity to engage consumers with a one-of-a-kind experience and our authentic approach to storytelling," explained Louis W. Colon III, FILA North America's VP of heritage and trend, in a press release.
Additional programming at the FILA Explore NYC pop-up will also include two panel experiences in July and August, both open to the public, to discuss owning the adventurous spirit and venturing out of their comfort zone, as well as the rise of the urban explorer aesthetic in fashion.
Panel 1: Owning the Adventurous Spirit Date: Saturday, July 27 - 2PM Location: 428 Broadway Panelists: Louis W. Colon III, Bianca Valle, Brandon "Jinx" Jenkins Moderator: Jian DeLeon, Highsnobiety
The first panel will discuss what it's like to pursue an adventurous spirit and explore new facets of culture, whether across state lines or international locations that aren't typically on top of everyone's list.
Panel 2: The Proliferation of the Explorer in Fashion Date: Saturday, August 10 - 2PM Location: 428 Broadway Panelists: Louis W. Colon III, Bloody Dior, Nicole McLaughlin Moderator: Jeff Carvalho, Highsnobiety
The second panel will open a dialogue for panelists to explore and discuss the steady influence of the technical urban explorer aesthetic in fashion over the past few years with myriad examples to draw from: Alyx x ROA, Arrivals x Highsnobiety, Heron x Carhartt, Stone Island Shadow Project, Woolrich Rebrand, & FILA Explore.
Check out the FILA Explore pop-up if you're in NYC beginning July 26 through August 11 at 428 Broadway, and peep the full collection above.