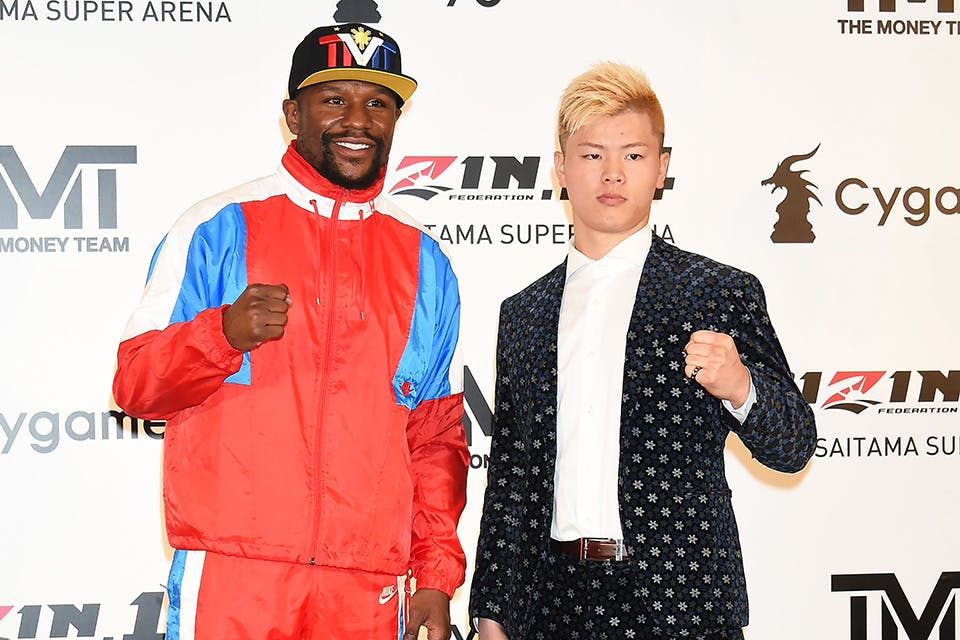 [UPDATE] November 7, 2018 4:13 p.m. EST Following Monday's announcement to fight Japanese kickboxer Tenshin Nasukawa on New Year's Eve, Floyd Mayweather is now taking a step back by insisting that he agreed to a small exhibition fight instead of an official contest, ESPN reports. Mayweather took to Instagram today to clarify his stance.
"Now that I am back on U.S. soil after a long and disappointing trip to Tokyo, I now have the time to address you, my fans and the media in regard to the upcoming event on December 31st that was recently announced," Mayweather said. "First and foremost, I want it to be clear that I, Floyd Mayweather, never agreed to an official bout with Tenshin Nasukawa. In fact (with all due respect) I have never heard of him until this recent trip to Japan."
"Ultimately, I was asked to participate in a 9 minute exhibition of 3 rounds with an opponent selected by the Rizen Fighting Federation," Mayweather went on. "What I was originally informed of by Brent Johnson of One Entertainment was that this was to be an exhibition put on for a small group of wealthy spectators for a very large fee. This exhibition was previously arranged as a 'Special Bout' purely for entertainment purposes with no intentions of being represented as an official fight card nor televised worldwide."
From there, Mayweather mentioned how surprised he was about the magnitude of the fight, adding, "Once I arrived to the press conference, my team and I were completely derailed by the new direction this event was going and we should have put a stop to it immediately. I want to sincerely apologize to my fans for the very misleading information that was announced during this press conference and I can assure you that I too was completely blindsided by the arrangements that were being made without my consent nor approval."
"For the sake of the several fans and attendees that flew in from all parts of the world to attend this past press conference, I was hesitant to create a huge disturbance by combating what was being said and for that I am truly sorry. I am a retired boxer that earns an unprecedented amount of money, globally, for appearances, speaking engagements and occasional small exhibitions."
Who knows what will ultimately come of this previously-announced fight, but for more on Mayweather's clarification surrounding a possible matchup against Tenshin Nasukawa, visit ESPN.
You can read our original post below.
Floyd Mayweather has stunned the combat sports world by announcing he is joining forces with the Rizin Fighting Federation, a Japanese mixed martial arts company, and will fight kickboxing sensation Tenshin Nasukawa on New Year's Eve in Japan.
The shock announcement came at a press conference in Tokyo earlier today. Mayweather stood alongside Nasukawa at the gathering, the civilized atmosphere in stark contrast to the boisterous pantomime that plagued the run-up to the boxer's bout with MMA fighter Conor McGregor last year.
"It wasn't easy to make this happen," Mayweather said. "But we told the people anything is possible, so now we're here and we want to make sure that we give the people in Tokyo what they want to see: blood, sweat, and tears."
Nasukawa might be an unknown quantity to some Western audiences, but his record will ensure Money's camp don't take him lightly. The southpaw is unbeaten in 27 kickboxing fights and four MMA bouts, with wins across the flyweight (125 pounds) and bantamweight (135 pounds) divisions. Mayweather said the weight class and rules for the fight would be discussed "within the next couple of weeks," but it's worth noting the undefeated boxing champion hasn't fought under the 147-pound limit since 2005.
It's also unclear whether the fight will take place under boxing, kickboxing, or MMA rules. It could even be a blend of the three.
Mayweather turns 42 in February and hasn't fought since his 10th-round technical knockout defeat of McGregor in August 2017. Prior to this announcement, the boxer had been linked with comeback fights against Manny Pacquiao and incumbent UFC lightweight champion Khabib Nurmagomedov.
The purse for the fight, which will headline the Rizin 14 card on December 31 at the Saitama Super Arena in Saitama, just north of Tokyo, has yet to be announced.
Twitter, understandably, was floored by the announcement.
What do you make of the potential Mayweather-Nasukawa fight? Are you intrigued or is it nothing more than a cash-in? Let us know your thoughts in the comments below.
Speaking of fighters, is Vasyl Lomachenko one of the best sportsmen operating today?