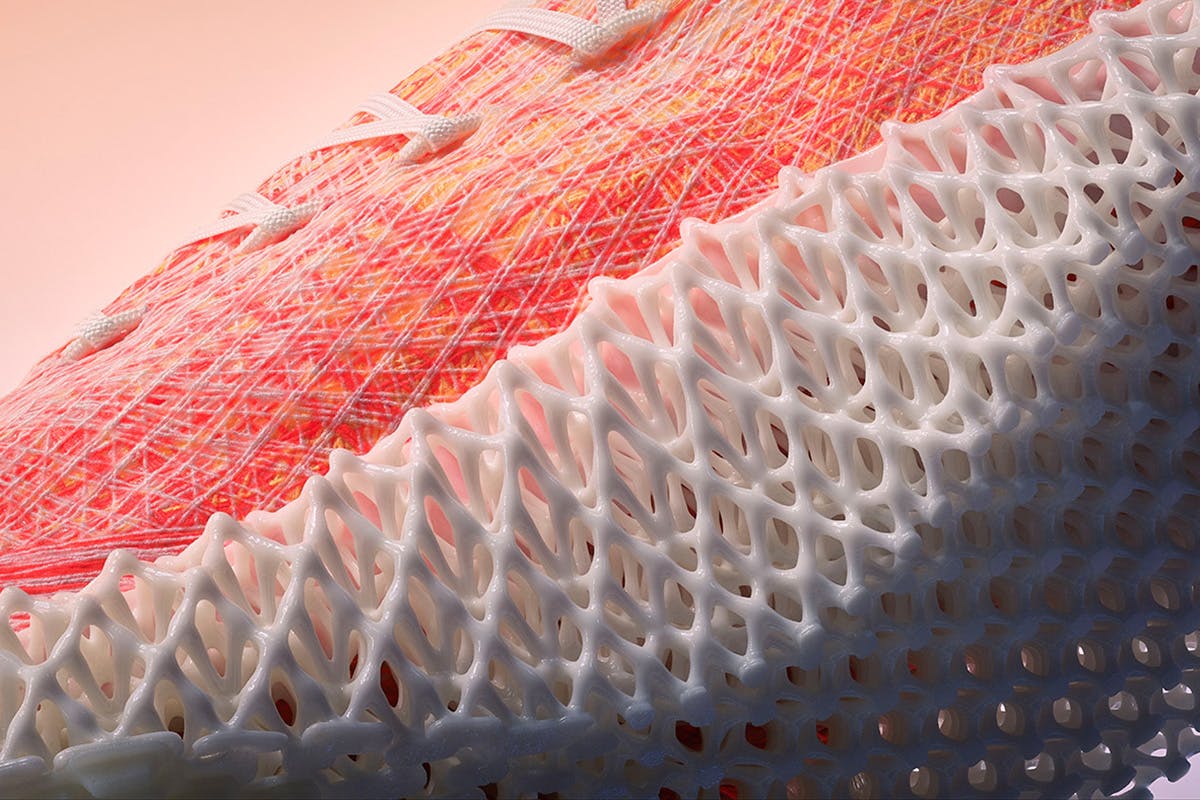 Earlier this month, adidas gave select members of the media an exclusive preview of its latest revolutionary technology, Futurecraft Strung. The technology, as the name suggests, pertains to the upper construction of sneakers — in layman's terms, consider it the upper equivalent of adidas 4D tooling.
Futurecraft Strung's benefits include its weight, precision fit, and that it offers adidas a more sustainable way of producing performance running shoes. Strung, in its essence, is a new way to create textile uppers, differing from woven and knitted materials in the sense that adidas — with the help of robotic machinery and lots of data — can place fabric exactly where it needs to be, without using any excess material.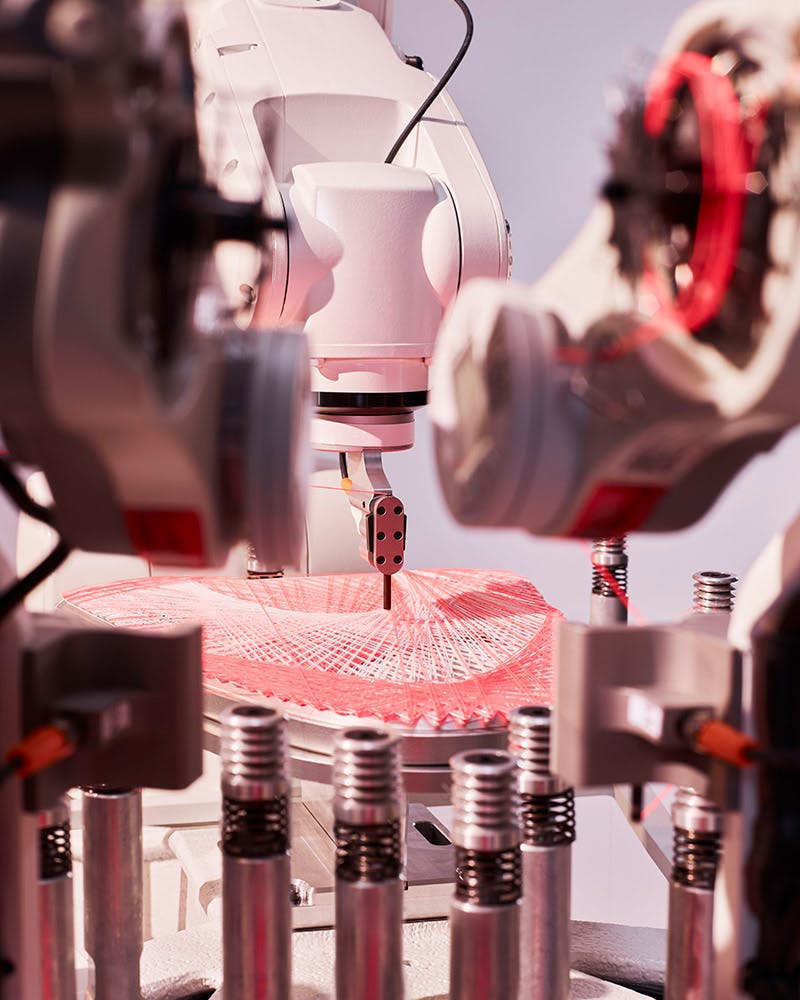 "Usually you have components and parts and pieces, and we think of those as 8-bit resolution, like Mario Kart," explains adidas designer Fionn Corcoran-Tadd. "We're trying to create in 4k resolution, to get closer to the natural resolution of biology."
A Futurecraft Strung running shoe weighs around 223 grams. The Strung upper only weighs around 27 grams, but, because adidas can perfectly place its threads, the fit and stability or support of the upper actually increase.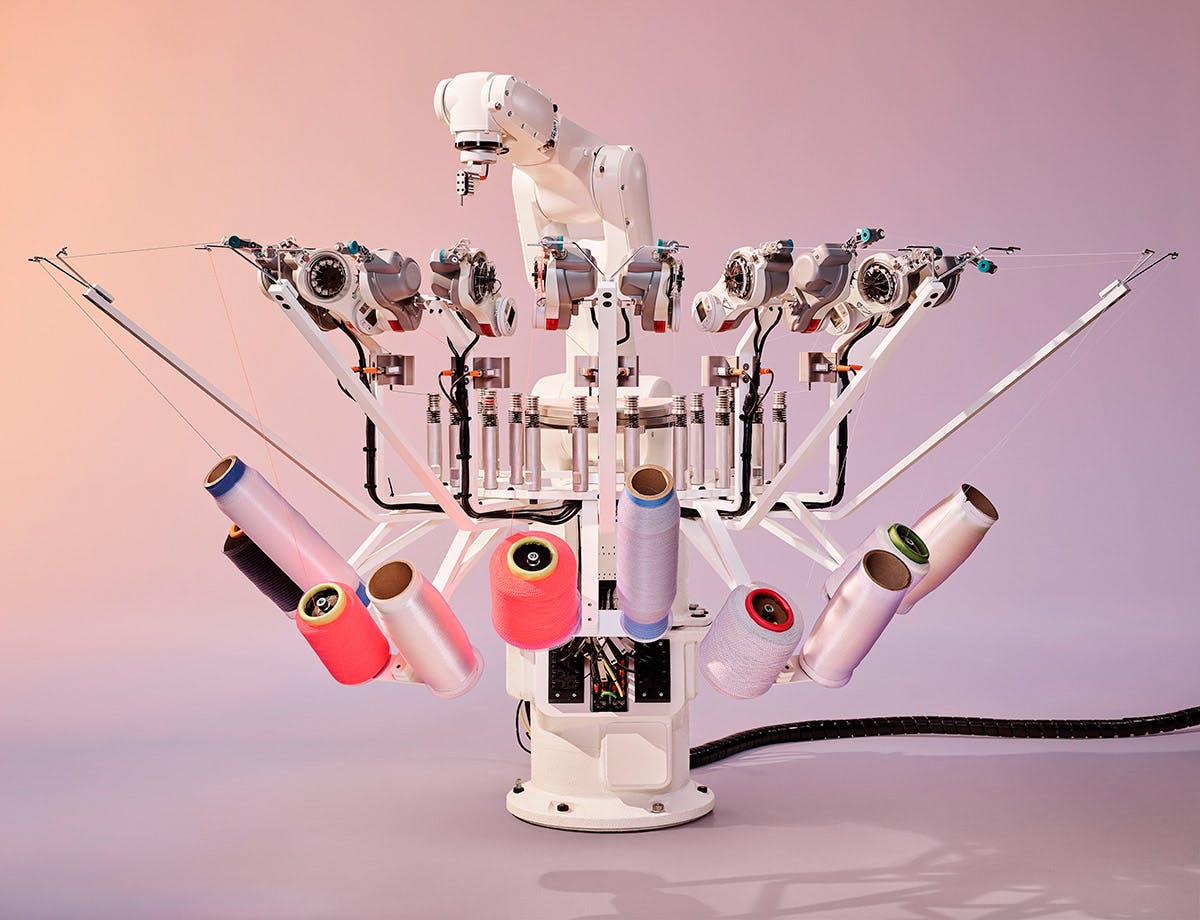 Data plays a big part in choosing where to place the thread to maximum impact — both quantitative computer-sourced data and qualitative data from wear-testers all over the world. "What's nice is that it allows us to have a conventional understanding of the athlete on one side," says Andrea Nieto, another designer working on adidas' Future team. "And, on the other side, we look at high-res scans in 3D or motion capture data of someone running on a force plate."
The balance of data translates to actual manufacturing, where human decisions are not outweighed by robots or computers, but rather the two complement each other. "Once we build a shoe, the whole process is very human. We use that data to inform our process, but at each step, there's a human processing the data," says Nieto.
In addition to Strung enabling adidas to create better-performing shoes with fewer materials, the actual manufacturing process lends itself to more sustainable practices. "Processes like knitting and weaving are actually quite aggressive processes in terms of how the yarn is treated, while Strung is actually quite a delicate process," says Corcoran-Tadd. That delicacy means adidas can use new kinds of sustainable yarns earlier on in manufacturing, eliminating even more first-use materials. Generally, recycled yarns or fibers are weaker than virgin fibers and are often mixed so that the yarns withstand pre- and post-manufacturing wear and tear.
Similar to 4D, one of the biggest challenges facing Strung, or any new technology, is scalability. When 4D was first unveiled, it was expensive and very limited, taking several years to reach a more consumer-friendly price point. To that, Nieto says, "We're aiming to come out with a very competitive, comparable price to our current footwear offerings."
Futurecraft Strung is not expected to hit retail shelves until the end of 2021, at the very earliest. Still, adidas believes that the technology is so game-changing, it wanted to share the news before anyone could even get their hands on a pair. Underlining his excitement for the potential of the technology, Corcoran-Tadd says: "We've seen a lot of new technology in midsoles across brands. That's a big focus and obviously super important in the context of running, but it's pretty rare that we see a big jump in upper technologies."