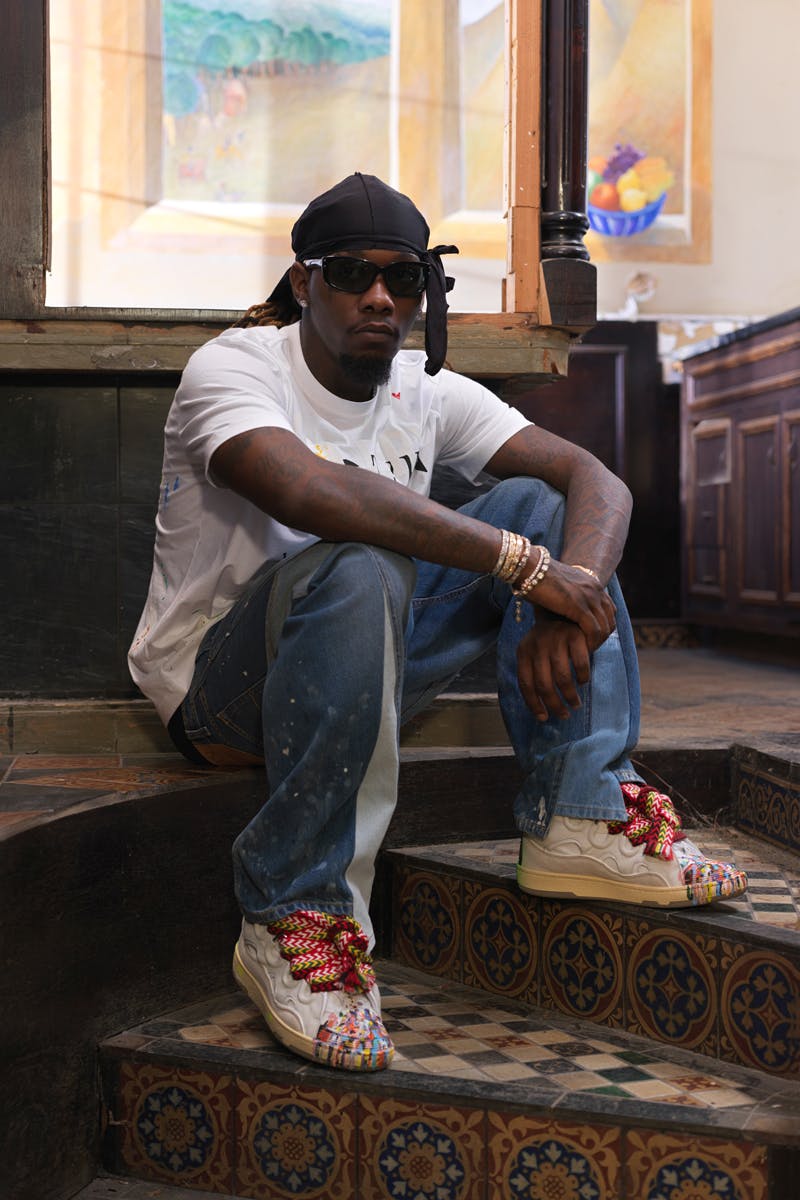 If collaborations with fashion houses are indicative of streetwear success, Josué Thomas' Gallery Department is receiving a well-deserved gold medal. Within mere years, Thom's brand has transformed from Los Angeles' best-kept fashion secret to a streetwear powerhouse stocked by mega-retailers and coveted by fans the world over, with its Offset-approved Lanvin partnership serving as a well-deserved victory lap.
For those not yet hip to it, Gallery Dept. channels Thomas' artistic heritage into perfectly paint-splattered hoodies, logo T-shirts, and carpenter pants rebuilt into flared trousers, transcending the contemporary workwear zeal into the realm of opulent one-of-ones.  Lanvin, meanwhile, recently began digging deeper into street-leaning styles by way of heavyweight sneakers already beloved by rappers, venturing a little further from its quietly elegant comfort zone. This collaboration is a well-timed meeting of the minds, further ingratiating Gallery Dept. into the luxury realm and lending Lanvin a youthful shot in the arm.
Thomas tackled a series of Lanvin staples for this drop, splashing a denim jacket, patchwork shirt, hoodies, and T-shirts with expressionist paint daubs, Gallery Dept. branding, and the occasional "ART ON DISPLAY" tag, another of Thomas' signatures. Some of Lanvin's genderless leather Hook bags, cardholders, and scarves receive ever-so-slightly restrained accents, while Curb, Bumpr, and Clay sneakers sport treatments that are more aggressive but no less refined.
"The design process for the collaboration with Lanvin was relatively similar to how we create at Gallery Department," Thomas said in a statement. "I wanted each garment to have a feeling that people can connect with forever. ... The set, sounds, and composition of the campaign were just as important as the collection for me. It's about great energy and the small imperfect details that make a seemingly normal piece of clothing or accessory so special."
"It's brilliant to see the legacy of Lanvin and our core collection evolve with creative partnerships," Lanvin artistic director Bruno Sialelli continued. "We like to continue to challenge ourselves to see Lanvin in new ways."
Shop the 20-plus-piece Gallery Dept. collaboration on Lanvin's website, at its international boutiques and select stockists .