From sporting goods and knit fabrics to skiwear and overall gorpcore grails, Goldwin has cemented its position in the activewear hall of fame. Back in 1958, its founder, Tosaku Nishida, came up with the idea of producing sportswear and athletic gear, predicting an imminent boom in Japanese sports culture — and he wasn't wrong. Now celebrating 70 years in the game, the brand has traversed the globe becoming a synonym for quality techwear and a protagonist in the outerwear movement.
Just in time for the impending winter when layering will become part and parcel of our morning routine, Goldwin unveils its new line of high-performance garments in GORE-TEX® fabric, guaranteed to keep you cozy in the cold. Whether in the mountains or in the city, this new FW21 series combines key elements of Japanese design, attention to detail, and being lightweight, with some of the most advanced outdoor features.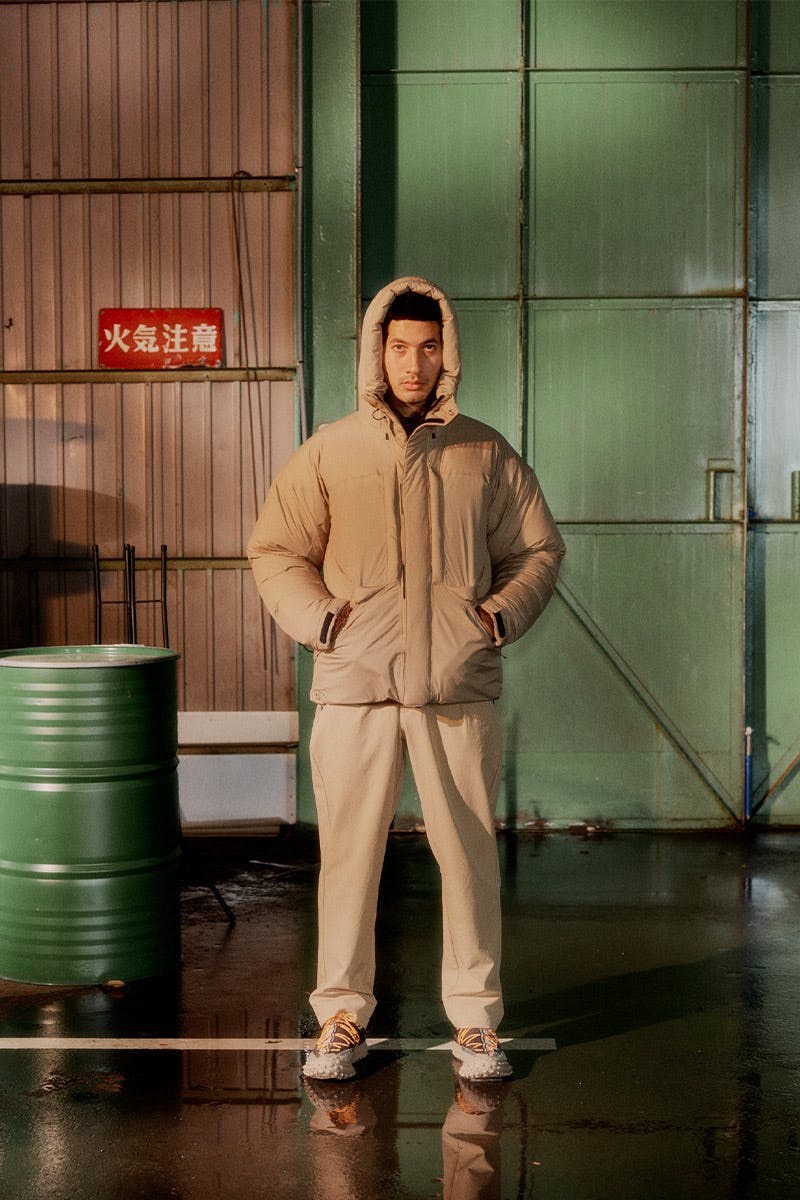 In 2017, Goldwin launched its R&D facility, the Goldwin Tech Lab to strengthen and promote its technological skills, so working closely with GORE-TEX® further solidifies its keen focus on discovering advanced ways of developing outerwear garments.
For this season, Goldwin is launching two new styles; a down parka, inspired by GORE-TEX®'s latest fabric technology, the INFINIUM™, for extreme outdoor environments, and a hooded down jacket that represents the more advanced product developed for urban use. Thanks to GORE-TEX®'s continuous search for innovation, it has been one of Goldwin's top choices when it comes to material for many seasons. The fabric's membrane provides next-level wind protection, waterproofness, and great breathability, so it's perfect for both outdoor and urban environments.
Born out of the same vein as Goldwin's ultimate winter down parka, the new parka silhouette is based on the DNA of the brand's ski wear designs — so even the iciest alpine conditions won't phase you. When it comes to the science behind it all, Goldwin and GORE-TEX® went full steam ahead, padding the down jackets with Kodenshi Down which is embedded with ceramic particles that reflect the infra-red rays of body heat back into the wearer. Top this with an exterior windproof shell, three-dimensional sleeves for increased mobility, and double-flaps on the front and neck to fill the cracks where the cold could seep in. It's no wonder that the Swedish and British national ski teams adopted Goldwin attire, as well as twelve Japanese gold medallists back in 1964.
Shop the full collection here.