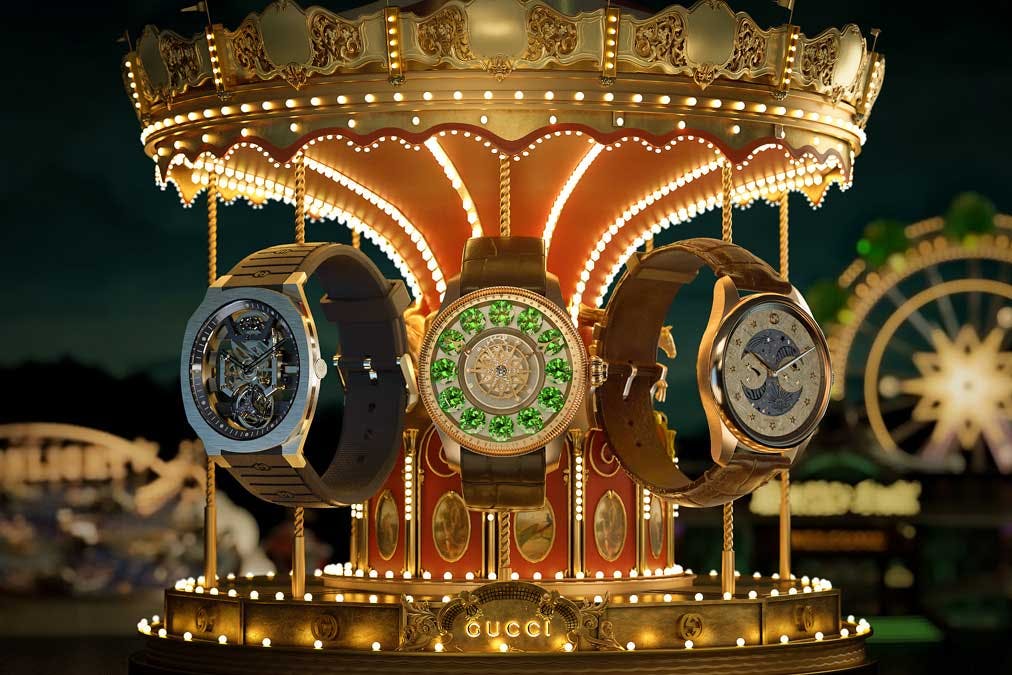 Gucci has to make everything an event. The luxury label's second high watchmaking collection, debuted during Watches & Wonders in Geneva, wasn't merely introduced via showroom and press release — its sumptuous new timepieces soared through a fairytale carnival hosted for Gucci Swiss Timepieces' 50th anniversary.
Dubbed Gucci Wonderland (what else?), the festival presentation mirrors the whimsy that informs each of the timepieces. Make no mistake, though: despite the cheeky presentation, these elegant watches are crafted to an uncompromising standard.
There are a few different timepiece styles on display in many varieties of opulence. Some are riddled with gems and others are sober by comparison, but all are undeniably Gucci.
Gucci G-Timeless Dancing Bees
Kicking things off is a classic Gucci motif given new life. The iconic Gucci Bee is born again atop two vivid G-Timeless timepieces that pay homage to vintage en-tremblant jewelry (the kind of couture-tier accessories that were designed to flow along with the wearer's movement).
Rare pink and green opal "bricks" set in a chevron pattern, a mother-of-pearl dial, mirrored caseback (ready to be engraved), and white- or yellow-gold bracelets are the lavish backdrop for the dozen bees placed across the diamond-set dial, shimmering in time with the rhythm of the body.
Gucci G-Timeless Planetarium
It'd be simple enough to place a couple flashy rocks atop a watch face and call it a day but that just ain't Gucci.
The maison instead crafted its G-Timeless Planetarium by arranging a dozen princess-set gems around Gucci's new Dancing Hours Flying Tourbillon caliber, which allows the wearer to set the wheel on rotation with a single button-push as if they're watching a fabulous lightshow in an IRL planetarium.
Gucci Grip Sapphire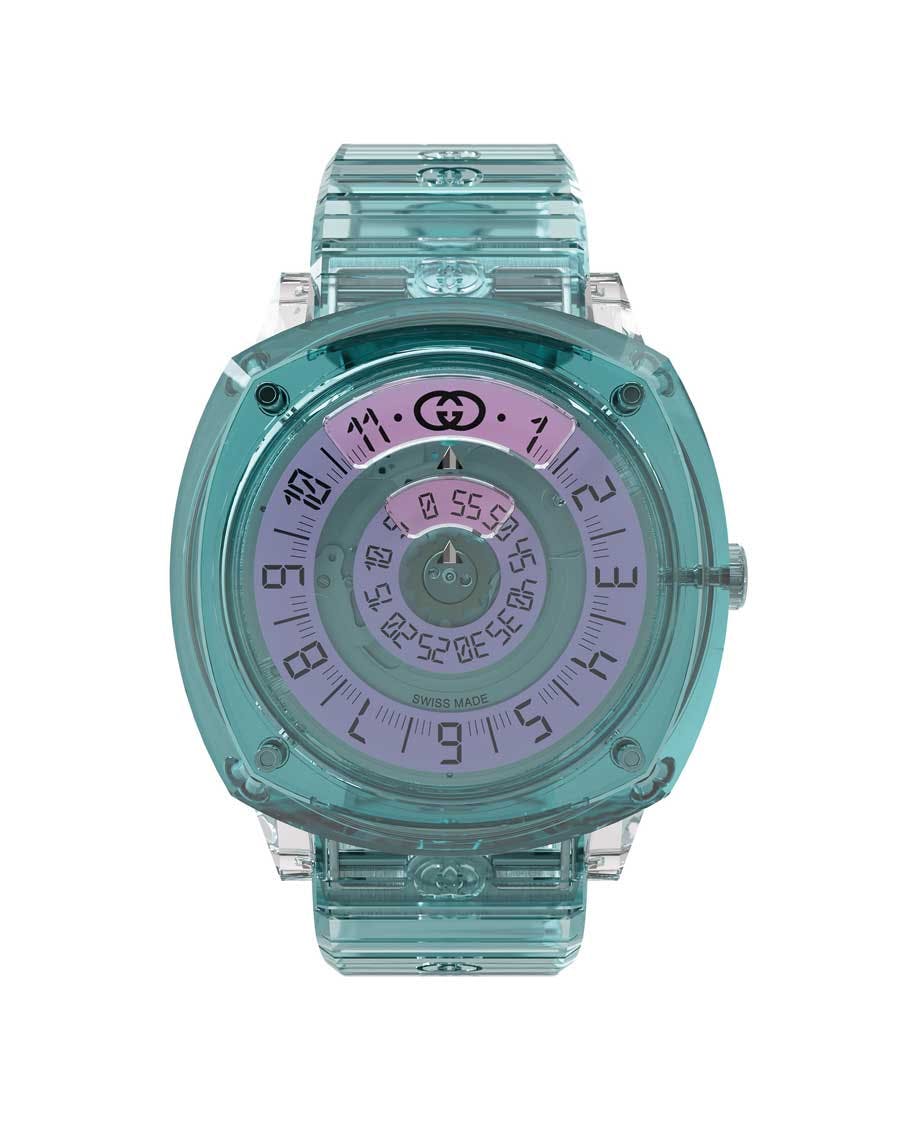 The 2022 Grip Sapphire mechanical watch collection delivers more of the same exquisite craft in a humbly retro exterior.
Cut from a chunky of pure sapphire, each case is polished to transparency. These minty green Grip models are also fitted with similarly see-through casebacks and rubber straps that heighten the effect.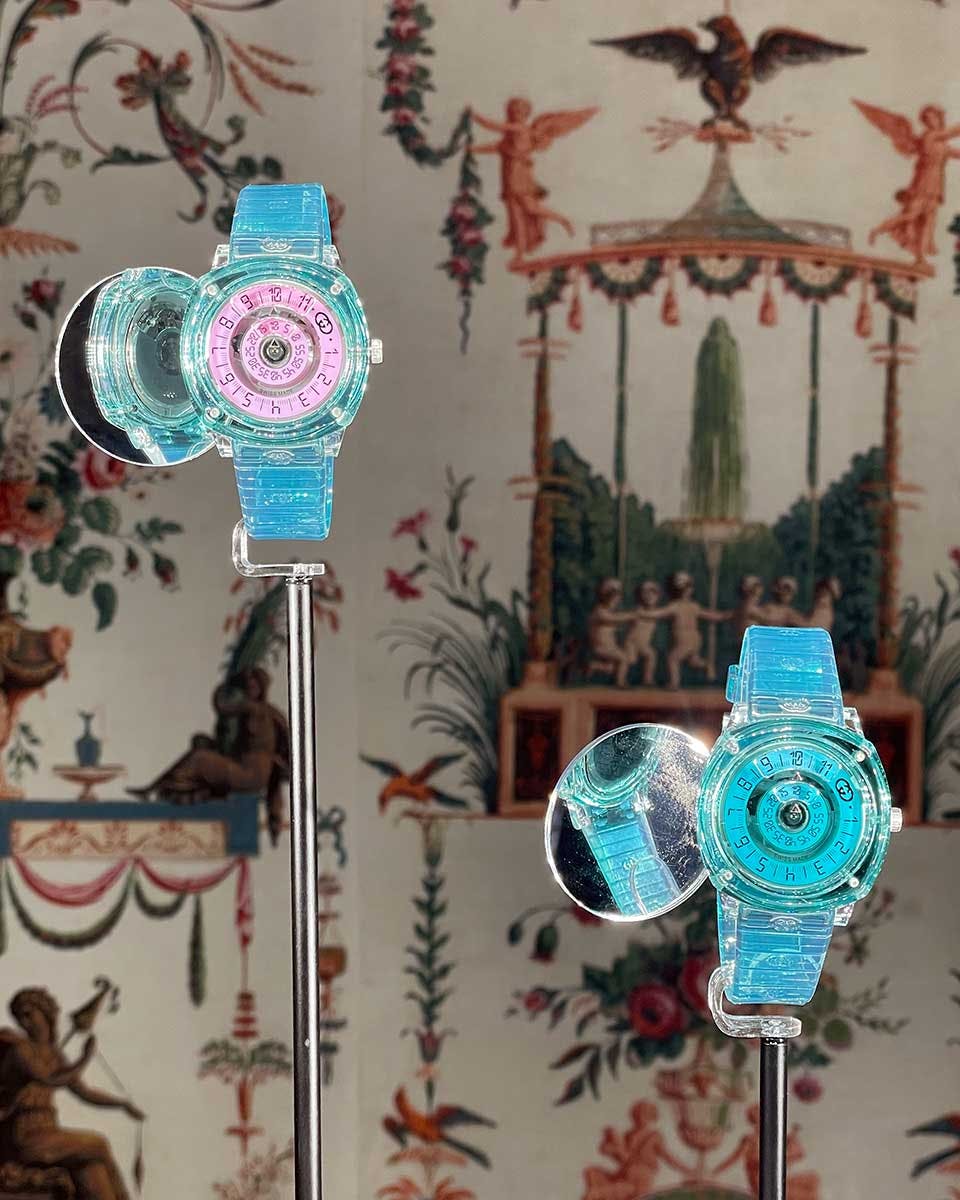 Inside, a Swiss self-winding jumping hour movement that can be viewed through the two windows on the dial.
Gucci 25H Skeleton Tourbillon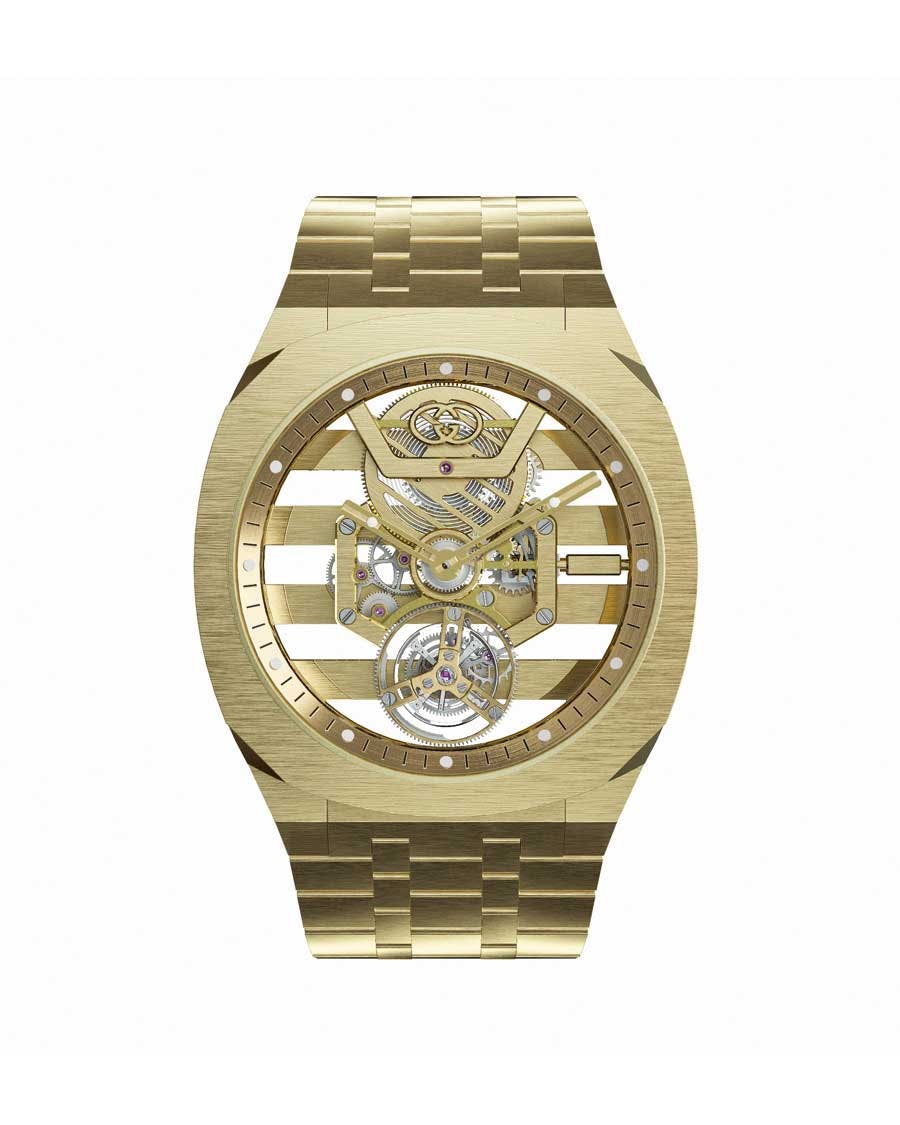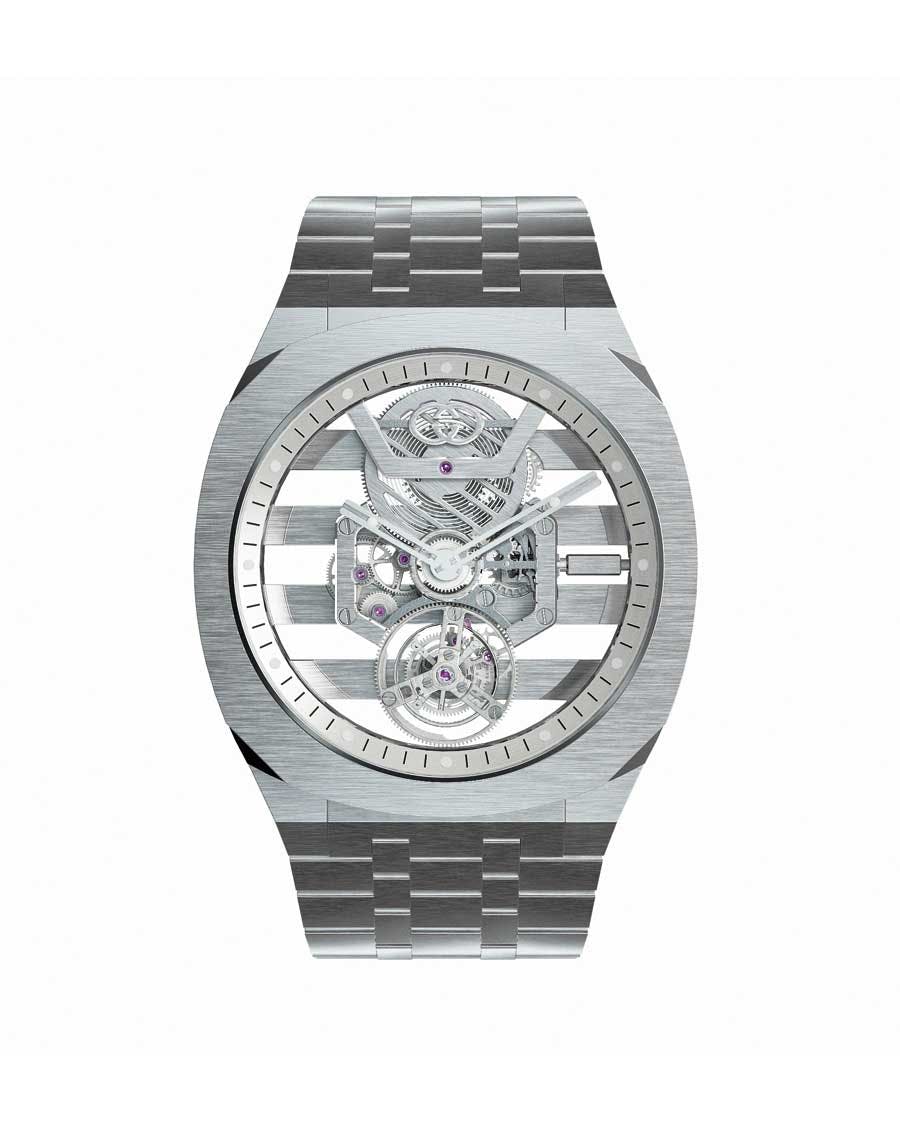 The 25H Skeleton Tourbillon is about as simple as it gets for Gucci's 2022 High Watchmaking collection, which is to say it actually isn't very simple at all.
Designed from the ground-up to flatter its movement, the recycled gold 25H Skeleton Tourbillon lives up to its name with a translucent dial and layered skeleton hands emphasizing the striped face and tiny titanium bridges.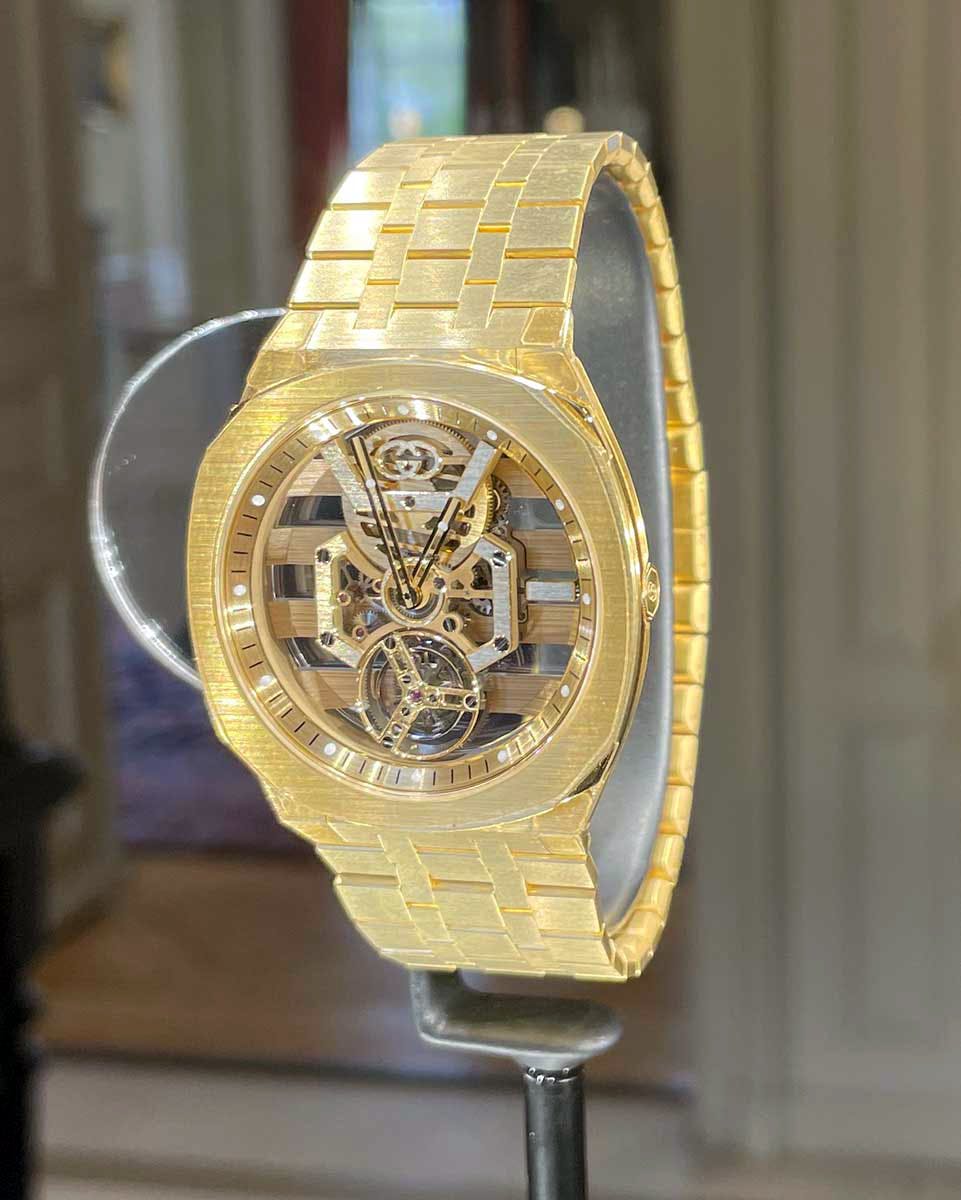 The 25H Skeleton Tourbillon's size makes this doubly impressive — all this detail is compressed into a tiny 8mm package.
Shop our favorite products