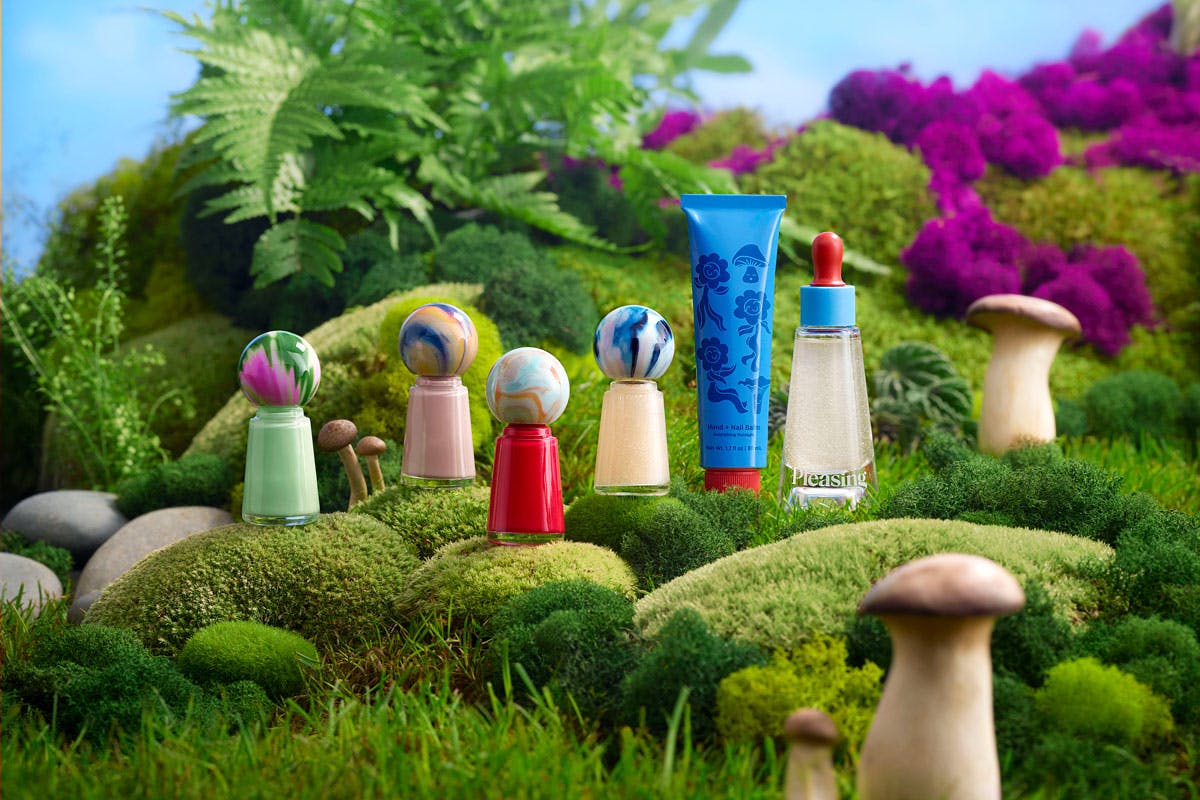 The FBI works hard, but diehard Harry Styles fans work harder.
The former One Direction frontman is releasing a second skincare and nail polish collection via Pleasing, the beauty brand he launched back in November 2021. Hot on the heels of the announcement, the Harry Hive has already formed theories about what, exactly, the upcoming drop might mean.
A bit of background: on Instagram, Pleasing announced Shroom Bloom, a "micro-collection" fronted by Fleetwood Mac drummer Mick Fleetwood, one of Styles's musical heroes.
Releasing on March 15, the range offers new polish shades (think fresh, spring tones like seafoam green "Sprouting" and cherry red "Vine Ripe"), along with skincare and apparel.
More specifically: Acid Drops overnight face serum, a hand and nail balm, and a T-shirt printed with what appears to be a frog pole dancing on a mushroom.
The whole shebang comes packaged in a whimsical box that, honestly, I would pay money to purchase on its own — the inner lid of the container is adorned with lipstick-wearing fish, a land-walking octopus, and an elephant in high heels, delightful graphics exemplifying the kind of maximalist, '70s-inspired aesthetic that I immediately associate with Styles.
Despite its splashy launch, Pleasing's first collection received mixed reviews, some whole-heartedly enthusiastic and others disappointed by the brand's pricing. On TikTok, for example, cosmetic chemist Javon Ford pointed out that Pleasing's Pearlescent Illuminating Serum contains rather run-of-the-mill ingredients — nothing that would merit $35 for a half-ounce of product.
According to Pleasing's website, Shroom Bloom will come at the same cost: $35 for serum, $20 for polishes, and $25 for the hand and nail balm. Apparel will range from $60 to $105.
Still, the collection is a triumph of branding. Thanks to Styles's devoted fans, the drop has generated a slew of TikTok content nearly a week ahead of its release.
In fact, some have characterized the range — which, visually, takes a completely different approach from Pleasing's minimalist launch — as a teaser of Styles's next album, reportedly releasing sometime before the end of March.
If there are any clues to be mined from the Shroom Bloom collection, it's that Styles might have a psychedelic rock album in store — and possibly believes in the power of a good trip.