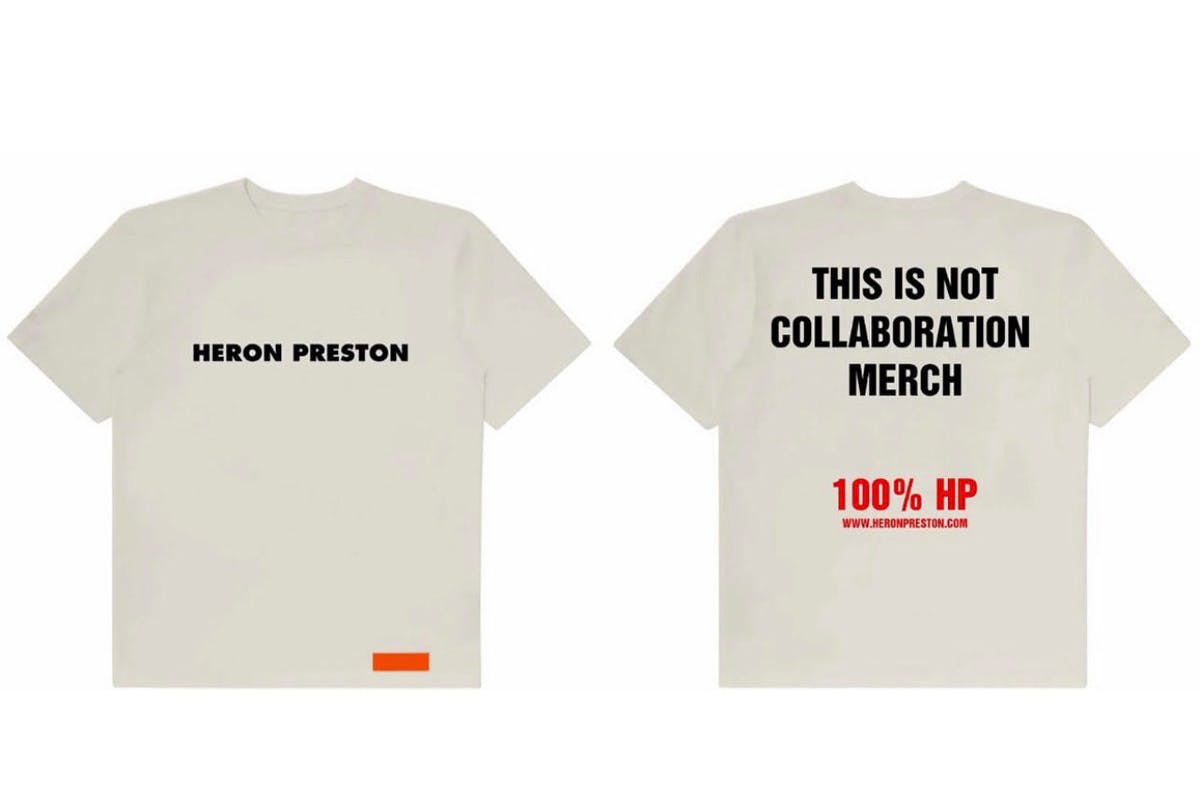 It feels like we're getting hit with a new collaboration nearly every day. Four months into 2022, we've seen collaborations like YEEZY GAP Engineered by Balenciaga, Supreme x Burberry, and Gucci x adidas to name a few.
Don't get me wrong, some of the linkups have been great. But as they fall in line with all the other hundred collabs that pour in weekly, it's hard not to get collaboration fatigue – and designer Heron Preston seems to be experiencing it too.
Heron Preston — known for past partnerships with Calvin Klein, Mercedes-Benz, and Levi's — took to Instagram on April 5 to post a picture of a "This Is Not Collaboration Merch" tee (rumored to be an actual drop).
His post's lengthy caption questioned the modern-day collaboration game — where brands team up for lackluster one-off deals for quick sells — and whether labels can hold their own without them.
"Can brands survive if they don't do a collab these days?" Preston asked. "I personally feel it's a very dangerous game to play.
"I read your comments, and what I'm reading is that you guys are over the 'cash-grab corporate collabs' and calling them 'boring nonsense.' Seems you guys are starting to see straight through the crap! Like do we need more merch?! Have we hit a tipping point with pointless collabs?? Are corporations too slow to figure out what's next? Are they afraid to take a risk? What's next?!"
Talk about all hits and no misses from Heron Preston, because I agree.
Collaborations have gone from unique, creative partnerships to overkill linkups, with two brands working together simply for the hell of it (or the clout of it, I should say).
What happened to storytelling, creativity, opportunities for upcoming designers, and building genuine brands relationships? Oh, that's right, they got lost in the sauce of hyped co-branded mashups slapped on a white tee for easy coins (Ah, don't you just love capitalism?).
"If you only do collabs and ONLY make noise around your collabs, can you stand on your own two feet" continued Preston. "How will your brand be remembered if you only market your collab? If you don't have a collab for the season, is that a bad look for your brand?"
Luxury brands thirsted for the secret to hype and staying relevant, linking up with streetwear, entertainment, and even food brands for collabs.
Indeed, some cracked the code but others forgot about their brand's overarching essence.
It's no wonder people question who these brands even were before their desperate collabs officiated by the familiar "x" in between each labels' name.
Many agreed with the Heron Preston's take on present-day collaborations, with many sounding off their thoughts on the topic in the comments.
"As someone who wants to make clothes, but I just haven't done so yet, I see collabs as a medium for friends/contemporaries to work together without having to go into business together fully," one comment reads.
"I think the downfall of collaboration in fashion is when it becomes more about the people involved in the collab than the actual finished result. If your main selling point for a collab is 'we grabbed these two big names with no chemistry,' then you're doing it wrong."
Another comment says, "I believe a brand can stand on its own without collaboration. While collaboration has its benefits, and too many collabs may hinder the identity of a brand, I believe collaboration isn't the issue. I believe it's the lack of creativity."
"Brands are getting cocky because they know it'll sell out whether it's the hype from popularity or resell. There's no hunger or drive with a lot of these brands to innovate or create a new sub-culture of design."
Personally, I don't have beef with collaborations either. When they make sense, collabs can be an excellent tool for brands to tap into new markets and opportunities while unlocking new mediums of creativity and artistry.
My issue is there are too many fruitless partnerships flooding the market, making it hard to appreciate the good ones out there, hence my fatigue diagnosis.
While I hope for a return to more meaningful (and actually good) collaborations, I fear that these current dealings of partnerships have led us to the point of no return — a "x"-stamped linkup apocalypse, if I may.