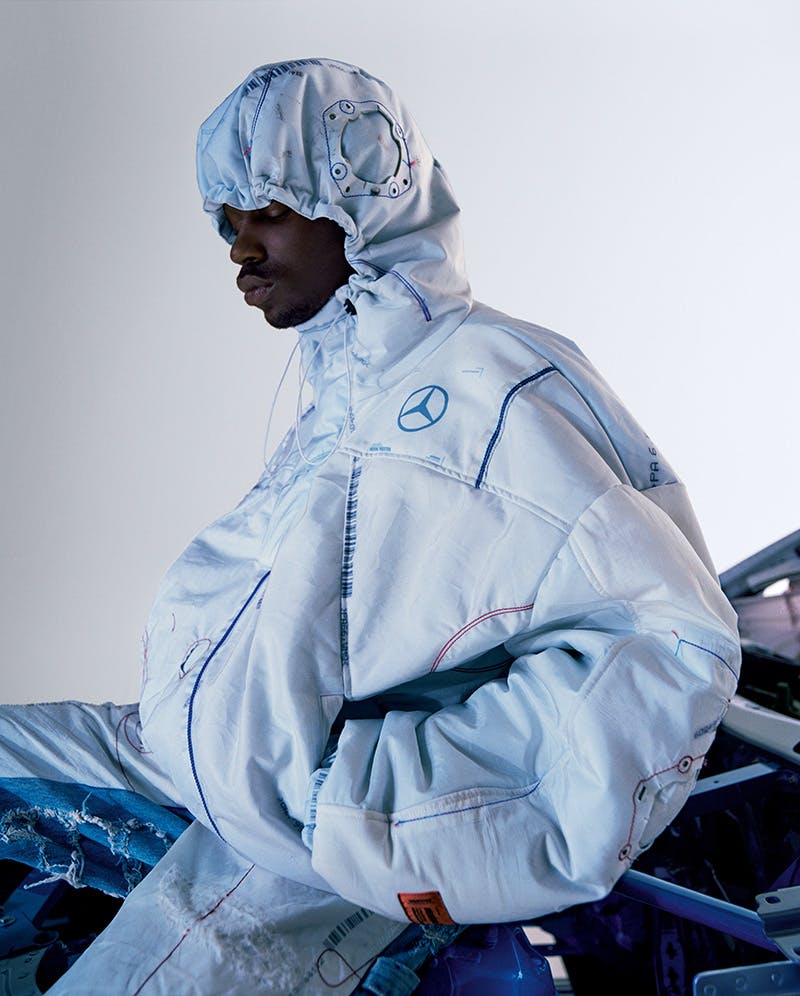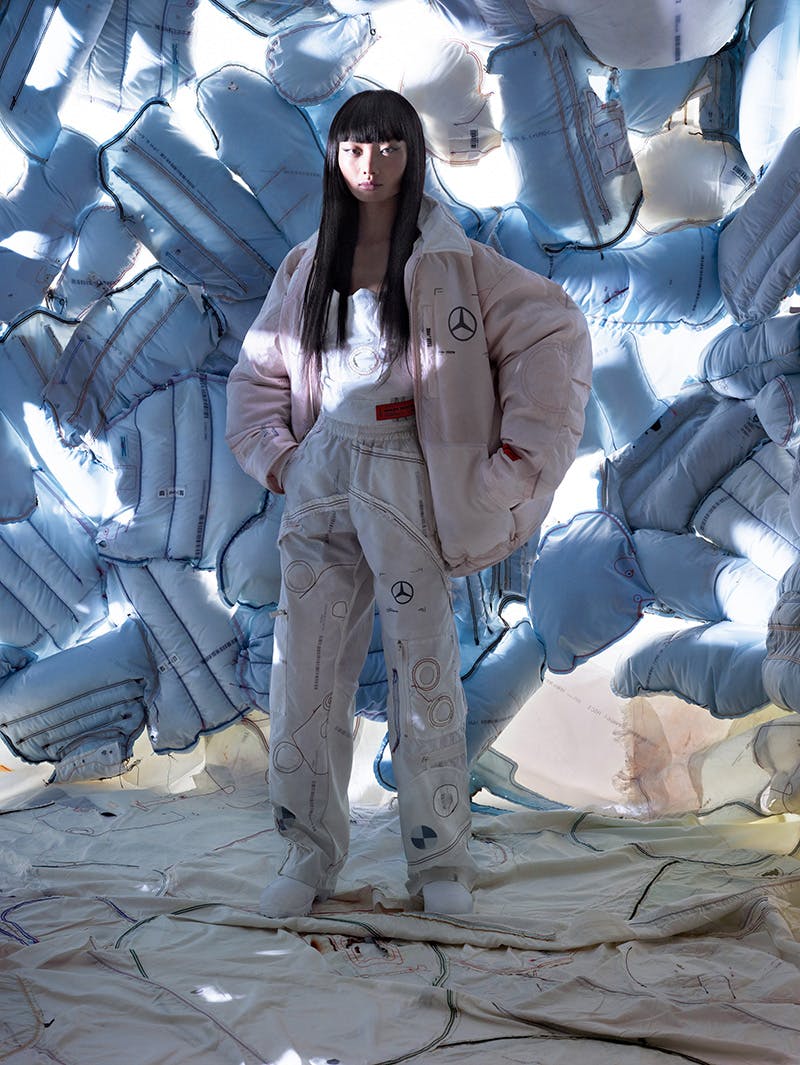 The marriage of fashion and automotive has grown strong over the past few years, with car manufacturers tapping some of the biggest designers and brands right now, the latest partnership is none other than Heron Preston and Mercedes-Benz.
Teaming up to celebrate 50 years since the airbag was created, and the 40th anniversary of the life-saving invention's use, Heron Preston has reimagined old airbags from crash tests into a handful of conceptual looks. With an emphasis on sustainability and using the technique of upcycling, the collection is innovative and reflects Preston's own distinct design cues and beliefs.
The looks are concept-only, but in addition, the two have also created a selection of limited-edition merch which will only be available through a social media competition. Ahead of the collection's reveal, we had the chance to speak to Heron Preston about the collaboration, his relationship with Mercedes-Benz, and the inspirations behind the creations.
Read the full interview below to learn more about the Heron Preston x Mercedes-Benz  collaboration. Tell us more about how the collaboration came about. Why did you want to work with Mercedes-Benz?
Well, first and foremost – Mercedes-Benz is an iconic brand. It's been culturally relevant throughout my entire life. It's linked to music, Hollywood, and sports culture. Growing up in San Francisco I always wanted and dreamed of owning an S500. Then when I moved to New York City, living downtown, I would always see Maybach's and G-Classes around SoHo. So those became the new cars I wanted to own. It has such a stronghold on culture and me being fascinated with the culture and those who shape it; this brand has become so legendary.
Also what the project means, it's the 40th year anniversary of celebrating airbags. The approach was to upcycle and celebrate sustainability and to use airbags from crash tests as the material to create the concept collection. That's been one of my earliest approaches to design since I launched my collection.
What do you think about the intersection of fashion and automotive? How do you see it continue to grow?
Both industries focus on attention to detail, high levels of taste, premium materials, functionality, and utility. Even in car racing, looking at the uniforms that race car drivers wear or even mechanics in garages. Uniforms have always been a really big source of inspiration as a designer and always the quest to include, in design, the perfect uniform within my collections.
Also, the common value that we share of reducing our impact on the planet and considering materials that may otherwise end up in a landfill. I really love this approach and clearly, so does Mercedes-Benz. That really explains why we are upcycling these recovered materials into a beautiful collection, featured alongside some of their most advanced fleet of fuel-efficient and electric vehicles.
How did you decide to use airbag material for the concept collection? How do you continue to prioritize sustainability in your designs?
You know, this wasn't my first rodeo using non-conventional design materials – it's something I have done before. That approach is very experimental and playful, driven by curiosity, studying these new materials, and understanding them. I needed to see it first, and touch and feel the material. I asked the Mercedes-Benz team after our first call if they could send me the airbag material to my house in Brooklyn. As soon as I got to see and feel the material, understand the weights and colors, its unique qualities, I started to immediately visualize an entire world of style and shapes. Basically, an entire collection that is based on that material.
From the start of my career, the projects I launched had to do with upcycling. It was important that I operated in the least environmentally destructive way possible and continued to pursue solutions as a designer that can help make the world a better place. This Mercedes-Benz project stumbled into this journey of mine and so it's something that I live and breathe as a designer. This is just my approach every day.
I like to use the term "less environmentally destructive" more than sustainable. I think about it this way, as a welcome mat into what sustainability is to me. I think it's a more accurate description of what I do because the word "sustainability" can mean so many different things to so many different people. Continuing to challenge me to be as "less environmentally destructive" as possible is fun and innovative. There is no finish line in this style of work because the world is constantly changing.
What was the inspiration behind the collection?
It was really inspired by what I create on the runways for Heron Preston. Looking at proportions and layering, it was a starting point for the looks. I considered the styles of the clothes themselves and the pieces. Oversized puffers, workwear jackets, more of these boxy shapes, how that plays a part with the pants and the layering with the shirting underneath making that visible; to create this shape that felt as Heron Preston as possible. It was a very natural exercise in thinking about the looks. It's what I do for my shows and carrying that over into this project.