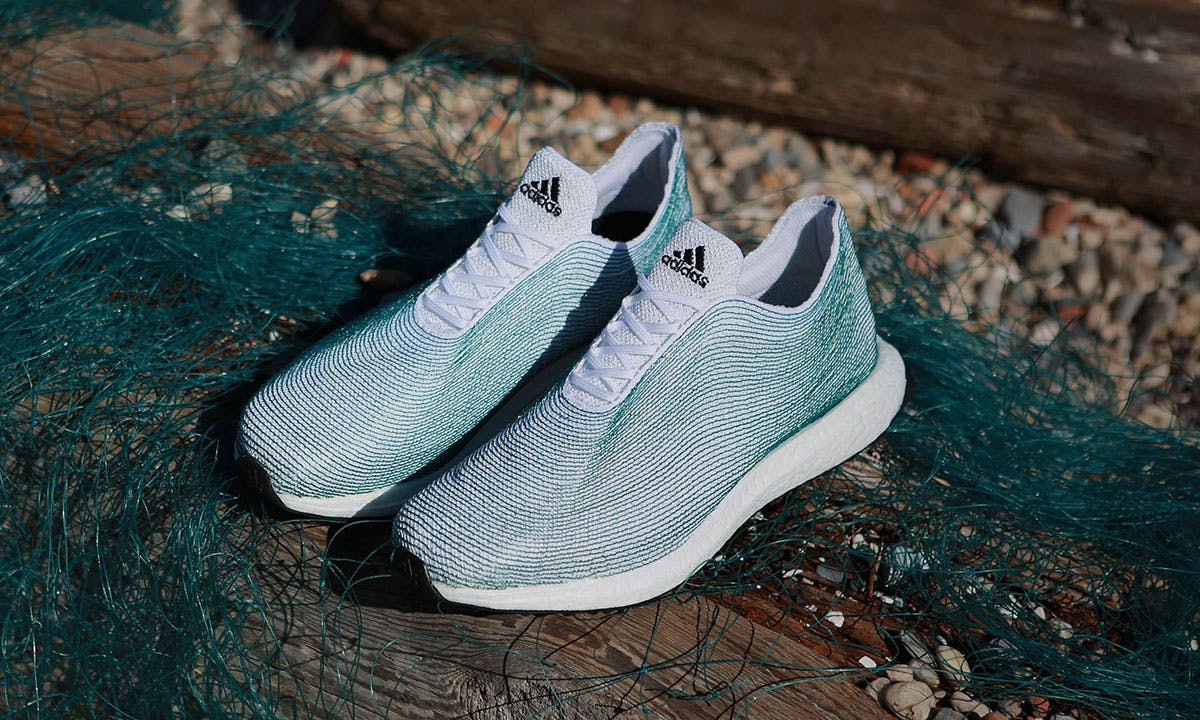 If anyone should be aware of their footprint, it's sneakerheads. The world is in the midst of waking up to the importance of sustainability, and while climate protests and plastic bag bans certainly do their part, meeting climate and environmental impact goals has more to do with adjustment than austerity. Human nature is a powerful thing; people do what makes them happy — and if that means impulse-copping yet another pair of sneakers, the planet be damned, so be it.
But it doesn't have to be that way.
According to a 2014 StockX survey, the average sneakerhead owns 34 pairs. Considering how most shoes get from factory floor to front door, those 34 pairs represent a staggering amount of leather cut, fuel burned, and water polluted. Ships have crossed oceans to bring you your shoes. Machines have hummed overnight. All to give two feet a month's worth of flexing.
But sneaker culture can be more than unboxing new pairs. While going on a permanent cop freeze will definitely fight climate change and reduce pollution, being a sneakerhead and saving the Earth from the ravages of humanity don't have to be at odds. With both our passion for sneakers and the planet we share in mind, here's how to be a more sustainable sneakerhead.
Make sneakers last and don't chase trends
This one might seem obvious, but there's more to it than "wear 'em till they break." Buying classic styles instead of the shoe of the moment gives each pair a longer lifespan, at least in the eyes of the fashion industry.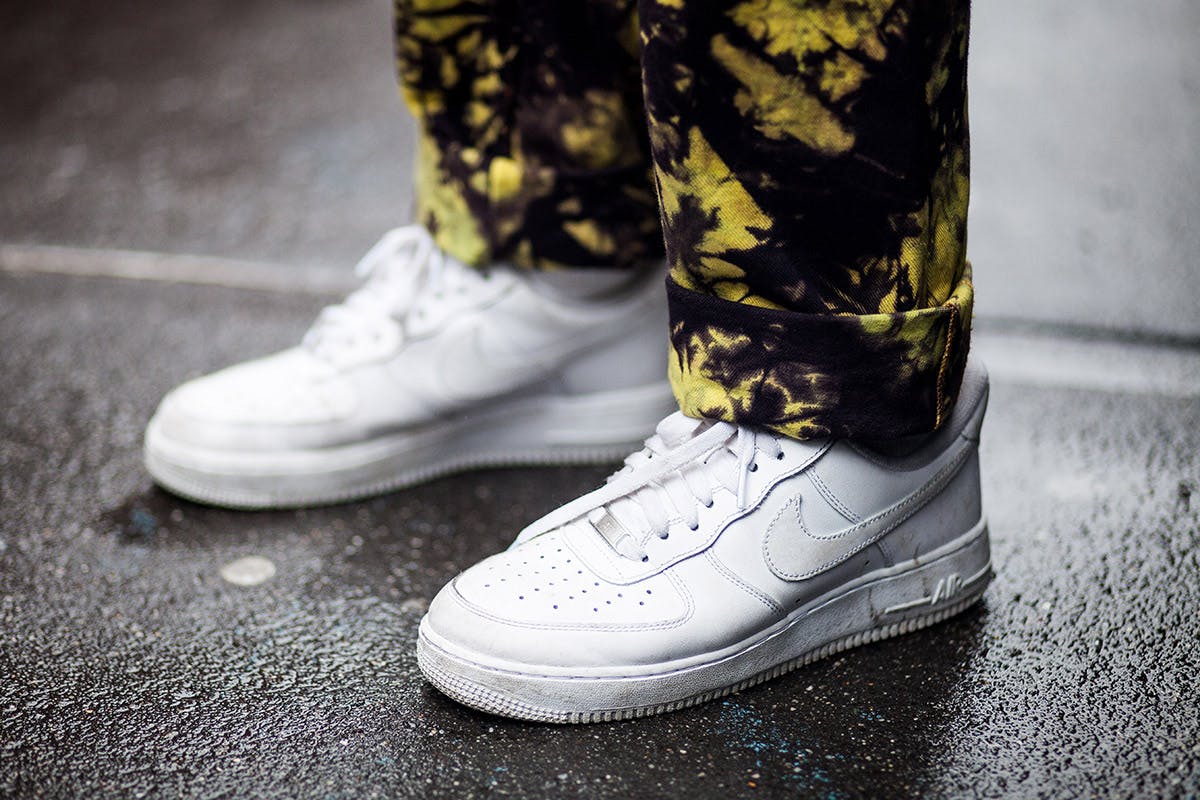 A handful of silhouettes have dominated sneaker culture since its inception. Get a good pair of white leather low-tops. Mix it up with some basketball shoes. Wear both until they wear out. Rinse and repeat. As long as you stay disciplined, shopping for brands such as Vans, GREATS, and Common Projects could reduce your impact versus chasing (and copping) every fleeting trend. Ultimately, you should be buying less but better, and versatile, long-lasting styles are the way to go.
Take care of your shoes
Once those classic styles are in hand, take care of them. Wash off mud and polish off stains to extend the life of each pair. For leather shoes, consider adding conditioner to restore the life and longevity of delicate materials. For knit materials such as Nike's Flyknit, brush gently so as not to snag loose threads. Regardless of a shoe's construction, a bottle of Jason Markk shoe soap will go a long way here.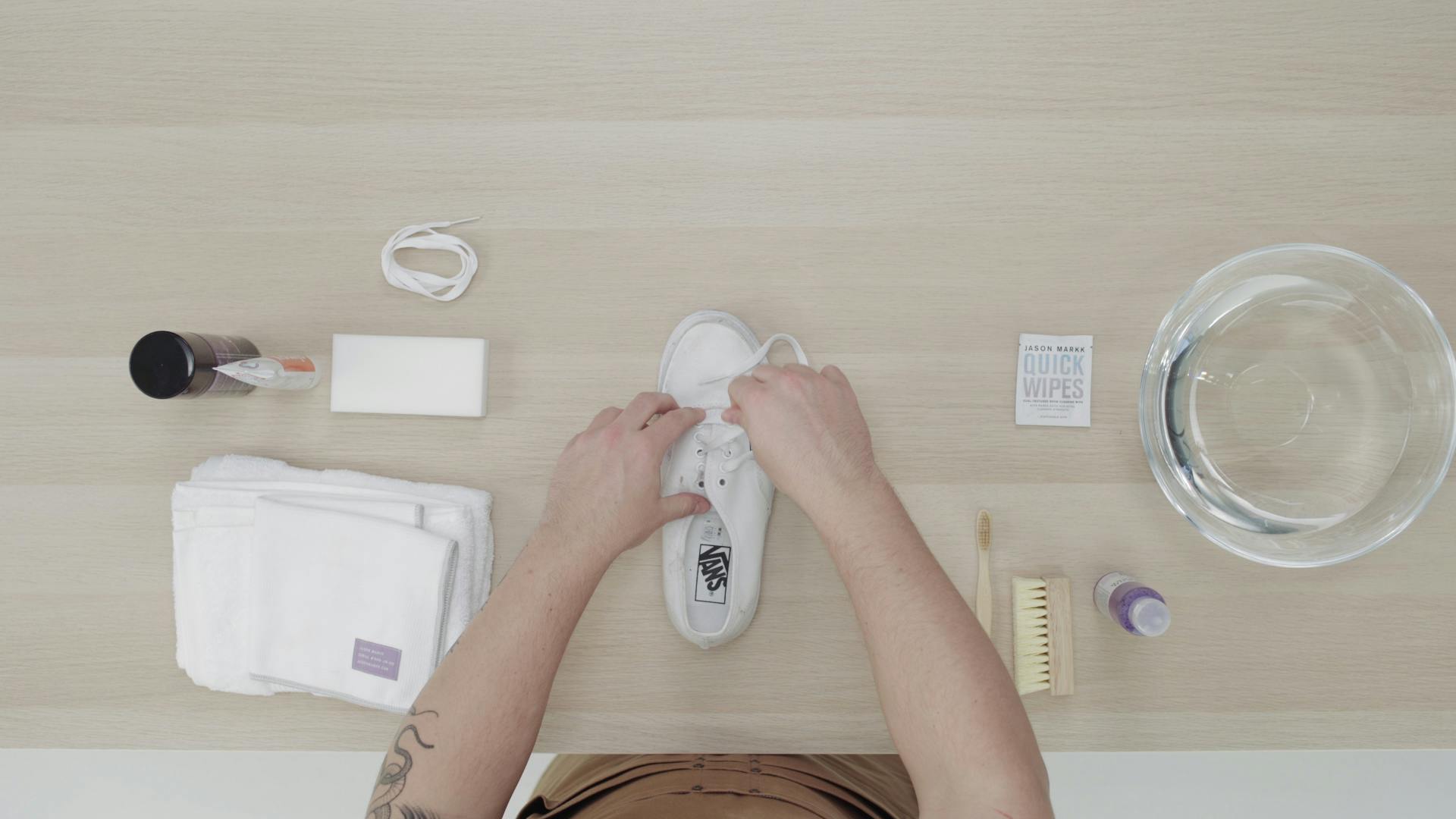 For further advice, check out our guide to cleaning sneakers.
Seek alternative materials
Think of a typical sneaker. Some combination of animal leather, mesh, and petrochemicals probably springs to mind. In the past, there weren't really any other options. The Foot Locker at the mall only stocked sneakers made from these traditional, energy-intensive materials, so that's what got bought. But now, a greater awareness of sustainability and the sheer variety enabled by the internet has given rise to entire lines of sneakers made from more eco-friendly alternatives.
When considering leather, look for chrome-free, vegetable-tanned, or plant-based "leathers" such as Piñatex, a durable skin-like textile made from pineapple leaves. Shoes by Parisian brand Rombaut are notable for their vegan leather substitutes. Nike's Flyleather textile is actually produced from excess cow hide that is discarded during the manufacturing process, which often ends up in a landfill. Now, Nike is gathering the discarded scraps from the floor of tanneries and creating new fibers.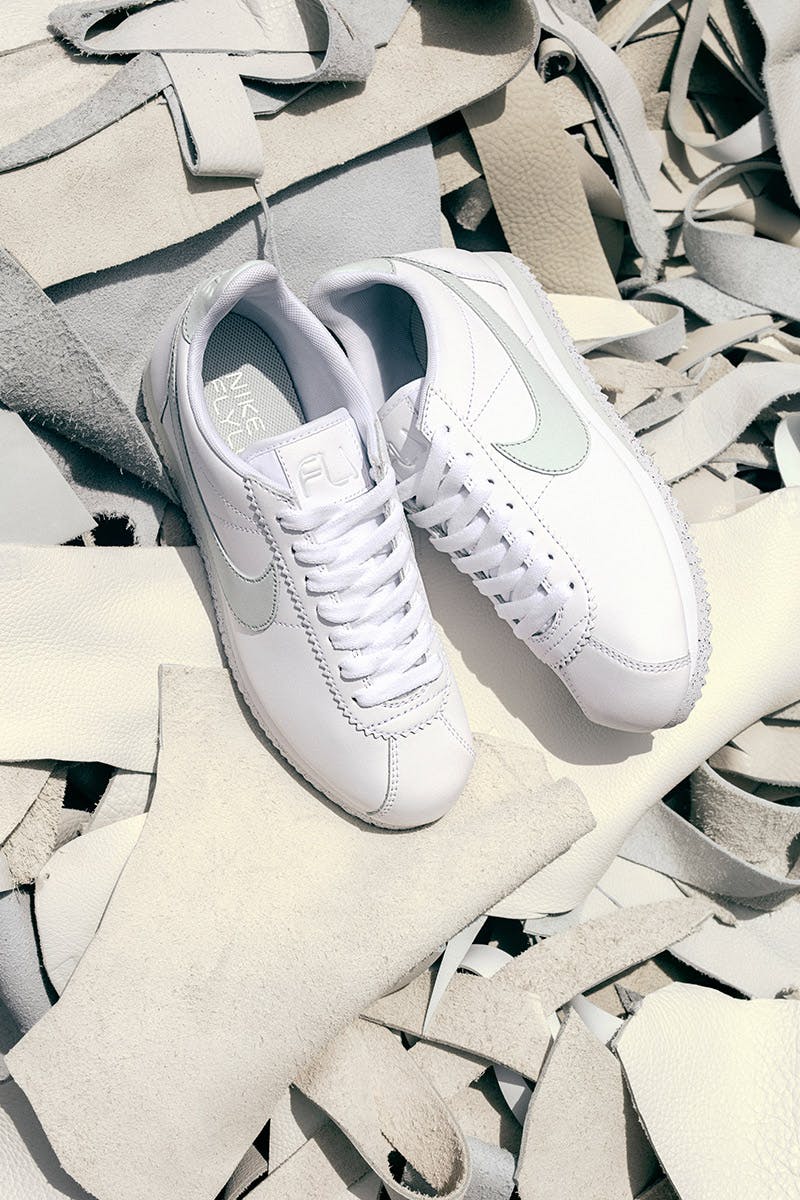 When considering knits, look for wool or recycled material where available. The big name here is adidas x Parley, whose years-long collab now includes everything from trail runners made of ocean plastic to recyclable Futurecrafts. HOKA ONE ONE's Hupana wool also provides a sportswear alternative to the merino shoe du jour.
And don't forget the sole. Look for shoes that specifically mention using "natural" or "wild" rubber. These materials come from rubber crops specifically cultivated to prevent deforestation. French sneaker brand Veja incorporates wild rubber throughout its shoe line.
Check the source
Being sustainable means more than using eco-friendly materials. Sustainability is about the lifecycle of the shoe, from field to factory to foot and beyond. Brands that live their values should be transparent about the people and places in their supply chain.
"Acne Studios get high marks for their social focus," says sustainability expert Dio Kurazawa, founding partner of The Bear Scouts, an organization dedicated to helping brands produce their goods more sustainably. "They work with Fair Wear Foundation to ensure workers are treated fairly."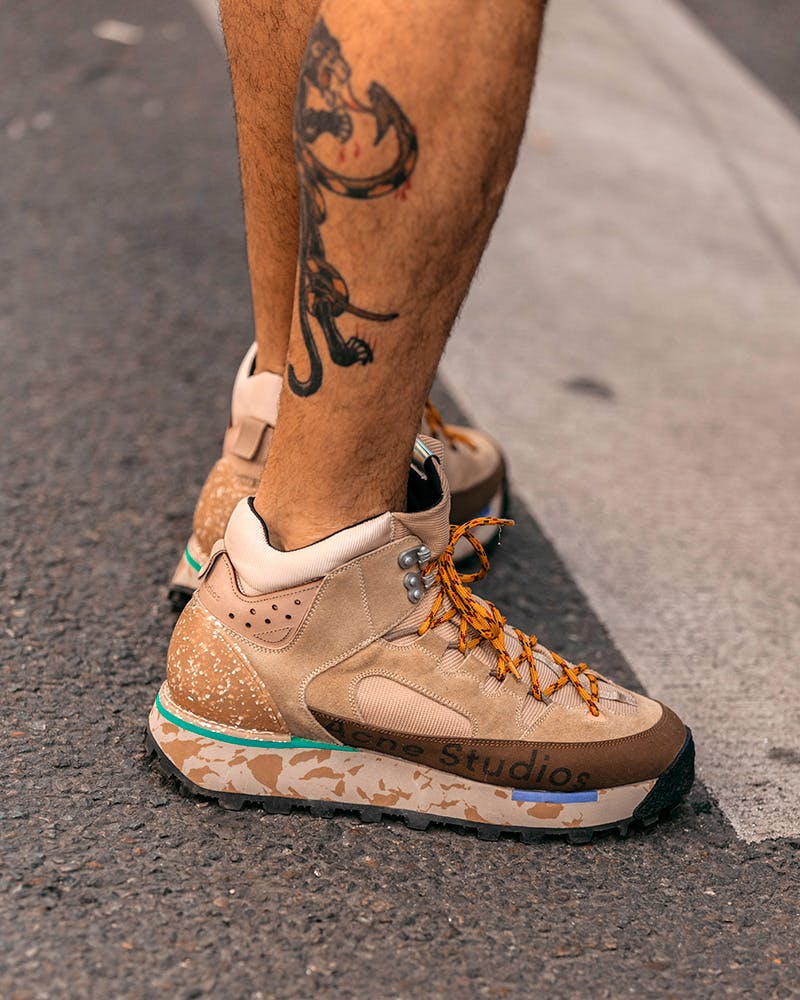 Some brands go the extra mile and become Certified B Corporations, or "B Corps." B Corp certification is awarded to companies that adopt certain standards of social and environmental performance, including a legal requirement to consider how their decisions affect the world. B Corp footwear brands include OluKai, Allbirds, and Veja.
Embrace the secondhand market
New kicks don't have to mean "new to the world." Sites like Grailed, GOAT, StockX, and Stadium Goods stock thousands of secondhand pairs that are looking for their next owner. While admittedly resell sites such as StockX and Stadium Goods only trade in deadstock pairs, making them new but with additional shipping, Grailed and GOAT are a source of used shoes that are still in wearable condition and in need of a new home.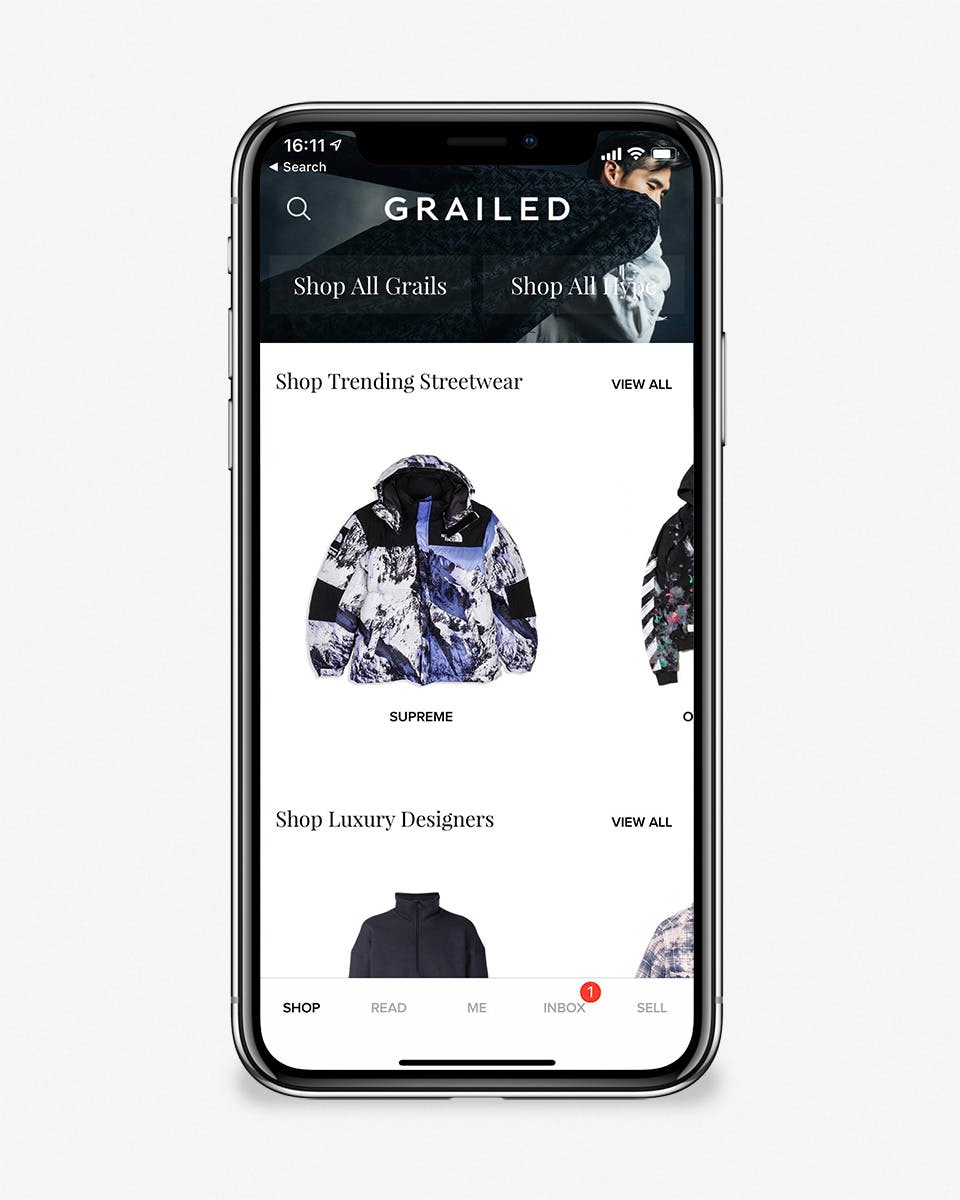 Buying secondhand over new is voting with your dollars against excess production. While that new sneaker smell is irreplaceable, replacing even half of those 34 pairs with pre-owned heat can do a lot to reduce your individual impact on the world.
On the flip side: do you have some good-quality sneakers collecting dust? Take them to the nearest thrift store or donate them to a sneaker-centric charity such as Shoes for Planet Earth.
Give busted kicks a second life
What about when your sneakers are looking more fifth-hand than secondhand? Don't fret. Nike recycles any sneakers via its Reuse-a-Shoe program. The Swoosh's recycling initiative turns shoes from any brand into Nike Grind, a composite material used to create surfaces for athletic tracks, ball courts, and turf fields. You can drop off your used shoes at most Nike retail stores. Instead of rotting in a landfill, your unwearable kicks will pass on the gift of sport.
We'd be remiss to forget initiatives like Toronto's Kickback program, which puts new and lightly worn sneakers into the hands of adolescents who will make the most out of them.
To stay updated on everything happening in the sneaker world, follow @Highsnobietysneakers on Instagram, check our sneaker release date calendar and subscribe to our sneaker chatbot on Facebook to receive lightning quick updates to your inbox.