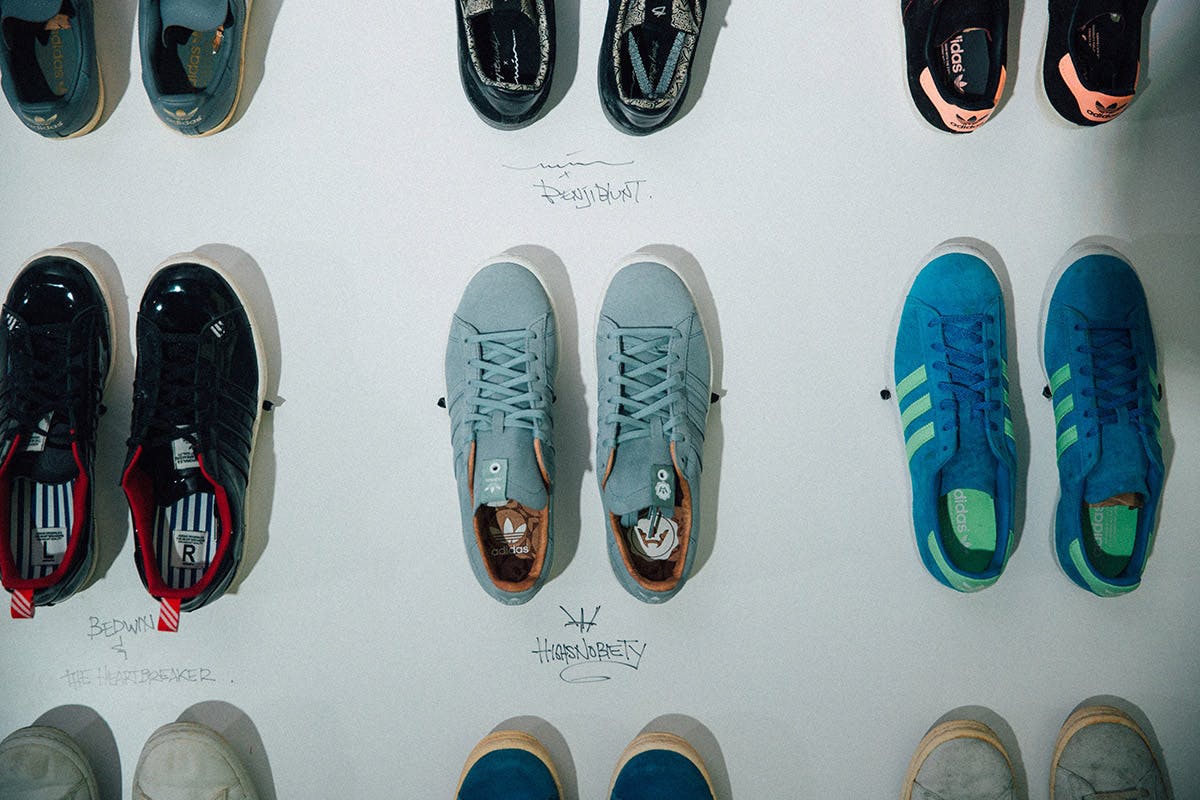 Some people have incredible sneaker collections filled with only the most hyped kicks. Others are firmly team Swoosh or team Three Stripes, only collecting and rocking sneakers by whichever brand they've pledged allegiance to. Some, like Indonesian collector Bram Nein, find beauty in classic silhouettes that have lasted through the years without drastic design overhauls.
Nein is one of the world's biggest collectors of vintage adidas models. In fact, he's probably the single biggest collector of everything from Campus 80s to Superstars, although gauging these things isn't really an exact science.
Nein recently sat with Highsnobiety's Tim Suen to discuss his love of the ordinary and why he doesn't mess with collaborations.
Tell us a bit about yourself. How did you start collecting sneakers and how big is your collection?
I'm mainly a fan of the Campus 80s and vintage Superstar, which to me are the best products from adidas. I'm not interested in current designs in collaboration with artists, designers, musicians, or other pop culture names on the rise. I just buy what I need, not what I want.
What exactly do you collect?
I concentrate on only a few models, especially the Campus and Superstar, as I mentioned.
When asked, I tell people that the Campus was a childhood favorite of mine. In my teens, I was amazed to see advertisements as well as movies and celebrities who wore classic adidas three-striped sneakers. At the time, I didn't even know the name of the shoe, but I was very familiar with its shape.
Then, in 2007, the Campus was first reissued with the name Campus 80s, and my reaction was simply, "This is the sneaker I was looking for!" Since then, my concentration has been mainly on the Campus 80s.
The vintage Superstar is another staple of my collection. I like it because it's generally a bit more comfortable than the new Superstar and the colored sole adds a classic impression.
In your opinion, what is it about Indonesia's sneaker scene that differs from other Asian countries?
The sneaker community in Indonesia has experienced significant growth in the last few years, both in the number of members and the number of events held in every city. In Asia, Indonesia is probably the only country capable of hosting sneaker events almost every week. We managed to do that in 2016 and 2017 and will probably do so again this year.
Are limited releases easily accessible in Indonesia? Where do you cop your sneakers?
It's not easy. Only a few of the limited sneakers get released in Indonesia. Those who know about the releases will order them online or try their luck in a raffle. Those who aren't as knowledgeable, or maybe even a little lazy, will wait for resellers to flip them.
I mostly get my sneakers via online stores, eBay, forums, or Instagram. It's quite difficult as only 10 of the 200-plus sneakers in my collection actually got released in Indonesia. The rest I got from all over the world.
Is there any specific subculture like skateboarding, basketball, or running that has a big following in Indonesia?
There is a very big sports culture in Indonesia. I would say that the sneakers follow the sport, not the other way around, because the basic purpose of a sneaker is to be used for exercise. However, we're also seeing that modern sneakers are created with a lifestyle aspect in mind, too. Running has a lot of followers here but not a huge impact on what types of sneakers are popular.
And what's the local reselling scene like?
The market is determined by demand, as it always is. Currently, buyers are very careful when it comes to comparing the prices offered by different resellers. Due to a shortage of supply, though, resellers are a big part of the scene. A day or two after release, limited sneakers will be in the hands of resellers already and cost two-to-three times the retail price. It's a strange world but it's quite normal in Indonesia.
Does the tropical weather affect what people collect?
It depends. Sometimes it does, sometimes it doesn't. Not everyone takes as good care of their shoes, so some might not last as long. Foam, for example, has a shorter lifespan than rubber. The Air Max and ZX series don't last nearly as long as my Campus and Superstars, which are made out of durable rubber. The easiest way to clean a sneaker is to go to a shoe shine service.
What are the top three sneakers in your collection?
Vintage Superstar, Campus 80s, and ZX Boat.
And which sneaker is your all-time grail?
The general release Campus 80s Japan pack series. The sneakers had black lining and leather material. Due to its construction, the Campus 80 can remain comfortable for a long time.
Sometimes general releases are the true grail, even when compared to a limited edition sneaker. A general release is only a general release until people start to throw theirs away. Suddenly there are only a handful left worldwide and they become extremely rare.
To stay updated on everything happening in the sneaker world, follow @Highsnobietysneakers on Instagram, check our sneaker release date calendar, and subscribe to our sneaker chatbot on Facebook to receive lightning quick updates to your inbox.