When news broke that Isamaya Ffrench — something of a beauty legend at just 33 years old — was launching an eponymous makeup line, the industry shook. Even before Ffrench announced the brand's product lineup, I knew I had to try it. I was ready, willing, and able to undergo the Isamaya Effect™, a subversive yet romantic approach to face-painting.
Lucky for me, the brand was generous enough to send over ISAMAYA's debut collection, "INDUSTRIAL," for review. Spoiler alert: everything is good. But one product stands head and shoulders above the rest.
Get ready — we have lots to discuss.
Rubberlash
Rubberlash is the opposite of clumpy, an adjective that might as well be the kiss of death when it comes to mascara. The formula glides on smoothly and the brush evenly distributes pigment, so you can layer to your heart's content without your lashes getting all sticky and spider lash-y.
If you haven't deduced from ISAMAYA's bold branding, Rubberlash is not for those looking for a subtle, you-but-better look. This shit brings the drama.
Pro tip: try applying Rubberlash while holding the wand vertically. The brush features tiny, comb-like points at the tip for maximum lash separation.
Browlacq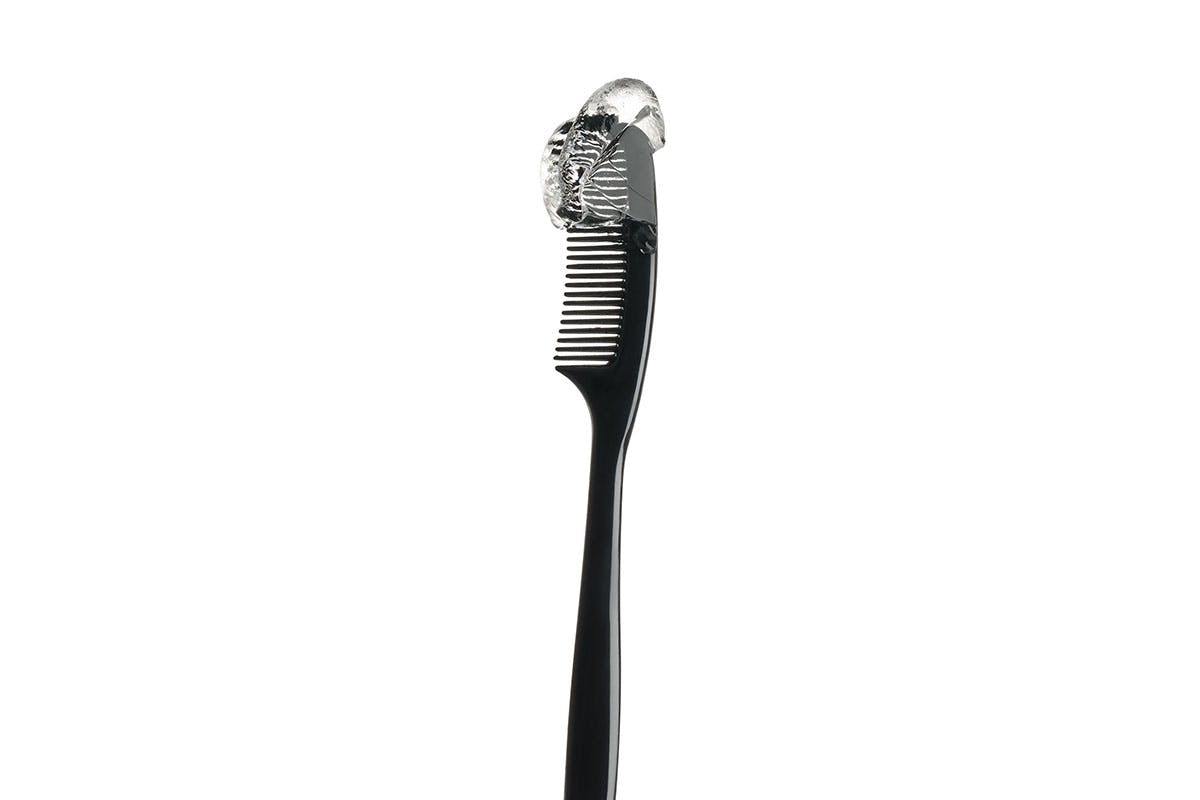 I've met many brow gels I didn't like, but Browlacq and I became fast friends. Most formulas leave an white-ish film on my dark, almost-black eyebrows. But Ms. Browlacq applied clear and stayed clear, a major green flag in my book.
And despite her lightweight, non-waxy formula, she's body-builder strong. If you're in pursuit of the soap brow look, minus the soap, Browlacq is your girl — she'll keep those hairs fluffy, lifted, and glued in place for the entire day.
You can also use her to get the bleached eyebrow look that Kendall Jenner popularized at the Met Gala. Just pop some concealer over your gelled brows, and they disappear. We love a versatile queen.
Some adjectives that Lady Gaga might use to describe Browlacq: "Talented, brilliant, incredible, amazing, show-stopping, spectacular." Can you tell this is my favorite product of the bunch?
Liplacq
A crossover between a lip mask and a lip gloss, Liplacq gives great shine. More specifically, a subtly glittery finish that is, above all, non-sticky.
Sadly, the color — a plummy brown tint — isn't flattering on my skin tone, at least by itself. For my particular complexion, layering the gloss over a warm pink lipstick is the move. I swipe it over Dior Addict Stellar Shine in Lucky, a hot pink that transforms into a dusty rose with the help of Liplacq.
Industrial Colour Pigments
Before we get into this one, let me be clear: visually, this palette is stunning. The kinky, BDSM-inspired box. The rich shades, from "Grip," an iridescent khaki, to fiery "Brass." All gorgeous!
Like I stated up top — this isn't for the faint of heart. If you're looking for everyday mattes, steer clear. Industrial Colour Pigments is all about glitter, shine, and theatrics.
There's no debating the palette's collection of shades, a healthy mix of gleaming warms, slick cools, moody darks, and satiny highlights. However, the packaging and ease-of-use is where Industrial Colour Pigments falls short.
While striking, the palette wasn't sturdy enough to ship to my apartment unscathed. Even in a padded mailer, the box ended up chipping, and the shadows inside broke. Because of this, I'd steer clear of traveling with Industrial Colour Pigments, a shame considering its compact size and range of colors. (Note: the very un-damaged palette in the TikTok above isn't mine — it belongs to my colleague, who was kind enough to grab some footage of hers in all its glory.)
I also noticed that some shades applied patchily and were difficult to blend out, even on primed eyelids. To be fair, this could be a result of the shipping mishap (crumbled eyeshadow isn't the best makeup medium).
Don't let my mixed feelings on the palette deter you from giving ISAMAYA a shot, though — Rubberlash and Browlacq are the makeup equivalent of a chef's kiss.