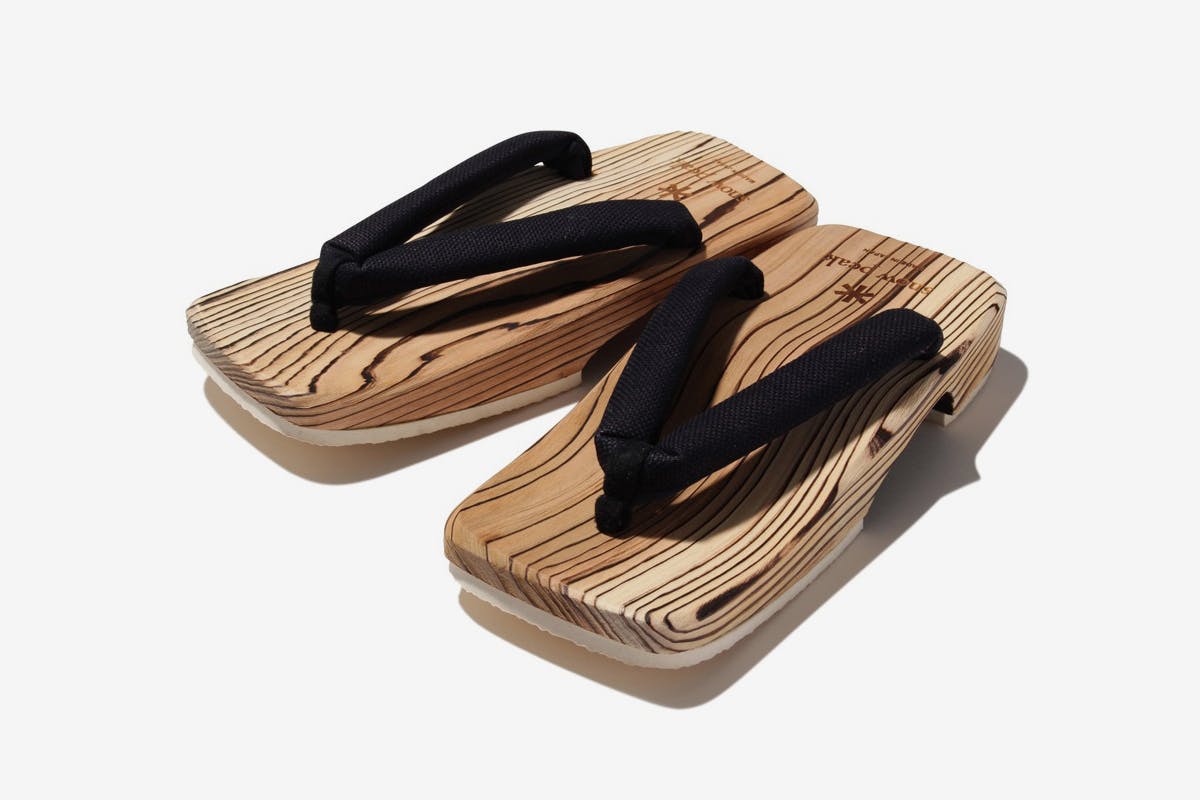 Deciding what to wear on foot isn't easy when the day's itinerary consists of e-mails, Pringles, and a seven-hour Civilization VI session with the boys. When working from home, a lot of people like to maintain a semblance of normality by getting dressed as they usually would for a day at the grind (and more power to them!) but if you're like me, the idea of lacing up Chucks — or wearing anything that requires, like, more than nine seconds of concentration to assemble for that matter —  just doesn't feel right. That's where Japanese sandals come in.
Remember when Kanye West wore pool slides that didn't fit him and the internet went crazy? Well, even if the size was off, the idea was right. West's YEEZY sandals were essentially a chunky reboot of the traditional Japanese geta, a wooden platform sandal — sometimes with two raised teeth in the middle — that is held to the feet with a flexible thong called a hanao (geta are not to be confused with zori, which is not made from wood and is less chunky).
Some of the more out there types might look a bit daunting at first glance, but the elevated design is rooted in pragmatism. Way back, it was to stop hanging kimonos from dragging in the mud; these days, it's welcomed by the imprisoned flâneur who wants to feel the wind in between their toes while puffing an e-ciggy on the balcony or walking the dog out back. When it comes to sandals, Birks are timeless — and we've time for Tevas and Chacos, too — but geta pack a kind of simple, almost rustic elegance that one might associate with uncontaminated bucolic living — a comforting reverie when you're holed up inside a one-bedroom apartment in the big city. Wear them with a Tabi sock and a fairly conservative straight-legged pant or — as has been the case historically — barefoot.
visvim has long been making geta that cost more than the price of a first-class plane ticket, while Snow Peak just came through with its own take that instead comes packs a comfortable EVA sole. However you style them is up to you, but please don't go Kanye's "the Japanese way." He had a point — people have worn them that way in the past — but that doesn't mean you'll find it comfortable!