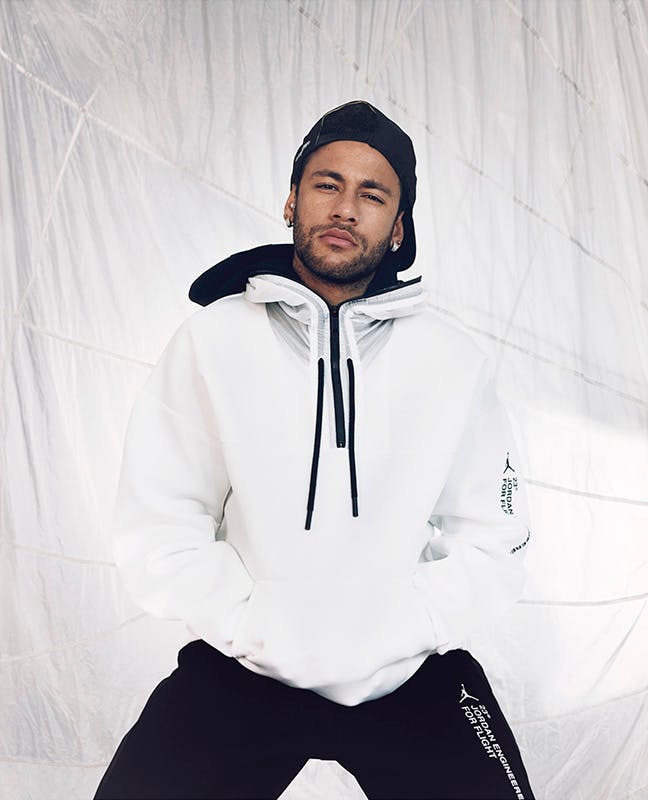 The latest innovations merge with Jordan heritage to form a modern expression of basketball culture in the brand's new apparel collection, 23 Engineered. Here, we get a look at the range of garments debuted by Neymar, Nigel Sylvester, and Karrueche Tran.
According to David Creech, VP of Design for Jordan Brand, 23 Engineered is an obsession over fit, form, and function. The collection showcases materials and construction based on need, lightweight warmth in fall and winter, transitional layers in spring, and breathability in summer.
"We're looking to solve problems that lead us to a better place for the brand in the future," says Creech. "When I look at what we've done historically, we've always played a part in shifting the paradigm, stylistically, of what was happening in the moment."
The methods of construction aren't the lone focal point in 23 Engineered. Branding and color schemes are just as important to the line, which highlights an evolution of Jordan Brand's traditional color schemes and graphic blockings.
As you can see via the gallery above, 23 Engineered offers contemporary takes on heritage Jordan styles. The collection is due to launch in July.