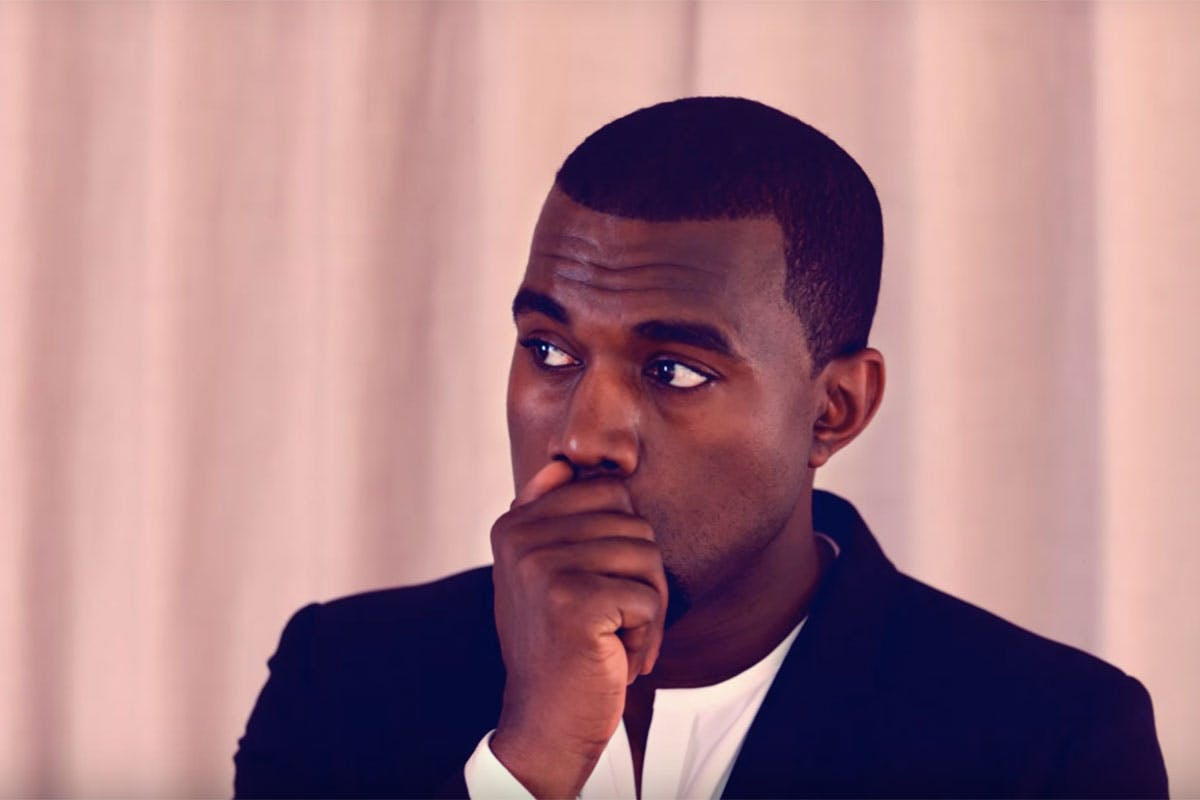 On November 22, 2010, Kanye West released his sprawling pièce de résistance, My Beautiful Dark Twisted Fantasy.
But while the title may be a mouthful, the album's contents proved to be equally expansive. There's lots to love about MBDTF, from the hauntingly isolated keys that open "Runaway" to the triumphant horns that define "All of the Lights." You might remember quoting Chris Rock's extensive, erratic outro on "Blame Game" with your friends - "Yeezy taught you well!" - or humming along to the guitar lead that oozes alongside Kid Cudi on "Gorgeous." Still, despite all of the album's favored moments, there's one track on MBDTF that can comfortably loop from now until the end of eternity, in the magic hour: "Devil in a New Dress."
In September of 2010, Kanye West dropped "Devil in a New Dress" as part of his G.O.O.D. Fridays series, where he delivered free music to his fans on a weekly basis. When the track officially featured on MBDTF over two months later, it had morphed into a different beast entirely, bulked by a guitar solo and a show-stopping, career-defining guest verse from Rick Ross. "Devil in a New Dress" was always a great track, but it's fuller form on the album ensured it entered the upper echelon of Kanye's catalogue, transporting us to a decadent fantasyland filled with cigar smoke and "sinsation."
The song opens with a beat woven from pure sonic silk, wrapped luxuriously around a wailing sample of Smokey Robinson's "Will You Love Me Tomorrow?" While the sample may be reminiscent of the soul-infused sound championed by Kanye's younger self, this is the only song on MBDTF that he didn't have a hand in producing. Instead, the beat was crafted by Bink!, who shares production credits with Kanye on JAY-Z's legendary The Blueprint, and Mike Dean, who mixed tracks on The College Dropout and Late Registration.
As it happens, Bink! had been sitting on the beat for the track for some time (as you can see below), and he had no intention of delivering it to Kanye. As he reflects on his recording session with Ye at his hideaway in Oahu, Hawaii, "I was actually just holding my laptop and [the beat] came on in my iTunes. He heard it through my laptop speakers and he was immediately intrigued; I wasn't even gonna play it for him... So he hopped right in the booth and the first thing he said was, 'I love it though' and the first line he came up with was, 'She love Jesus but she learned a lot from Satan.'"
The fact that "Devil in a New Dress" was composed by accident (or fate) only adds to its place in rap folklore. The Bink! and Mike Dean beat gives the track a cinematic aura, complimented by an elongated structure that sees it run for close to six minutes. Kanye's verses find him discussing the strain of fame on his romantic life, and when teamed with the grandiose production, the track evokes images of Yeezy sitting alone on a gold-plated throne, bathing in both opulence and isolation. It's the constant tug-o-war between success, excess and vulnerability that consumes much of MBDTF, though it is rarely summed up as effectively as it is here.
With this track, Kanye presents himself as both a larger-than-life rockstar "stunting on a jumbotron," and a regular man on the receiving end of "text message break-ups." It's his candid, conversational bars that give him humanity as he describes a fallout with a woman. "I hit the Jamaican spot, at the bar, take a seat / I ordered the jerk, she said you are what you eat," he recounts, finding comedy in even his most sullen moments. Aware of his asshole antics, Kanye's confessions gather more significance when you consider his then-recent public fallouts (with Taylor Swift and Amber Rose) and the album's next track, the 'backhanded apology' and centerpiece, "Runaway."
But just when you think "Devil in a New Dress" is coming to a close, somber keys tighten with tension and rebuild the track once more, setting the stage for Dean's guitar solo. It's a sexy, cathartic curveball that glides seamlessly into the heart of the instrumental, lifting the track to its crescendo. Some have criticised the solo for being unnecessarily long, but after all, this is MBDTF; an album filled with nine-minute epics, overly ambitious soundscapes and unnecessary flexing. If there was ever a time for a soaring Mike Dean guitar solo, then this is it.
While Rick Ross worked with Kanye on quality cuts like "Monster" and "Live Fast, Die Young," nothing quite comes close to his booming bravado on "Devil in a New Dress." Even Ross' biggest naysayers (and all the correctional officer photographs in the world) can't negate his greatness as he weaves Greek mythology with high-end materialism in lavish fashion. In a more assertive turn from Kanye's reflective verses, Ross references 2Pac with five times the fury of his other Makaveli-inspired cuts, and probably introduced a whole new generation to the joys of Teddy Pendergrass' catalogue when teamed with slow-burning marijuana. "I'm making love to the angel of death / Catching feelings never stumble, retracing my steps," Ross says in his closing line, embracing his turbulent lifestyle before another Mike Dean solo takes center stage alongside some immaculately-timed grunts.
"When I recorded that verse for the first time, he came in, heard it. He told me he thought I could do better. And he walked out," Ross says of his session with Kanye, which took place on the last day before the record had to be turned in. "And then I wrote another one, and the second verse I wrote is the one you hear on the album, which a lot of people consider one of Rozay's best verses... I wasn't offended, because I knew he was sincere."
In fact, Ross' efforts were so favored that he recorded a video clip just for his own verse, despite the full "Devil in a New Dress" never getting the visual treatment. And for a track that often feels overshadowed by the remainder of MBDTF, one can only wonder what would've happened if Kanye made it a single. Still, that hasn't stopped it from becoming a hazy, hypnotic hero of Kanye's ever-expanding discography, sounding just as alluring as it did in 2010. Brands are printing 'Dior Homie' designs named after Kanye's punchline, Ross is still discussing his verse at ComplexCon 2017, and Twitter will probably never stop praising Mike Dean for that guitar solo.
"Devil in a New Dress" is everything we love (and hate) about the 'LeBron of rhyme' in one track, and it is perhaps his most telling introspection yet.