As we get into full football fever with the European Championships well underway, here at Highsnobiety our eyes haven't just been on names such as Ronaldo, De Bruyne, and Mbappe but on the new levels of design being put into the kits. Recently we discussed the tournament's top shirts and for more and more of us the football jersey has outgrown its place on the pitches and terraces and crept into our wardrobes as a genuine style piece. The thought that goes into the wearability of the kit in the fashion realm has equaled that of its suitability on the pitch. Where jerseys have always been a way to show the passion for your team, nation, or local area they are now genuine fashion items coveted and exchanged.
Way before kit manufacturers started working with streetwear brands to increase desirability, and fashion brands embraced football culture, Kappa was putting out classic after classic. Its jerseys are as at home now, paired with your daily fit, as they were under the lights of the Nou Camp or Stadio Delle Alpi.
Legend has it that in the year of Kappas formation in 1978 managing director Maurizio Vitale, inspired by sales and marketing director Marco Boglione, met with Juventus president Giampiero Boniperti and told him, "I want to sponsor you". Since that day the iconic Omini Logo has graced the chests and shoulders of legends from Baggio to Van Basten. It could be said that Kappa was the first brand whose logo actually elevated the shirt design. To this day the silhouette of a man and woman leaning against each other adds a touch of finesse to any jersey. Kappa was ahead of its time in the tech stakes too. In 2000 Kappa developed the Kombat 2000 Jersey for the Italian national team, before this point jerseys were still quite baggy and loose to allow for movement. Kappa went completely against this theory. Using innovative fabrics and elastomers Kappa managed to enhance their shirts with a crazy amount of elasticity. If the jersey was pulled by an opposing player the foul became visible for all to see. With a team boasting the likes of Del Piero and Totti, this became a major advantage.
Today Kappa's enduring mystique lives on, from the tracksuits on the front line of terrace culture to some of the game's most iconic shirts, the brand's place in football culture and style is cemented. To celebrate our love for the Italian sports brand and its mastery in jersey making we rounded up ten of our favorite Kappa kits.
Juventus Home 1978
The holy grail of football shirts. This wonder should be a part of every jersey aficionado's collection. This shirt, Kappa's first foray into kit design, is a simple delight. Debuted during the season when sports brands could finally feature their logos on shirts in Seria A, the jersey showcases Kappa's history in knitwear innovation. Although fully knitted, its lightweight construction was miles ahead of its competitors in terms of performance. Although certainly a piece for locking up behind glass, it would complete even the most tailored of fits and definitely (maybe) had an influence on this Palace knitted number.
AC Milan Home 1989
10 years on and Kappa is in the polyester game. This upped the level of creativity and graphic design that could go into jersey production. No need for bells and whistles here though. You don't f#*k with the red and black of AC Milan. Kappa kept it simple and effective much like the legend Marco Van Basten who graced the jersey. Some subtle, tonal graphic design is present on closer inspection (a tactic PUMA recently replicated on this season's AC Milan jersey) but it doesn't overbear and adds to the sublime beauty of the shirt.
South Africa Home 1996
This shirt was worn by the African Cup of Nations winning South African team. If the mind-altering gold and green graphic weren't enough to sell you on this one, the fact it was worn by then South African President Nelson Mandela as he celebrated the win should seal the deal. This was a big moment for the nation, coming six years after Nelson Mandela's release from prison and only two since the apartheid ended, the shirt which embodied the colors of the new South African flag and the multiracial squad both symbolized a bright future for the troubled country.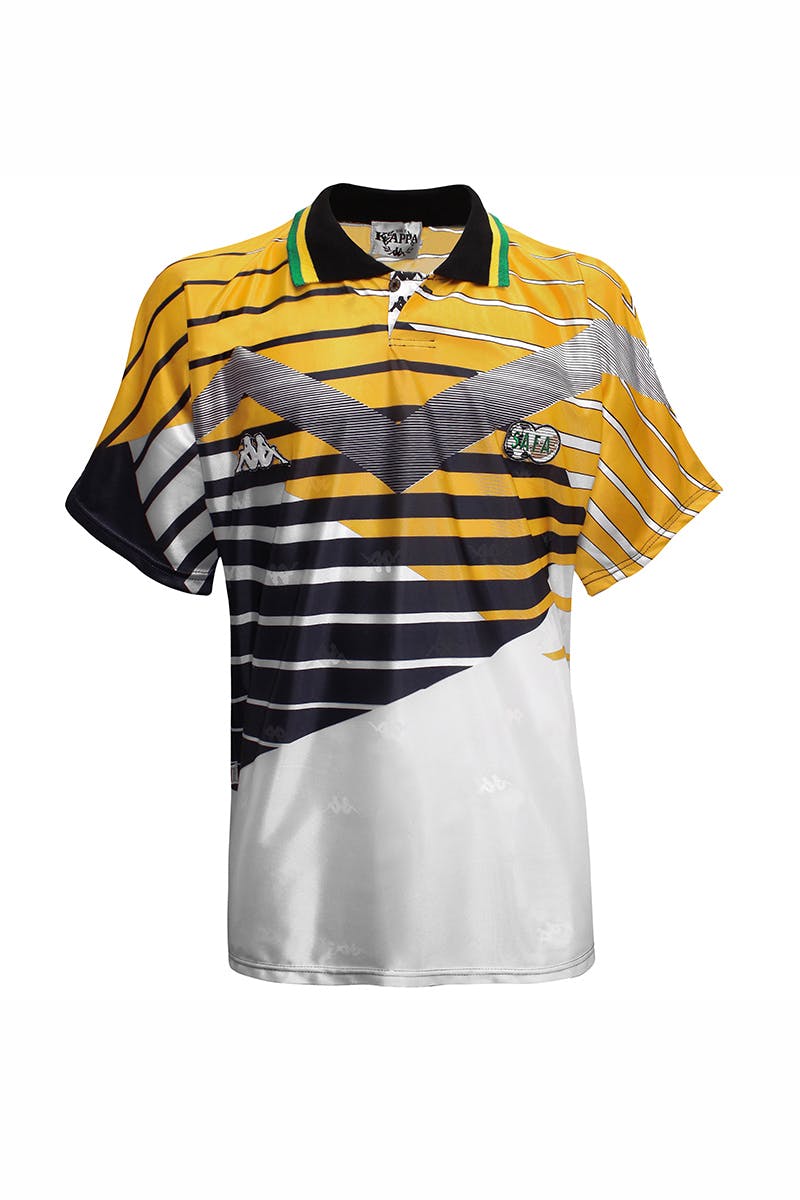 Barcelona Home 1997
I love this period of shirt-making for Kappa. Whoever was the jersey designer at this point must have been strutting around the streets of Turin like the king of Italy. I can confidently say there has not been a better Barcelona shirt since this one. Even the play at overt branding along the sleeves just adds to its gravitas. Maybe its because it was worn by the original Ronaldo in his hey, maybe its because it was Bobby Robson era Barca, maybe its that 'Barca' font at the neck and repeated tonally across the shirt, or maybe because, damn this would look good with some 5" summer shorts and loafers, casually pacing La Rambla looking for the best Rioja in Barcelona.
Manchester City Away 1997
Liam Gallagher actually rated this in his top Man City jerseys ever. You can see why. If you had the brief to make a kit and it just read 'Britpop', this would be the outcome. Pick up some baggie stonewash jeans, desert boots, a bucket hat, and a can of Stella Artois to complete the look.
Jamaica Home 1998
The World Cup in France 1998 had some banging kits. But this one (and the team that graced it) stole the limelight with its bravado, fun, and confidence. This was Jamaica's first-ever world cup appearance and despite not having a great one on the pitch, the self-proclaimed 'Reggae Boys' fans made this a tournament to remember. Kappa did Jamaica proud here. You can just picture yourself by the pool in a pair of swim shorts and some wallabies with this one.
Italy Home 2000
This one changed the game for shirt design. At a time of baggy shirts with not much tech, Kappa went against the grain and designed what would be the pinnacle of performance jerseys. Not one for the larger framed fan, the on-pitch version with its ultra-elasticity made it obvious to the officials when a player's shirt had been tugged. Since the Kombat shirts debut, literally, every Rugby shirt since has been inspired by the innovation. This shirt also heralds a new period of more minimal branding for Kappa, with just one logo per shoulder the norm throughout the 2000's.
Brescia Away 2004
Another one for the history books, this jersey was worn in legendary Italian striker Roberto Baggio's last ever game. It's also pretty clean when it comes to design, continuing the theme of subtle branding.
Leeds Home 2017
The return of the repeat Omni logo. You love to see it. For a team that hasn't won anything in decades, the gold is at first glance an odd choice, but again Kappa seems to be having an ongoing theme of regality and class here that you just can't hate. I love the idea of some massive Yorkshire lads trying to avoid spilling the fillings of their pies over this one. It's so clean.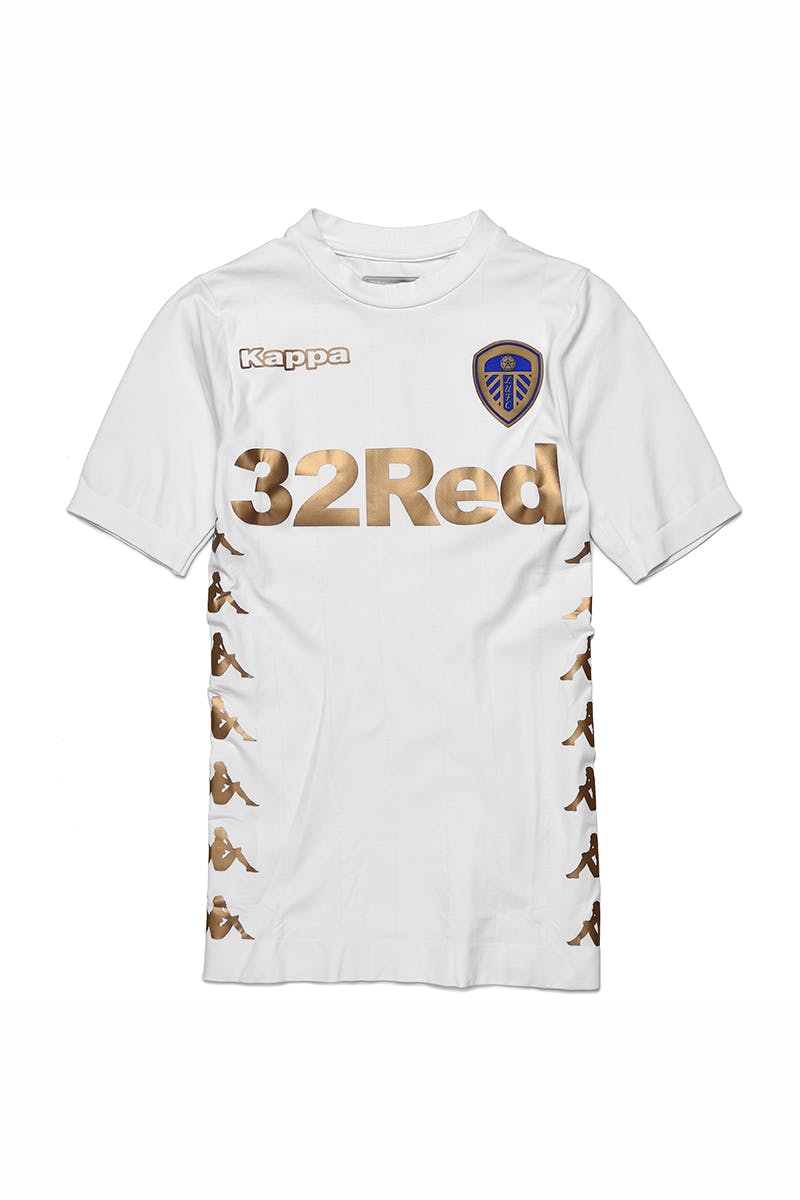 Napoli Third 2021
Napoli and Kappa are just made for each other, they go together like Aperol and spritz. Elevating the partnership further by adding a generous slice of orange to the mix came Marcelo Burlon. Kappa's first collaboration with a fashion designer on any kit made waves this season as the designer added his signature wings motif to the black jersey. We are excited to see where Kappa goes with next season's jerseys, but however they turn out one thing is for sure, without Kappa football will not be the same.